Vietnam plans for application of 'vaccine passport'
The Ministry of Health is detailing a plan on the regime, location, isolation time, medical testing and monitoring for COVID-19 vaccine passport holders.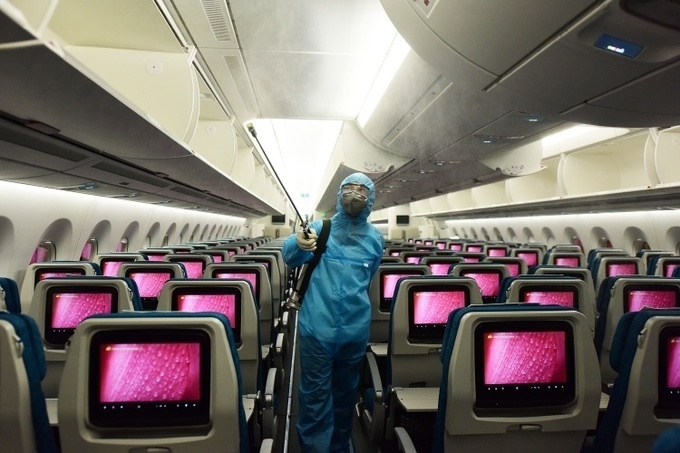 One staff disinfecting a plane at Noi Bai Airport (Photo: VNE)
The National Steering Committee for COVID-19 Prevention and Control make the request on March 26 afternoon. It also urges relevant ministries to facilitate check-in procedures for vaccine passport holders by deploying technical solutions.
As reported by VNE, vaccinated overseas Vietnamese wanting to repatriate Vietnam are among those valid for vaccine passport. Experts and businesspeople who have been administered two doses of COVID-19 vaccine by reputed medical facilities will also get the passport. The Health Ministry is also working on a long-term plan to grant the passport to foreigners entering Vietnam for exchange and travel purposes.
"We are preparing detailed plans step by step to facilitate entrance procedures, however, safety is the first priority. All the efforts would go meaningless if a new outbreak recurs", Deputy Prime Minister Vu Duc Dam was quoted as saying at the meeting.
Dam further stressed that localities should have solutions to minimize gatherings, especially crowded occasions such as weddings or dead anniversaries.
At a meeting of the National Steering Committee for Covid-19 Prevention and Control on March 19 morning, Deputy Director of Medical Solution Center at the Viettel Business Solutions Corporation Luu The Anh said that it is working closely with the Ministry of Health and other relevant ministries to review and deploy the "Covid-19 vaccine passport", VOV reported.
The vaccine passport allows people to track the vaccination history of themselves or their family members. After receiving the Covid-19 vaccine, the recipients will be granted the vaccination certificates and QR-Codes. The regulators will grasp information and data to serve the implementation of the COVID-19 vaccination campaign and provides tools to monitor the information of vaccine recipients.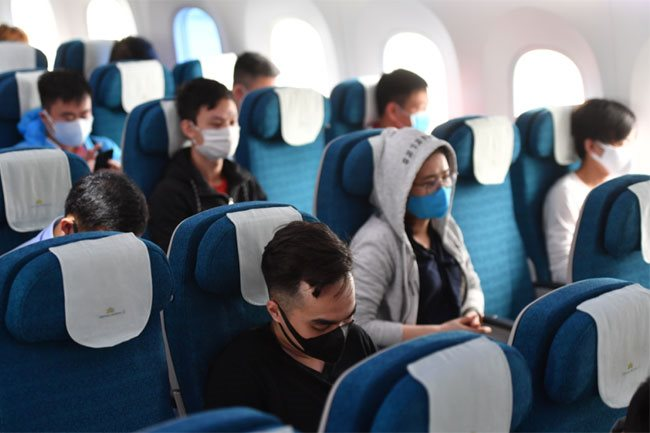 Passengers on a Vietnam Airlines flight. (Photo: VNA)
As for the general requirement when deploying the "vaccine passport", Mr. Luu The Anh said that vaccine recipients need to bring with them their identity card/citizenship identification or health insurance card for information verification.
From the perspective of the health sector, Minister of Health Nguyen Thanh Long said that the "passport of vaccine" is essentially a certificate of getting vaccinated two shots of Covid-19 vaccine, which are regulated by the Law on Infectious disease prevention and control and the International Health Regulation on Quarantine, allowing "vaccine passport holders" not to be quarantined and tested for the virus (some countries still require the tests).
Speaking at a government meeting on March 17, Prime Minister Nguyen Xuan Phuc requested relevant agencies to consider "appropriate anti-pandemic prevention measures" as the country adopts an official policy for Covid-19 vaccine passport holders.
His directive came after tourism experts earlier this month suggested the government consider opening up to vaccinated foreign visitors from the third quarter in a similar vein to regional peers to revive the hard-hit tourism industry, according to Vnexpress.
As the world started rolling out Covid-19 vaccine shots, inoculation certificates have emerged to identify those that have been vaccinated for cross-border travel.
China and Israel were the first to issue digital health certificates for travelers who had been vaccinated against Covid-19, also dubbed "vaccine passports."
The U.S. and Britain are among countries currently considering issuing similar permits, while the E.U. is also working on its own vaccine "green pass," allowing those who have had the jab to travel more freely within the region this summer.