PM orders consideration of 'Covid-19 vaccine passport' for economic, travel recovery
Prime Minister Nguyen Xuan Phuc required relevant agencies to draw up plans for the "Covid-19 vaccine passport" implementation to soon help the tourism and aviation sectors recover.
Speaking at a government meeting Wednesday, Phuc requested relevant agencies to consider "appropriate anti-pandemic prevention measures" as the country adopts an official policy for Covid-19 vaccine passportholders.
His directive came after tourism experts earlier this month suggested the government consider opening up to vaccinated foreign visitors from the third quarter in a similar vein to regional peers to revive the hard-hit tourism industry, according to Vnexpress.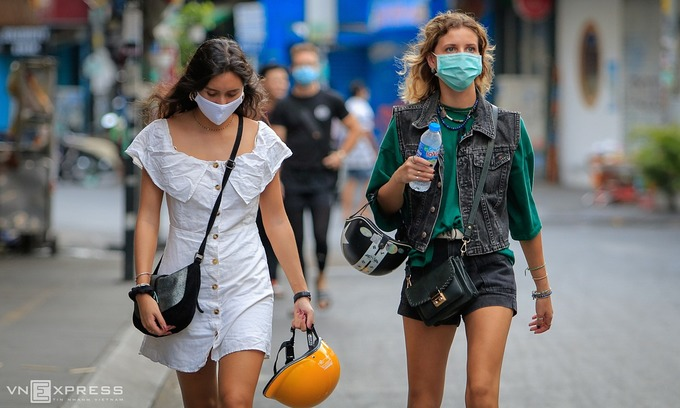 Foreign tourists walk on Bui Vien backpacker street in downtown HCMC, March 2020. Photo: VnExpress
While some experts proposed those holding "vaccine passports" should still undergo 14-day quarantine in the absence of information on the potential risk of infection following two-dose inoculation, others suggested the exemption of mandatory quarantine if foreign arrivals show a vaccine certificate and negative test results before and after entering the country.
A "vaccine passport" entered the agenda as the Southeast Asian country committed to both containing Covid-19 outbreaks and ensuring economic growth, rebooting hard-hit sectors like aviation and tourism.
Phuc said many businesses in sectors like transport, tourism, and services have been badly affected; as a result, many people have been left unemployed.
The PM also ordered relevant agencies to consider gradually resuming international flights.
The government has closed national borders and canceled all international flights since March last year with only Vietnamese repatriates, foreign experts, and highly-skilled workers allowed in with stringent conditions.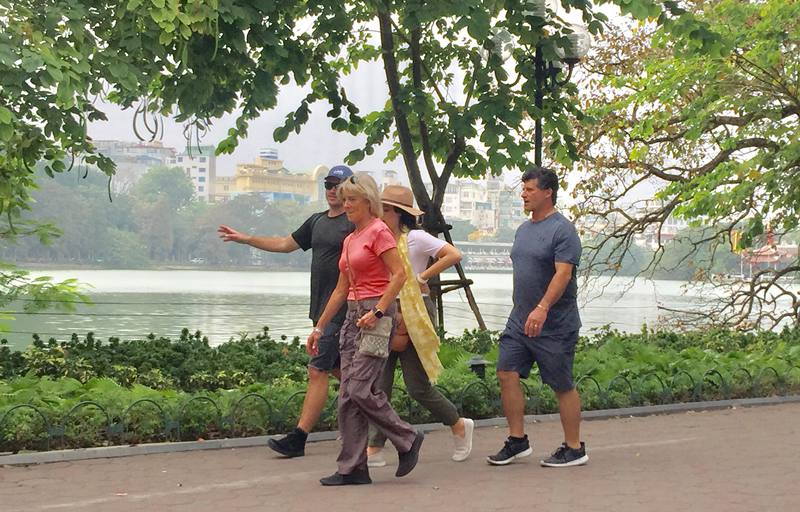 Foreign tourists walk around Guom Lake. Photo: CPV
The government last year green-lighted the resumption of commercial flights to seven Asian destinations, mainland China, Japan, South Korea, Taiwan, Laos, Cambodia, and Thailand, but Vietnamese carriers are still not allowed to operate inbound flights.
Due to border closures and travel restrictions, Vietnam recorded a 79 percent decline year-on-year in the number of foreign visitors in 2020, according to official data.
As the world started rolling out Covid-19 vaccine shots, inoculation certificates have emerged to identify those that have been vaccinated for cross-border travel.
China and Israel were the first to issue digital health certificates for travelers who had been vaccinated against Covid-19, also dubbed "vaccine passports."
The U.S. and Britain are among countries currently considering issuing similar permits, while the E.U. is also working on its own vaccine "green pass," allowing those who have had the jab to travel more freely within the region this summer.
Vietnam has recorded 904 cases in its latest Covid-19 outbreak since Jan. 28, but most of the 13 affected localities have gone through many days without any local transmission of the novel coronavirus.
The pros and cons of vaccine passports
The idea of such a vaccination passport or certificate is already being tested in several countries, as well as companies and organizations in several sectors of the economy. Countries such as Bahrain, Israel, Denmark, and Estonia have done this. Big companies such as Microsoft, Oracle, American Airlines, and Cathay Pacific have started pilot projects with the application of health passes in digital format and printed on paper. The International Airlines Association (IATA) is also promoting a global solution for this with a digital pass that contains information about whether passengers have been vaccinated, according to Vietnam Investment Review.
Similarly, there are also mobile apps or QR codes to quickly determine a person's risk of infection and the extent to which they can travel, such as China, or to confirm that the person has recovered from the coronavirus (Chile) or been vaccinated (India).
The benefits of a universal, globally recognised vaccine passport are visible for the world economy to reopen and for people to live, trade, and travel safely. However, there are still many obstacles causing hesitation among governments, scientists, businesses, and people with different attitudes towards this idea.
For example, within the European Union, countries such as Greece and Austria, of which economies are heavily based on tourism, have been promoting the idea of the early introduction of vaccine passports. Greece and Cyprus also allow Israeli citizens with a "green pass" to enter their country without having to quarantine. A similar agreement is being considered between Greece and the UK when the British government announced a plan to issue a certificate of vaccination to its citizens wishing to travel abroad.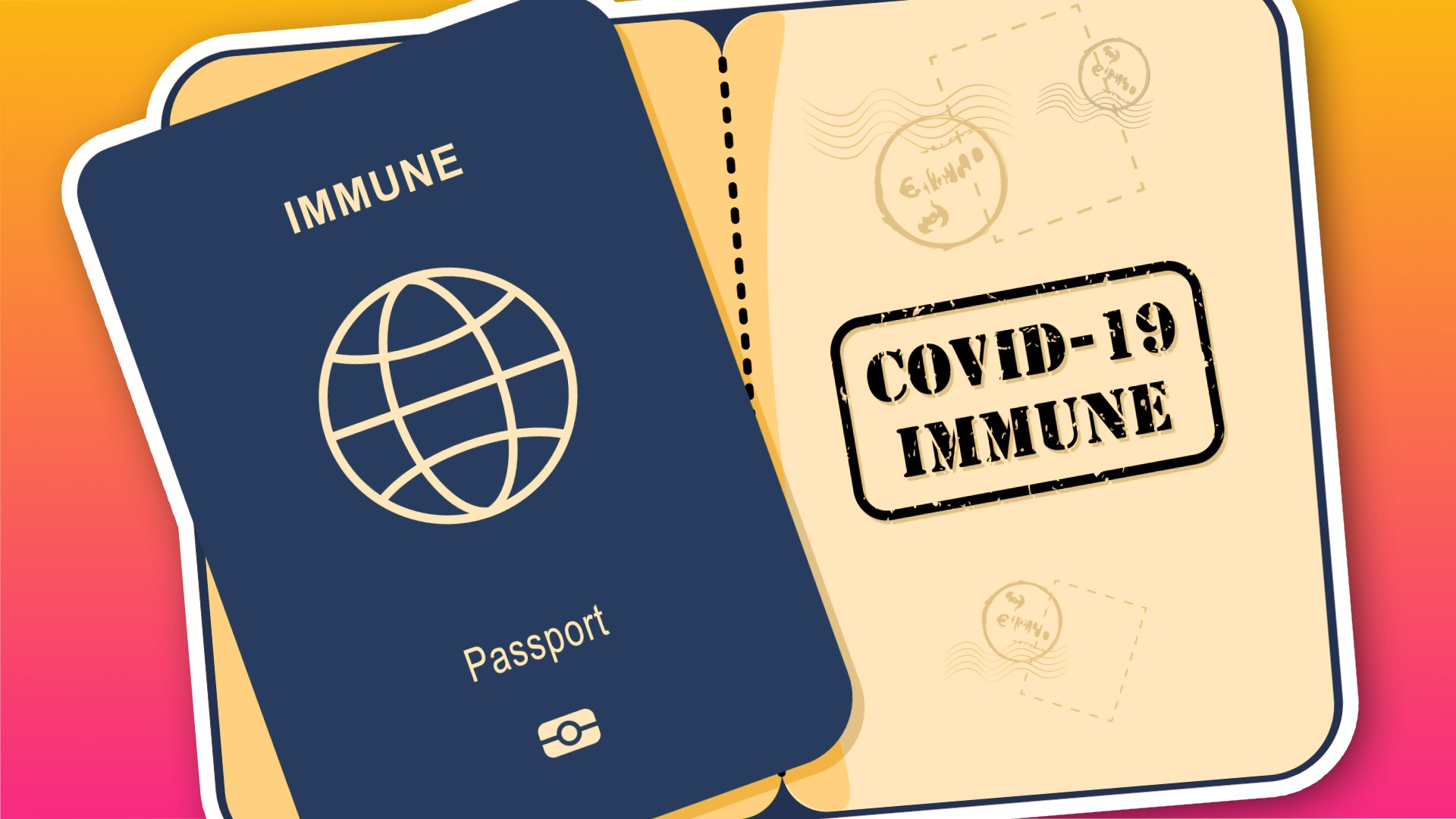 Vaccine passport.

Photo: BBC
According to the UK Royal Society, in order to be widely applicable, a vaccine passport needs to pass a test with 12 criteria. These include:
- Meeting benchmarks for COVID-19 immunity;
- Accommodating differences between vaccines in their efficacy and changes in efficacy against emerging variants;
- Being internationally standardized;
- Having verifiable credentials;
- Having defined uses;
- Being based on a platform of interoperable technologies;
- Being secure for personal data;
- Being portable;
- Being affordable for individuals and governments;
- Meeting legal standards;
- Meeting ethical standards; and
- Having conditions of use that are understood and accepted by the passport holders.
Looking at the criteria, we can also imagine the obstacles challenging the idea's application. For example, the debate of how effective existing vaccines are to prevent COVID-19 is still being studied. There are no clear conclusions about whether a person, after being vaccinated, is still capable of infecting others.
The dangers of newer strains of the virus that are more contagious and resistant to vaccines are scientific barriers that need to be overcome. In addition, there are legal framework issues, the recognition of vaccination results between countries, and the possibility of forgery results that still remain a challenge.
Vaccine passport adoption would create discrimination and inequality between citizens of vaccinated and unvaccinated countries, or between groups of people who were not vaccinated for health or religious reasons with the vaccinated group, in accessing services and jobs.
Perhaps it will take more time to reach a consensus and widely applied vaccine passport, globally as well as within each country. The EU is carefully moving in the direction to introduce its vaccine passport soon but only limited to its member states for the time being. Consequently, this aims to create conditions for citizens of the bloc to travel safely to work and travel within the EU.