Vietnam presents US$ 420,000 medical supplies to eight more countries
The Vietnamese Government on May 18 has donated medical supplies worth a total of US$ 420,000 to eight countries in Southeast Asia, South Asia, and South Pacific.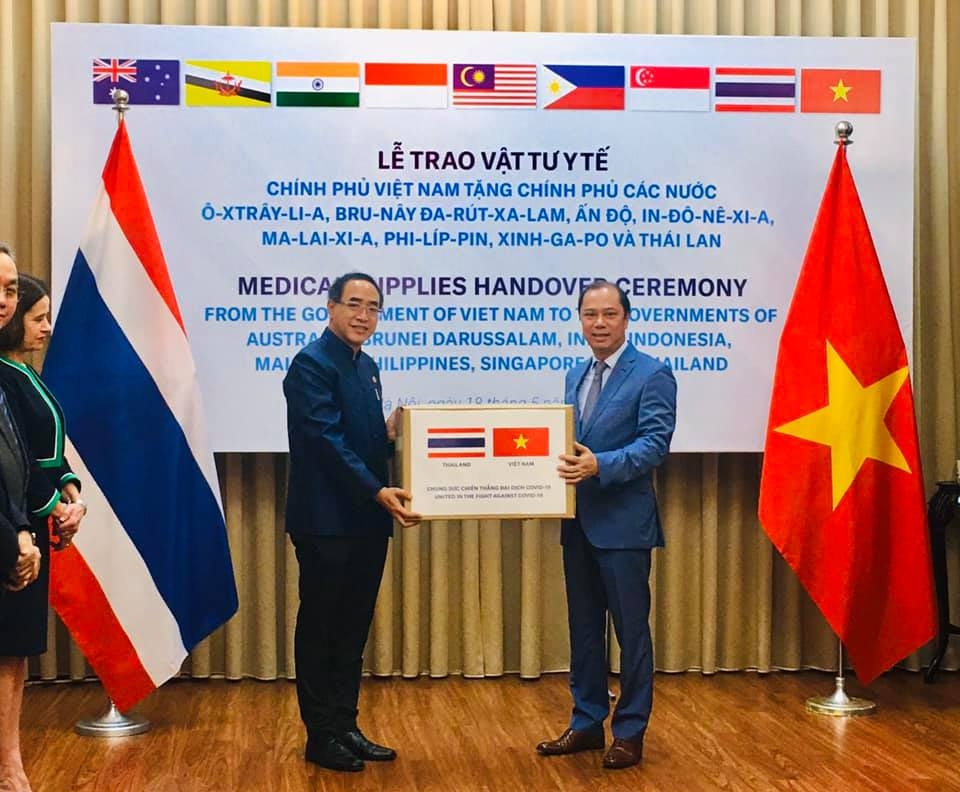 Deputy Foreign Minister Nguyen Quoc Dung (right) hands over medical supplies worth USD 50,000 to support COVID-19 control and prevention efforts in Thailand. Photo: Royal Thai Embassy in Hanoi
At a ceremony in Hanoi, Deputy Minister of Foreign Affairs Nguyen Quoc Dung, authorized by Prime Minister Nguyen Xuan Phuc, presented the token of supplies, include anti-bacteria cloth face masks, medical face masks, specialized protective clothing, and made-in-Vietnam COVID-19 test kits, to the ambassadors of Australia, Brunei, India, Indonesia, Malaysia, the Philippines, Singapore and Thailand.
Dung highlighted the importance of enhancing cooperation among countries to defeat the COVID-19 pandemic, hoping that the gifts will partly help the countries address difficulties caused by the medical crisis.
He expressed his belief that with efforts made by their governments and people, the countries will quickly overcome this difficult time.
The official said he hopes the countries' governments would continue to coordinate, especially through mechanisms led by ASEAN, to facilitate the repatriation of their citizens and create favourable conditions for those who stay, especially international students, to have access to essential services.
For their part, the foreign ambassadors thanked the Government and people of Vietnam for the support, emphasising that these medical supplies are not only valuable material support, but also vivid evidence of ASEAN solidarity, particularly in challenging times like these.
The diplomats all praised Vietnam's success in dealing with the pandemic, saying that Vietnam is a typical model in this fight.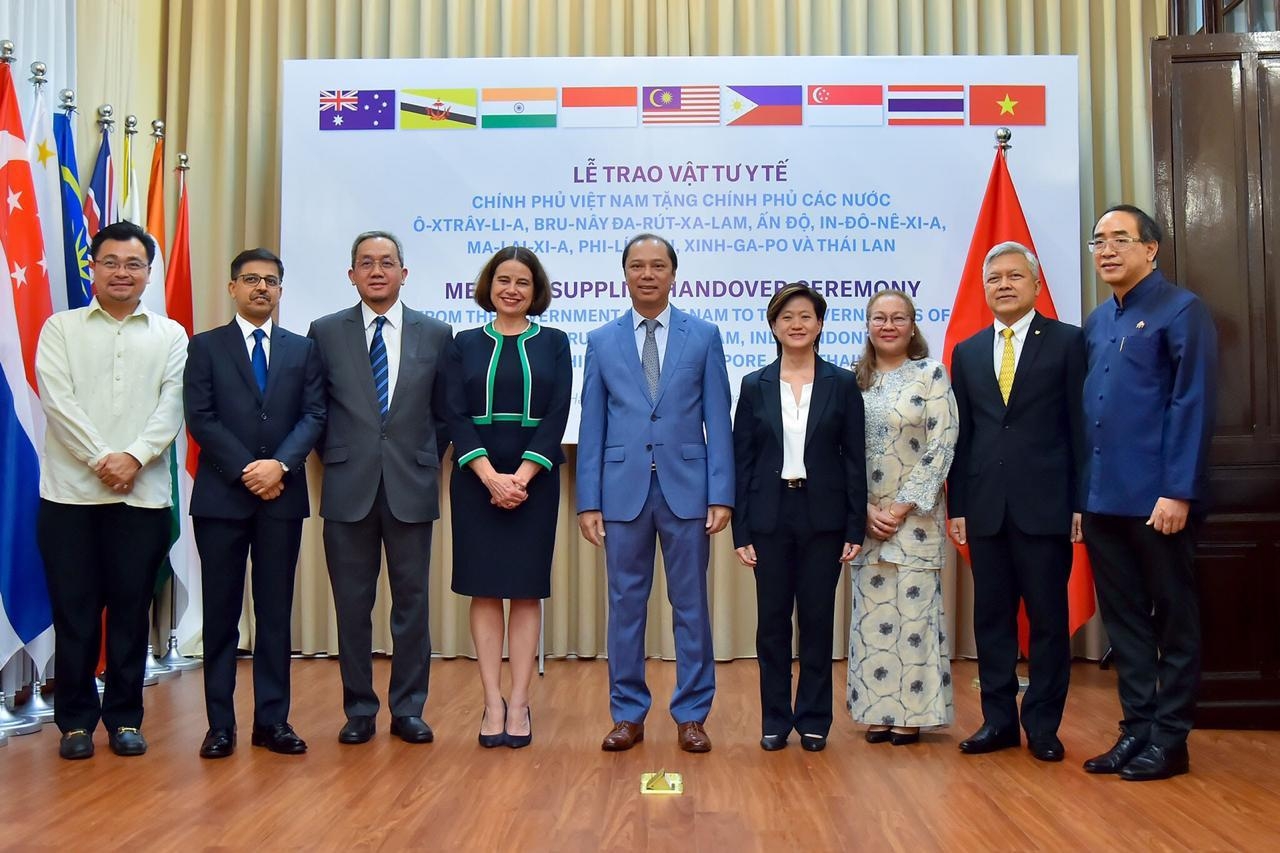 At the hand-over ceremony. Photo: Singapore Embassy in Hanoi
They affirmed that their countries will continue to work closely with Vietnam during its 2020 ASEAN Chairmanship to ensure that ASEAN remains a cohesive and responsive grouping so that the blog can better deal with the immediate threat of COVID-19 and mitigate the impact on socio-economic development through continued trade, exchange, and connectivity, as well as to recover from the epidemic.
Previously, in April, Vietnam also has donated many masks and medical supplies to a number of countries, which are heavily affected by the COVID-19 epidemic. Vietnam has been highly appreciated by many countries for the spirit of solidarity. Although it is also affected by COVID-19, Vietnam is still willing to share resources, provide medical assistance and create favorable conditions for citizens of countries to stay here.
Despite its long border with China, Vietnam has recorded just over 300 COVID-19 cases, with no deaths.
The country has to date recorded no locally-transmitted infections for 32 days in a row./.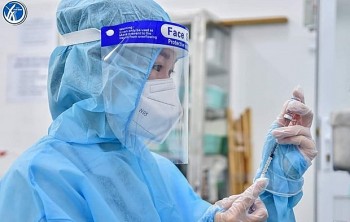 National
Vietnam News Today (December 9): Vietnam confirms 14,595 new Covid-19 cases; Vietnam, New Zealand sign action program to promote strategic partnership; HCM City to inject third Covid-19 vaccine jab from December 10; Hanoi may ban motorbikes in inner areas from 2025.