Chinese faulty coronavirus medical supplies were rejected by European countries but acceptable to some Asean
A number of European governments have rejected Chinese-made equipment designed to combat the coronavirus outbreak despite their medical supply shortage while several South Asian nations insist on using Chinese medical products due to their running out of options with the weak public health systems.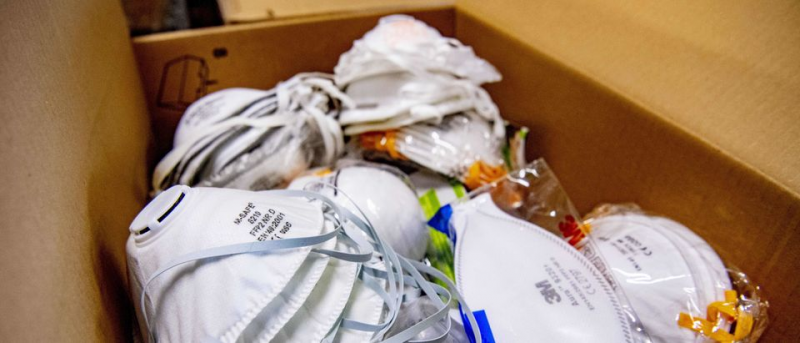 Photo: dailycaller/by ROBIN UTRECHT
Some Western press such as BBC, Dailycaller... informed that while China has been praised by some figures in media for its coronavirus diplomacy, many countries that have accepted Chinese products to relieve a medical supply shortage amid the pandemic are reporting faulty tests and masks.
Thousands of testing kits and medical masks are below standard or defective, according to authorities in Spain, Turkey and the Netherlands.
For example, NBC News foreign affairs correspondent Ken Dilanian lauded China March 27 for establishing itself as "global leader" while the U.S. "struggles to stem the coronavirus."
But a handful of countries trying to test for the virus and equip their medical staff on the frontlines with protective gear have reported that the supplies they ordered from China have been faulty, and in some cases, useless.
Here are the countries that have reported issues with Chinese coronavirus-related products:
Czech Republic: Around 80% of coronavirus test kits sent from China were faulty, hygienists told Prague Morning. The test kits were valued at $2.15 million and showed false positive and false negative results. The test works for antibody testing, a hygienists reported, but otherwise is not reliable. China implied the tests were donated, but the Czech Health Ministry said they paid around $546,000 for 100,000 test kits, Expats.cz reported.
A Chinese government regulatory group is reportedly investigating Shenzhen Bioeasy Biotechnology, the company that produced the kits, Fox News reported. Bioeasy claims the test kits were not used properly.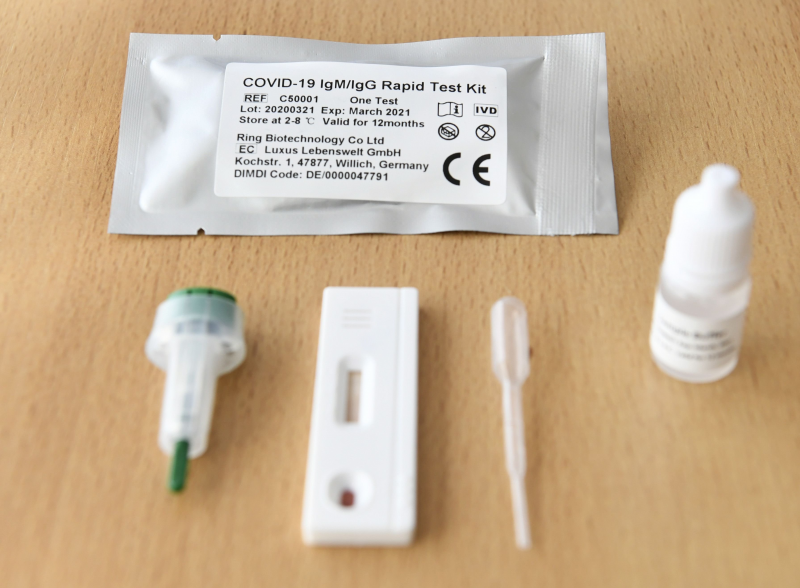 A photo taken on March 31, 2020 shows a COVID-19 rapid test kit (Photo by PIROSCHKA VAN DE WOUW/ANP/AFP via Getty Images)/dailycaller
Netherlands: The Dutch government recalled around 600,000 Chinese masks out of a shipment of 1.3 million after they failed to meet quality standards, Deutsche Welle reported. The FFP2 masks did not properly protect the face and had defective filter membranes, which would leave those wearing the masks vulnerable to contracting the virus. The masks failed multiple inspections, according to Deutsche Welle. The Dutch Health Ministry decided to not use any of the shipments, which were delivered to the Netherlands by a Chinese manufacturer March 21.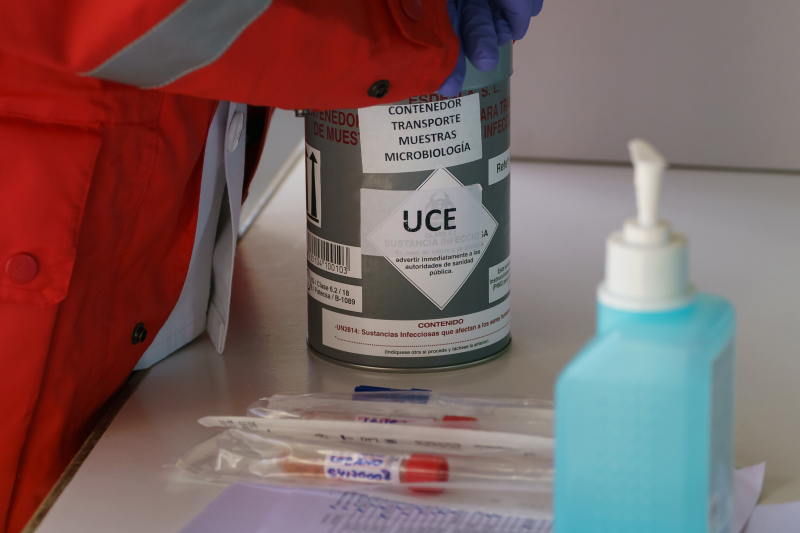 A healthcare worker covers a container for the samples taken to drivers at a drive-through testing point for the COVID-19 in Spain (Photo by CESAR MANSO/AFP via Getty Images)
Spain: The Spanish government purchased 340,000 tests from Bioeasy Biotechnology, the same company the Czech purchased tests from, and in similar quantities. Spain's medical personnel reported an 80% failure rate and a 30% sensitivity rate, when the sensitivity rate should be 80%, Spanish newspaper El Pais reported. Medical staff switched back to former testing methods, which take hours for a diagnosis, while rapid tests take between 10 to 15 minutes.
China claimed Bioeasy was not licensed by the government to make the test kits and that a government regulatory group is investigating.
Turkey: The Turkish government has stopped using Chinese-made test kits and reported that they were only 30 to 35% accurate, Middle East Eye reported. The test kits are based on antibodies, according to Turkish Health Minister Fahrettin Koca, who told Middle East Eye that authorities have tried the tests, which weren't released for public use. Professor Ates Kara said on CNNTurk that "they don't work. Spain has made a huge mistake by using them." Turkey ordered other tests from a different Chinese company.
In the other hand, it was informed on aa.com.tr that despite accuracy concerns from European countries, several South Asian nations insist on using Chinese medical products, including test kits to fight formidable coronavirus outbreak which has placed the region under a lockdown.Although the South Asian states downplay the Europe's concerns, many believe they run out of options because of their weak public health systems.
Pakistan
The Health Ministry of Pakistan on Monday rebuffed the accuracy concerns saying it would continue to use Chinese medical products to fight COVID-19 outbreak in the country.
"China's performance and its [medical] products are time-tested. They have lived up to the challenge," said Sajid Shah, a spokesman for the ministry.
"If we start listening to these concerns -- which are mere opinions so far -- then we won't be able to work, and proceed", he told Anadolu Agency.
Dr. Seemi Jamali, the head of Jinnah Post Graduate Medical Center Karachi -- the country's one of the largest medical facilities -- shared a similar view.
"Why should I bother about concerns from Europe, which itself has failed to handle the crisis, even though it was warned much earlier," Jamali told Anadolu Agency.
On the other hand, China has successfully handled the situation," she said, adding that Beijing's assistance had helped Islamabad "significantly" in its fight against the virus.
"As a doctor, I have no accuracy concerns about Chinese medical products," she added.
Home to over 200 million, Pakistan has so far reported 1,865 COVID-19 cases, with 25 confirmed deaths. Some 58 patients have recovered.
Bangladesh
Bangladeshi authorities said it would use the Chinese equipment only after its experts validate the donated products.
"Our concerned medical team must validate all medical equipment donated by China before using, and in case of any defeat, those will be returned," said Dr. Meerjady Sabrina Flora, the director of Bangladesh's Institute of Epidemiology, Disease Control and Research.
China has so far donated Bangladesh 45,500 COVID-19 testing kits, 400,000 masks, 15,000 personal protective equipment (PPE), 1,000 infrared thermometers, 100 kilogram disinfectant and 50 kilogram hand sanitizers till the date, according to available media reports including the state-run media.
Of those donations, most have been by provided by Chinese Jack Ma and Alibaba Foundations.
Flora added that until the date Bangladesh had not used any test kits and other medical equipment donated by China.
"Till date, we have used test kits stored with us for long and all were validated by the World Health Organization and thoroughly checked by our team of experts," she , told Anadolu Agency.
She said the medical equipment donated by China was produced in different Chinese companies, adding: "Our concerned team of experts will also contact those companies, and assess their past records in producing such equipment."
Bangladesh, a country of over 165 million people, has so far confirmed five deaths and 49 infections from coronavirus, including the latest case recorded on Monday.
Nepal
Nepal received 12 tons of medical supplies from China, its northern neighbor, last week to expedite its fight against coronavirus.
Some health experts, however, have raised questions about the higher rates and quality of the Chinese medical equipment, forcing the Supply Ministry to form a five-member panel led by the head of the country's quality control department to investigate the issue.
Bikash Devkota, the Health Ministry spokesman, did not reply to repeated calls from Anadolu Agency.
Suman Acharya, a Kathmandu-based health expert, said the government was not transparent about the brand and quality of the Chinese products.
"The government has not disclosed the brands of the materials. So we don't know about their quality. While there may not be any fault with the machines and personal protective equipment, other materials such as reagent -- which we need for labs -- may not meet the international standards," Acharya told Anadolu Agency.
Myanmar
The Health Ministry of Myanmar on Monday said it had no complaints regarding the quality of the medial equipment donated by the Chinese government "so far,"
"Most of the test kits available these days are from China. We don't believe the items would show 100% accuracy. There is always a chance of error," a senior ministry official told Anadolu Agency on condition of anonymity as she was not allowed to speak to the media.
According to the official, Myanmar has only one laboratory that only uses Reverse transcription-polymerase chain reaction, or RT-PCR, to test for the coronavirus.
She went on to say that a medical team from China's Yunnan province was expected to arrive in Yangon in the first week of April to collaborate with Myanmar's medical teams in their efforts to control the COVID-19 outbreak.
China donated two batches of medical equipment to Myanmar in March. The items include personal protective equipments, laboratory equipment, N-95 masks and surgical masks, according to the country's health ministry.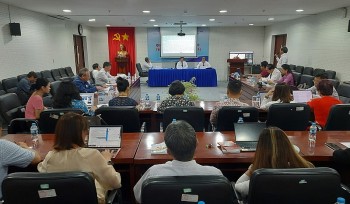 Friendship
The Vietnam - India Friendship Association's Ho Chi Minh City branch, the Ho Chi Minh City Union of Friendship Organizations (HUFO) and the Southern Institute of Social Sciences on March 21 held a scientific seminar themed "Vietnam - India relationship: tradition and present".