Vietnam ranks second in number of foreigners staying in RoK
The number of Vietnamese people residing in the Republic of Korea (RoK) amounts to 224,518, making it the second largest foreign community in the country, according to the RoK's government data showed Monday (Feb 17).
The number of foreigners staying in the RoK increased nearly 7 percent last year, topping 2.5 million for the first time.
According to data released by the Ministry of Justice, 2,524,656 foreigners were residing in the country as of the end of 2019, marking a rise of 6.6 percent from a year earlier and a 3.7 percent on-month increase.
The RoK's foreign population exceeded 1 million in August 2007 and 2 million in June 2016.
The foreign population of over 2.5 million accounts for 4.9 percent of the nation's total population, which was 51.64 million as of 2018.
The academic world usually classifies a nation as a multicultural society, if its percentage of foreigners is in excess of 5 percent. By the criteria, the RoK now appears to be on the threshold of becoming a multicultural society.
The ministry noted 68.6 percent, or 1,731,803, of the foreign residents are long-term stayers registered with authorities, with the remaining 31.4 percent short-term stayers.
By nationality, Chinese nationals, including 701,098 ethnic Koreans, formed the largest group of foreign nationals, accounting for 43.6 percent, or 1,101,782, of the foreign population, it said.
Vietnamese came next with 224,518 residents, followed by Thais (209,909), Americans (156,982), Japanese (86,196), Uzbeks (75,320), Filipinos (62,398), Russians (61,427), Indonesians (48,854), Mongolians (48,185) and Cambodians (47,565).
Illegal stayers increased 9.9 percent on-year to 390,281 last year, with their ratio in the entire foreign population edging up 0.5 percentage point to 15.5 percent.
The number of foreign students studying here increased 12.1 percent to 180,131. In 2018, the corresponding increase rate was 18.9 percent. Students from China totaled 71,719, followed by Vietnam (57,539) and Uzbekistan (10,499).
By region, Gyeonggi Province that surrounds Seoul had the largest foreign population of 414,318, followed by Seoul (281,876), South Chungcheong Province and Sejong (76,375), South Gyeongsang Province (76,123), Incheon (72,259), North Gyeongsang Province (58,119) and Busan (45,999)./.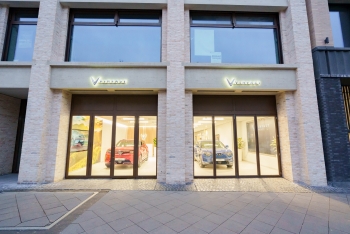 Economy
VinFast has officially opened its first two VinFast Stores in Cologne, Germany, and Paris, France.