12 Beautiful Churches in Nam Dinh
The northern city of Nam Dinh is known as the home to many beauitful Roman Catholic churches.
With unique and ancient architecture, top 12 churches in Nam Dinh Province – the heartland of the Catholic faith, have attracted a wide range of international and domestic visitors.
They include the Bui Chu Conference of Catholic Bishops, Kien Lao Church, Phu Nhai Conference of Catholic Bishops, Thanh Danh (St Jean) Parish, Hung Nghia Church, Trung Linh Church, Xuong Dien Church, Tang Dien Parish, An Phu Church and Nam Dinh Church.
Heavily influenced by Spanish and French Gothic architecture, some of the province's cathedrals are newly built and defined by their splendor. Others are ancient and crumbling.
1. Bui Chu Conference of Catholic Bishops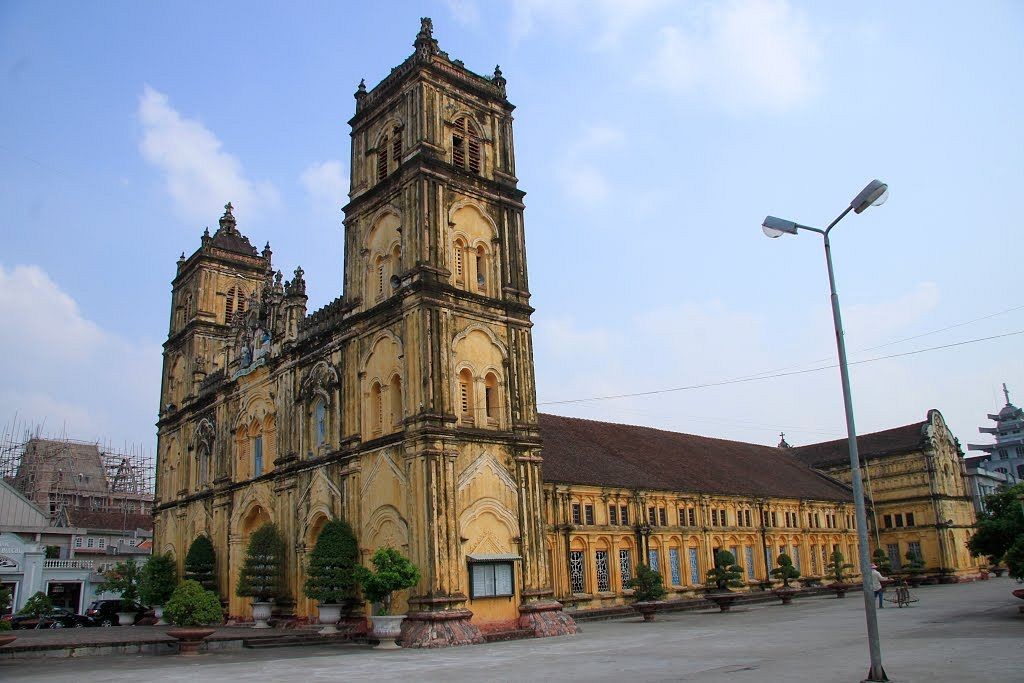 Photo via Tin Tuc Nam Dinh.
The Bui Chu cathedral, whose full name is Cathedral of Mary Queen of the Rosary, was built in 1885 by French colonists. It is located in Xuan Ngoc commune, Xuan Truong district, Nam Dinh province. This is also the resting place of the five bishops who once controlled the diocese.
Distance from Hanoi Cathedral to Bui Chu Cathedral is about 122 km, 2 hours 33 minutes by car.
Situated at Xuan Ngoc commune, Xuan Truong district since 1885, over 100 years old, Bui Chu Conference of Catholic Bishops is still majestic with 78 meters long, 22 meters wide and 15 meters high.
It's said to be the area where Catholicism first took root in the 16th century.
2. Phu Nhai Conference of Catholic Bishops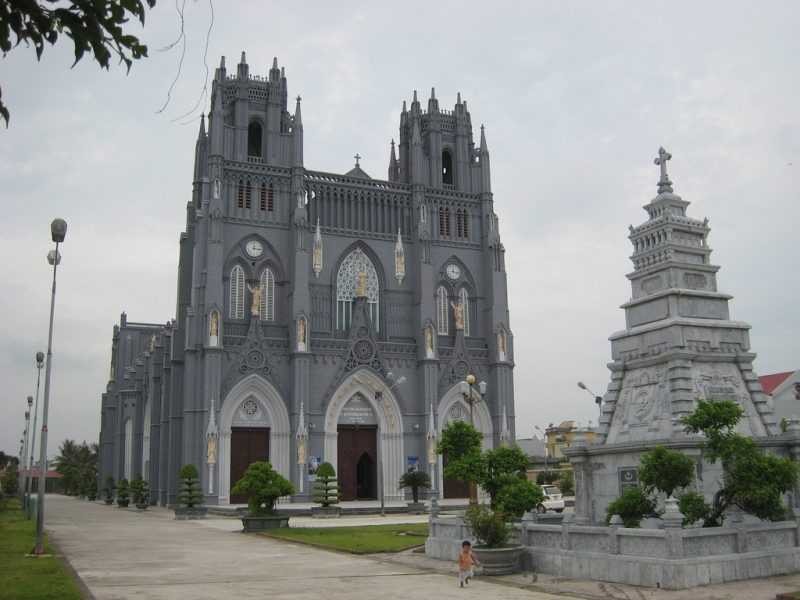 Source: giaoxugiaohovietnam.com
Phu Nhai church has experienced five times of construction. The first time is in the 18th century and most recently in 1933. Currently, this work covers 2,160 square meters. In front of the church is a square. On the right is a 17-meter tower dedicated to St. Dominic, who founded the Dominican Order in the 12th century.
Dominicans were the first missionaries to enter Vietnam in the 16th century. On the left of the church is a 15-meter tomb containing remains of 83 martyrs of the Phu Nhai diocese. Around the church are 14 embossments depicting Christ carrying the cross to his crucifixion.
The church beguiles visitors with its Gothic decorations and architecture reminiscent of the Middle Ages in Western Europe. The embossments on the doors and walls are engraved with Chinese script. The two bell towers have four bells made in France, each weighing two tons. They are rung only during major festivals.
Two majestic wooden doors open to a cathedral with splendid arches.
3. Kien Lao Church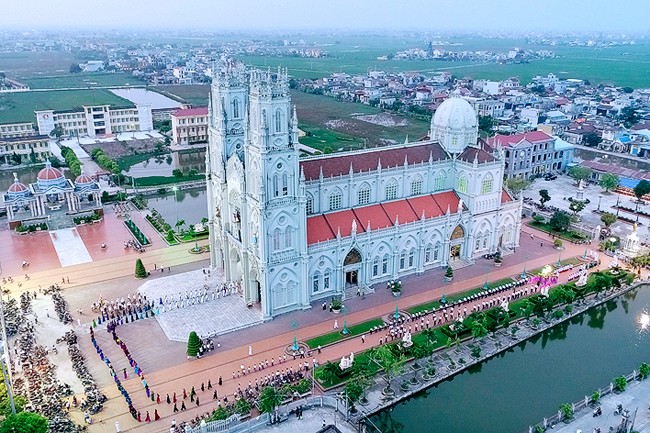 Source: giaoxugiaohovietnam.com
The church is home to the largest parish of Bui Chu diocese with about 9,000 believers. Kien Lao Shrine was built around 20 years ago, but it replaces a 1-century old wooden predecessor which prides itself as among earliest Catholic hotbeds of the country.
The Kien Lao church is located in Xuan Tien commune, Xuan Truong district with the length of 75 meters, the width of 26 meters, the height of 28 meters and the bell tower of 46 meters high. Two romantic lakes surround the church and its impressively beautiful pastoral care centre.
4. Trung Linh Church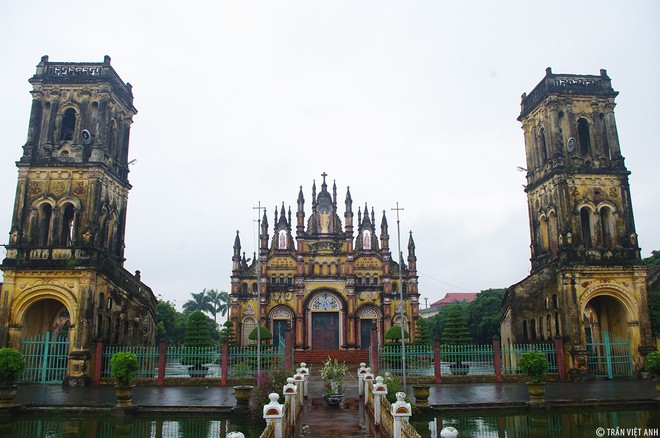 Photo: Tran Viet Anh
A few minutes walk from Bui Chu Cathedral, Trung Linh Church hosts the parish of the same name. The church has existed for more than 100 years within a busy and crowded village as private houses encircle it.
The church differs itself by having some Vietnamese architectural elements added to gothic and roman style. Its two belfries detach and stand on the entrance. A lake in front with a statue of Maria extends the compound out of its main area.
The church is situated in Xuan Ngoc commune, Xuan Truong district, about 1.5 km from Bui Chu Conference of Catholic Bishops. This is a favorite wedding photo shoot.
5. Thanh Danh (St Jean) Parish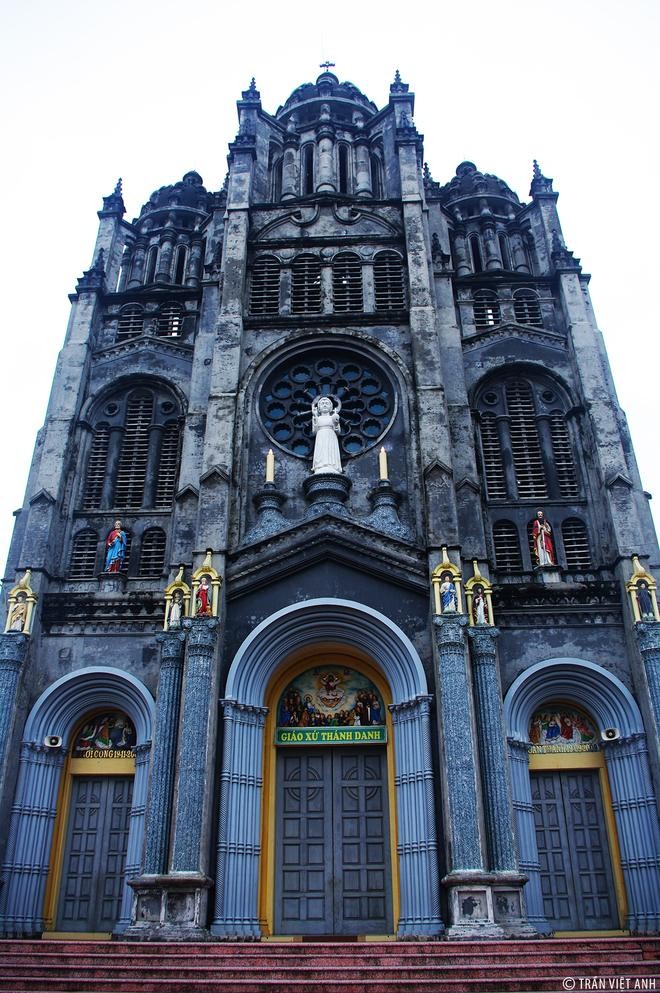 Photo: Tran Viet Anh
The church is somewhat called the black castle for its magnificence. Its four dorms rise high to make a distinct trait of itself. Pictures on stories in the Bible are painted on the exterior.
Similar to other fellow regional churches, Thanh Danh is built into a neighbourhood (or in fact vice versa). The church ground is completely open to passers-by, bringing in a closeness feel. Its height must be some of the most splendid in the province too.
Thanh Danh Parish is located in Xuan Ngoc commune of Xuan Truong district and has many appliqué paintings about Bible stories.
6. Hung Nghia Church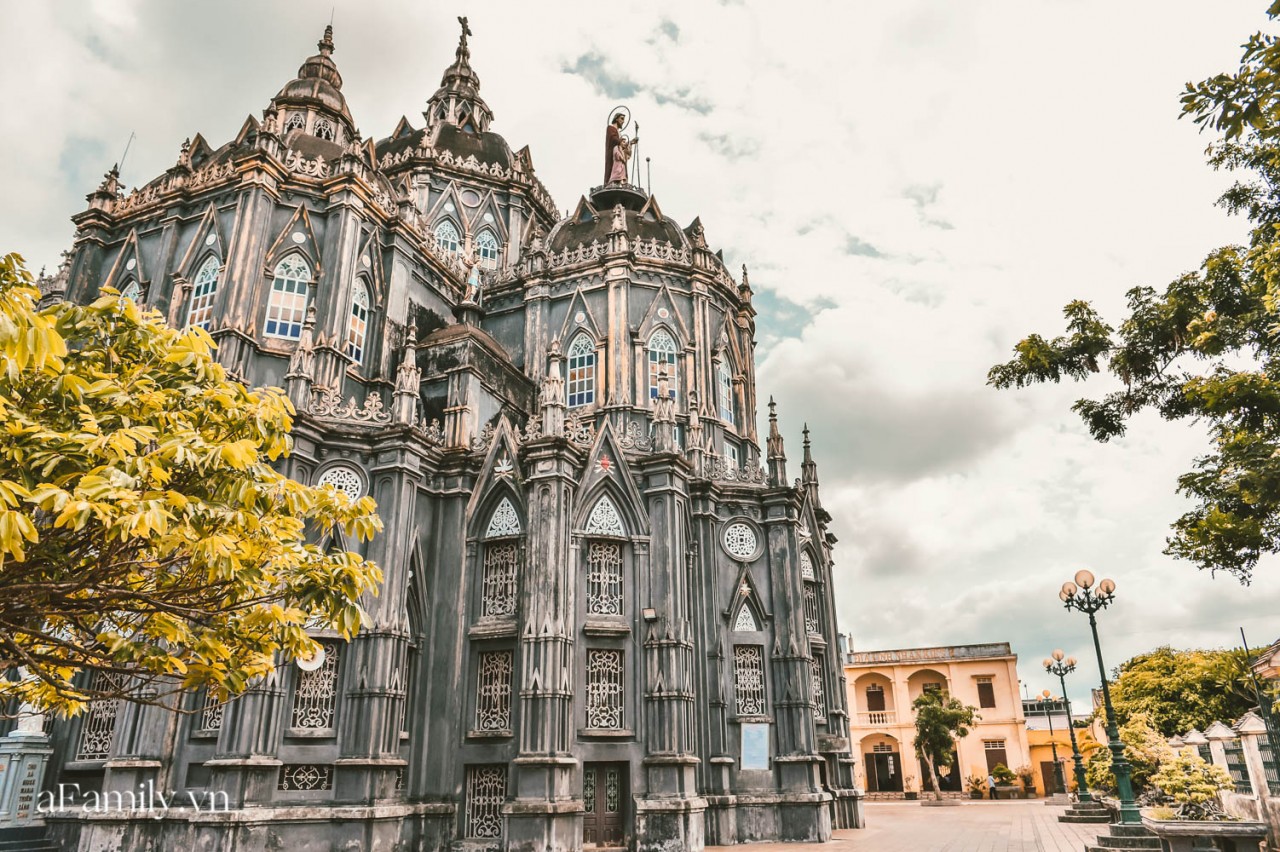 Source: aFamily
Guests will be astonished by the sight of a magnificent castle of Hung Nghia church with fine and detailed decorations. This church in Hai Hung commune of Hai Hau district was built in 1927 and its renovation was completed in 2000.
The church was constructed in 1927 as the Gothic architecture of France, Spain. Over the years, however, the church has been deteriorated by the effects of inclement weather. Until 2000, Hung Nghia parish was renovated, repaired and until 2007, it was completely completed from inside and outside.
Since then Hung Nghia Church has quickly become an extremely interesting place for those who first come to this land.
7. An Phu Church
This church is in Bui Chu parish, with quite distinctive architecture. Through the ups and downs of history, wars, and weather, the church fell into disrepair and it was rebuilt in 2007.
8. Nam Dinh Cathedral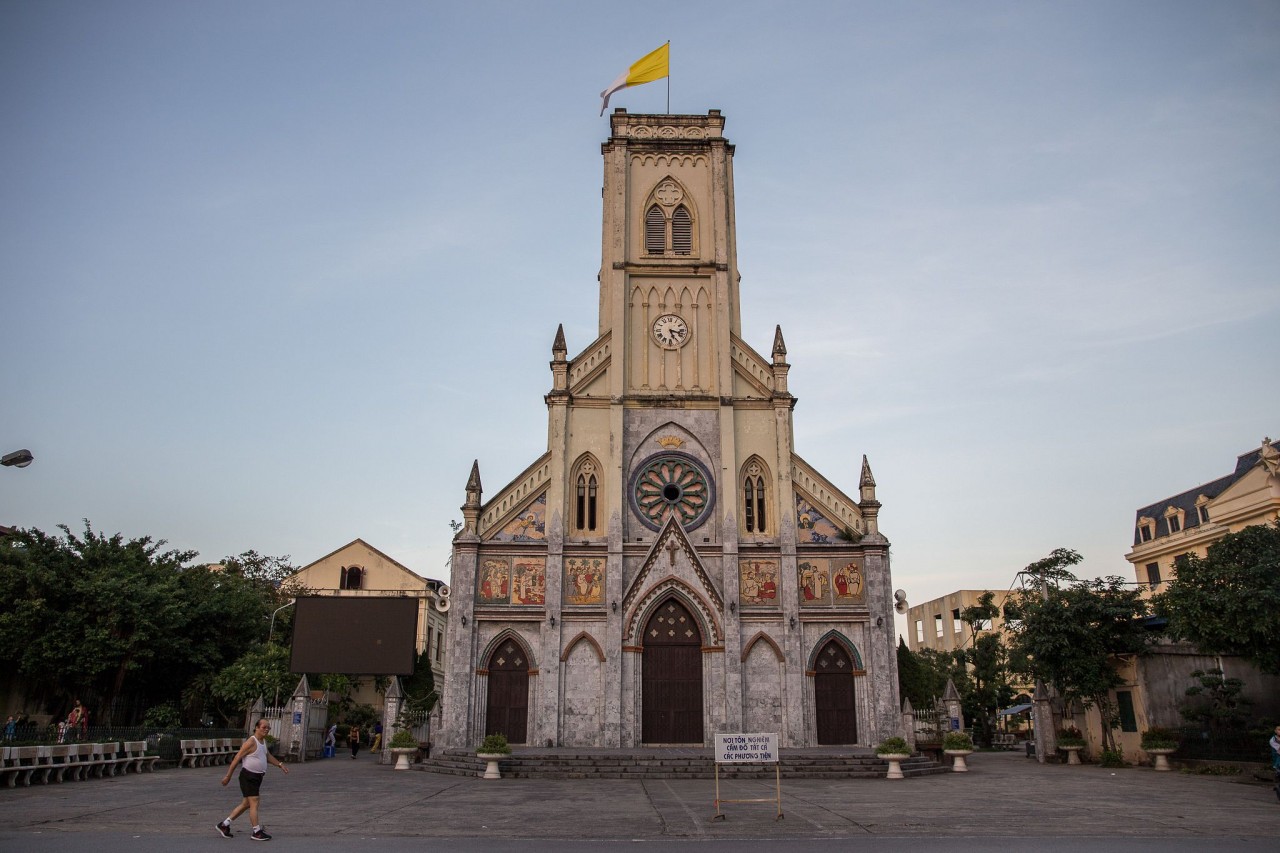 Source: urbanisthanoi.com
Located in the heart of Nam Dinh City, the church has a simple design but still exudes serious contemplation.
With a simple but delicate architecture, St. Joseph Cathedral always exudes a serene, ancient beauty in the middle of the busy city center. In front is a large square for visitors to have fun and also a ceremony yard for solemn ceremonies.
9. Xuong Dien Church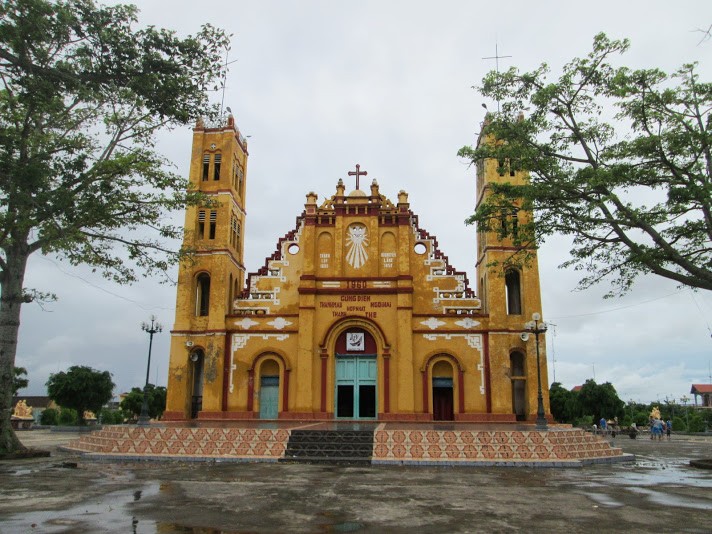 The combination of European-Asian style makes the building become familiar.
The church is located in the coastal commune of Giao Thuy, Hai Hau province, with tile roofs and wood frame like Buddhist temples in Vietnam. The combination of European-Asian style is familiar to Vietnamese.
10. Tang Dien Parish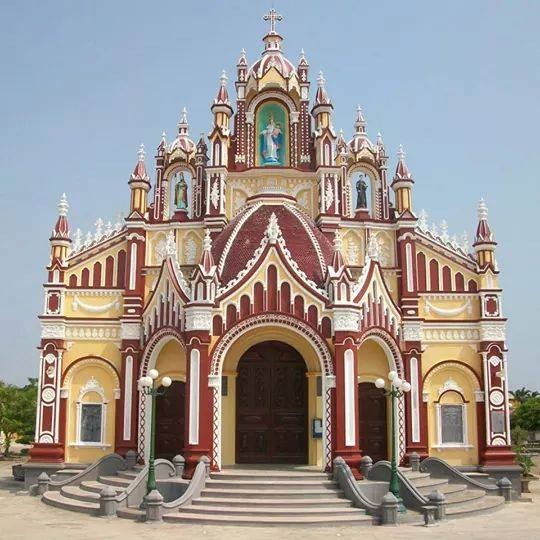 Source: Thánh Đường Việt Nam
Tang Dien Parish stands out with its Western and Vietnamese architectural style. The church has yellow and red tones.
The church has a large campus with a small lake next to it. Therefore, even though the church is closed for now, visitors can still take pictures outside.
From Nam Dinh city, it takes 35-40 km to reach Hai Hau district, where you can visit the mentioned churches.
11. Quan Cong Church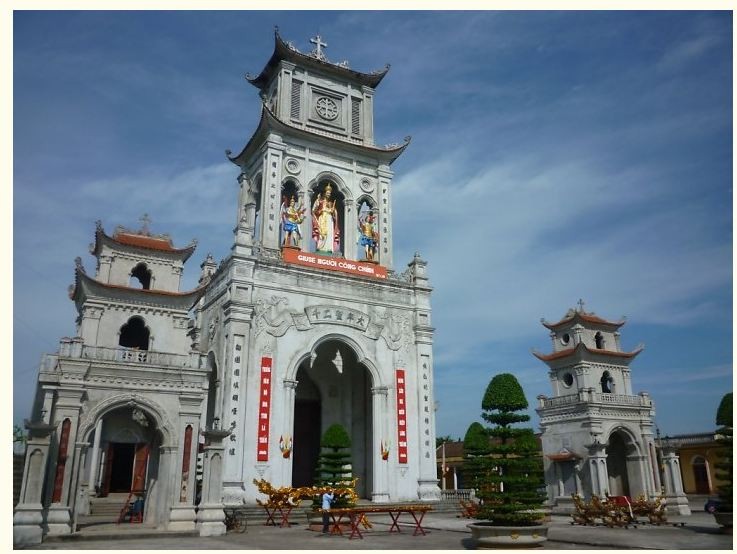 Source: giaoxugiaohovietnam.com
It bears significance architectural difference to usual widespread European style by adopting a traditional north Vietnamese design. The entrance is shaped like a tower, with Chinese scripts on the walls much like old Vietnamese temples. Two other, smaller towers dotted the sides with the same structure, most notably the curved roof.
The church has its own temple for worshipping 3 local heroes to the left of the main building. It was built in an Asian style with 3 round roofs. The roundness combines with the square shape of the towers to represent traditional concept of heaven and earth.
12. Con Ve Church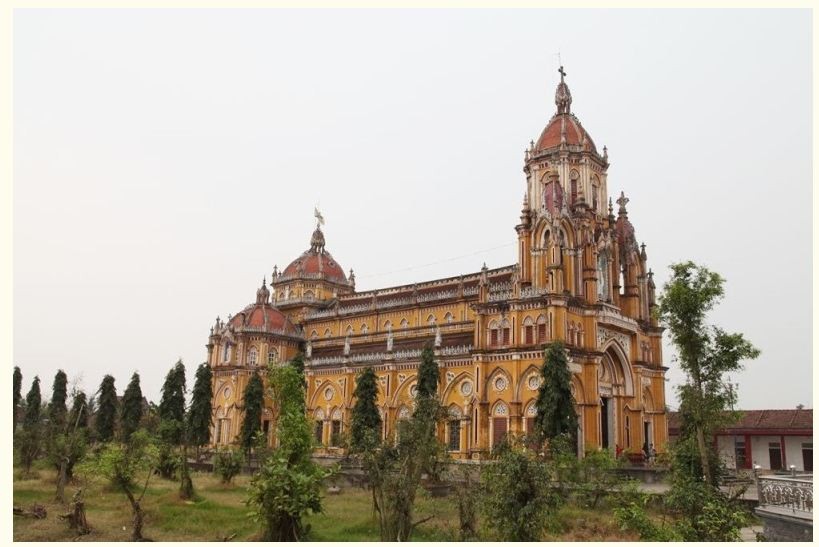 Source: giaoxugiaohovietnam.com
The small 200-year-old Con Ve parish with a open space in the design of belfries and with the feature of 3 complex statues.
The yellow paint recalls traditional Vietnamese colour, highlighting the comprehensive gothic structure.
Bonus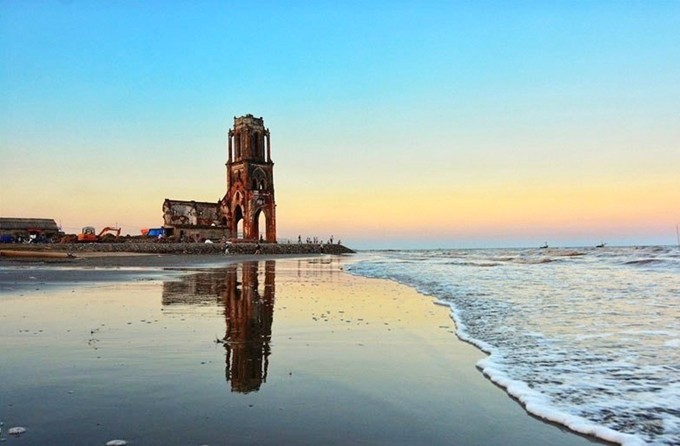 Hai Ly collapsed church. Source: CPV
Hai Ly collapsed church is an abandoned project. Currently, only the outer frame of the church still stands. However, the ruined look and the dilapidated brick structure have made this site a famous tourist attraction in recent years.
In the past, the coast of Xuong Dien in Hai Ly commune, Hai Hau district had many large and small churches.
However, over time, seawater encroached on the coast and damaged these churches. Parishioners moved the church deep into the mainland three times to avoid the "invasion" of the sea.
The damaged church on the coast of Xuong Dien named Trai Tim (Heart) has been abandoned since 1996.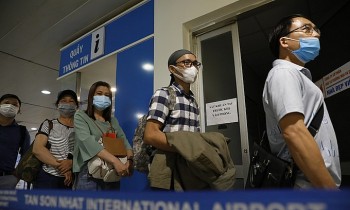 Focus
Over 55.5 million people in Vietnam have now been fully inoculated, while more than 73.8 million people have received at least one dose of Covid-19 vaccine.