Major General To An Xo, spokesman of Vietnam's Ministry of Public Security, said authorities have found some local and foreign businesses leaking foreigners who are not experts or high-skilled workers to the list for priority entry into the country, vnexpress reported.
"This is just an initial finding. There is yet no official count on the number of illegal entries, so localities need to step up inspection," said Mr. Xo.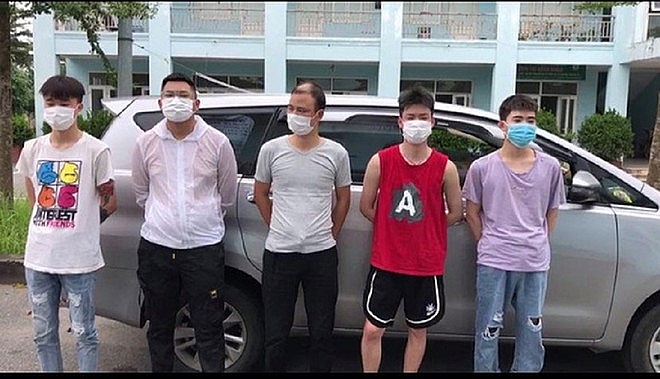 5 Chinese who illegally entered were detained and arrested by police on July 27. PHOTO: MINH HAI
Vietnam halted entry for foreign nationals on March 22 and only allows foreigners who have diplomatic or official passports or those who are experts or high-skilled workers to enter the country at this time.
The National Steering Committee for Covid-19 Fight and Prevention on Friday asked all foreign experts coming to Vietnam for work to get Covid-19 tests done three to seven days prior to arrival.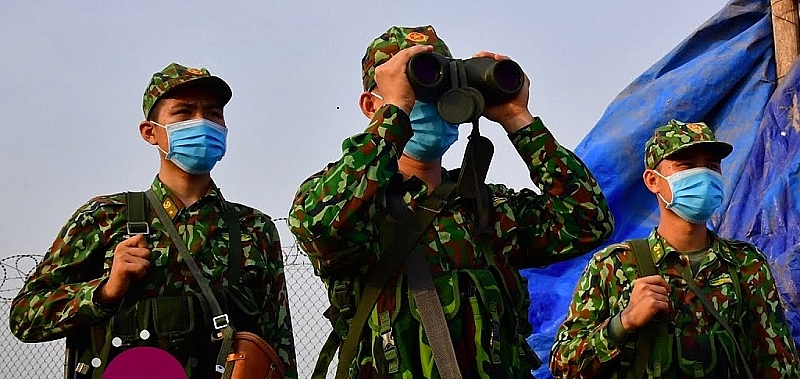 Border guards in the fight against Covid-19. Photo: VTC Now
The request came after an increasing number of foreign experts granted permission to work in the country have been testing positive for the novel coronavirus, including 17 Russian oil experts who came in a group of 69 to Ho Chi Minh City on July 11.
A spokesman of the Ministry of Public Security said that through initial review, a number of cases of illegal immigration were found in Tay Ninh province. Earlier, Quang Ninh, Da Nang, Quang Ngai also detected dozens of cases of Chinese illegal entry through unofficial ways, Thanhnien reported.
On July 27, the police force of the Ministry of Public Security, on patrol and control on the Hanoi - Lao Cai highway, also discovered 5 Chinese nationals who illegally entered Vietnam, were on road to Hanoi to fly to Ho Chi Minh City.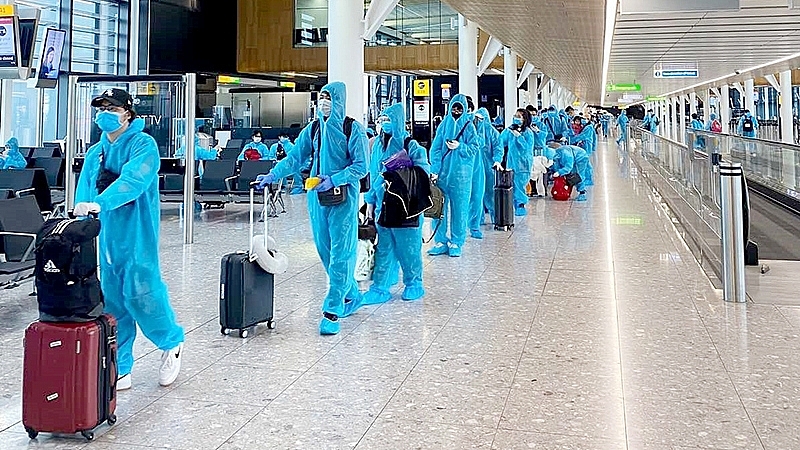 It is necessary to strictly control the border and take strong measures against illegal immigration into Vietnam to minimise the risk of the virus spreading locally. Photo: nhandan.org.vn.
According to Youth News (tuoitre), in addition to reviewing the residence, the Ministry of Public Security also directed the Police Professionals Department, the local police, especially the localities having borders, to urgently review cases of illegal immigrants and clarify the methods of illegal entry tricks.
Besides, military forces need to cooperate to tightly control the trails, the quota opening at the border and the border to apply medical isolation measures and handle violations in accordance with the law. Accommodation receiving illegal immigrants shall be strictly punished.
The Ministry of Public Security requires local police to intensify information and communication activities so that people and soldiers can fully implement measures to prevent and control epidemics.
Ruby Lee