Vietnam coronavirus updates are presented on some prestigious English outlets including CNN and The Guardian, BBC, The New York Times, Fortune among others citing the recent situation of fresh cases and mentioning the strict measurement of Danang city to evacuate 80,000 suspected people.
Vietnam is evacuating 80,000 people -- mostly local tourists -- from the popular resort city of Da Nang after three residents tested positive for coronavirus, reported CNN.
On Saturday, a 57-year-old man was confirmed to have tested positive, in the first community infection since April. According to The Guardian, social distancing measures have been introduced indefinitely across Danang, a tourist hotspot, with all religious, sports and cultural events suspended. Wearing masks in public places in the city is now compulsory and gatherings of more than 30 people at public places are banned, the government has said.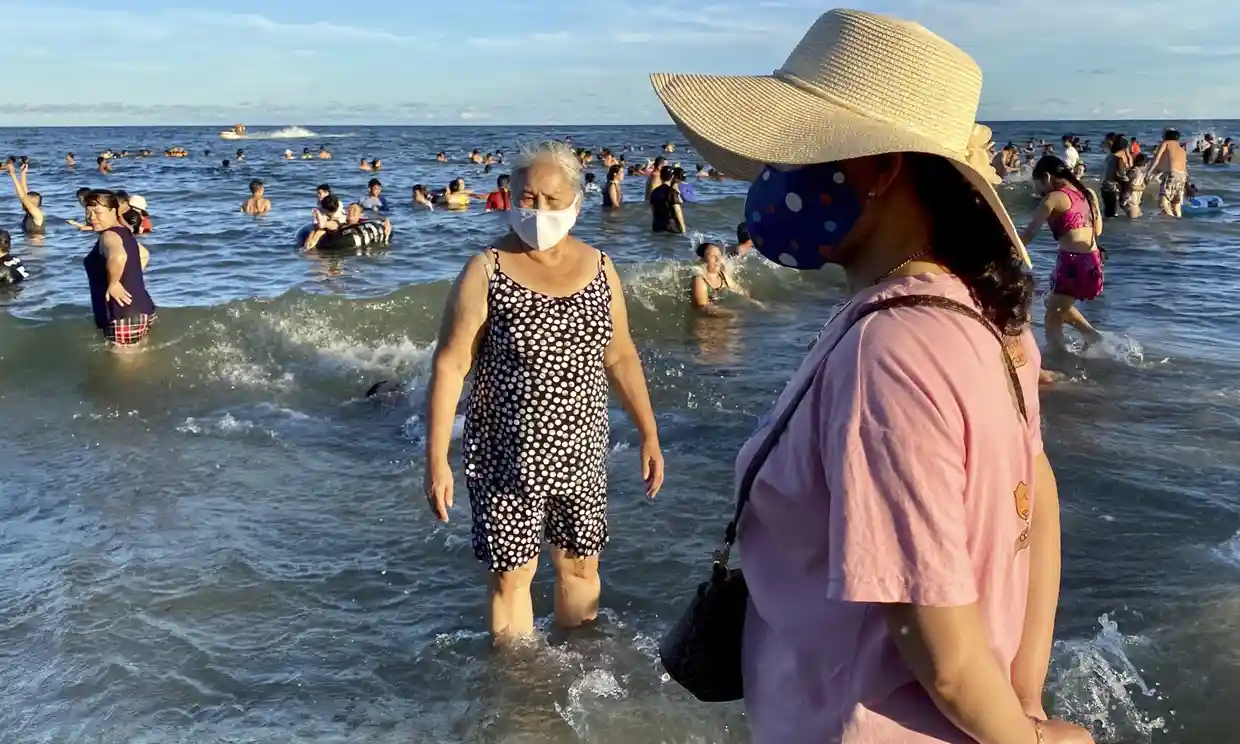 Vietnam has reimposed restrictions after the first locally transmitted Covid-19 cases in the country in over three months were recorded. Photograph: Hau Dinh/AP
Most foreign travelers are currently banned from entering Vietnam, and anyone who does arrive must stay in quarantine facilities. "It is very well managed, and very well controlled, so if a new cluster can still happen here, then it is definitely worrying to other countries that may not have quite as strict policies," said Todd Pollack, a Hanoi-based infectious disease specialist from Harvard Medical School, reported The Guardian.
After the success of the country to prevent community infection since April, Vietnam has promoted the travel to recover from the pandemic.
In June and early July, Vietnam launched a "travel bubble" for business travelers from Japan, and it was considering a similar arrangement with Taiwan. Thailand had named Vietnam as one of the countries it was thinking of including in its tourism bubble. The weekend's spate of new local cases could put those plans in jeopardy. Should it grow, the outbreak could hit Vietnam's economy, which has been one of Asia's few bright spots, according to Fortune.
Da Nang is a tourist hotspot popular with domestic and international tourists, who flock to the city's white sandy beaches and seafront resorts, according to CNN.
Besides, other newspapers praised Vietnam's effort in preventing the pandemic in several continuous months. However, the presses raised the alarm of high caution to the wave of coronavirus.
Vietnam has been lauded as a success story of the pandemic having acted early to close borders and enforce quarantine and contact tracing, according to BBC. It has recorded just over 400 cases and no deaths.
Vietnam was quick to take proactive lockdown measures. On February 12, it locked down an entire rural community of 10,000 people north of Hanoi for 20 days over seven coronavirus cases -- the first large-scale lockdown known outside China, reported CNN.
Vietnam had not recorded a local case—an infection transmitted within the community, rather than imported from an inbound traveler—since April 16, and life was largely back to normal, said Fortune.
But over the past four days, nearly 100 days after its last locally transmitted case, 14 new cases emerged in Da Nang, a central coastal city popular with domestic tourists. Another case was reported in nearby Quang Ngai Province, reported BBC.
Janet Dang