Vietnam COVID-19 updates July 28: 19 foreigners illegally entering Hanoi arrested
Authorities in Hanoi found 19 foreign nationals illegally entering the city, reported Thanh Nien newspaper. Meanwhile, Vietnam has detected 11 further fresh Covid-19 cases all contacting with Danang Hospital.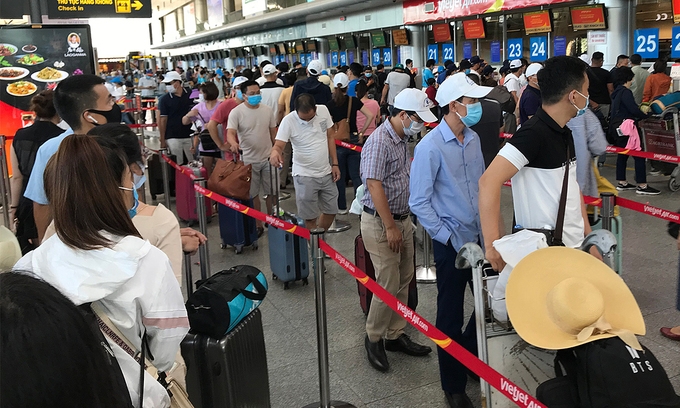 Passengers line up to complete procedures to fly out of Da Nang City at Da Nang International Airport July 26, 2020. Photo by VnExpress/Doan Loan.
On the afternoon of July 27, at the meeting of the National Steering Committee on COVID-19 Prevention and Control, Hanoi has gone 104 days without new infection, however, Vice Chairman of the Hanoi People's Committee Ngo Van Quy said that in the past time, Hanoi had arrested 19 foreign nationals illegally entering the city, fortunately timely detected by the people and functional forces. Thankfully, all 19 cases were negative for the SARS-CoV-2 virus.
In the face of the increasingly complicated developments of the COVID-19 epidemic, Chairman of the Hanoi People's Committee Nguyen Duc Chung asked the city authorities to thoroughly follow the Prime Minister's direction, heighten alert, closely monitor and strictly handle any violations.
According to Director of the municipal Department of Health Nguyen Khac Hien, over the past time, Hanoi has allowed 1,400 people to enter the city as embassy staff, foreign representative offices in Vietnam; experts of foreign-invested enterprises, etc. All of they are isolated at home and none of them have abnormal symptoms.
The risk of the disease returning to Hanoi at this time is highly concerned by the city leaders, mainly because of roughly 15,000 to 20,000 people traveling to and from the central city of Da Nang - now a coronavirus "hot spot" in Vietnam after four community infections were detected over the past few days.
However, Chung noted that people should not be too worried, because Hanoi had gone more than 100 days without a single local case of infection, meaning there is no intrinsic sources of infection. .
The problem now is that people returning from Da Nang must monitor own their health, self-quarantine and avoid contact with people. If any signs and symptoms like burning throat, cough, or fever is detected, they have to contact health facilities immediately.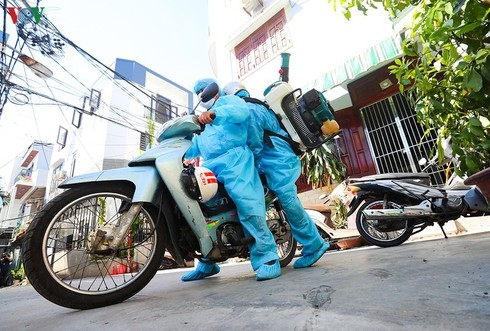 Medical workers have been deployed to disinfect the area where the newly detected patient lives in Da Nang. Photo: VOV
Authorities have found 73 Chinese nationals illegally entering Da Nang and nearly Quang Nam province over the past few days.
Permanent Deputy Prime Minister Truong Hoa Binh has required ministries, agencies and localities to heighten alert and resolutely prevent illegal entry into Vietnam amid the complicated developments of the COVID-19 pandemic and the recent discovery of several cases of Chinese illegally entering Vietnam.
The requirement was highlighted in a document announcing instructions made by the Deputy PM during a recent national teleconference to review performance of the Government's Steering Committee on Crime Prevention and Control and the National Steering Committee on Fighting Crimes, Smuggling, Trade Fraud and Counterfeits (Steering Committee 389) and outline their future tasks.
The Ministry of Public Security was urged to crack down on crimes of all types, especially the illegal entry of foreigners into the country.
If there is a request to quarantine passengers on flights from Da Nang to Hanoi and HCM City, the Civil Aviation Administration of Vietnam (CAAV) and Airports Corporation of Vietnam (ACV) are ready to organise health checks and quarantining for all passengers in the international terminals at Noi Bai and Tan Son Nhat International Airports, in line with guidance from the National Steering Committee for COVID-19 Prevention and Control.
Meanwhile, the Vietnam Railway Corporation has said that given the complex developments surrounding COVID-19 in Da Nang, it will add more trains from the city to Hanoi and HCM City from July 27, VNA reported.
Vietnam reported the discovery of a further 11 fresh cases of COVID-19, with all the confirmed cases being related to Da Nang Hospital, raising the national tally of coronavirus infections to 431, the Ministry of Health said in its July 27 update.
With a total of 14 cases diagnosed with the deadly virus so far, Da Nang is currently a coronavirus hot spot in the country./.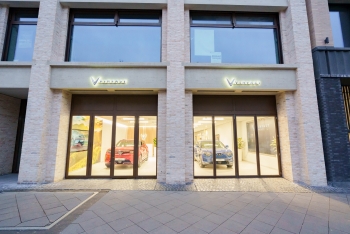 Economy
VinFast has officially opened its first two VinFast Stores in Cologne, Germany, and Paris, France.