Vietnam, RoK to lift mandatory quarantine for short-term entry from Jan 1
Vietnam and the Republic of Korea (RoK) have agreed on quarantine-free procedures for short visits of fewer than 14 days for the purposes of investment, trade or diplomacy, according to an announcement of the Ministry of Foreign Affairs.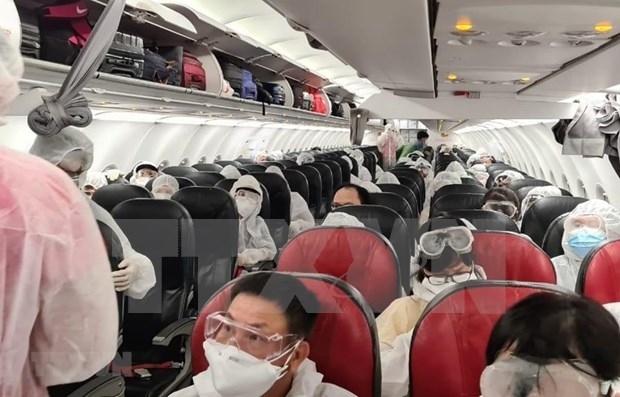 Illustrative photo. Source: VNA
Prioritized groups of experts, investors and businesspeople from the RoK or Vietnam entering either one of the two countries on short-term visits will not have to undergo concentrated quarantine from January 1 next year.
After their entry into Vietnam or the RoK, the entrants will still have to be tested for the disease and have their health frequently checked. They will only be able to engage in activities approved by the host country's authorities.
The Vietnamese and Korean competent agencies will provide detailed guidelines on the eligible entries, requirements and regulations on the short-term entry procedures between the two sides, according to the ministry.
Earlier, Vietnam and Japan had mutually agreed to implement an arrival procedure called priority travel for short-term entries from Japan into Vietnam and business track for Vietnamese nationals entering Japan without undergoing the mandatory 14-day quarantine on short-term visits from November 1.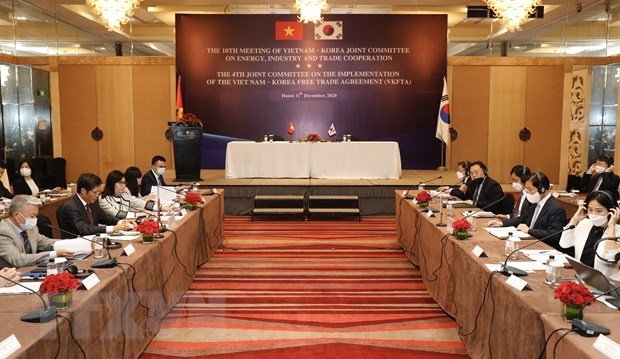 Vietnam and the Republic of Korea have signed an action plan to complete the target of raising their bilateral trade to 100 billion USD by 2023. Photo: VNA
The Ministry of Health on December 14 confirmed five fresh imported cases of COVID-19, all Vietnamese citizens, returned the nation from Angola, Indonesia and Saudi Arabia, taking the nation's overall number of infections to 1,402.
Meanwhile, the RoK on Monday added 718 more COVID-19 cases, including 682 local infections, raising the total caseload to 43,484, according to the Korea Disease Control and Prevention Agency (KDCA).
On Sunday, the country reported its largest daily caseload ever of 1,030 new coronavirus cases, setting yet another fresh high after reporting 950 cases Saturday.
The RoK had been touted as one of most successful countries in coping with COVID-19 despite ups and downs, maintaining most of its economic activities without a full lockdown.
Vietnam and the RoK in December have signed an action plan to complete the target of raising their bilateral trade to 100 billion USD by 2023.
The RoK was Vietnam's third-largest trade partner last year, after China and the US, fourth-largest export market, and second-largest import source. Vietnam exported 19.7 billion USD worth of goods to the RoK and imported 47 billion USD worth.
Two-way trade stood at 47.5 billion USD in the first nine months of this year, down 5.1 percent year-on-year, of which export revenue was 14.5 billion USD, down 2.1 percent, and import value 33 billion USD, down 6.5 percent.
As of October, the RoK had some 8,900 valid projects in Vietnam, valued at about 70.4 billion USD, ranking it first in terms of both project numbers and registered capital.
RoK firms contributed about 30 percent of Vietnam's export value in the first nine months.
Vietnam, meanwhile, has invested in 49 projects worth 35.24 million USD in the RoK, primarily in science-technology, mining, and processing and manufacturing.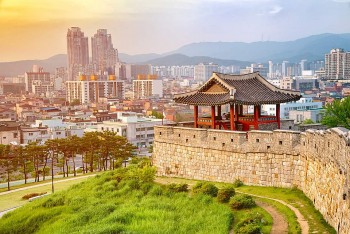 Handbook
The Suwon Hwaseong Fortress, a UNESCO World Cultural Heritage, was built under Joeson Dynasty, is one of the most famous attractions and important historic site in Korea.
Viet's Home
Hoang Long Ly, the talented photographer, has boosted his global profile with works honored at AAP Magazine #20 TRAVELS. Let's scroll down to explore some mind-blowing images from the photo contest.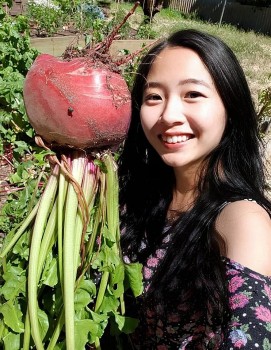 Overseas Vietnamese
A Vietnamese woman living in Australia plants large size fruits and vegetables in her 1,000 sq.m garden. The fruits and vegetables are a source of nutritious food for her family and also help bring her family members closer.