Korean-Vietnamese girl grand prize winner of Korea Multicultural Youth Awards
Kim Hae-young, a 17-year-old Korean-Vietnamese girl just become the grand prize winner of the ninth Korea Multicultural Youth Awards.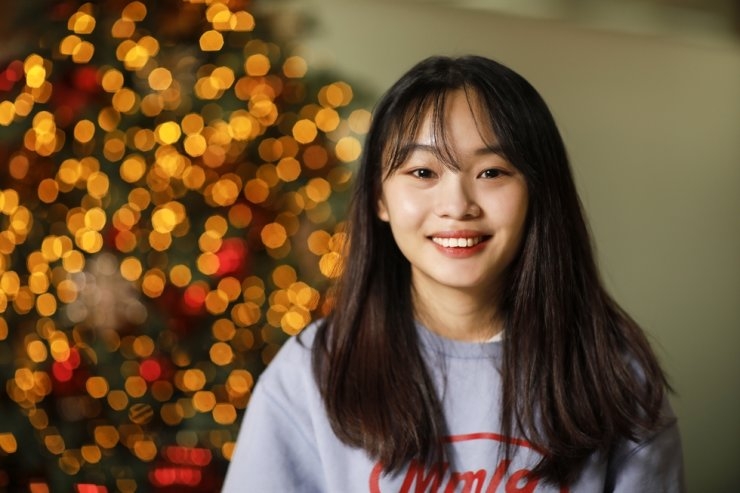 Kim Hae-young, 17, the grand prize winner of the 9th Korea Multicultural Youth Awards, smiles during an interview with The Korea Times at the newspaper's office in Seoul, Dec. 2. / Korea Times photo by Shim Hyun-chul
The awards, organized by The Korea Times, are aimed to encourage students from multicultural backgrounds in the country who at times experience hardships due to cultural barriers and discrimination.
"I was born in Vietnam and raised there until the age of seven. This is something that makes me stand out among others, leading to more opportunities, for instance, the chance to win this grand prize," Kim, who was born to a Korean father and a Vietnamese mother, said during an interview with The Korea Times.
Many people would assume that Kim's multicultural background gifted her with a bilingual talent, but she did not speak any Korean before entering elementary school here. Grasping the language was the first challenge she encountered in her father's homeland.
She often travels some 160 kilometers back and forth by train every weekend from her school dormitory in Asan, South Chungcheong Province, to her home in Seoul.
Spending hours on the road weekly is no burden for the sophomore at Chungnam Foreign Language High School, who says she is happy to study at "the only high school in the country offering in-depth classes in my mother's language, Vietnamese."
"With low confidence in speaking, I used to be a shy girl in the class, keeping to myself," Kim recalled. "But with the help of friends, teachers, and my supportive mother, I was able to acquire the language quite easily."
Now a fluent speaker of both Korean and Vietnamese, Kim won first place in the nationwide bilingual speech contest last year.
The soon-to-be high school senior is now trying to balance her time between academic life and social activities. Although she feels that it is time to concentrate on preparing for the national college entrance exam, experiences outside the classroom are also an important part of Kim's energetic life.
"Hae-young participates in so many activities in and outside of the school. She signs up for basically every event, competition, school project, and club activity that she can. It's remarkable that she manages all those while maintaining good grades," Kim's homeroom teacher Kim In-soo shared.
He added that Kim is a self-motivated student with many achievements under her belt and she has a lot of potential.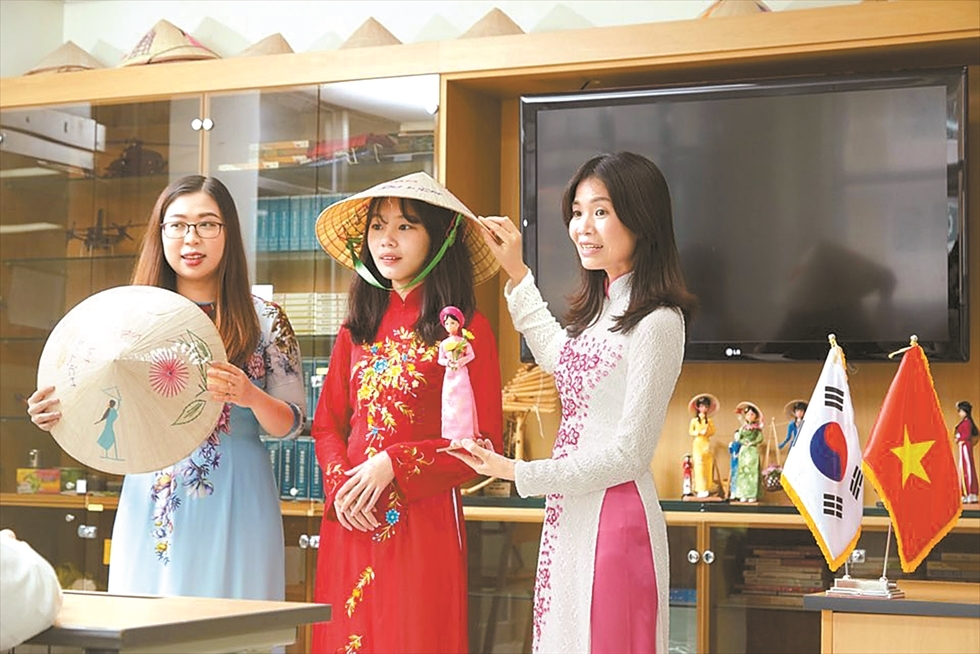 Kim Hae-young, center, poses in a traditional Vietnamese ao dai dress during a photo shoot for the school viewbook in October. / Courtesy of Kim Hae-young
Kim has a long list of accomplishments ― a former member of the youth assembly at Seodaemun-gu in Seoul where her home is, a student ambassador of the Dokdo Islets, a volunteer at the Korea-Vietnam Culture Communication Center, and the leader of a business administration study group and multicultural volunteer club at her school.
But Kim was not always an extrovert. There were times when she struggled due to a sense of not belonging in either Vietnam or Korea.
"Since I was born as a Korean national, I was technically a foreigner in Vietnam. But I also felt left out in Korea when my friends asked about my nationality, sometimes treating me like a person who will eventually go back to where I was born."
But Kim was able to overcome these difficulties through interaction with other multicultural children who were experiencing similar feelings.
"I met a lot of new friends from diverse family backgrounds in social contribution programs of a local company that I participated in at the age of 13, where we shared the difficulties we had in common. The feeling that I'm not alone helped me gain confidence and accept myself the way I am."
Based on her experience, Kim suggested the establishment of a mentoring platform among multicultural youth across the country, as the problems that such students experience can be eased significantly by communicating with peers in similar situations.
"The platform will offer more than just emotional support. Many multicultural teens are deprived of information in terms of education and career development. Through mentoring programs, we can share useful information on studying Korean, scholarship programs, special college admission tracks offered for biracial students, and other opportunities for self-development."
She discussed her ultimate goal ― to become a social entrepreneur and bring a positive influence to society.
Kim's dream is to major in business administration or economics at college, and then run a business of her own to bring social contribution programs to children with diverse family backgrounds.
"I feel overwhelmed by the recognition and awards I receive for just being who I am. The best way to give back, I think, is to provide support for children from multicultural families in the future," Kim said.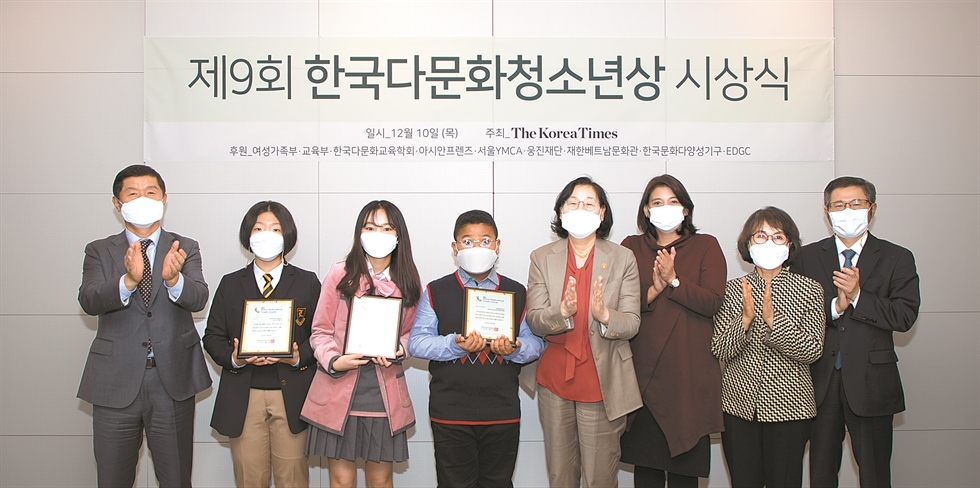 Dignitaries applaud winners of the ninth Korea Multicultural Youth Awards during the awarding ceremony at The Korea Times' office in Seoul. / Korea Times photo by Choi Won-suk
Kim Hae-young was among young men and women from multicultural families in Korea who were recognized for their achievements and volunteer work while overcoming the struggles of adjusting to life in Korean society as a member of a multicultural family.
The Korea Multicultural Awards is hosted and organized by The Korea Times in coordination with the country's Ministry of Family and Gender Equality, the government agency in-charge of looking after the well-being of multicultural families and marriage migrants in Korea.
South Korean Prime Minister Chung Sye-kyun congratulated the winners in a video message. "All of you have chased your dreams even in difficult situations, giving hope and courage to many multicultural children," he said. "The government will make every effort to help you realize your dreams and make the country a place in which you can achieve your goals."
Lee said, "The awardees have shown exemplary deeds by sharing their talent with others despite their own difficulties. The awards, honoring biracial children, are very meaningful for the ministry, as we focus on developing policies for both the younger generation and multicultural families."
Saying that the government has carried out various projects to support multicultural children to adapt to the country, she added that it will soon introduce upgraded policies through which the children will be encouraged to engage in intercultural communication.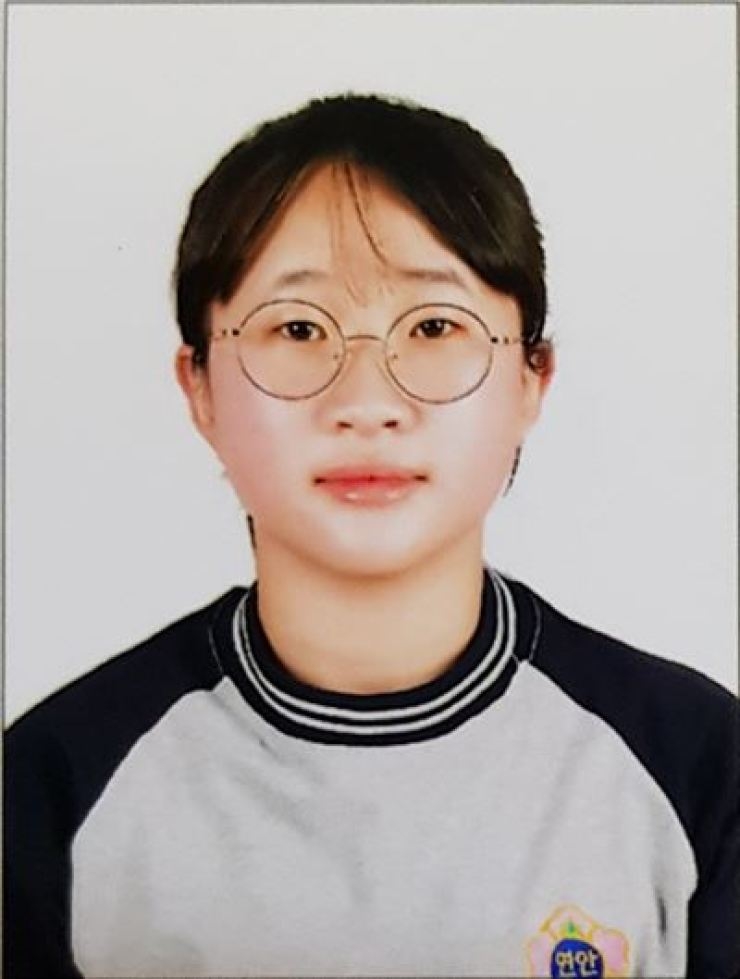 Park Soo-jung. Source: Korea Times
This year, two other Korean-Vietnamese girls also earned the recognitions including Park Soo-jung and Seo Hye-jeong who won the outstanding student awards in the elementary school and middle school categories, respectively.
Park Soo-jung is the student president at Yonan Elementary School in Incheon, The Korea Times reported. The sixth grader displays leadership with her caring personality and the ability to communicate with diverse people.
Park does not hesitate to make proposals and suggestions to the school on behalf of the students.
Born to a Vietnamese mother and Korean father, Park is the oldest among four siblings. She grew up taking care of her brothers and sisters and helping her parents.
Park is also fluent in Vietnamese and Korean. She has proven her linguistic skills by winning a bronze medal in a bilingual speech contest hosted by the provincial government in 2019.
Having spent her early childhood in Vietnam before entering school, Park had struggled with Korean at first, but she did not give up. And through her own efforts she was able to achieve remarkable results in her academic life.
Park especially shows enthusiasm in science. She has received various awards in and outside of school related to the subject, and earlier this year she was honored with a prize from the Ministry of Science and ICT on Science Day in April.
Meanwhile, álso born to a Vietnamese mother and Korean father, Seo Hye-jeong, 14, naturally learned to speak Vietnamese and Korean fluently.
The second grade student at Seonghwan Middle School in Cheonan, South Chungcheong Province, engages in various volunteering activities using her language skills.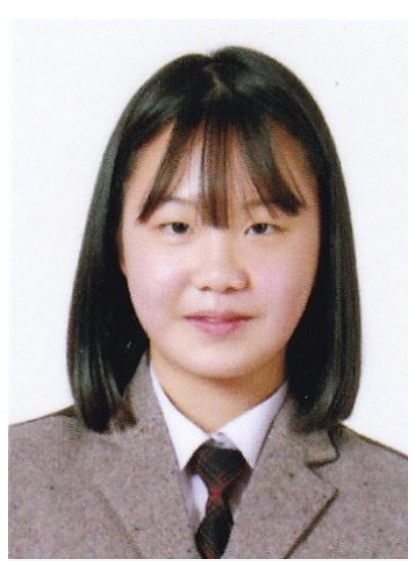 Seo Hye-jeong. Source: Korea Times
Seo voluntarily reaches out to fellow multi-ethnic students who are not fluent in Korean, offering help and translation in Vietnamese and English. As a member of the volunteer club at her school, she proposes various ideas on contactless volunteering activities amid the pandemic, such as making mask straps and writing letters to the elderly in the community.
Seo has also shown her linguistic talents through speech contests hosted by provincial governments. Earlier this year, she won the bronze medal for her speech on the "importance of language in my future vision" at the Bilingual Speech Contest held by the South Chungcheong Province government.
Seo is an excellent student with remarkable grades in all subjects, with the high potential to become a global leader in the future through her hard working attitude and deep understanding of ethnic diversity.
Sa Pa hosts Korean Cultural Day

Korean Culture Day has been held in the northern town of Sa Pa on October 24, with a range of prestigious artists from both Vietnam ...