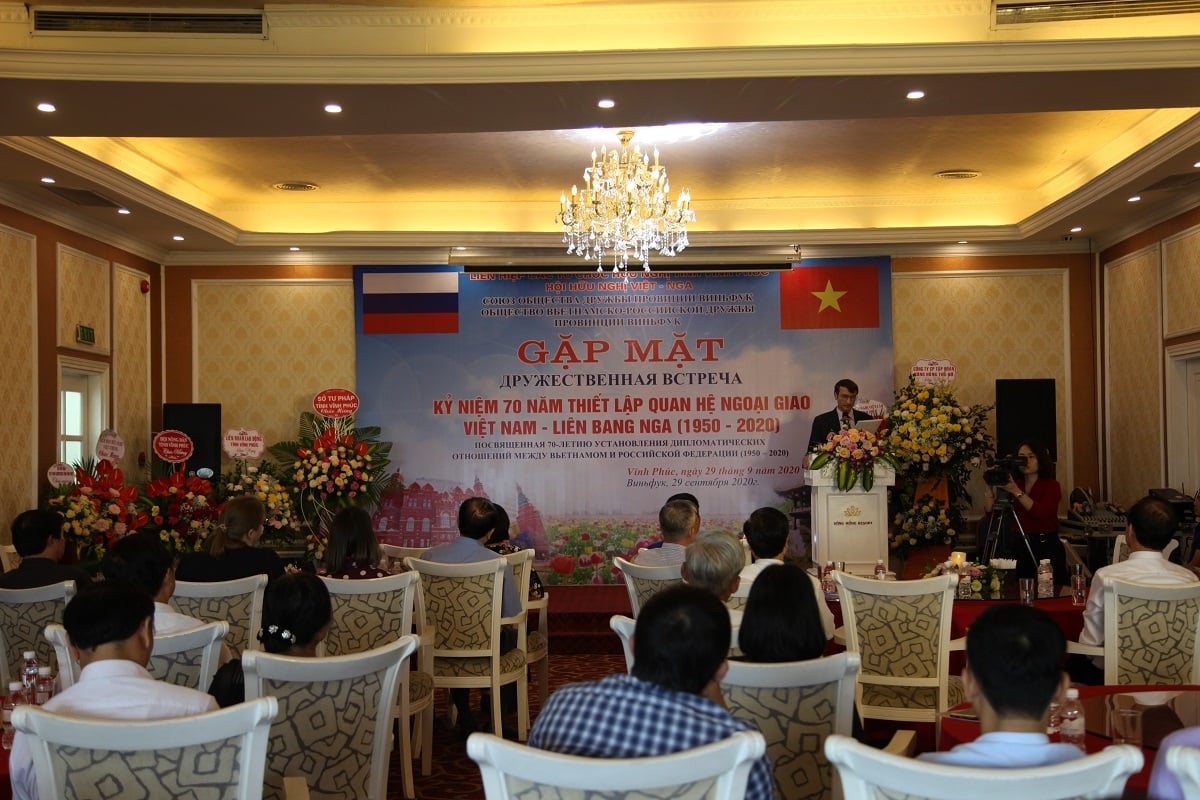 At the gather. Photo: Russian embassy
The Vinh Phuc Union of Friendship Organizations and the provincial Vietnam – Russia Friendship Association held a ceremony to mark the 70th anniversary of Vietnam-Russia diplomatic ties (1950-2020).
In his welcome speech, Vice Chairman of the Vinh Phuc Union of Friendship Associations Nguyen Huy Quang talked about the history of the long-standing friendship between Vietnam and the former Soviet Union, now the Russian Federation, as well as the birth of the Vietnam-Russia Friendship Association of Vinh Phuc province in 2013.
Seventy years ago, on January 1, 1950, the Soviet Union became one of the first countries to establish diplomatic ties with the Democratic Republic of Vietnam, contributing to the country's international recognition. However, the two countries' relations started long before, dating back to the first time the young patriot named Nguyen Ai Quoc, who later became world-renowned as Ho Chi Minh, set foot in the Soviet Union on his journey of researching Communist theory and the national liberation movement.
Both sides have been forced to overcome challenging times and fluctuations in order to enjoy a reliable and constantly-developing relationship. Most notably, bilateral political relations remain highly reliable and ultimately offer a foundation for stepping up extensive co-operation across multiple fields.
In his reply, Minister-counsellor of the Russian Embassy in Vietnam, Vadim V. Bublikov thanked the Vietnamese colleagues for organizing such meaningful event, emphasizing the special relations between the people of the two countries. He, at the same time, acknowledged Vietnam's impressive success in the fight against coronavirus epidemic and expressed hope in further strengthening relations between Russia and Vietnam in all areas.
One of the key events of this program is a photo exhibition entitled "The most beautiful country" of the Russian Geographical Society introduced by the Russian Center of Science and Culture in Hanoi. The exhibition includes the finalists of the contest of the same name, aimed at preserving the wild nature of Russia and educating the spirit and respect for the environment.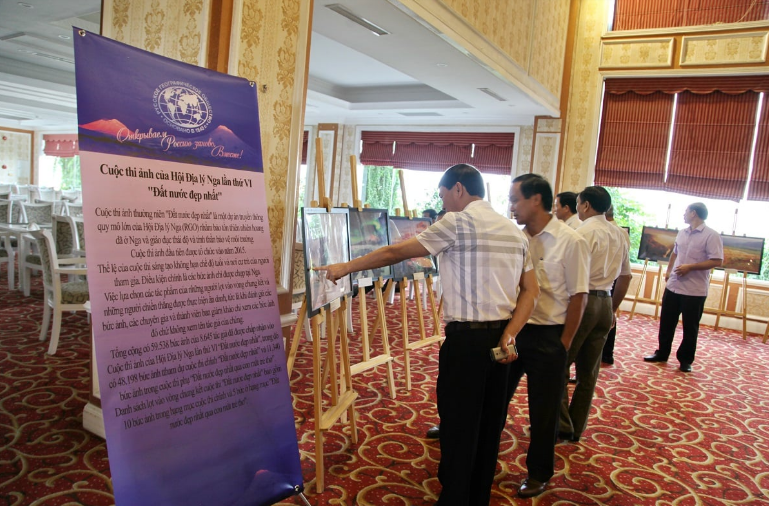 The exhibition displays photos featuring the country, natural landscapes of Russia and 70 years of relations between Vietnam and Russia through historical periods. Photo: Russian embassy
The ceremony took place after a meeting between the Russian delegation led by Minister-counsellor V.V. Bublikov and Deputy Secretary of the Provincial Party Committee, Chairman of the Provincial People's Committee Nguyen Van Tri.
During the meeting, the two sides discussed the potential of developing Russian-Vietnamese cooperation in the fields of economy, technology and culture, between Vinh Phuc province and Russian units./.
Hannah Nguyen