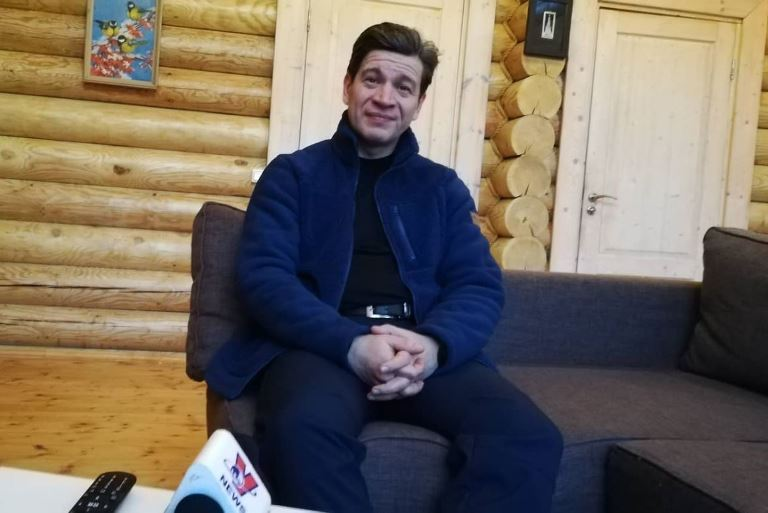 Professor, Dr. Vladimir Kolotov, Director of the Ho Chi Minh Institute of Saint Petersburg National University Photo: Bui Duy Trinh/VNA
Professor, Dr. Vladimir Kolotov, Director of the Ho Chi Minh Institute of Saint Petersburg National University evaluated "Since the August Revolution and its establishment on September 2, 1945, Vietnam has achieved great successes including the victory in the resistance war against French colonialism and American imperialism. Vietnam gained the goal of unifying the country. Vietnam currently is a sovereign country and has a fast-growing economy".
Mr. Kolotov also said that in 2020, Vietnam has assumed the duo role of rotating Chair of ASEAN and a non-permanent member of the UN Security Council. Vietnam has increasingly proved its role in the international arena.
Meanwhile, Professor, Dr. Vladimir Mazyrin, Head of the Centre for the Study of Vietnam and ASEAN at the Far Eastern Studies Institute of the Russian Academy of Sciences, highly spoke Vietnam's economic achievements during its transition to a market economy, which saw it emerging as a rapidly-developing country.
He emphasized that Vietnam is a rare example of a nation succeeding in catching up with its more developed counterparts in the region and the world.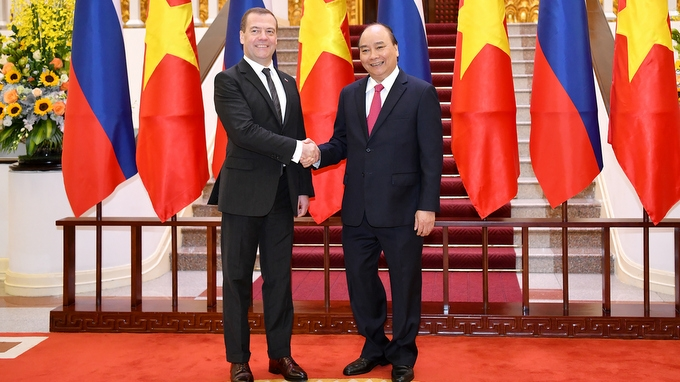 Prime Minister Nguyen Xuan Phuc (R) and Russian Prime Minister Dmitry Medvedev in his official visit to Vietnam in 2018. Photo: VGP
According to the statistics of ASEAN, over the past three decades, annual per capita income in Vietnam has increased 27 times and this is considered a great breakthrough. Vietnam is currently among the countries with the most stable economic development. This has been demonstrated in the context of the COVID-19 pandemic. While most regional countries have seen a considerable slowdown in economic growth in the first half of 2020, Vietnam still posts a positive rate.
The professor cited other experts' forecasts which reveal that by 2050, Vietnam might be included in the group of top 20 countries with the highest gross domestic product (GDP) growth in the world. Vietnam currently ranks 32th in terms of this rate, an extraordinary feat compared to 75 years and 35 years ago, when it was still among the poorest nations in the world. He expressed his strong belief that Vietnam would become a developed economy by 2050.
As one of the Russian senior experts in the field of Vietnamese studies, Dr. Evgeny Kobelev first came to Vietnam in 1958 and paid the closest visit to Vietnam one year ago. He said "I have witnessed a completely different country compared to the first time I came. Thanks to Doi Moi (Renewal), Vietnam's economic growth pace is extremely amazing", adding that Vietnam-Russia relations would thrive in the future.
Malie Nguyen