Vietnam sent another batch of 35,000 face masks to Myanmar
A batch of 35,000 face masks has been shipped from Vietnam to Myanmar to assist the country amidst straining COVID-19 situation.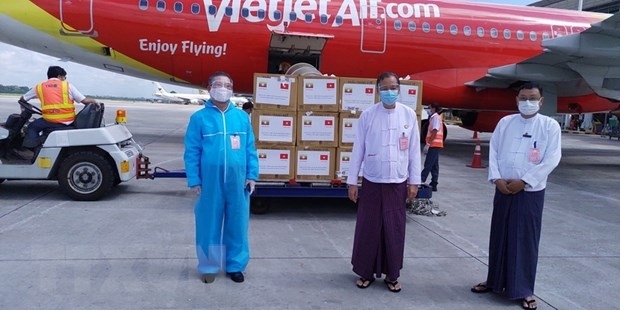 The batch of face masks was handed over to the Mandalay regional government at Yangon International Airport on Saturday (Photo: VNA)
According to VNA, Vietnamese Ambassador to Myanmar Ly Quoc Tuan had handed over the present to a representative of Mandalay regional government at Yangon International Airport Saturday. The shipment was contributed by Da Nang city and Vietnamese citizens across the country.
Speaking at the ceremony, Tuan emphasized the Vietnamese government and its people were always willing to support other countries. He further stated his wish that Mandalay's government and locals would soon control and overcome the damages caused by COVID-19 pandemic.
Mr. U Zaw Lin, a representative of the Mandalay region, expressed his gratitude towards the Vietnamese government and people, especially Da Nang city for the timely, practical support. On top of that, he said Vietnam's concern, sharing, and willingness to help Myanmar amidst the pandemic also helps strengthen the bilateral friendship, and the relationship between the government and citizens of the two countries in recent time.
The shipment marks the fourth time the Vietnamese government and people sent aid packages to Myanmar since the COVID-19 broke out.
Statistics from the Vietnam Embassy in Myanmar, the Vietnamese government had previously sent three other aid packages to Myanmar, which are US $70,000, another US $23,000, and 160,000 medical face masks, hand sanitizers, and medical equipment.
In addition, Myanmar-based Vietnamese enterprises had also donated a total of over US $25,000, and 10,000 face masks.
Vietnam Ambassador to Myanmar Ly Quoc Tuan on July 13 presented the fund to Prof. Dr. Zaw Than Htun, head of the Myanmar ministry's Department of Medical Research. (Photo: VNA)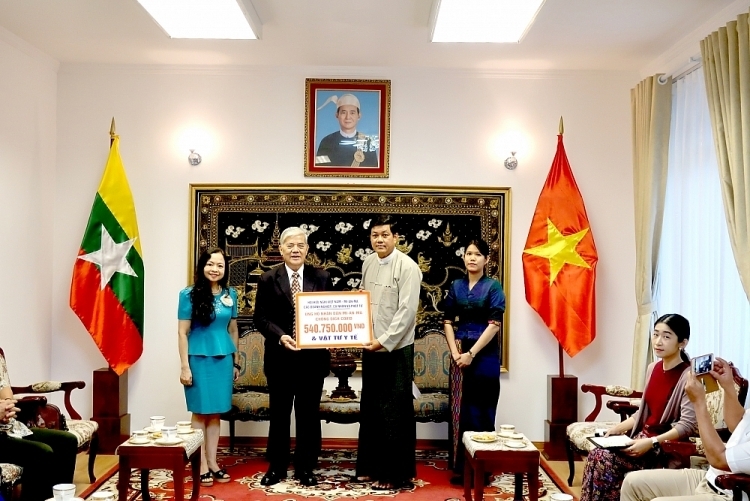 The money and equipment was donated by organisations, businesses and individuals through a donation campaign launched by the Vietnam-Myanmar Friendship Association. (Photo: VNT)
To date, Myanmar has reported over 107,215 COVID-19 cases, at least 2,245 deaths. The pandemic situation in the country shows no signs of relief.
Meanwhile, there are roughly 72.08 million cases and 1.61 million patients succumbed to the disease around the world.
https://thoidai.com.vn/viet-nam-tiep-tuc-ho-tro-35000-khau-trang-y-te-cho-myanmar-phong-chong-covid-19-125834.html?fbclid=IwAR0BSQFxDj7QqYDic4DshMhIbv7fcAamyyNBYLkqMsZq2kFNLnNGHU5b_kA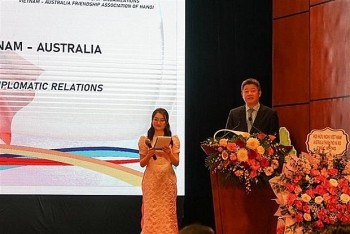 Friendship
A friendship exchange programme has been held recently in Hanoi to celebrate the 50th founding anniversary of the Vietnam-Australia diplomatic relations (February 26).