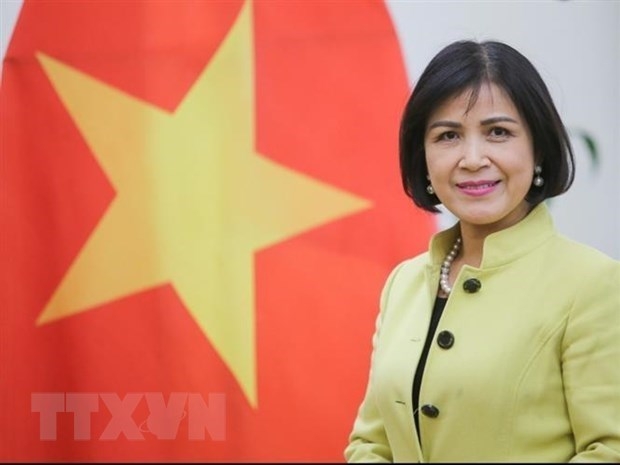 Ambassador Le Thi Tuyet Mai. Photo: VNA
As a member of the Association of Southeast Asian Nations (ASEAN), Vietnam has kept a close watch on developments in Myanmar, and hoped that the country will soon stabilise the situation for national construction and development, as well as for peace, stability and cooperation in the region, while making more contributions to the building of the ASEAN Community, the ambassador said.
Representatives from 30 out of 47 UNHRC member countries, and 37 observer countries delivered speeches at the online meeting.
Some said on the basis of respecting Myanmar's sovereignty, political independence, territorial integrity and national unity, the international community needs to help parties in the country conduct dialogue and reconciliation, matching local people's interests.
The UNHRC should focus on supporting the settlement of such issues in Myanmar, they suggested.
Ambassador Myint Thu, Myanmar Permanent Representative to the UN, briefed the delegates on the situation in his country, saying Myanmar is facing complex challenges and in the transitional period.
Myanmar would like to receive understanding and constructive cooperation of the international community, the diplomat stressed.
He affirmed that Myanmar will continue its coordination with the UN and ASEAN to gain long-term peace and stability and sustainable development, for the interests of Myanmar people.
At the end of the session, the UNHRC member countries passed a resolution under which they expressed their concern over the coup and human rights violations in Myanmar.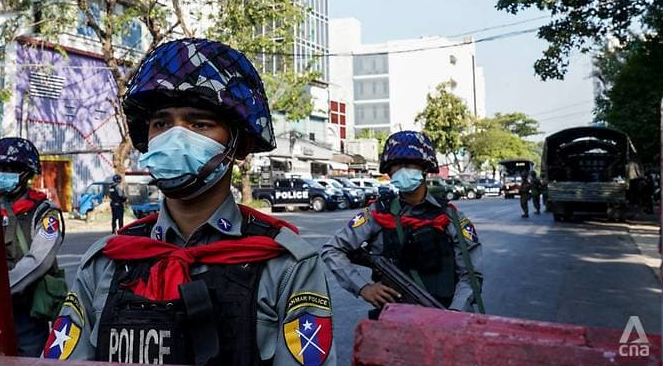 Police are seen outside the National League for Democracy (NLD) headquarters in Yangon on Feb 15, 2021. Photo: Naung Kham/CNA
The military took power and declared the state of emergency in Myanmar after detaining Aung San Suu Kyi and other senior figures from the ruling National League for Democracy (NLD) on February 1.
Previously, the military had demanded the postponement of the new parliament sessions, citing massive voting fraud in the November 2020 elections, which saw the NLD win a majority of seats in both houses of parliament. The Union Election Commission had dismissed the allegation.
Aung San Suu Kyi will now be remanded until February 17, when she will likely appear in court by videoconference, according to Khin Maung Zaw, a lawyer asked by Aung San Suu Kyi's party to represent her. The Nobel laureate remains under house arrest on a minor charge of possessing unregistered imported walkie-talkies.
According to CNA, Aung San Suu Kyi's extended detention is likely to further inflame tensions between the military and the protesters who have taken to the streets of cities across the Southeast Asian nation seeking the return of the government they elected.
Protesters continued to gather across Myanmar on Monday, following a night in which authorities cut the country's internet access and increased the security presence in major cities seeking to curtail demonstrations./.
Hannah Nguyen