Vietnam, Thailand Forge Enhanced Strategic Partnership
Vietnam and Thailand will work closely together to beef up their enhanced strategic partnership in all channels and areas of cooperation.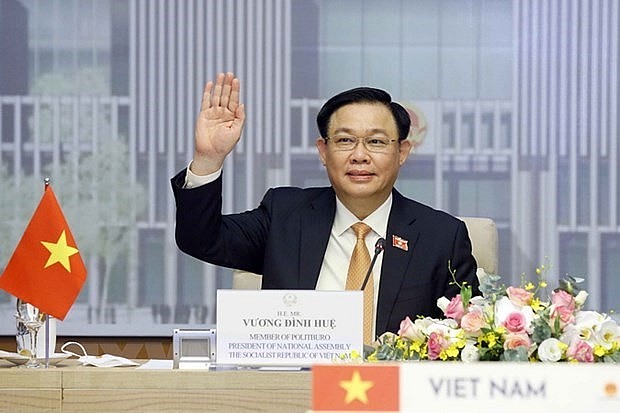 Vietnam National Assembly Chairman Vuong Dinh Hue hold talks with his Thai counterpart Chuan Leekpai from Hanoi. Photo: VNA
The consensus was reached during phone talks between Chairman of Vietnam's National Assembly Vuong Dinh Hue and President of Thailand's National Assembly Chuan Leekpai on August 30.
Hue affirmed Vietnam attaches great importance to and wishes to further promote the Vietnam-Thailand Enhanced Strategic Partnership, noting the relations between the two countries have developed very well in recent times, the VOV reported.
Despite the impact of the Covid-19 pandemic, he said bilateral trade turnover has still maintained positive growth, with Thailand becoming the largest trading partner of Vietnam in ASEAN and the 9th largest investor in Vietnam. Both countries have also constantly strengthened cooperation in other fields such as defence-security, labour, tourism, culture and people-to-people exchanges.
To promote bilateral cooperation, Hue suggested that the two sides maintain high-level contacts and existing bilateral cooperation mechanisms. Both sides should soon sign an action program to realize their enhanced strategic partnership for 2021-2025 and speed up negotiations and signing of important legal documents including one on extradition and one on mutual legal assistance in civil matters.
Vietnam and Thailand should also create favourable conditions for their businesses to facilitate business and investment activities so as to soon raise two-way trade turnover to US$25 billion in a more balanced direction.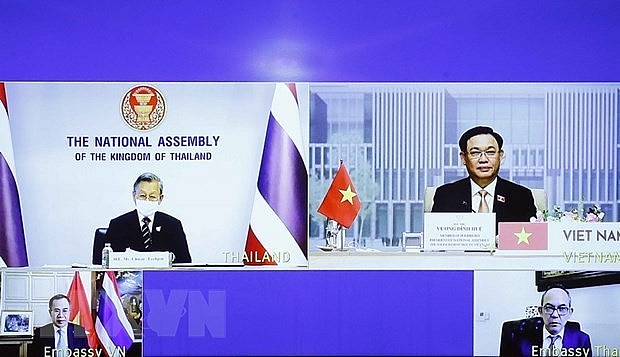 Vietnam NA Chairman Vuong Dinh Hue and his Thai counterpart Chuan Leekpai agree to boost bilateral cooperation in all channels and areas. Photo: VNA
Both sides will strengthen coordination in promoting the Mekong sub-regional cooperation mechanism in association with the process of building the ASEAN Community.
Hue also asked Thailand to promote investment cooperation in Vietnam in potential fields such as renewable energy, tourism, organic farming, high-quality infrastructure, and information technology application.
The NA Chairman thanked Thailand for supporting Vietnam in successfully assuming its hosting role of the ASEAN Year 2020 and the 41st AIPA General Assembly, and hoped that Thailand will continue to support Vietnam in fulfilling its role as a non-permanent member of the United Nations Security Council in the last six months of 2021.
Given the complex nature of the COVID-19 pandemic, Hue suggested that the two sides continue to strengthen cooperation in response to the outbreak, cooperate in research, development and fair sharing of vaccines, drugs and equipment, and create favourable conditions for Vietnam to access and import the AstraZeneca vaccine produced in Thailand.
He also suggested that the two countries closely coordinate and support each other in multilateral forums, especially in promoting ASEAN's common stance on the South China Sea (Bien Dong Sea) issue, to ensure peace, stability, security and safety of navigation and aviation in the region on the basis of international law, including the 1982 United Nations Convention on the Law of the Sea (UNCLOS).
Visitors to Top Thai Brands Hanoi 2021. Photo: VNA
Welcoming Hue's proposals, Thailand National Assembly President Chuan Leekpai voiced his support for beefing up the Vietnam - Thailand enhanced strategic partnership. He said that in his position, he will promote the negotiation, signing and ratification of agreements on extradition and mutual legal assistance agreements in civil matters.
He suggested that Vietnam work alongside Thailand towards limiting trade barriers in order to further develop trade relations between the two countries. At the same time, he wished that Vietnam would assist in handling the transportation of Thai goods for export through its border gates.
The two legislative leaders expressed their belief that the two sides will continue to support stronger relationship in all channels and areas in line with their enhanced strategic partnership.
Appreciating Thailand's initiative on post coronavirus tourism recovery at the 42nd AIPA General Assembly, Hue hoped the two sides would work closely and soon resume tourism exchanges in the new situation by applying the vaccine passport model in a number of key destinations in the two countries.
With regard to cooperation between the National Assemblies of Vietnam and Thailand, Hue suggested the two sides strengthen the exchange of delegations and soon sign an agreement to increase their cooperation.
National Assembly Chairman Vuong Dinh Hue invited the President and Vice Presidents of the National Assembly of Thailand to visit Vietnam when possible./.
Vietnam and Thailand set up a strategic partnership in 2013 and elevated ties to an enhanced strategic partnership in 2019.
Vietnamese Ambassador to Thailand Phan Chi Thanh said at a webinar earlier this month that the two countries have agreed to increase high-level visits and consultations through existing bilateral mechanisms, such as the Political Consultative Group (PCG), the Joint Commission on Bilateral Cooperation (JCBC) and the Joint Cabinet Retreat (JCR).
Thailand is among the 10 leading foreign investors in Vietnam, and the largest trade partner of Vietnam among ASEAN countries.
In 2020, amidst the Covid-19 pandemic, the bilateral trade turnover still reached $16 billion.
The two sides aim to raise the bilateral trade to $25 billion by 2025. Thailand's investment in Vietnam exceeds $12.3 billion, the VNA said.
Vietnam, Thailand enjoy growing friendship

Vice Chairman of the National Assembly (NA) Do Ba Ty has praised the contribution of the Thailand-Vietnam Friendship Parliamentarian Group to the two countries' strategic ...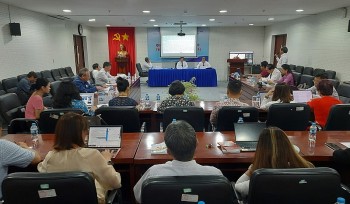 Friendship
The Vietnam - India Friendship Association's Ho Chi Minh City branch, the Ho Chi Minh City Union of Friendship Organizations (HUFO) and the Southern Institute of Social Sciences on March 21 held a scientific seminar themed "Vietnam - India relationship: tradition and present".