Vuong Dinh Hue re-elected as Vietnam's legislative leader
The Chairman of the National Assembly pledged to strengthen national defense and security, whilst firmly safeguarding national independence, sovereignty, territorial integrity, and promoting greater global integration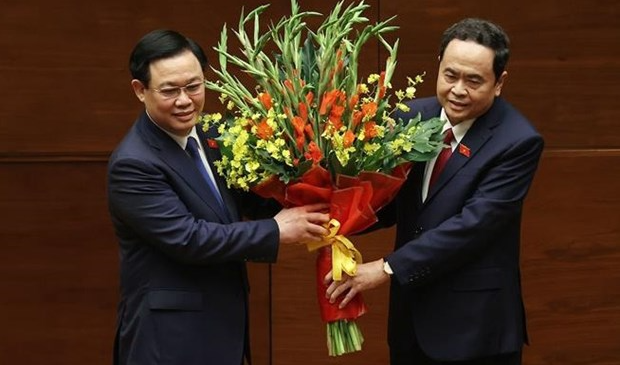 Permanent Vice Chairman of the 14th National Assembly Tran Thanh Man presents flowers to congratulate Politburo member Vuong Dinh Hue on his election as Chairman of the 15th legislature. (Photo: VNA)
Politburo members and Chairman of the 14th National Assembly Vuong Dinh Hue was elected as Chairman of the 15th tenure during the first session of the 15th legislature in Hanoi on July 20.
All 475 deputies present, or 95.19 percent of the total number of lawmakers, voted yes. In the morning on the same day, all 466 lawmakers, or 93.39 percent of the total, also approved a Resolution on the number of members of the National Assembly Standing Committee, according to VNA.
After being elected to hold the position of National Assembly Chairman for the new term, Vuong Dinh Hue was sworn in for the second time during the first session of the 15th legislature. As part of his speech, the National Assembly leader outlined that in his position, he will do his utmost to continue renewing the working methods and improving the operational quality and efficiency of the legislative process. This will be done for the supreme goal of serving national interests and for the sake of all citizens.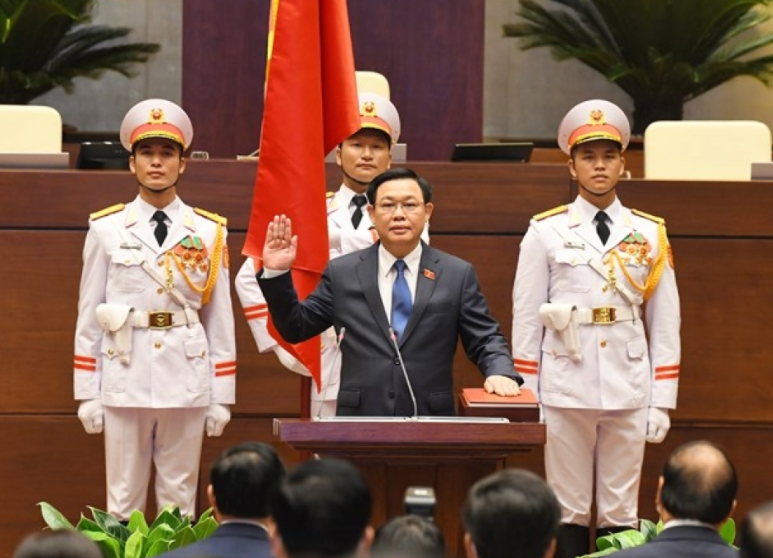 Vuong Dinh Hue takes an oath as the 12th NA Chairman during the first session of the 15th-tenure legislature. (Photo: VOV)
He also pledged to strengthen national defense and security, whilst firmly safeguarding national independence, sovereignty, territorial integrity, and promoting greater global integration, according to VOV.
"Under the national flag and in front of the National Assembly and voters nationwide, I, Chairman of the National Assembly of Vietnam, vow to stay absolutely loyal to the nation, people and Constitution of the Socialist Republic of Vietnam, and exert great efforts to fulfill tasks entrusted by the Party, State and people," VNA quoted National Assembly Chairman Vuong Dinh Hue.
National Assembly Chairman Vuong Dinh Hue was born in 1957 in Nghi Xuan commune of Nghi Loc district in Nghe An province and is a Professor and Doctor of Economics. He has served as a member of the Party Central Committee since 2006, a member of the Politburo since 2016, and a NA deputy since 2011.
He is the 12th National Assembly chair since the first general election was held in Vietnam in 1946, and the second Secretary of Ha Noi Party Committee to be in this position after the incumbent Secretary-General and State President Nguyen Phu Trong.
Immediately after the election, the National Assembly Standing Committee convened its first session to assign duties among the members and gave opinions on personnel work, according to VOV.
In the afternoon the same day, lawmakers also elected vice-chairmen and members of the Standing Committee of the legislative body. All 483 deputies present at the session voted to approve a resolution on the election of four National Assembly Vice Chairmen, including Tran Thanh Man, Nguyen Khac Dinh, Nguyen Duc Hai, and Tran Quang Phuong.