Vietnam to Relax Social Distancing Rules by September 30
Vietnam plans to ease coronavirus curbs and allow businesses to restart production from next week to revive the pandemic-hit economy.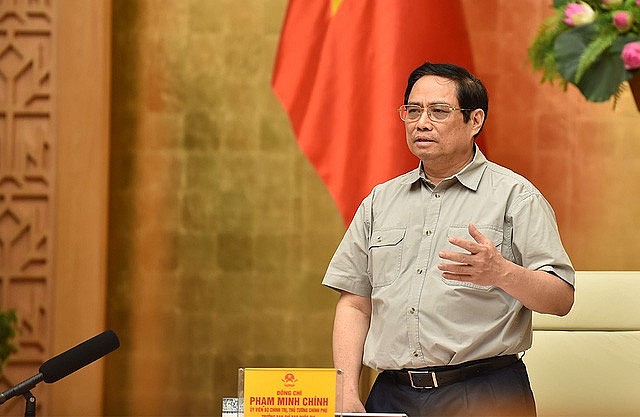 Prime Minister Pham Minh Chinh speaks at the government meeting. Photo: VTV
Prime Minister Pham Minh Chinh said on Sept. 25 that: "Around September 30, safe localities can ease Covid restrictions and revive business and social activities."
"Fighting the pandemic is not just setting up physical barriers and restrictions," he told a government meeting, adding that the pandemic was more or less under control.
The decision comes as Vietnam has seen a drop in the daily death rate from the virus. It reported 72,236 new infections during the week, a fall of 9.7% compared to the previous week.
Meanwhile, the Covid-19 death toll for the week dropped by 12.1%. Particularly, the mortality rate declined by 10.5% in Ho Chi Minh City, 12.6% in Binh Duong, 15.4% in Dong Nai and 15.8% in Long An.
As of Sept. 24, a total of 37.6 million doses of Covid-19 vaccines had been injected, with about 22.3 million people receiving first shots and 7.3 million people getting full two shots. About 14 million more vaccine doses will continue to be administered.
A medic guides a man in HCMC's Binh Thanh District to use a test kit on himself, Aug. 23, 2021. Photo: VnExpress
Chinh, who is also head of the National Steering Committee on Covid-19 Prevention and Control, asked the leaders of ministries and localities to review the ongoing Covid-19 fight and introduce solutions to achieve the goal, VOV reported.
The PM said the National Assembly Standing Committee had agreed with the Government's proposal on promulgating a policy to support employees and employers affected by the pandemic from the Unemployment Insurance Fund.
Lauding localities' efforts in pandemic fight, the Government leader also pointed to noted shortcomings in the field, including the ineffective implementation of directions in some localities, particularly at grassroots level, slow testing progress and inefficiency in conducting support policies for pandemic-hit groups.
He asked localities to strengthen decentralisation in pandemic prevention and control activities, taking communes, wards and townships as "fortresses" and people as "warriors" in the fight. They should speed up vaccination, especially targeting those in high-risk areas, said Phuc.
Ministries, sectors and localities should immediately set up their task force for socio-economic recovery and development headed by their top leaders, and build their plans for economic recovery in accordance with their own situation, the Government leader requested.
He also asked for the revision of regulations on entry-exit control, thus giving optimal conditions for foreign experts to enter the country for working.
It is necessary to study regulations on the recognition of "vaccine passports," he stressed.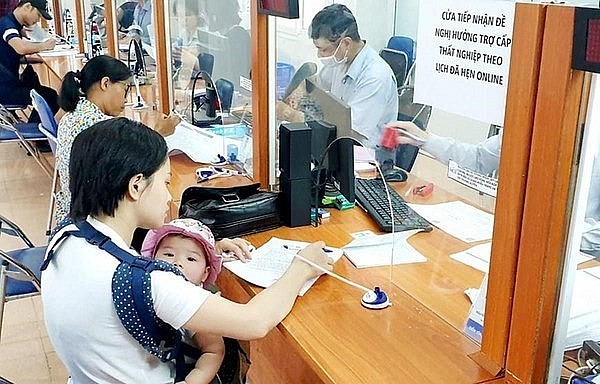 About VND30 trillion (US$1.31 billion) from the Unemployment Insurance Fund will be used to support labourers who are covered by unemployment insurance as of Sept. 30. Photo: VNA
Unemployment Insurance Fund
About VND30 trillion (US$1.31 billion) from the Unemployment Insurance Fund will be used to support labourers who are covered by unemployment insurance as of Sept. 30, excluding employees in State-agencies, socio-political organisations, people's armed forces and public non-business agencies who are paid by the State budget.
Labourers who have stopped paying unemployment insurance due to the termination of their labour contracts or working contracts between Jan. 1, 2020 and Sept. 30, 2021, and have unemployment insurance premium payment period reserved in accordance with the employment law, are also eligible for the support, excluding retirees who receive monthly pensions.
The support will be delivered from Oct. 1 and scheduled to be completed on Dec. 31 at the latest.
The eligible employers, who are joining unemployment insurance before Oct. 1, 2021, will have their premiums reduced from 1 percent of their wage funds to zero percent for a duration of 12 months from Oct. 1.
Domestic flight resumption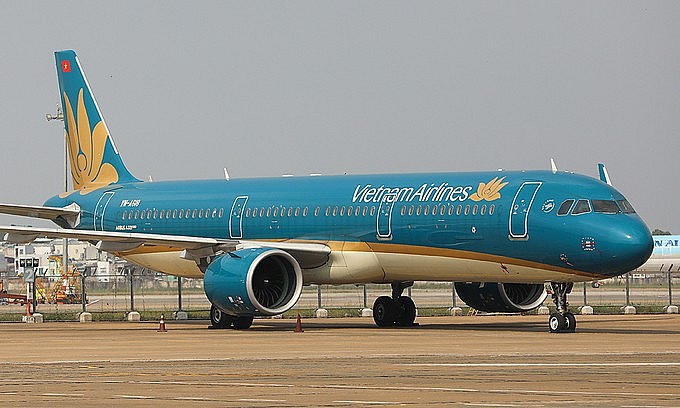 A Vietnam Airlines plane at HCMC's Tan Son Nhat Airport. Photo: VnExpress
Vnexpress said the Transport Ministry was planning to resume domestic flights and train services in certain localities with relaxed coronavirus restrictions starting October.
The resumption of domestic flights will be divided into four phases, according to a draft on the plan to resume transportation across localities with relaxed Covid-19 restrictions discussed Saturday.
In the first phase, to be carried out in no more than 10 days, airlines would be allowed to resume air routes with a flight frequency not exceeding half that in the first 10 days of April, the time before the fourth coronavirus wave hit Vietnam. Seats on the planes must be distanced as well.
In the second phase, also to be carried out in no more than 10 days, the frequency will be increased to not exceed 70 percent.
The third phase would see flight frequency return to the level as seen in the first week of April (but not exceeding it), with no seat distancing required.
The final phase would see airlines resume activities as normal.
Air routes that had only one flight a day even pre-pandemic can resume operations as normal in all phases, with seat distancing required.
Passengers and crew members must be vaccinated against Covid-19 with at least one shot at least 14 days prior to the flight, and must carry a valid negative test certificate.
The Ministry of Transport said further details about the resumption plan would be announced after the Ministry of Health releases guidelines on coronavirus prevention for people traveling between localities with relaxed restrictions.
Amid rampant Covid-19 outbreaks, the Civil Aviation Authority of Vietnam in late August requested airlines to stop selling tickets for domestic flights until further notice. Flights that carry goods and coronavirus forces are still functional, with the Hanoi-Ho Chi Minh City route allowed two return flights a day.
The country has still not allowed international flights to resume, except in certain cases.
The ministry is building a similar four-phase plan to resume train services between Hanoi and Hai Phong, Vinh, Da Nang and Ho Chi Minh City.
All passenger train routes have been suspended amid the new Covid-19 outbreak.