Ho Chi Minh City Supports Foreigners Amid Pandemic
Foreigners who live in Ho Chi Minh City and face difficulties due to the complicated and prolonged pandemic have been taken care of by the local government.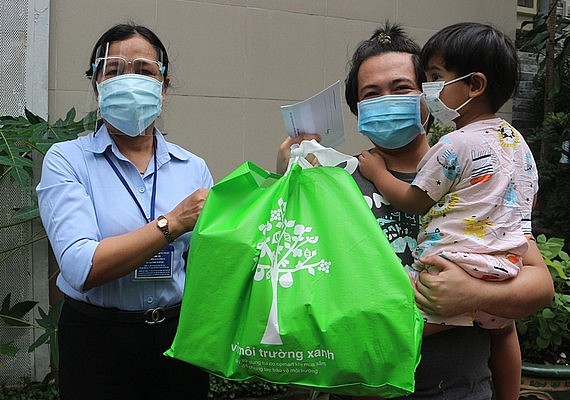 A representative from HCMC authority brings a gift to a foreigner. (Photo: SGGP)
Over the past several months, the fourth Covid-19 outbreak in Ho Chi Minh City has affected all aspects of life in the metropolis. Many foreigners have lost their jobs during this difficult time. Understanding their situation, Ho Chi Minh City has provided foreigners in the city with relief aid, food and vaccinations.
Murat Kaymakcigglu, an English teacher from Turkey who currently stays in Truong Tho ward, Thu Duc city, has severe asthma but is running out of savings due to the pandemic. The police of Truong Tho ward asked his landlord to let him stay for free while supporting him with asthma treatment.
Thu Duc's Vietnam Fatherland Front Committee recently visited and gave him a package of food that is worth VND 500,000 (US$ 21.7) and VND 2 million in cash. He was given an additional VND 3 million by volunteers of Thu Duc's team to support foreigners, along with medical equipment to help treat asthma. Kaymakcigglu received the first dose of Covid-19 vaccine and is waiting for the second injection.
"I am very grateful to be taken care of and supported by the locality during this difficult period. I feel fortunate to live in Vietnam," said Murat Kaymakcigglu.
Other localities such as Tan Binh, Phu Nhuan district, have held activities to support needy foreigners. Tan Binh district has so far given away 133 safety bags and organized vaccinations for foreigners.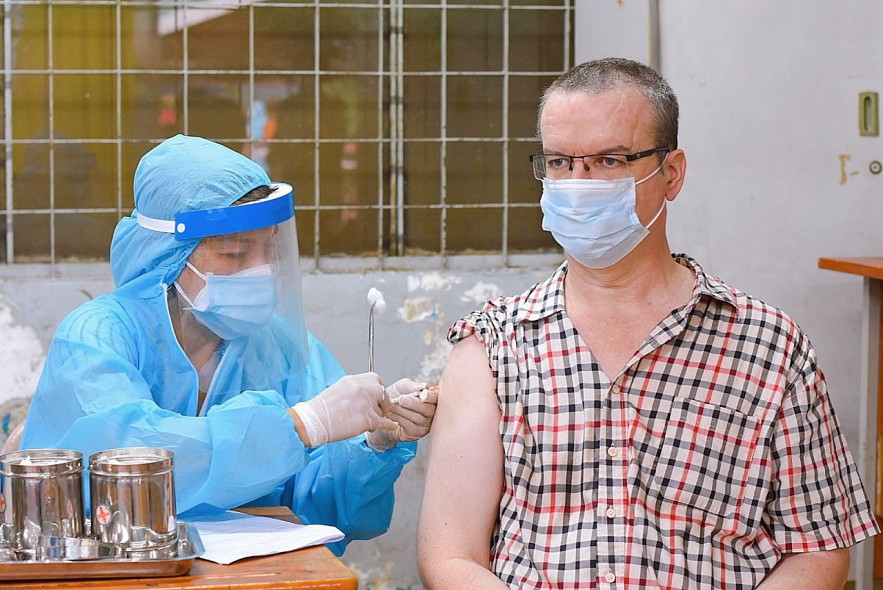 A foreigner inoculated with coronavirus vaccine in Ho Chi Minh City. (Photo: VNA)
Trinh Thi My Hue, Vice Chairman of the Thu Duc city Fatherland Front Committee, said that the agency had coordinated with local police to give gifts to foreigners in these areas. The agency has set up a response team including three volunteers who can speak English, Chinese, and Japanese to support foreigners. The team has received dozens of calls from foreigners asking for support of food and medical issues.
HCMC's Department of Information and Communications launched an English version of its Covid-19 portal on Sept. 21 to provide information about the pandemic situation in the city to foreigners. The portal provides the latest news on the city's pandemic prevention and control. It also collects suggestions, responses, and donations regarding the pandemic fight.
The department's representative told VNA that supporting disadvantaged foreigners was a policy set out by the city authority early on, which was carried out with the coordination of different agencies including the city's High Command, the city's police, the Department of Labour, Invalids, and Social Affairs and the Department of Foreign Affairs.
Despite limited resources, local authorities are attempting to ensure safety for the expat community. On Sept. 10, the Department of Foreign Affairs announced a registration portal on the internet for foreigners to sign up for vaccination. All registration needed to be completed before Sept. 15. Earlier, some districts in the city carried out their own vaccination drive for foreigners.
Ho Chi Minh City is currently home to more than 200,000 foreigners, most of whom want to be vaccinated against coronavirus. Since August, district 7 has implemented injections for about 18,000 foreigners. Thao Dien ward in Thu Duc City has injected about 1,000 people out of 5,896 foreigners in the area.