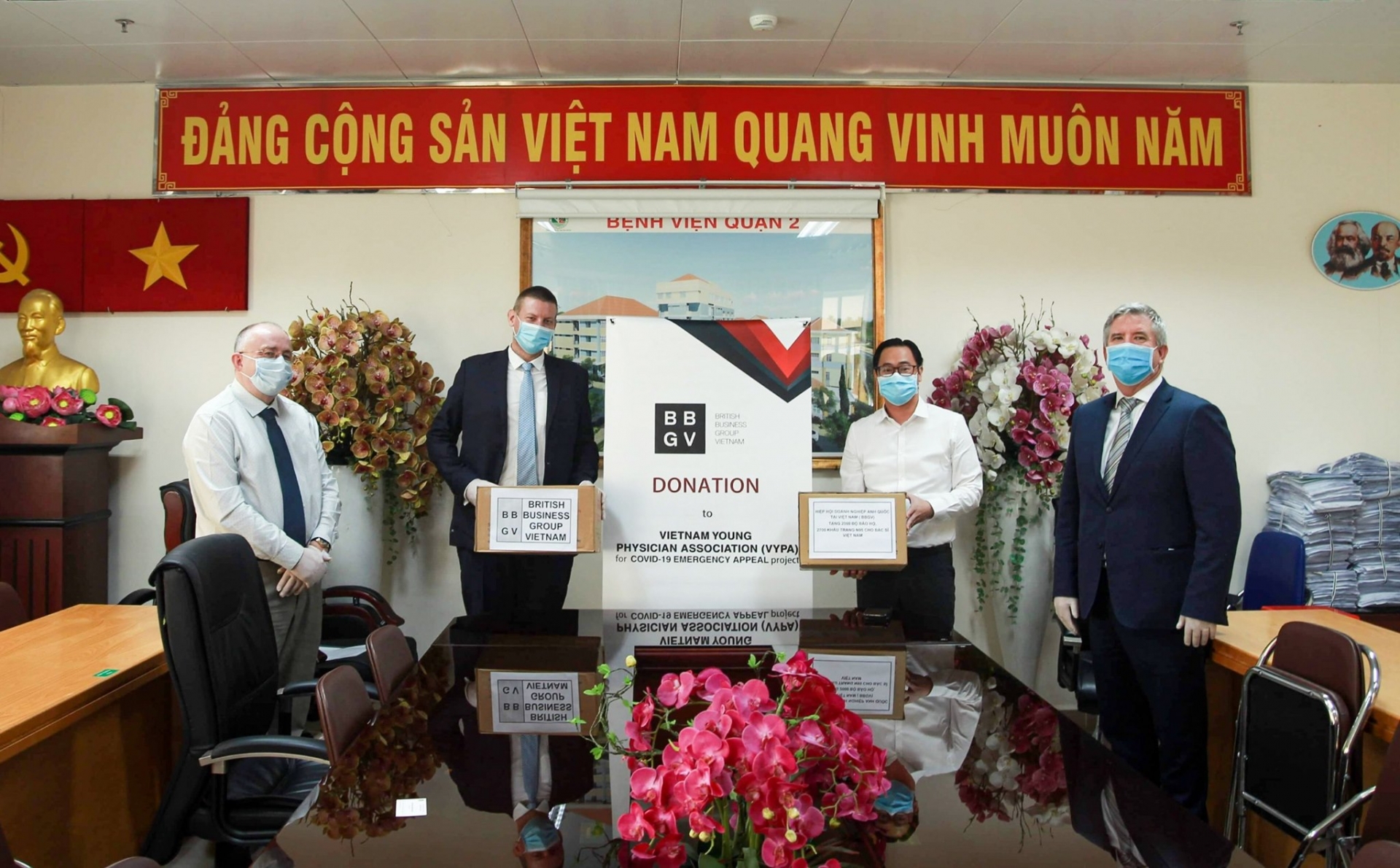 At the hand-over ceremony on April 13 in Hanoi. Photo: UK Embassy
In an effort to support Vietnam, the British Business Group Vietnam (BBGV) donated over VND 500 million (USD 21.405), which, with assistance from the Vietnam Young Physician Association, has been used to purchase 2,700 N95 masks and 2,000 protective suits to support frontline hospitals and testing institutes across Vietnam.
Speaking at the ceremony on April 13, Ian Gibbons, British Consul-General in Ho Chi Minh City, expressed his appreciation to the Vietnamese government for its efforts in tackling the COVID-19 pandemic and supporting British nationals.
"The UK, including UK businesses, would like to ensure its full support and cooperation with Vietnam to get through this unprecedented coronavirus challenge," he noted.
The donation represented "our appreciation to the Vietnamese government's efforts to keep all safe in this unprecedented health crisis", said Alex Falter, BBGV Vice Chairman.
This donation will benefit frontline healthcare workers in five major hospitals and testing institutes across the country, including the Central Hospital for Tropical Diseases in Hanoi, the Hospital for Tropical Diseases in HCM City, the HCM City Pasteur Institute, the Pasteur Institute of Nha Trang and the Central Institute of Hygiene and Epidemiology in Hanoi.
Earlier, on April 7, Vietnam symbolically presented 550,000 Vietnamese-made anti-bacterial face masks to the UK, France, Germany, Italy and Spain – five European countries considered hardest impacted by the COVID-19 pandemic on a critical shortage of medical supplies suffers.
In remarks during the handover ceremony in Hanoi, Deputy Foreign Minister To Anh Dung said that given the two sides' traditional ties and strategic partnership, and the spirit of mutual support during challenging times, the Vietnamese Government has decided to do its part to help EU countries' in their anti-pandemic efforts, and assist European people to protect their health and pull through this tough time.
The aid illustrates Vietnam's continued willingness to assist other countries on a bilateral and multilateral basis to the best of its abilities even as it continues to remain cautious about managing its own coronavirus challenge at home.
Vietnam has reported 265 cases but no deaths, and it has taken additional measures including restrictions on movement and stepping up the production of masks.
British Ambassador to Vietnam Gareth Ward tweeted that the move represented "A real sign of friendship", thanking Deputy Minister Dung and the Vietnamese Government for gifting 100,000 Made-in-Vietnam face masks to the UK's efforts in tackling COVID-19 as well as wishing the best of luck to Vietnamese healthcare workers.
The Vietnam - UK Friendship Association has mobilized funding from businesses in Vietnam to provide medical supplies to support the UK in preventing COVID-19. The gift package includes 1,000 sets of products, including medicine, mouthwash, colloidal silver (nano) throat spray and dry gel. Along with that is 1,500 medical masks and 10,000 antibacterial cloth masks. The total value of package is nearly VND 500 million.
Coronavirus can travel up to 4 metres

A new study by Chinese researchers examining air samples from hospital wards with COVID-19 patients has found the virus can travel up to 4m – twice the ...
Hannah Nguyen