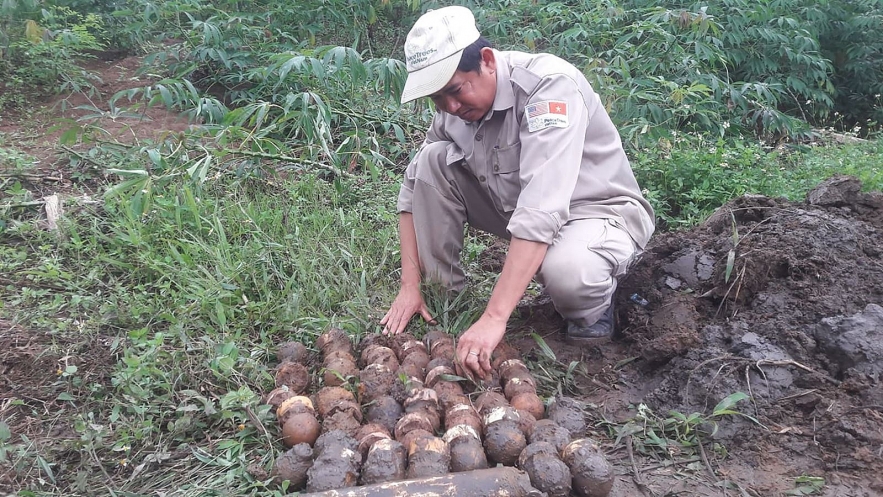 Explosive devices found in a cassava field in Xy commune. (Photo: baoquangtri)
Peace Trees Vietnam (PTVN), the first US non-governmental organization (NGO) to be licensed by the Vietnamese government to search and defuse bombs, mines, and explosives, has joined hands with Quang Tri province in this regard since it was founded 25 years ago.
Founded in 1995 by Danaan Parry and Jerilyn Brusseau whose brother, US Army helicopter pilot Lt. Daniel Cheney, was shot down and killed during the war in Vietnam in 1969, PTVN is a shining example to the world of how tragedy and conflict can be transformed into peace and partnership.
Its mission is to heal the legacy of war by removing dangerous explosives, returning land to safe use, promoting peace and cultivating a brighter future for the children and families of Vietnam.
And its vision is a Vietnam completely cleared of dangerous UXOs and communities fully supported in their goals for safety, resiliency, education and economic success.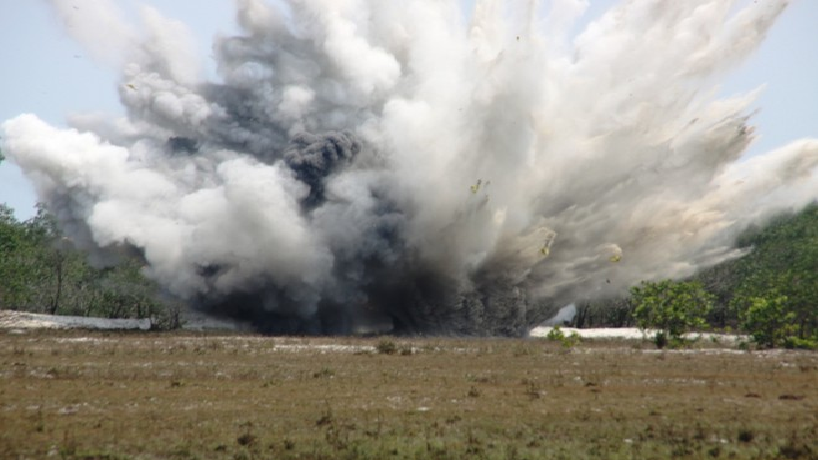 Since 1975, UXO incidents have killed more than 40,000 people and injured 60,000 others in Vietnam. (Photo: thanh nien)
PTVN does the majority of its work in Quang Tri, located in the central region of Vietnam. Quang Tri was the northern-most province in former South Vietnam, bordering the former Demilitarized Zone that separated North and South Vietnam until 1975.
About 600,000 people make their homes and their living in Quang Tri. More than half of them are farmers. Most of PTVN's work is in the two westernmost districts of the province, Huong Hoa and Da Krong where more than three-quarters of the inhabitants are members of either the Van Kieu or Pa Ko ethnic minorities. The area also has a very high rate of poverty.
Quang Tri is the most heavily war-impacted province in all of Vietnam. A startling 40 percent of all of the ordnance used during the war was deployed in this one province, which is just slightly larger than the state of Rhode Island.
Today, more than 40 years after the war's end, nearly 85 percent of the land in Quang Tri remains riddled with land mines, bombs, grenades, and other UXOs. Farmland continues to be heavily contaminated with the explosive remnants of war, including bombs weighing hundreds of pounds, mortar shells, cluster bombs and hand grenades.
The organization has cleaned up an area of over 480ha in the locality and deactivated 112,000 explosives while focusing on community-based activities like health care and water supply.
In addition, it has presented more than 2,000 scholarships to students who are the bomb and mine's victims, and planted tens of thousands of trees on the detoxified land, helping to restore the local environment and spur local economic development.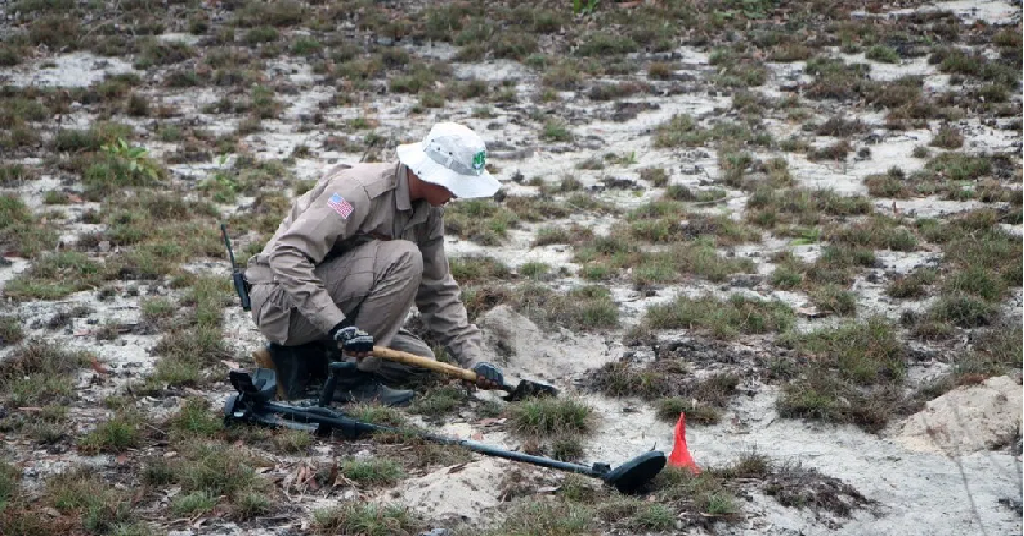 A startling 40 percent of all of the ordnance used during the war was deployed in Quang Tri. (Photo: RENEW)
Another project in this field is RENEW-NPA funded by the US Department of State and UK Department for International Development and rolled out in Quang Tri since 2001.
Since mid-June, the project has been carried out in an area of nearly 1.5 sq.km in Thai Lai village, Vinh Thai commune, Vinh Linh district, which was severely contaminated by bombs and mines left over from the wartime, especially cluster bombs.
Up to 15 cases relating to bombs and mines have been recorded in Thai Lai since 1975, with five deaths and 11 injuries.
During the implementation of the project, 23 cluster bombs and hundreds of explosives have been detected, ensuring safety for more than 870 residents and returning land to safe use.
Over the past five years, 22 workers of RENEW-NPA have come to hundreds of villages in nine districts and Quang Tri city to interview 51,000 locals for information collection, which is a step towards devising a master plan on the areas contaminated with cluster bombs and other explosives in the province.
Searching for explosives in Hai Lang district (Photo: VNA)
Apart from PTVN and RENEW-NPA, Golden West Humanitarian Foundation (GWHF), another US NGO, has also provided funding worth nearly 95,000 USD for a bomb and mine project in Quang Tri.
Quang Tri is the most contaminated with bombs and mines that scatted across 82 percent of its area, killing over 3,430 people and injuring 5,100 others so far, statistics unveiled.
Over the past 25 years, projects and programs have helped Quang Tri with about 80 million USD in bomb and mine clearance, including around 40 million USD from the US government through NGOs.
Thanks to joint efforts, the annual number of bomb and mine accidents in Quang Tri dropped from about 70 before 1995 to zero in 2018, and the province aims to become the first Vietnamese locality free of bombs and mines by 2025. To that end, it needs some 10-12 million USD each year.
US Ambassador to Vietnam Daniel J.Kritenbrink highlighted successes in cooperation between Vietnam and the US in removing war-left explosives, saying the US commits to continuing with the settlement of war consequences.
In early 2020, PTVN coordinated with Quang Tri to plant 25 trees at the Hien Luong-Ben Hai special relic site, symbolling the 25 years of Vietnam-US diplomatic ties and marking the NGO's birthday./.
Vietnam is one of countries most contaminated with UXOs, the Ministry of Labour, Invalids and Social Affairs said.
It is estimated that about 800,000 tonnes of UXOs were left across the country after the war ended in 1975, mostly in the central region. Some 6.13 million hectares of land are polluted with or suspected of being polluted with UXOs, making up 18.82 percent of the national total area.
Since 1975, UXO incidents have killed more than 40,000 people and injured 60,000 others, most of whom were family breadwinners or children.
Rosy Huong