War-left unexploded ordnances founded under Quang Tri's road
The Norwegian People's Aid - Project RENEW (NPA-RENEW)'s Battle Area Clearance (BAC) teams have discovered some deadly unexploded ordnances while clearing a contaminated area in Thai Lai village (Vinh Thai commune, Vinh Linh district, Quang Tri province).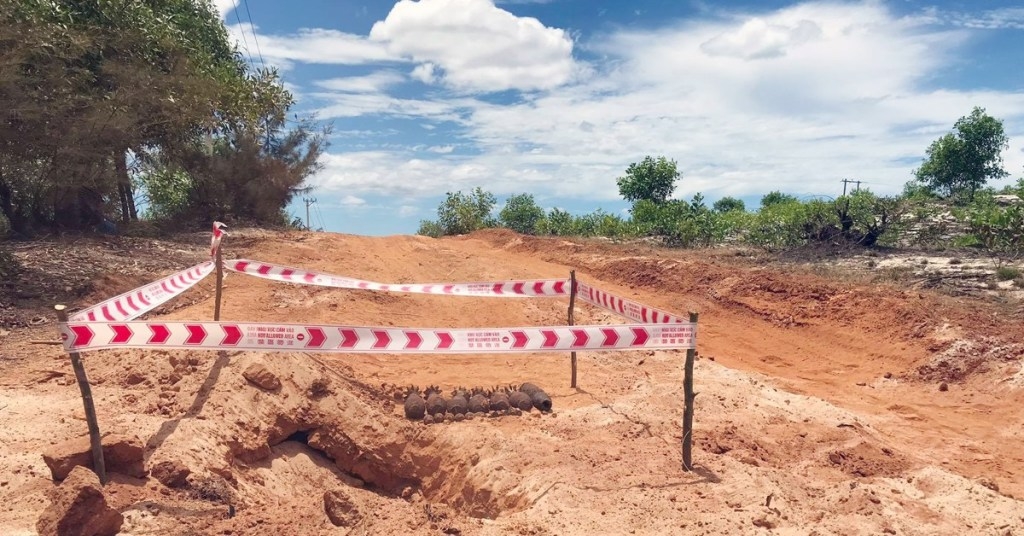 19 unexploded mortar rounds, projectiles, and fuzes were found and unearthed from under on a dirt road that runs through the clearance site. Source: NPA-RENEW
According to information released by Project RENEW, a total of 19 unexploded mortar rounds, projectiles, and fuzes were found.
The cache was found just beneath the surface of a dirt road that runs through the clearance site where the BAC teams have been working since June 22. Hundreds of local people and vehicles travel back and forth on the road every day. Fortunately, bad things haven't happened before the teams got rid of these dangerous weapons.
From June 15, NPA-RENEW conducted BAC operations for the first time on the northern side of the former Demilitarized Zone in Quang Tri province. Following the team's restructuring and clearance training in May, six newly established BAC teams were deployed to clear a large Confirmed Hazardous Area near the coastline in Thai Lai village.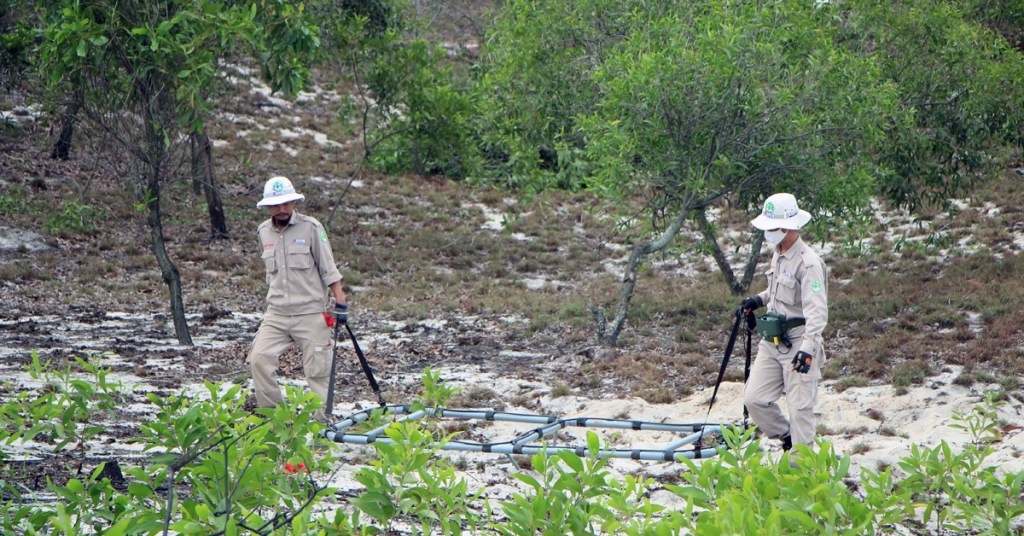 Two searchers use a large loop detector to search for explosive ordnance. Source: NPA-RENEW
Quang Tri is the province hardest hit by unexploded ordnance (UXO) with the area of land contaminated with the deadly war legacy amounting to 82 percent of its total, and more than 8,500 local people have been killed or injured after the war ended.
Meanwhile, located only 30 km from the Con Co island, Thai Lai village was subject to heavy aerial bombings, especially cluster munitions, and naval attacks from the US military from 1967-1972 because of its role as a logistical hub for the provision of supplies to the northern Vietnamese forces on the Con Co island. Since the war ended in 1975, the village has sustained 15 new accidents related to explosive ordnance, resulting in 6 people being killed and 11 injured.
The area in Thai Lai village was defined as a result of the NPA-RENEW's Cluster Munition Remnant Survey, with a total area of nearly 1.5 million sqm contaminated. Once the clearance has been completed, this task will benefit 634 families with a total of 878 inhabitants of Thai Lai village. Local residents will then finally have safe land to resettle and develop acacia planting which is a major source of income for the families.
During the past four working days, the BAC teams have found and safely destroyed 23 cluster munitions and 33 other items of explosive ordnance.
Non-Technical Survey in all accessible areas of Quang Tri completed
Starting from this month, NPA-RENEW is sustaining ten Non-Technical Survey (NTS) surveyors in Quang Tri, to be responsible for assessing impacts of the Confirmed Hazardous Areas (CHA) already defined during the Technical Survey and to possible survey any remaining areas/villages when access to these may be allowed.
The remaining NTS staff will be tasked to provide support to NPA's NTS in the two provinces of Thua Thien Hue and Quang Binh. One pair of NTS operators will also be dispatched to the Quang Tri Mine Action Centre (QTMAC) to support the priority setting of the CHAs that need clearance.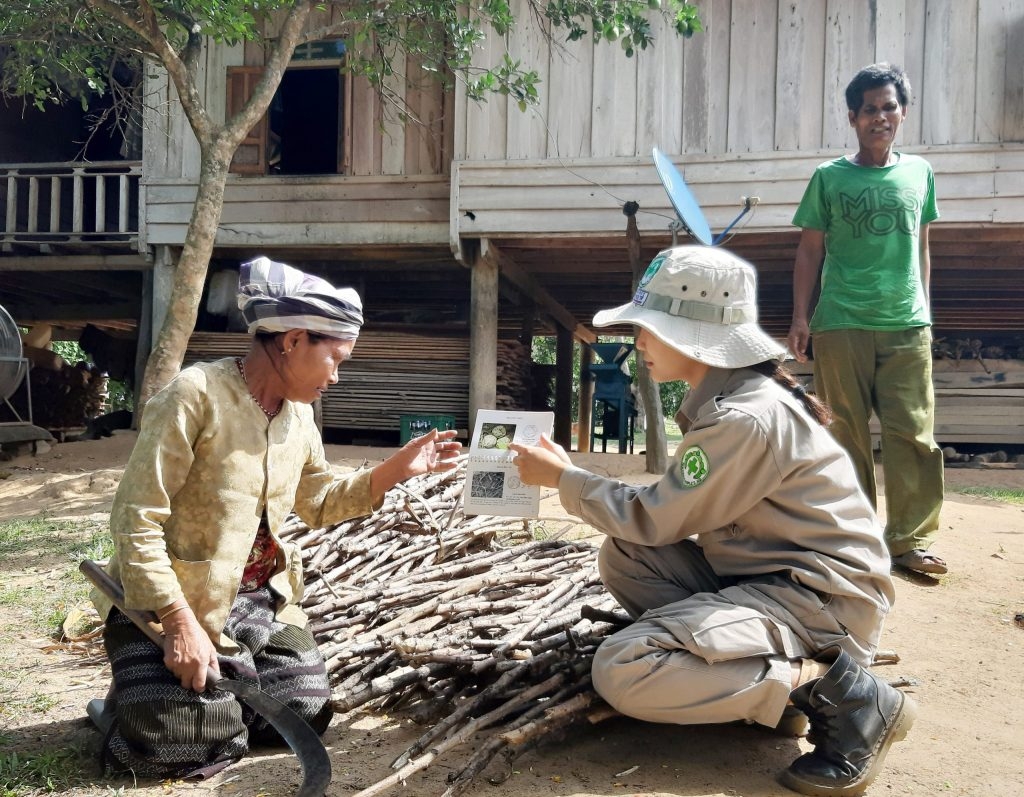 An NTS Surveyor visits a Van Kieu ethnic minority family in Cua village of Huong Loc commune, Huong Hoa district to collect information related to explosive ordnance. Source: NPA-RENEW
The movement came after NPA-RENEW's NTS operations have been completed in all of the accessible areas where NPA-RENEW was allowed to survey and this accounts for 76 percent of all total villages in Quang Tri province.
Accordingly, the survey has been completed by 22 NTS staff, and during the past five years, these NTS staff has visited a total of 822 villages, in the nine districts of Quang Tri province. A total of 51,914 local people with women accounting for 32 percent have been interviewed for the purpose of collecting information related to cluster munitions and other explosive ordnance.
NTS is one of the two important steps in NPA-RENEW's efforts of producing an overall map of cluster munitions and other explosive ordnance contaminated areas for the provincial authorities and clearance organizations to effectively plan clearance operations, contributing to fulfilling the strategy of making Quang Tri safe from the impact of explosive ordnance by 2025.
The Survey & Clearance Program of NPA-RENEW is funded by the US Department of State and the UK Department for International Development.
An unexploded bomb believed to be left over by the US during the Vietnam War was pulled out of the Hong (Red) riverbed near Hanoi capital's Long Bien bridge on June 22, VOV reported.
This is the second Vietnam War bomb found near the Long Bien Bridge, an iconic landmark spanning two centuries in the capital city. In November 2017, a 2.25 meter-long bomb was retrieved and detonated from the Red River.
The Long Bien Bridge was bombed 14 times from 1965 to 1972 by the US Air Force during the Vietnam War.
According to the Ministry of Labour, Invalids and Social Affairs, Vietnam is one of countries most contaminated with UXOs.
It is estimated that about 800,000 tonnes of UXOs were left across the country after the war ended in 1975, mostly in the central region. Some 6.13 million hectares of land are polluted with or suspected of being polluted with UXOs, accounting for 18.82 percent of the country's total area.