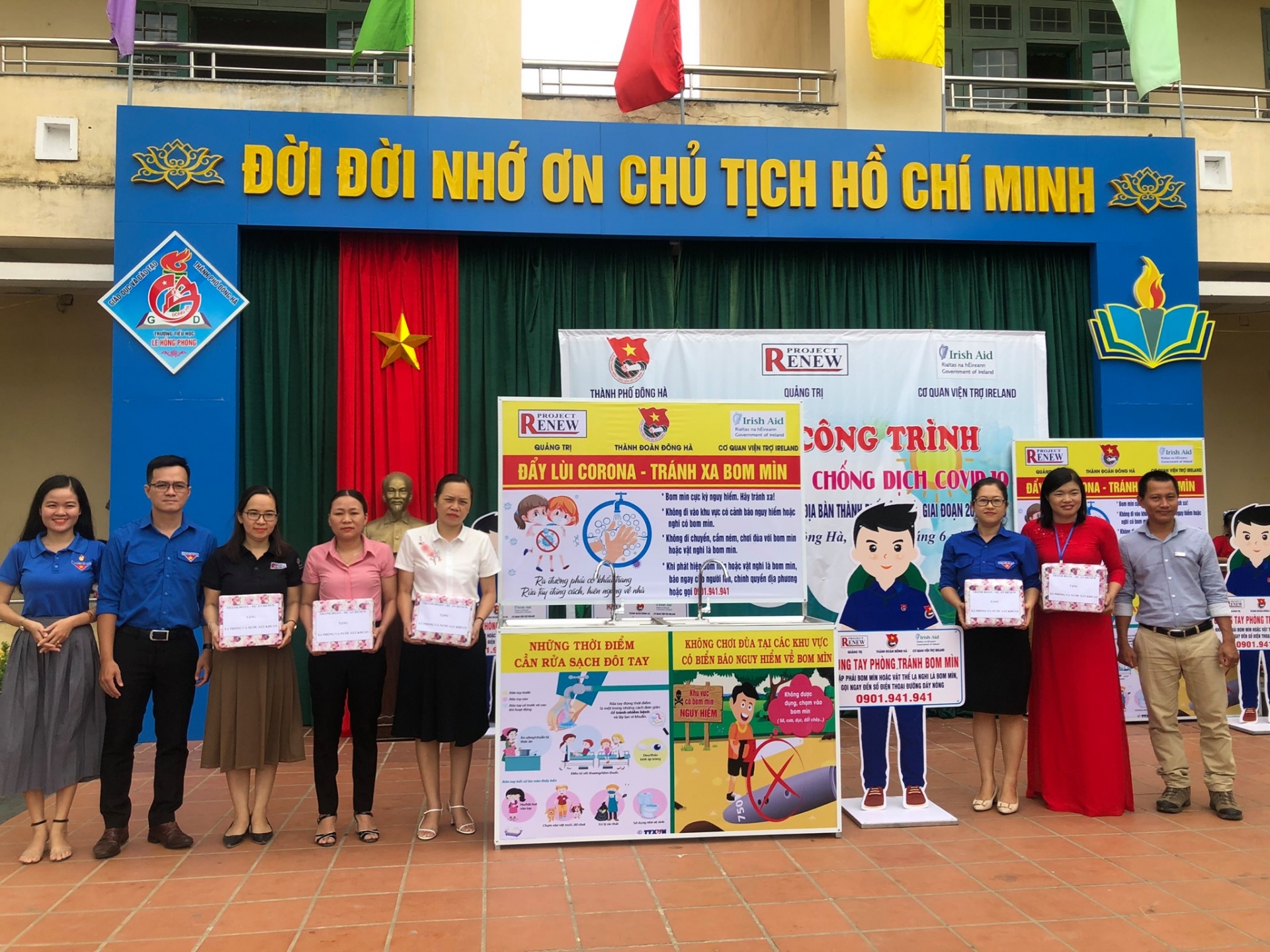 The washbasin was handed over. Source: Project RENEW
In the context following the Government's permission to reopen schools in early May after the social distancing period to fight against the pandemic, school administers and parents share a similar concern about safety for the children and prioritize completion of education to end the school year.
As part of the revised Mine Risk Education program in the post-COVID-19, Project RENEW just handed over five portable washbasins, soaps, and hand sanitizers coupled with EORE and COVID-19 related messages for five schools in Dong Ha City.
As the result, 32 schools located in the districts of Cam Lo, Trieu Phong, Gio Linh, Vinh Linh, and Dong Ha Cty have directly benefited from this project, thanks to which a total of 15,459 children and school teachers have been exposed to EOER and COVID-19 campaign messages.
In 2020, Project RENEW planned to install 40 washbasins in coupled with UXO safety messages and COVID-19 precautions at 40 schools in Quang Tri and Quang Ngai – the location of replication of RENEW's Mine Risk Education model in collaboration of the Red Cross Association. In addition, extra-curricular education activities at the Mine Action Visitor Center, grassroots football games and summer camping events will be organized in the subsequent months.
The key message: "Fight off Corona – Keep away from UXO" being clearly printed on the wash basins, communication standees and the loudspeaker system by the children troupé, it is expected that not only schoolchildren but their parents will access basic guidelines to prevent the COVID-19 as well as to reinforce their awareness of UXO risks.
This meaningful activity for the communities is funded by the Irish Embassy in Vietnam.
Students use the washbasin, Source: Project RENEW
Contamination also imposes a heavy financial cost at a time of rapid economic modernization, limiting cultivation of affected agricultural areas and requiring major infrastructure and industrial development projects to provide for costly clearance operations.
The clean-up of wartime debris will likely continue for years. However, children and adults can be safe if they are educated about UXO risks and provided with guidance on what to do when they encounter explosive remnants of war around their homes and gardens, roadsides and school yards.
That's where Mine Risk Education plays an integral role – by educating children and adults, who must continue to live with the threat of UXO, about how they can live safely, how they can avoid accident and injury, how they can be part of the day-to-day solution to this problem./.
Hannah Nguyen