American teacher compares Vietnam, US in the fight against coronavirus
"To be frank, I did not want to come home. I felt safe in Vietnam, like I was living in a country with a government and a population that was taking the situation seriously," Brendan Ryan said.    
COURTESY OF BRENDAN RYAN
Brendan Ryan is from Diamondhead, Mississippi. Until a month ago, he was living in Ho Chi Minh city, Vietnam, teaching English.
Therefore, returning home and witnessing the difference between Vietnam and the US in the fight against the coronavirus outbreak, he felt anxious.
COVID-19 has been a constant part of my daily life since late January. I am from Diamondhead, Mississippi, but until a month ago, I was living in Ho Chi Minh city (Saigon), Vietnam, teaching English.
In January, I was visiting a friend in the Mekong Delta of Vietnam for the Tet holiday, also called the Lunar New Year. Every night, his family and I watched the news, and we saw reports of the rising coronavirus rates in China.
Schools announced they weren't opening up after Tet, at least for a little while. I bought masks at a local pharmacy to wear on the six-hour ride back to Saigon. We started to see cases in Vietnam much earlier than here in the U.S., and I want to share about my experience to show how I'm still very concerned about COVID-19 here in the US.
In Saigon, we were fairly unaffected by the virus at first, but events were canceled and when I hung out with friends it was all we talked about. I checked with friends in China to make sure they were okay. Soon the Vietnamese government shut down bars, and masks became mandatory in public. Guards at malls stood with thermometers at the ready, checking the temperature of all customers.
Despite bordering China and having strong economic relations with the country, Vietnam has an incredibly low infection count. At the time I'm writing this, there are 268 confirmed COVID-19 cases in Vietnam, a country the size of California with more than twice the population. This is remarkable, and it's worth examining what Vietnam is doing right in all of this.
Since late March, Vietnam has been sending entrants to the country into quarantine facilities for two weeks. They have been testing aggressively, and when someone on a flight tests positive, everyone on that flight gets notified.
These steps may sound draconian, but we are living in a pandemic world that feels very not 21st century, so maybe these are the most effective measures we can take.
I had all intentions of staying in Vietnam to wait out the virus. A week before I left, I stocked up my apartment with food to hold out.
It felt like preparing for a hurricane, and in some ways, that's how I visualize all of this—a bad hurricane season that won't seem to end. Here in Mississippi, though, I don't think the hurricane has hit yet, and that terrifies me.
To be frank, I did not want to come home. I felt safe in Vietnam, like I was living in a country with a government and a population that was taking the situation seriously. I worried about traveling with potentially sick people. I came home out of respect for my parents, who were starting to worry about me being alone in a foreign country during a global pandemic.
What I saw as I transitioned from Vietnam to the United States showed me just how much the reality of COVID-19 has yet to hit this country. In the airport in Vietnam, we were required to wear masks, and people were actively social distancing. On my flight from Saigon to Japan, nobody took off their masks, except to quickly eat.
When I transferred in Houston, I essentially walked through customs. Nobody asked if I had come from any affected countries, and not a single person told me I needed to self-quarantine for two weeks upon my arrival. This was after a 13-hour flight in confined space surrounded by potential carriers of the virus.
Going through security, TSA agents wore gloves but did not change them between bags they were inspecting.
Another traveler requested the TSA agents put on new gloves to inspect his bag, and he was met with nasty looks. They eventually changed their gloves, but only after he asked multiple times.
On my nearly empty flight from Houston to Gulfport, I was the only person wearing a mask. The sole flight attendant on the plane told us we could spread out if we wanted to. Not a single person moved.
Once I returned home, I self-quarantined for two weeks, avoiding all public places and doing my best to not potentially infect anyone.
Now that I can go to the store, I see people blatantly ignoring social distancing protocols. I see Lowe's and Home Depot parking lots stuffed with cars.
This is not a vacation. This is not a time to realize your home renovation dreams. These acts are selfish and put workers and customers at risk.
I don't know what the answer is for Mississippi. I don't think Vietnam's strategy is necessarily enforceable here.
I know that if the government forced people to quarantine, people would riot. What I do think is possible here is self-enforced isolation.
There's a phrase that's been going around Vietnamese social media, "ở nhà là yêu nước," which means, to stay at home is to love your country.
If you love Mississippi and want to protect it, stay at home.
In this time, it is the ultimate display of patriotism.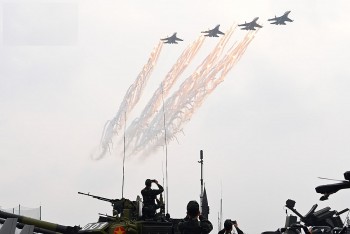 National
At the opening ceremony of the Vietnam International Defense Expo 2022 on December 8th morning, there were impressive performances of the air forces and commando of the Vietnamese People's Army.