Vietnam Calls on US to Lift Embargo on Cuba
Vietnam calls on the US to end hostile policy and unilateral economic and financial embargo on Cuba.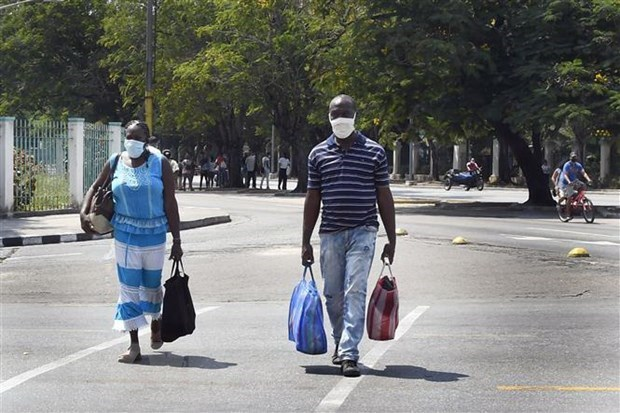 People wear face masks in Havana, Cuba. Photo: VNA
Vietnam believes that Cuba will overcome current socio-economic difficulties caused by Covid-19 pandemic and embargo consequences, successfully implementing its socio-economic model updating process and carrying forward the country's great achievements in education, health care and science-technology, stated Foreign Ministry's Spokesperson Le Thi Thu Hang.
Answering reporters' queries on Vietnam's stance on the recent disorder in Cuba, Hang said that Vietnam has learnt that the situation in Cuba has become stable again right after the disorder that was caused by protests on July 11.
She stressed that Vietnam calls on the US to end hostile policy and unilateral economic and financial embargo against Cuba, according to the Vietnam News Agency (VNA).
The US's blockage and embargo measures against Cuba, which has lasted for nearly 60 years and been tightened in recent time, have worsened socio-economic difficulties facing Cuban people, said Hang.
Le Thi Thu Hang, spokesperson for the Ministry of Foreign Affairs. Photo: VOV
She said that the US should take concrete steps in the direction of normalising relations with Cuba for the benefits of the two peoples, contributing to peace, stability and development in the region and the world.
The spokesperson stated that Vietnam always remembers the solidarity and valuable support that Cuba has given to Vietnam in hardest times.
Vietnam will always stand side by side with the Cuban people and offer them the best possible support, Hang added.
Thousands of Cubans staged the biggest anti-government protests in decades on July 11, demonstrating against an economic crisis and the government's handling of the coronavirus pandemic and curbs on civil liberties.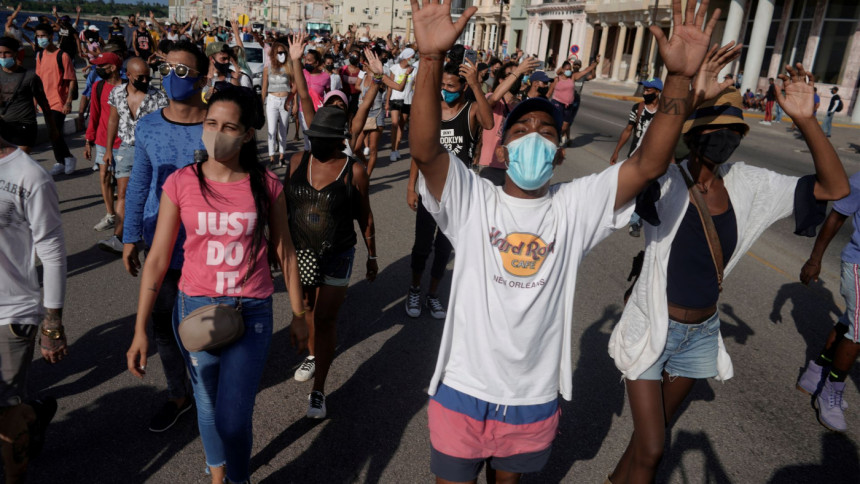 People shout slogans against the government during a protest against and in support of the government, amidst the Covid-19 outbreak, in Havana, Cuba July 11, 2021. Photo: REUTERS
Reuters reported that thousands took to the streets in various parts of Havana including the historic centre, their shouts of "Diaz-Canel step down" drowning out groups of government supporters waving the Cuban flag and chanting "Fidel."
Special forces jeeps, with machine guns mounted on the back were seen throughout the capital and the police presence was heavy even long after most protesters had gone home by the 9 p.m. curfew in place due to the pandemic.
Diaz-Canel, who also heads the Communist Party, blamed the unrest on old Cold War foe the United States, which in recent years tightened its decades-old trade embargo on the island, in a televised speech on July 11 afternoon.
Cuba has been experiencing a worsening economic crisis for two years, which the government blames mainly on US sanctions and the pandemic.
A combination of sanctions, inefficiencies and the pandemic has shut down tourism and slowed other foreign revenue flows in a country dependent on them to import the bulk of its food, fuel and inputs for agriculture and manufacturing.
The economy contracted 10.9% last year, and 2% through June of 2021. The resulting cash crunch has spawned shortages that have forced Cubans to queue for hours for basic goods throughout the pandemic.
Cuba has begun a mass vaccination campaign, with 1.7 million of its 11.2 million residents vaccinated to date and twice that many have received at least one shot in the three-shot process./.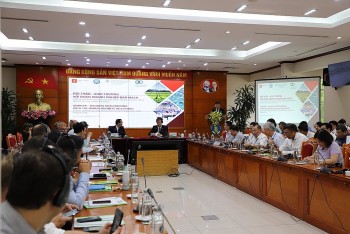 National
A Danish agriculture and food delegation visited Hanoi and Ho Chi Minh City on August 16-19 to exchange opportunities for cooperation and making business with their Vietnamese potential partners.