Vietnam - US Works Closely to Settle War Consequences
During recent meetings, the two countries have confirmed their will to cooperate in settling war consequences.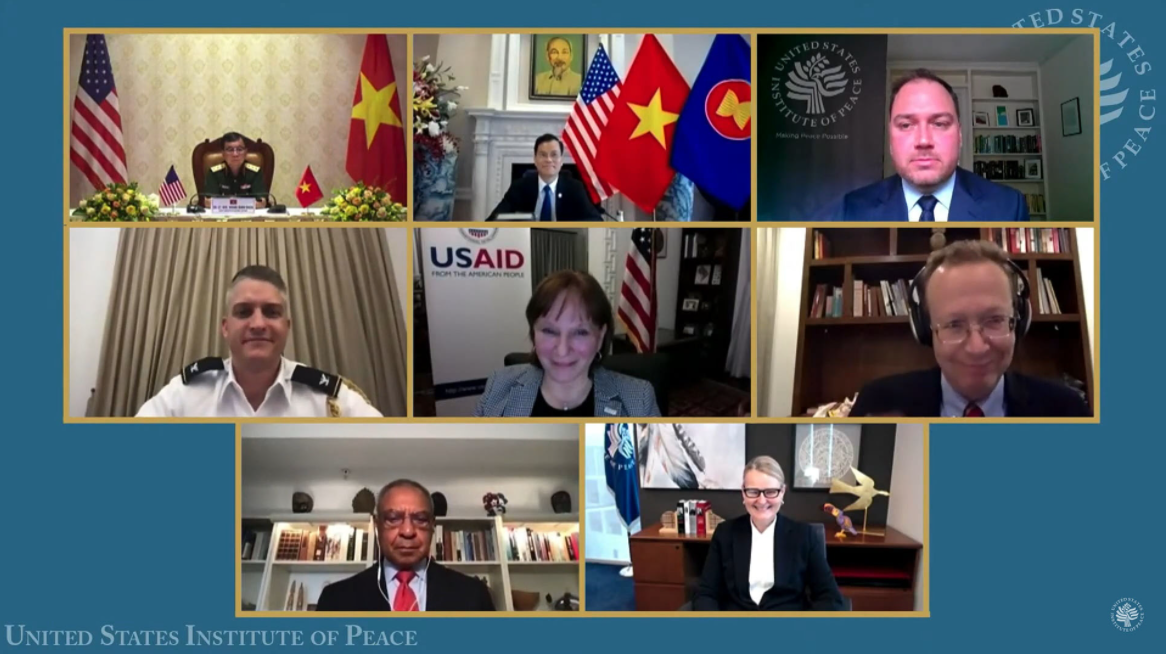 Webinar on "Overcoming the consequences of war, moving forward together" (Photo: Baoquocte)
Deputy Minister of National Defence Senior Lieutenant General Hoang Xuan Chien joined a webinar on "Overcoming the consequences of war, moving forward together" which was organized by the United States Institute of Peace (USIP) on August 3. Chien said he hoped that the US authorities will continue to cooperate more closely with Vietnam in dealing with war aftermaths.
The deputy minister emphasized the need for the two sides to identify new and breakthrough solutions to promote more effective and faster collaboration activities in overcoming the consequences of landmines and toxic chemicals/dioxins, VNA cited.
In the immediate future, it is necessary to continue to mobilize resources to accelerate the detoxification process of the entire Bien Hoa airport area and seek more appropriate methods to provide medical care and employment for victims of Agent Orange/dioxin in Vietnam, he said. The clearance of unexploded bombs and mines in Vietnam should be sped up, to clean up from 500,000-700,000 ha per year. Chien affirmed that he would direct Vietnamese relevant agencies to closely coordinate with each other and with US partners to effectively implement important cooperation contents between Vietnam and the US.
Speaking at the webinar, Lise Grande, president of the United States Institute of Peace said the event was an opportunity for US and Vietnamese agencies, managers, scientists, and experts to identify future orientations to promote cooperation between the two sides in overcoming the consequences of landmines and toxic chemicals, along with collaboration in searching for soldiers missing in action in Vietnam.
US Senator Patrick Leahy appreciated the cooperation between the two countries in the past time. He said during the visit to Vietnam by US Secretary of Defense Lloyd Austin on July 29, the two sides signed a Memorandum of Understanding on gathering and searching for remains of Vietnamese soldiers missing in the war, adding that it opened up a new chapter in the cooperation in overcoming war aftermaths between the two countries.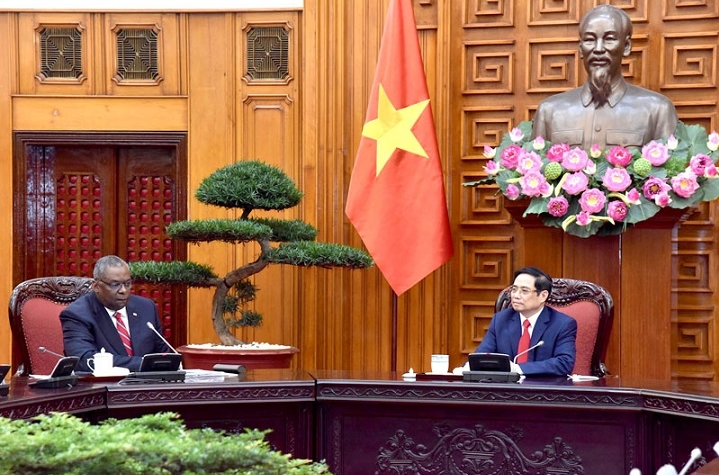 Prime Minister Pham Minh Chinh (R) receives visiting US Secretary of Defence Lloyd Austin in Hanoi on July 29. (Photo: NDO)
Also on the visit, Vietnamese prime minister Pham Minh Chinh suggested the two sides bolster cooperation in dealing with war consequences, including dioxin detoxification at Bien Hoa airport and other localities and humanitarian assistance to Vietnamese suffering from effects of Agent Orange/dioxin, Nhan Dan cited.
Vietnam will continue to fully and effectively cooperate in the search for remains of the US soldiers missing in action, he said, pledging to create favorable conditions for the two defense ministries and armies to enhance exchange, raise mutual understanding and trust, and form mutually beneficial partnerships based on their respective needs and capacity.
US Secretary of Defense affirmed that the US will continue assisting Vietnam in dealing with war aftermaths, including searching for remains of Vietnamese soldiers killed during the war, dioxin detoxification and mine clearance; improving maritime security capacity, and joining UN peacekeeping activities, VNA said.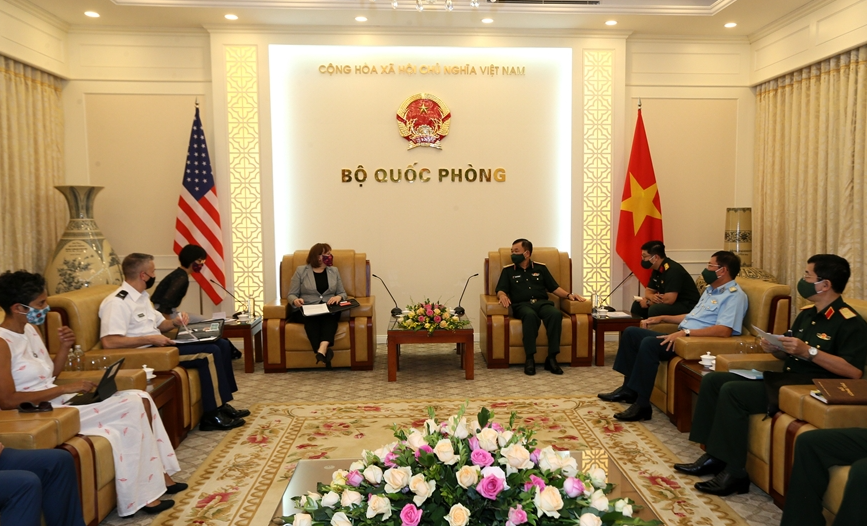 Deputy Minister of National Defence Senior Lieutenant General Hoang Xuan Chien receives US Agency for International Development in Vietnam. (Photo: VNA)
Receiving US Agency for International Development (USAID) in Vietnam Ann Marie Yastishock in Hanoi on August 3, Vietnam's deputy defense minister Hoang Xuan Chien expressed his appreciation for the efforts made by USAID and US agencies to successfully implement joint projects in the field, highlighting examples such as the joint project on dioxin clean-up at Da Nang airport that was completed in 2018, the implementation of the first phase of another detoxification scheme at Bien Hoa airport from 2019-2025, and the building of documents for a project on improving life quality for Vietnamese living with disabilities in eight provinces hard hit by Agent Orange (AO) during the war, namely Quang Tri, Thua Thien-Hue, Quang Nam, Binh Dinh, Kon Tum, Binh Phuoc, Dong Nai, Tay Ninh.
Both sides pledged not to let the Covid-19 pandemic affect the progress of Vietnam – US cooperation in dealing with the consequences of bombs and mines, and toxic chemicals and dioxin left by the war. They also vowed to continue effectively implementing the nine-point MoU on cooperation in addressing bomb and mine consequences, as well as communications activities on Vietnam-US joint work in settling consequences of bomb and mine and toxic chemicals/dioxin.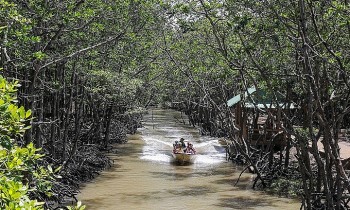 National
Vietnam News Today (September 22): Vietnam confirms 11,687 new Covid-19 cases; HCM City issues Covid safety rules to resume tourism; Vietnam Airlines completes procedures for direct flights to US; Vietnam to compete in AFF Suzuki Cup's in Group B.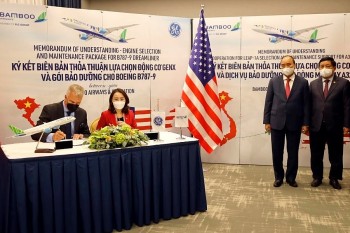 Economy
On September 21, 2021, Bamboo Airways officially introduces AVIAWORLD (AVIAREPS JV) as its official General Sales Agent in the US and launches the nonstop flight network connecting the two countries.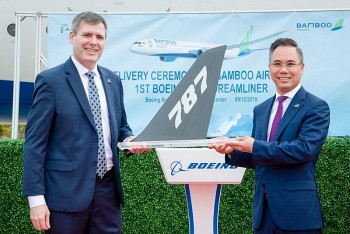 Economy
Vietnam's Bamboo Airways will sign a deal valued at nearly $2 billion with General Electric to purchase GEnx engines to power Boeing 787-9 Dreamliner aircraft, the airline said on Tuesday