Vietnamese-American Authors: Stories of an Hyphenated Existence
As children of two cultures, Vietnamese-American writers have a powerfully unique voice.
In the aftermath of the American War, writers and artists on both sides of the conflict, tried to reckon with the tragedy and haunting memory of war. One of the most dynamic voices to emerge from this intense period of history are Vietnamese-American writers. Influenced by both cultures, these writers offer insight into the immigrant experience, reflections on the war, and rediscovery of their homeland. As Vietnam issues stricter stay at home orders, consider these Vietnamese-American authors for your next lockdown read!
Viet Thanh Nguyen's The Sympathizer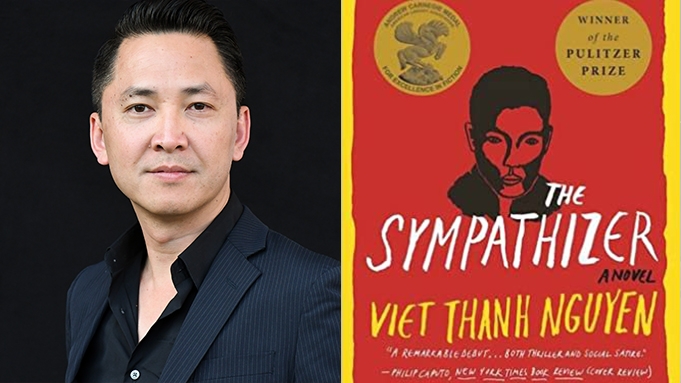 Viet Thanh Nguyen's debut novel won several awards including the Pulitzer Prize.
Released in 2015, The Sympathizer follows a Vietnamese spy in a postwar USA. Filled with passion, paranoia, guilt, and other rich emotions, the novel is also a greatly satirical work. Writer Viet Thanh Nguyen, who is originally an accomplished professor at the University of Southern California, aims to expose the ridiculousness of war and those who wish to glorify it. For example, the undercover protagonist finds himself as a consultant for an American war movie, directed by an auteur filmmaker. As an allusion to Francis Ford's Coppola's poor depiction of the Vietnamese in Apocalypse Now, the auteur almost kills the Vietnamese protagonist when shooting an explosive bombing scene for his picture.
The protagonist and the writer are quite alike. Both are men of two worlds, unsure of where they comfortably belong. Nguyen admits this in an interview with the Guardian; "That's how I felt growing up as a refugee in the United States, as a Vietnamese and Asian American, always looking at myself from inside and outside. Always feeling displaced no matter where I was. Always feeling uncomfortable. In The Sympathizer, I took that feeling and put it into the novel and just greatly exaggerated those feelings and his circumstances to make something much more dramatic."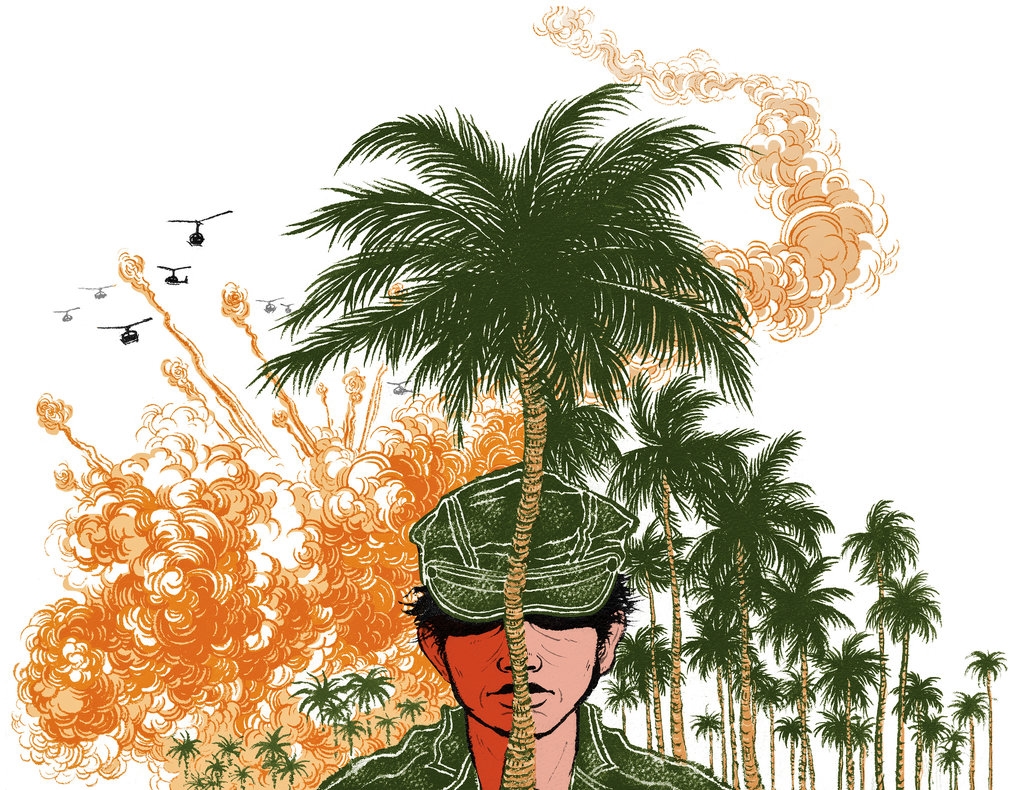 While a literary triumph, Nguyen writing has a cinematic quality. Art by the New York Times.
Although the story is set mostly throughout Southeast Asia, Nguyen's novel deftly critques the American dream. The spy views the United States through different perspectives; as a devoted Communist, as a former West Coast graduate, as a poor immigrant, and as an enemy of the state. As a result of this dueling perspectives, the spy has a unique ability to "sympathize" with almost everyone, even the people he must kill to complete his mission. Nguyen's novel demonstrates how an individual is not completely evil or ignorant but is rather manipulated by organizations like the military, universities, or even Hollywood.
The Sympathizer is set to be adapted into an HBO miniseries. The ambitious production has already received some Hollywood clout, as Robert Downey Jr. has been cast in multiple roles representing "different arms of the American establishment." Additionally, Nguyen released the sequel to The Sympathizer, entitled The Committed, back in March. News of the film adaptaion and literary sequel caused excitment for international audiences.
Monique Truong's The Book of Salt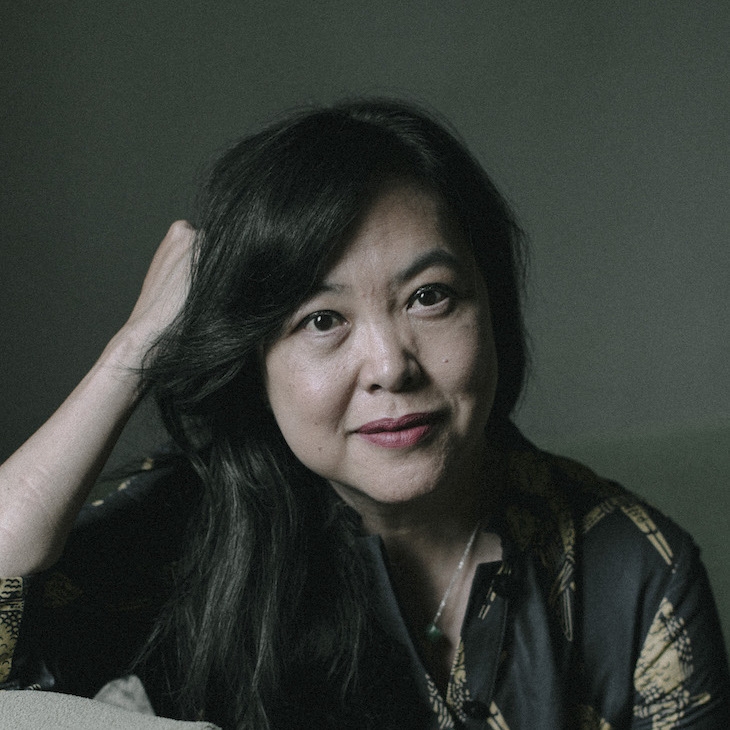 Born in Saigon, Monique Truong now resides in Brooklyn, New York.
For history buffs, The Book of Salt is a must. The novel is set amongst Paris's Lost Generation, when American expats lived briefly in decadence before the Great Depression. However, instead of writing about the lives of high society, Truong is more interested in immigrant tales lost to time.
Truong crafts an enchanting story around the real-life Vietnamese cook for the acclaimed American writer Gertrude Stein. It was known her cook was named Binh but nothing else is known about the young immigrant. Fortunately, Truong imbues the unknown Binh with a fantastic narrative voice, dripping with profundity. Truong has Binh meet with several historical figures, allowing him to have sharp conversations about the philosophies and politics of the time. Despite being a lowly cook with little knowledge of French or English, Binh has a worldly spirit.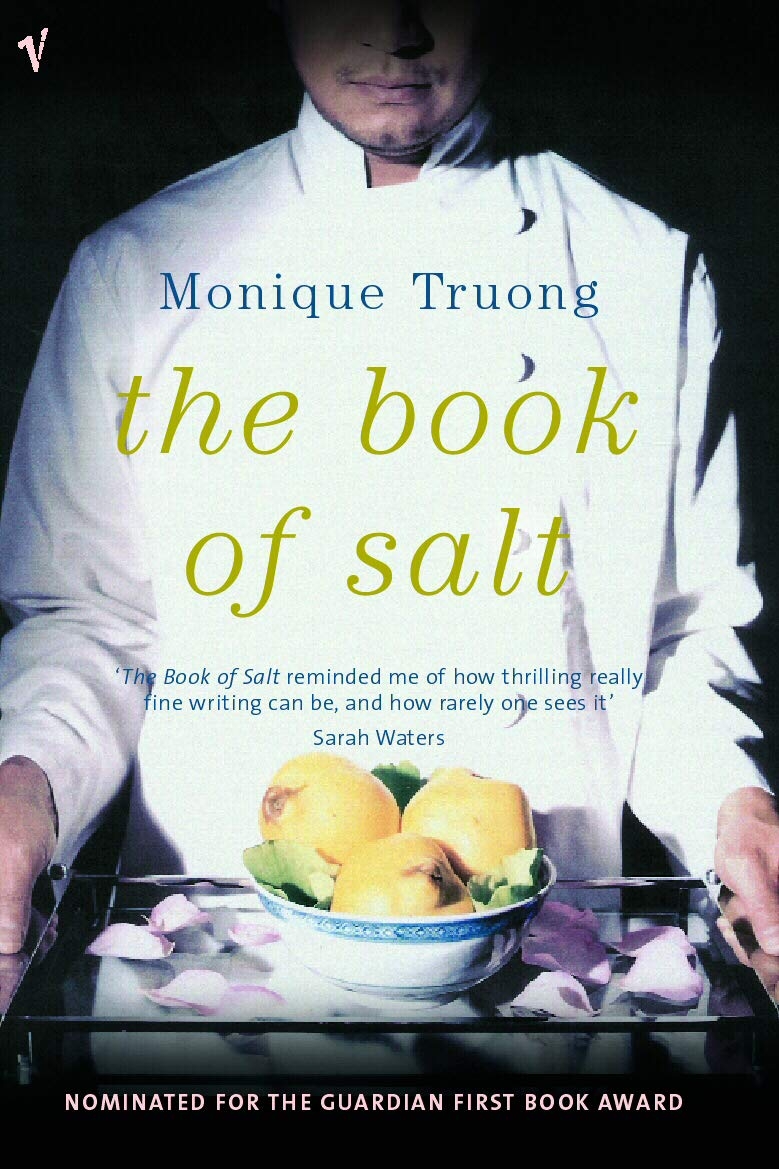 With many tantalizing details of worldly dishes, The Book of Salt should not be read on an empty stomach!
The Book of Salt is also a joy for food lovers. The protagonist Binh is employed as a cook, allowing for Truong to craft many, juicy paragraphs describing succulent meals. In one early chapter, Truong's description of a simple fruit reads like an epic poem; "Quinces are ripe, GertrudeStein, when they are the yellow of carany wings in midflight. They are ripe when their scent teases you with the snap of green apples and the perfumed embrace of coral roses." Unsurprisingly, Truong is a big fan of food, be it Vietnamese, American, or French cuisine.
When growing up in the United States, Truong's love of Vietnamese food kept her connected with her homeland. "When my family and I first came to the United States as refugees in 1975, food became such a component of home that was no longer there," says Truong in an interview with the CBC. "The basic ingredients were no longer there — and yet slowly but surely my mother and father began to piece that element of their life together. We would drive miles to find basic ingredients because of where we were living in the States, which was a very small town in North Carolina. It became very powerful, these meals that we could reassemble." Truong's appreciation for good cooking instills her writing with delicious flavor.
Truong combines her historical and culinary knowledge to create deep portrait of a colonized individual. As a cook, Binh has the knowledge and resources to produce his own meals. Yet, he is only able to do so by the instruction and payment of his employers. Binh's experience mirrors the oppression seen in French Indochina. The Book of Salt is one of the few English novels to discuss the immoralities of colonized Vietnam.
Andrew X. Pham's Catfish and the Mandala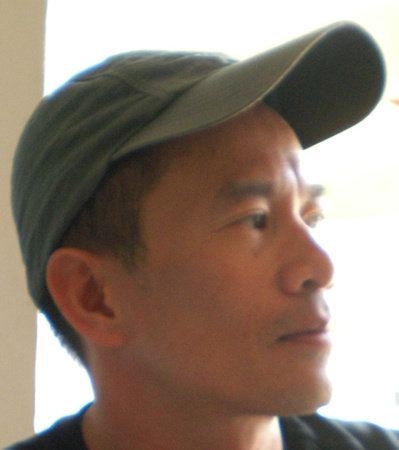 Andrew X. Pham is both a talented writer and unyielding cyclist.
While there are many thrilling travelogues set in Vietnam, only one takes place on the sweaty seat of a bicycle. In Catfish and the Mandala, writer Andrew X. Pham returns to Vietnam since his family fled from the war. Written as a memoir, Pham's work is a disturbingly intimate odyssey across Vietnam, as he attempts to cycle from Ho Chi Minh City to Hanoi.
Over the course of his exhausting trip, Pham ruminates on dark subjects such as suicide, family trauma, racial discrimation, and the haunting memories of war. His cross-continential story begins in Mexico, with him listening to a weeping American veteran apologize for terrorizing the Vietnamese people. Although the words touch him, he cannot offer forgiveness to the veteran as he barely remembers his homeland.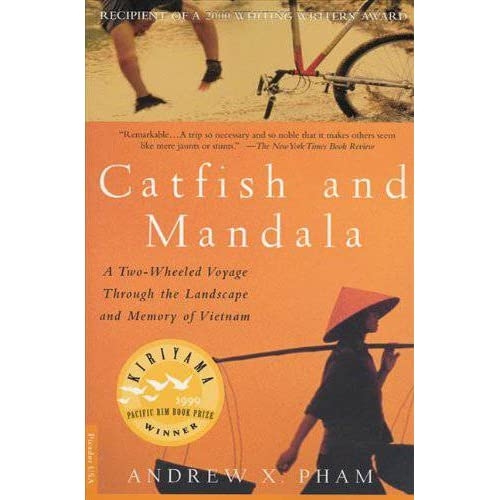 Catfish and the Mandala is a popular choice for tourists exploring Vietnam.
The grim themes do not obscure the overall positive message of Pham's work. Instead of focusing solely on wartorn sorrows, Pham's journey leads him to self-discovery and understanding. For instance, when on the road to Hanoi, Pham encounters a one-legged cyclist. Despite being a poor old man, the one-legged cyclist invites Pham to eat with him in his hut. Over a savory meal of catfish, the one-legged cyclists admits he lost his leg, wife, and son to the war.
Pham mentions the weeping American veteran and the eldery cyclist responses with heatfelt grace; "Tell your friend in America. There is nothing to forgive. There is no hate in this land. No hate in my heart. I am a poor man, my home is a hut with a dirt floor, but he is welcome here. Come and I shall drink tea with him, welcome him like a brother." Pham's encounter, while memorable, is not altogether strange, as hospitality is a common custom in Vietnam. Nevertheless, Pham's sincere writing captures the postwar relationship between the United States and Vietnam.
As majority of Vietnam-American War literature has been penned by American veterans returning to Vietnam, it is quite remarkable for this old story to be retold with a Vietnamese protagonist instead. A newcomer to both countries, Pham witnesses hostilities and kindness across the Pacific Rim, recognizing human similarities over cultural differences. Consequently, he understands a desire for peace trumps warmongering ideologies. As Vietnam and the United States recently celebrated twenty-five years of friendly diplomatic relations, Pham's memoir is a lasting testament to reconciliation and harmony between the two nations.
Glen MacDonald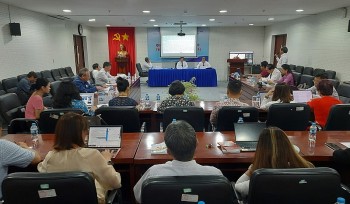 Friendship
The Vietnam - India Friendship Association's Ho Chi Minh City branch, the Ho Chi Minh City Union of Friendship Organizations (HUFO) and the Southern Institute of Social Sciences on March 21 held a scientific seminar themed "Vietnam - India relationship: tradition and present".