Vietnam vs Saudi Arabia World Cup Qualifier: Date & Time, Match Preview, Team News, Predictions
Vietnam will kick off against Saudi Arabia in a match on Tuesday in My Dinh Stadium, with Vietnam preparing themselves to face a strong opponent of World Cup Qualifier.
The Saudi Arabia national football team arrived in Hanoi Friday night to prepare for the upcoming World Cup qualifier with Vietnam.
After the 0-0 draw with Australia on Thursday, members of the team traveled from Sydney to Hanoi on two private jets, which shortened their flying time from 17 hours to 10 hours. The team will have the first training session in Hanoi on Saturday, according to VnExpress.
Saudi Arabia are topping group B with 13 points, followed by Australia (10 points) and Japan (nine points). Vietnam played Saudi Arabia away in September and lost 1-3.
Vietnam vs Arab Saudi World Cup Qualifier: Date & Time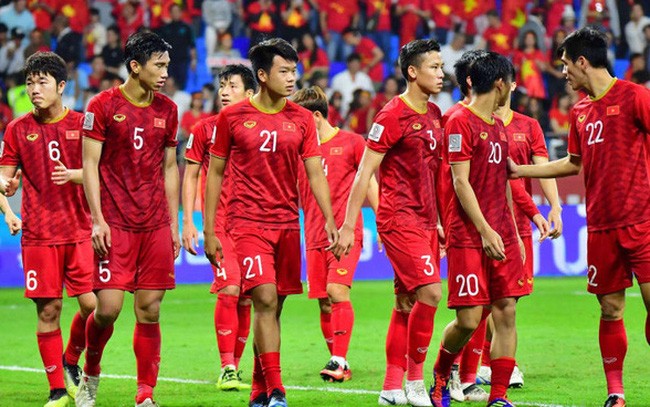 Photo: VTV
On November 16, at 19:00 pm, the teams will clash again in Vietnam's home ground My Dinh National Stadium.
Vietnam vs Arab Saudi World Cup Qualifier: Match Preview
Vietnam currently find themselves on an 11-game winless run at the top table of the World Cup 2022, and five of their last nine encounters have ended in defeat. The contrast with Saudi Arabia could not be much more striking, so all the signs point in one direction, according to Freedinco.
Under 3.5 goals has been the order of the day in 20 consecutive World Cup 2022 matches involving Saudi Arabia, so the team once managed by the coach have proven themselves to be incredibly consistent on this particular front. The same can also be said of Vietnam, as no more than three goals have been netted in 20 of their previous 20 games at this level.
Over the course of their last 20 fixtures in the World Cup 2022, Vietnam has been involved in just four encounters in which they have both scored and conceded during the same 91 minutes. Although Saudi Arabia cannot quite match these levels of consistency, at least one of the two keepers has emerged with a clean sheet in 13 of their previous 20 third-tier games.
Vietnam vs Arab Saudi World Cup Qualifier: Team News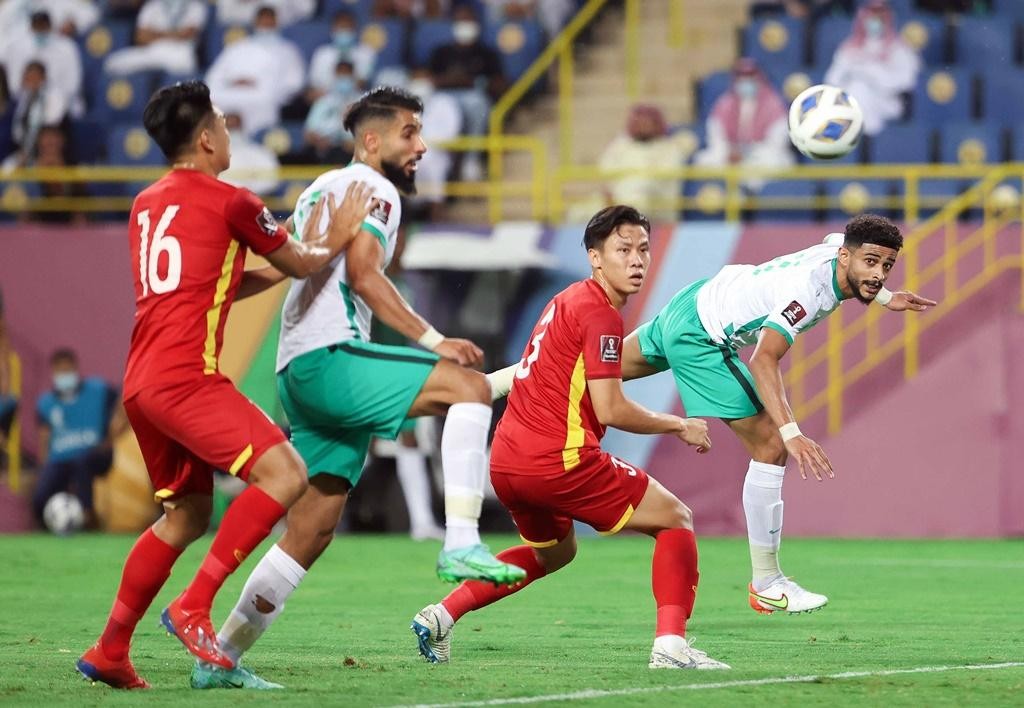 Photo: AFC
Vietnam
There are no known injuries or suspension concerns for the home side.
Injuries: None
Suspension: None
Saudi Arabia
Yasser Al-Shahrani and Abdullah Madu were left out of Saudi Arabia's latest international squad due to injuries while Mohammed Al-Kuwaykibi withdrew.
Injuries: Yasser Al-Shahrani, Abdullah Madu
Unavailable: Mohammed Al-Kuwaykibi
Suspension: None
Saudi Arabia Squad
Goalkeepers: Fawaz Al-Qarni, Mohammed Al Rubaie, Nawaf Al-Aqidi, Zaid Al-Bawardi
Defenders: Mohammed Al-Breik, Ali Al-Bulaihi, Sultan Al-Ghanam, Saud Abdulhamid, Ziyad Al-Sahafi, Abdulelah Al-Amri, Ahmed Sharahili, Moteb Al-Harbi
Midfielders: Fahad Al-Muwallad, Salman Al-Faraj, Salem Al-Dawsari, Mohamed Kanno, Abdulellah Al-Malki, Abdulrahman Ghareeb, Sami Al-Najei, Ali Al-Asmari, Ali Al-Hassan, Ayman Yahya, Abdulrahman Al-Aboud, Nasser Al-Dawsari
Forwards: Firas al-Buraikan, Saleh Al-Shehri
Vietnam Predicted XI (5-4-1): Bui Tan Trong (GK); Que Ngoc Hai, Bui Tieng Dung, Nguyen Thanh Chung, Nguyen Phong Hong Duy, Vu Van Thanh; Nguyen Hoang Duc, Phan Van Duc, Nguyen Tuan Anh, Nguyen Quang Hai; Nguyen Tien Linh
Saudi Arabia Predicted XI (4-2-3-1): Fawaz Al-Qarni (GK); Sultan Al-Graham, Abdulelah Al-Amri, Mohammed Al-Breik, Saud Abdulhamid; Sami Al-Najei, Abdulellah Al-Maliki; Fahad Al-Muwallad, Salman Al-Faraj, Salem Al-Dawsari; Saleh Al-Shehri
Vietnam vs Saudi Arabia Head-to-Head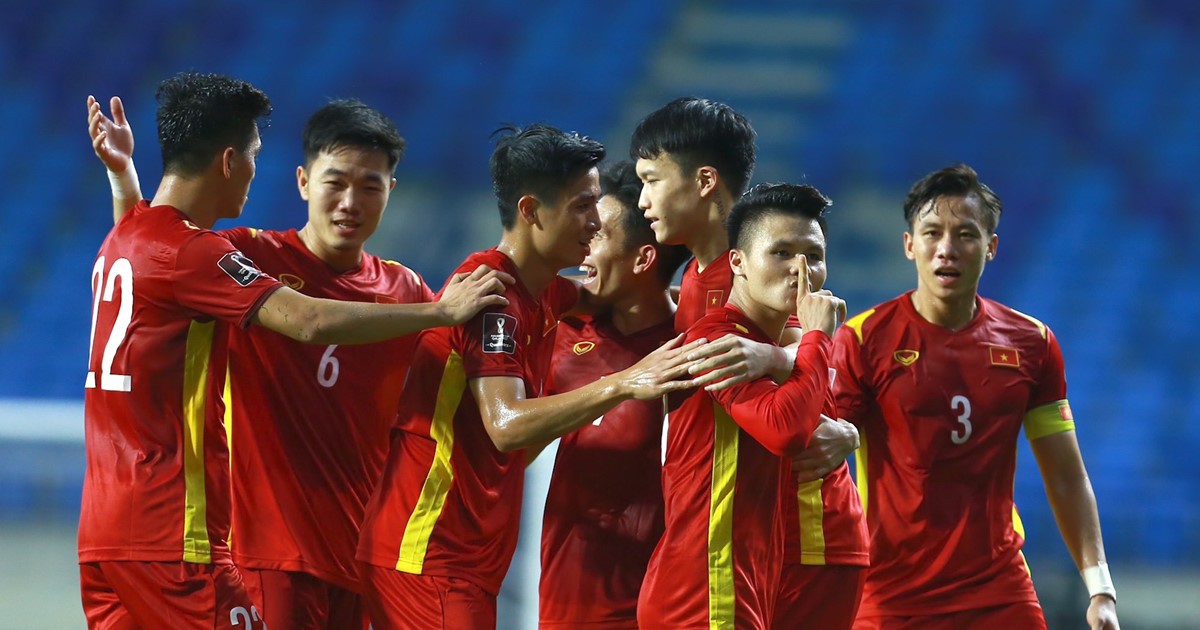 Photo: AFC
Saudi Arabia were victorious in all three of their previous clashes with Vietnam, winning the games with an aggregate victory of 12-1.
A second-half fightback saw Saudi Arabia score three goals after the break to overturn a one-goal deficit at halftime and secure a 3-1 victory in September.
The hosts are currently on a six-game losing run while last Thursday's draw with Australia halted a nine-game winning run for Tuesday's visitors.
Vietnam form guide: L-L-L-L-L
Saudi Arabia form guide: D-W-W-W-W
Coach Park hopes for first point in Saudi Arabia clash
Park Hang-seo said Vietnam has performed well in the final round of World Cup qualifiers and hoped the team would have a good result against Saudi Arabia.
"It's quite a tough game tomorrow. We all know Saudi Arabia are topping the group. It will be really difficult for Vietnam, but we have performed well in the past games. Hopefully, we will keep it up tomorrow and earn our first point in the final round of World Cup qualifiers," Park said in the pre-match press conference Monday, according to VnExpress.
Vietnam is at the bottom of group B after five consecutive defeats. On Tuesday, the team will play Saudi Arabia in Hanoi's My Dinh National Stadium. In September, the two teams clashed in Saudi Arabia, with Vietnam losing 1-3 despite scoring first.
"The team has tried their best in the past games, but the results were not as we expected. In this game, Vietnam will continue putting in more efforts to get a better result, which is at least getting a point," Park added.
"I have talked to the players. They said playing Southeast Asian teams is totally different from teams in the final World Cup qualification round. It's obvious the players are under pressure. During the game, they also face great pressure from the opponents. Therefore, we are practicing counterattacking to make the players feel more confident. Throughout training sessions and meetings, we are adjusting our style of play and improving on the offense. I told the players to be comfortable," he said.
"The opponents are really strong. Even though we are the weaker team, we cannot defend forever. We still have to attack. When we attack, our defense gets thinner and when they strike back, it's hard for us to stand still. These teams have excellent individuals that's why it's difficult to keep a clean sheet."
The gap in level was mentioned multiple times by Park in the past games and he emphasized it again.
"It's arduous to find a way to level up the players right away because that cannot be done in a day or two. If we could do that, Vietnam wouldn't have had to wait until now to be here," Park said.
The Vietnam head coach ended the interview by giving his analysis on Saudi Arabia.
"In the first leg, they played flexibly and switched positions constantly. But we have rewatched and analyzed the match. I hope the players will remember our analysis. The wingers of Saudi Arabia often play really high, which means the space behind them is big. When they attack, they do it with big numbers. If we can counter that, we will have a big space to attack."
Vietnam tough opponent with home advantage: Saudi Arabia coach
Coach Hervé Renard pointed to Vietnam's power on home ground ahead of the World Cup qualifier Tuesday.
"We really respect Vietnam. They are not easy to play in their home stadium My Dinh. This is a team of many talented players. We will have to focus to reach our goal," Renard said in the pre-match press conference Monday.
Saudi Arabia top group B with 13 points after five games although they are considered weaker than Japan or Australia.
"This is a challenging group. Every game is difficult. What we need to do is maintain our determination. We have been able to do that after five games. Our goal is to qualify for World Cup. We will concentrate at the highest level to achieve that target," he added.
Both Vietnam and Saudi Arabia will miss some key players due to injuries, but Renard didn't see that as a problem.
"Of course it would be nice if we don't lose any players. But Saudi Arabia still have many other quality players. I feel great with this team," Renard said.
The members of Saudi Arabia arrived in Hanoi on Friday and had two training sessions.
In September, Vietnam faced Saudi Arabia in the first leg and lost 1-3, although Nguyen Quang Hai opened the score early for the Golden Dragons.