Vietnam vs Oman World Cup 2022: Date and Time, Preview, Prediction, Team News
Vietnam will clash against Oman in a match on today, Tuesday October 12 at 11 pm (Hanoi time), which is supported by a lot of football fans. Here is the match's predictions, preview, team news, date and time, and more information.
Oman host Vietnam in their upcoming 2022 FIFA World Cup qualifying fixture on Tuesday at Sultan Qaboos Sports Complex.
Oman suffered a 3-1 defeat in their previous outing against Australia on Friday and they are now placed fourth in the Group B third-round standings. Japan and China also have three points in the table.
Vietnam remain winless in the campaign as they suffered a 3-2 defeat at the hands of China. Vietnam pulled two goals back and the game was tied 2-2 at the 90th minute, but Wu Lei scored a last-gasp winner in the fifth minute of injury time.
Vietnam vs Oman World Cup 2022: Date and Time
The Vietnam vs Oman game will take place at 11 p.m. Tuesday (October 12, Hanoi time).
Vietnam vs Oman World Cup 2022: Match preview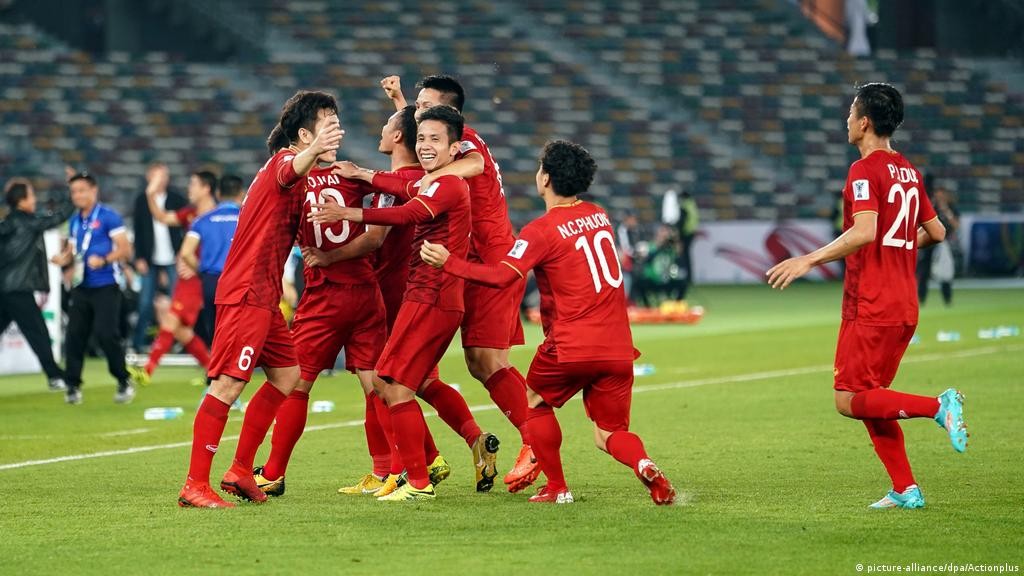 Photo: picture alliance/dpa
Neither side have ever qualified for a World Cup finals and despite progressing through to the final stage of qualification, it seems unlikely either of the two will be present in Qatar next winter.
For Vietnam, this already represents their longest stint in Asian World Cup qualification, having made it to the third round after finishing second in their initial group.
Seeing off similar-ranked sides like Malaysia and Indonesia to progress, Vietnam had topped Group G heading into the final match, but were beaten by the slender margin of 3-2 to eventual winners the United Arab Emirates.
Still, their performances in the second round did take them into unchartered territory, but Park Hang-seo's side have been unable to make a real impact so far in the third stage of Asian qualification and currently sit bottom of the group.
Losing their opening two matches in last month's international break, Vietnam were dealt an unruly fixture list, having been forced to face both of Group B's big guns in Saudi Arabia and Australia straight off the bat.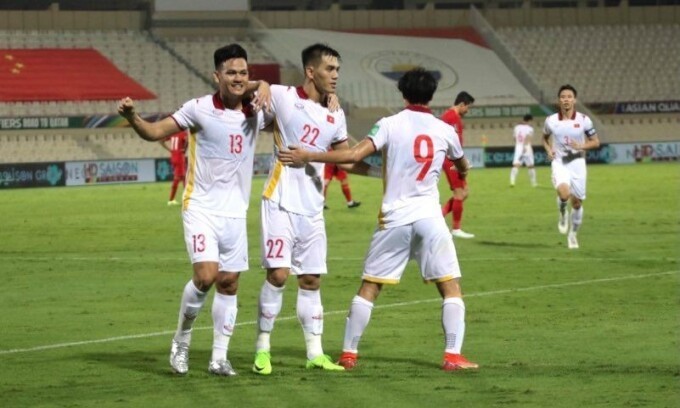 Ho Tan Tai (number 13) celebrates after scoring a goal in the World Cup qualifying clash between China and Vietnam on October 8, 2021. Photo: VnExpress
However, Vietnam were able to push the pair close, leading against Saudi Arabia before being pegged back and losing 3-1, whilst favourites Australia were only capable of a 1-0 win in Hanoi.
Their luck was once again out in the most recent qualifier against China, with Vietnam coming from 2-0 down late on to snatch what they thought was their first-ever point in round three qualification, only for Wu Lei to pop up in the 95th minute to secure the win for the hosts.
Similarly, nothing much was expected of Oman when they too were drawn into a group with three World Cup regulars, yet the nation from the West of Asia stunned six-time qualifiers Japan in the opening match of round-three.
A late Issam Al Sabhi strike secured their first ever win against the Samurai Blue in 13 attempts, yet they have been unable to build on their impressive start, picking up zero points from a possible six.
Defeat to Australia in their first match of the international break means Branko Ivankovic's men will enter the match against Vietnam outside of the playoff spot, leaving them with work to do if they are to achieve their goal of qualification.
Granted, matches against Vietnam are not going to decide their fate, but a victory against the bottom-placed side is a likely scenario for Oman, who are yet to concede a goal against the Golden Star Warriors in their two previous meetings.
Both games came during qualification for the 2004 Asian Cup, with Oman winning their two encounters by an aggregate score of 8-0, and whilst it is fair to say Vietnamese football is on the rise, a similar thrashing could be on its way this week.
Vietnam vs Oman World Cup 2022: Head-to-Head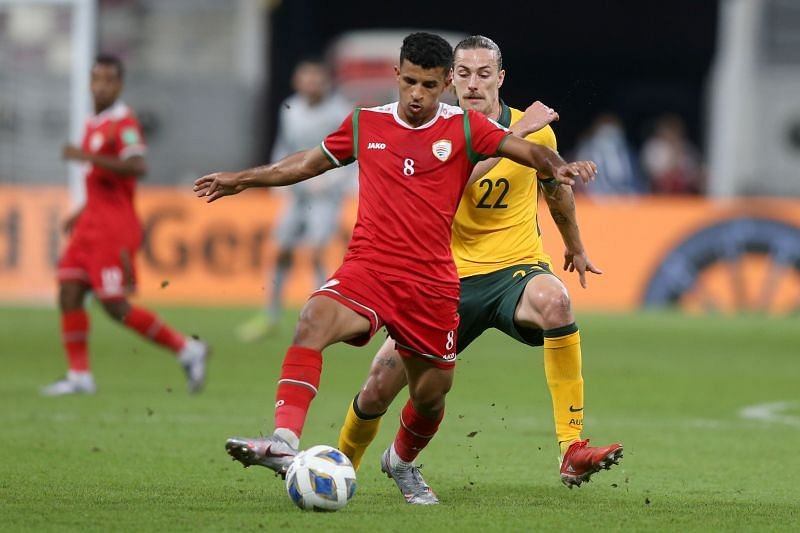 Photo: Getty Images
Oman and Vietnam have squared off twice across all competitions so far, with Oman maintaining a 100% record and also keeping back-to-back clean sheets. The fixtures were part of the Asian Cup 2004 qualifiers.
They last squared off at Tuesday's venue and the game ended in a 2-0 win for the hosts.
Oman form guide (all competitions): L-W-L-W-W
Vietnam form guide (all competitions): L-L-L-L-W
Vietnam vs Oman World Cup 2022: Team News
Oman
Zaher Al-Aghbari, Mohsen Al-Ghasani and Al-Mundhir Al-Alawi were absent from the game against Australia on account of injuries. As per the latest injury report by the team's official Twitter account, the trio did not take part in group training ahead of the fixture.
They continued their routines and their participation in this game seems doubtful.
Injured: None
Suspended: Zaher Al-Aghbari, Mohsen Al-Ghasani, Al-Mundhir Al-Alawi
Unavailable: None
Vietnam
Tran Van Kien, Truong Van Thiet, Nguyen Trong Dai and Nguyen Xuan Nam did not find a place in the 27-man squad announced for the two games this month.
Tran Minh Vuong and Nguyen Trong Hoang withdrew from the squad last month on account of injuries. Vuong suffered an anterior cruciate ligament injury in September while Hoang is recovering from a hernia injury.
Injured: Nguyen Trong Huang, Tran Minh Voung
Suspended: None
Unavailable: Tran Van Kien, Truong Van Thiet, Nguyen Trong Dai, Nguyen Xuan Nam
Vietnam vs Oman World Cup 2022: Prediction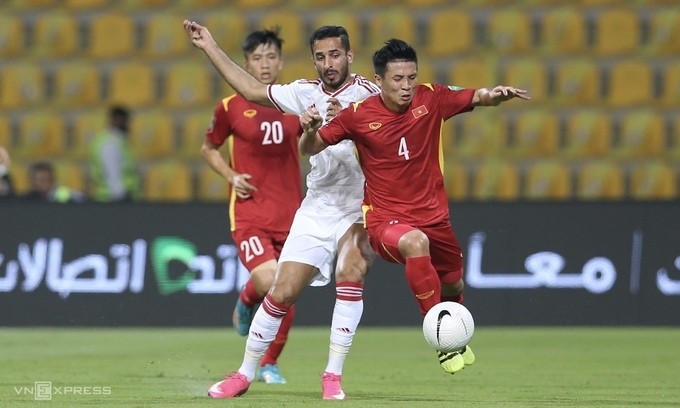 Photo: VnExpress
Vietnam has not picked up any points in the 3rd round of the qualifiers for the 2022 World Cup.
They made it to the 3rd round after they finished runners up in Group G of the 2nd round of qualifiers a point behind group winners, UAE.
They were last seen in a closely fought loss against China, who walked away with 3 points thanks to a 90th minute winner from the tournament's second highest goal scorer Wu Lei. Earlier they once again went down in a narrow loss this time to table toppers Australia at home.
Golden Star Warriors should hope for the best as most of their home fixtures against teams in the lower ends of the table are yet to come.
Oman qualified to the 3rd qualifying round after they secured 2nd place in the group stages of the 2nd round behind the hosts of the 2022 World Cup Qatar. Both their losses in the round came against Qatar.
After an impressive victory against Japan away from home, they followed it up with a 1-0 loss against Saudi Arabia at home. They were last humbled by Australia in a 3-1 loss away.
Vietnam doesn't seem like they could make a comeback to push for a spot in the 4th round against their competitors, so them taking any points is unlikely.
Oman being higher in the table and with impressive wins under their belt should have enough momentum to take all 3 points comfortably at home.
We are predicting Oman to come away with a comfortable victory however, Vietnam should have enough to score at least once, continuing their recent trend.
Vietnam defenders call for fans support in Oman clash
Ho Tan Tai, a rising star in the national team hopes fans would continue supporting and encouraging Vietnam in their next tough World Cup qualifiers.
"After the defeat against China, the team felt really unhappy. In the games ahead, we just need to achieve the best results," Tai said.
Vietnam haven't earned any point after three games of the final World Cup qualifying round. They lost 1-3 to Saudi Arabia, 0-1 to Australia in September and recently 2-3 to China, where Tai contributed a goal. On October 12, Vietnam will play the next game with Oman.
Currently, the World Cup 2022 qualifying ticket is already out of reach for Vietnam. But Tai affirmed the team would try to earn points in the upcoming games.
"We have never thought about qualifying for World Cup. All we want is to try our best in each game for the best results. Our target is to earn at least a point in every game, since our opponents are all top teams.
We have put our best effort into the past games. As you already know, it's really challenging in this round so I hope the fans would support us and boost our spirit," Tai said.
Nearly 15,000 spectators to attend Vietnam's World Cup qualifier against Oman
The upcoming qualifying match for the 2022 FIFA World Cup between Vietnam and Oman will see the attendance of approximately 15,000 spectators, according to details given by the Oman Football Association (OFA).
The OFA requires that all football fans attending the game be fully vaccinated against COVID-19 and have negative certificates before they are allowed to enter the stadium.
The final World Cup qualifying game between Vietnam and hosts Oman is set to get underway at the Sultan Qaboos Stadium at 11 p.m. on October 12 (Vietnam time).
Australia are currently top of Group B followed by Saudi Arabia in second place, with both teams on nine points after winning all three matches.
Behind them are Japan, Oman, and China, all of whom are on three points each and are separated on goal difference.
The Vietnamese team is bottom of Group B and has no points following three loses. Moving forward, they will take part in three training sessions in Muscat ahead of facing hosts Oman on October 12.