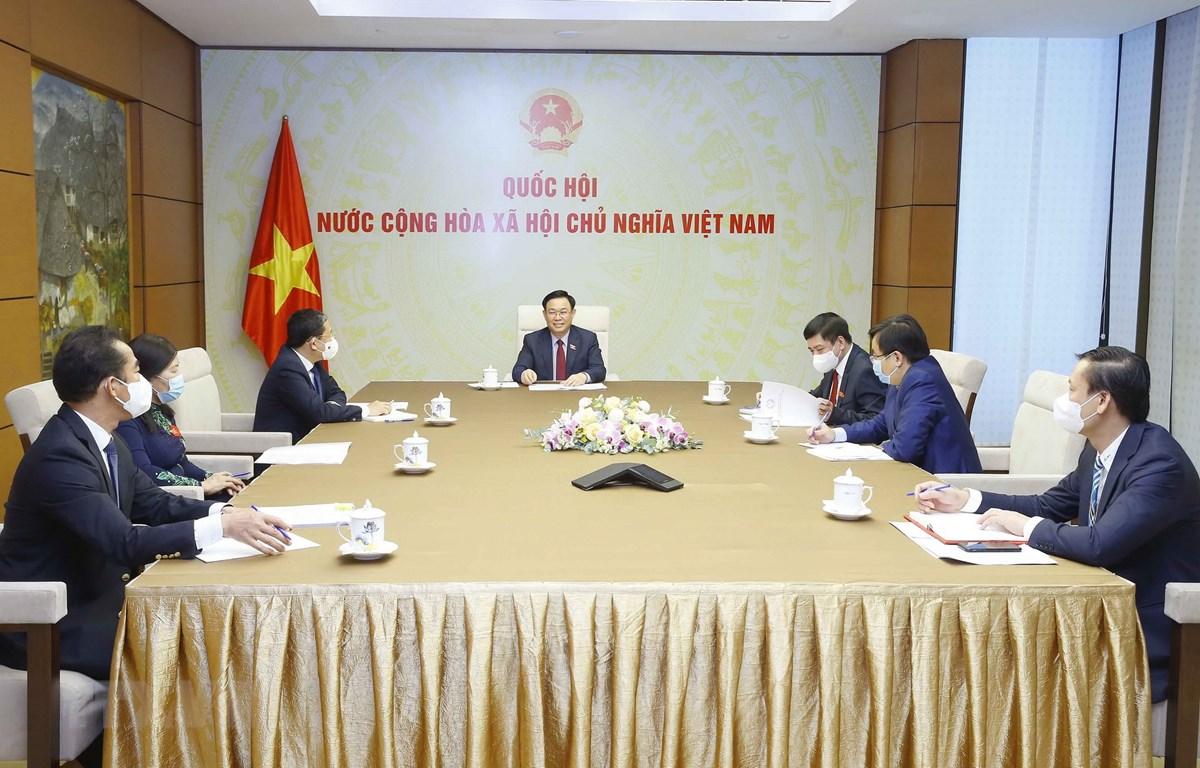 National Assembly Chairman Vuong Dinh Hue holds online talks with President of the Russian Federal Council (upper house) Valentina Ivanovna Matvienko on June 8. Photo: VNA
Russia is considering transferring Sputnik V vaccine production technology to Vietnam, said President of Russian Federal Council (upper house) Valentina Ivanovna Matvienko.
During her online talks with National Assembly Chairman Vuong Dinh Hue on June 8, Matvienko said Russia will make efforts to maintain the development trend of economic and trade cooperation in the time ahead, the Vietnam News Agency (VNA) reported.
The Russian Federal Council will also work hard to promote collaboration between the two countries, she pledged.
NA Chairman Hue said Vietnamese people always treasure and keep in mind the support of Russian people for Vietnam's struggle for national liberation and reunification.
He hailed the achievements Russia has recorded under the leadership of President Vladimir Putin, and applauded the country's efforts in the pandemic fight.
The Vietnamese top legislator thanked Russia for presenting 1,000 Covid-19 vaccine doses to Vietnam earlier this year, and its recent commitment to give Vietnam priority in accessing 20 million doses of Sputnik V.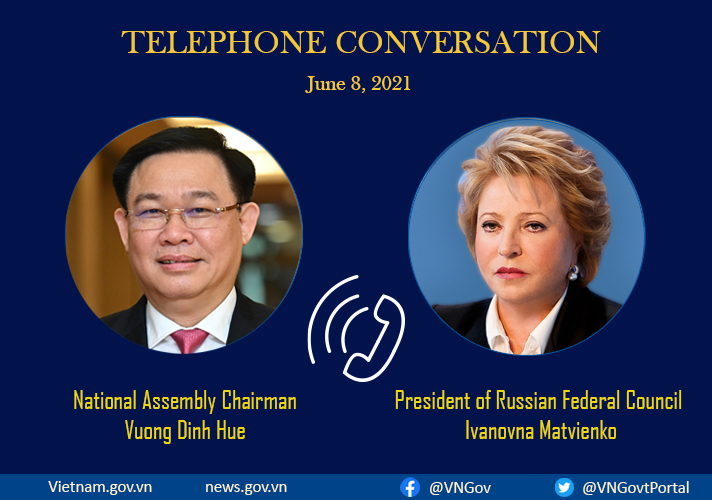 National Assembly Chairman Vuong Dinh Hue holds online talks with President of the Russian Federal Council (upper house) Valentina Ivanovna Matvienko on June 8. Photo: VGP News
The two sides rejoiced at the fruitful developments of the Vietnam-Russia comprehensive strategic partnership, and shared a wish that the Vietnamese legislature and the Russian council will continue their close cooperation, thus promoting relations between the two countries.
They said the bilateral political ties have been consolidated continuously and prospered in all channels of the Party and the State, as well as localities, businesses and social organisations.
The leaders consented to maintain the exchange of high-ranking parliamentary delegations and friendship parliamentarians' groups, and intensify information sharing.
The two sides pledged to step up coordination in supervising the implementation of cooperation agreements signed by the two Governments and strategic cooperation projects, and build and complete legal frameworks to facilitate exchanges and cooperation between the Governments, localities, enterprises and people of the two countries.
At the same time, they will maintain meetings, consultations, coordination and mutual support at multilateral parliamentary forums, and in regional and international issues of shared concern.
Vietnam to receive 20 million doses of Sputnik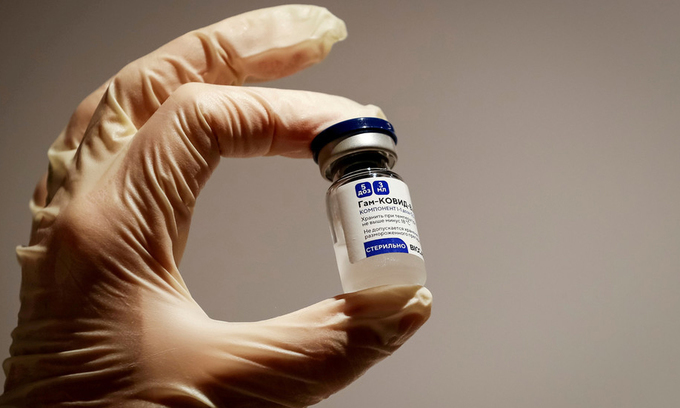 A medical specialist holds a vial of the Sputnik V vaccine against the coronavirus in a department store in Moscow, Russia, January 18, 2021. Photo: Reuters.
Earlier, Vietnamese Health Minister Nguyen Thanh Long said Vietnam is set to receive 20 million doses of the Russian-made Sputnik V vaccine this year.
"This is the positive result of a period of non-stop negotiation by the Ministry of Health," he was cited by VnExpress as saying.
Vietnam had greenlighted the use of Sputnik V vaccine in March after doing the same for the one made by AstraZeneca, a British-Swedish pharmaceutical and biotechnology firm in collaboration with Oxford university.
The health ministry is seeking to partner with global vaccine producers in transferring knowhow in order to ensure vaccine security and future exports.
A unit of the health ministry, Vabiotech, is scheduled to start producing Sputnik V vaccine in Vietnam with a capacity of five million doses a month from July.
The ministry is also negotiating with other producers like Pfizer, Moderna and Johnson&Johnson to purchase more vaccines.
It has completed negotiation to purchase 38.9 million doses from the World Health Organization's global sharing facility called Covax. However, only a small amount has been delivered under this so far.
The nation is set to get 31 million Covid-19 vaccine doses from Pfizer/BioNTech and 30 million from AstraZeneca.
Vietnam targets to have 150 million doses this year to vaccinate 75 percent of its population./.
Rosy Huong