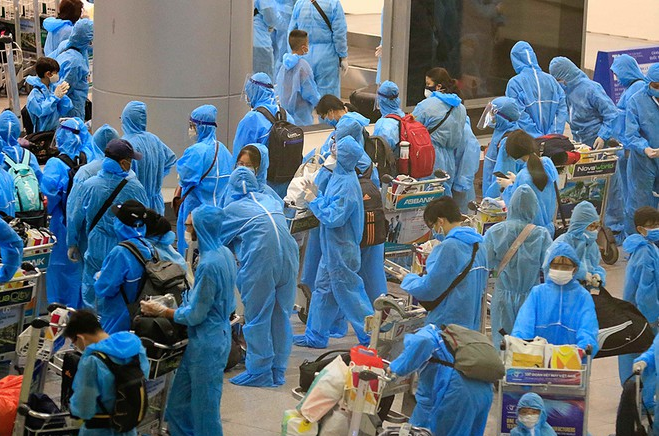 Tourists stranded in Da Nang were brought back to Hanoi on the afternoon of August 13 (Photo: Thanh Nien)
6 new cases detected in Quang Nam and Hai Duong
The National Steering Committee for the COVID-19 Prevention and Control reported at 6 a.m, August 14 that Vietnam has recorded 6 new cases of COVID-19 infection, 3 of which lived in Quang Nam, the rest were in Hai Duong, making the total number of COVID-19 patients in Vietnam since the pandemic first appeared to reach 911.
The total number of people in close contact and entry from the epidemic area under medical monitoring (quarantine) is 172,093, of which:
- Concentrated isolation at hospitals: 5,222
- Concentrated isolation at other establishments: 25,799
- Self isolation: 141,072
Four more patients were declared cured. Thus, up to now, there are 425/ 911 COVID-19 patients in Vietnam that have been declared cured, accounted for 46.7%. Among patients under treatment, the number of first-time negative cases is 31 cases; while 61 cases receive 2 times of negative test results for SARS-CoV-2: 61 cases. Currently, 373 patients are positive for the virus causing COVID-19.
Vietnam confirmed the 21st fatal
On the morning of August 14, Dr. Nguyen Trong Khoa, Deputy Head of the Special Standing Division of Anti-COVID-19 of the Ministry of Health in Da Nang City, informed about the 21st fatal case relating to COVID-19.
Patient no. 585 is a 61-year-old female, lives in Hoa Vang District, Da Nang City with a medical history of type 2 diabetes, hypertension, obesity. Diagnosis of death: COVID-19 pneumonia complicates severe respiratory failure, septic shock with multi-organ damage in patients with type 2 diabetes, hypertension, and obesity.
According to the Information website on COVID-19 pandemic, Ministry of Health, most of the deaths in Vietnam so far are the elderly, on the basis of serious medical conditions such as end-stage chronic kidney failure, blood cancer. terminal unresponsive chemicals, coronary syndrome, acute respiratory failure, degenerative polyarthritis, hypertension, chronic adrenal insufficiency, type 2 diabetes mellitus, sepsis, pneumonia, exhaustion, multiple failure organ,...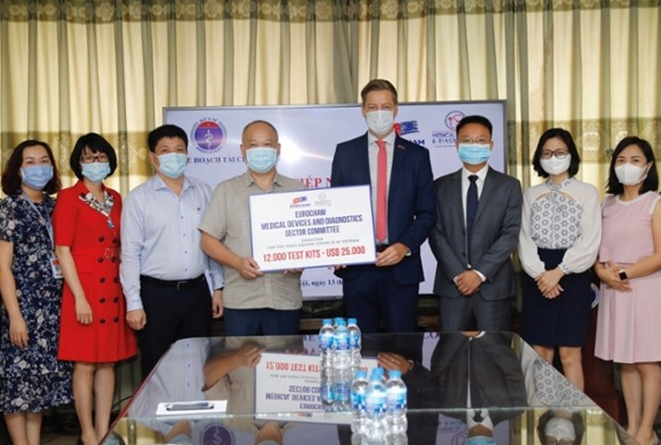 EuroCham donated 12,000 COVID-19 tests to the Ministry of Health (Photo: Tien Phong)
Hai Duong applies social distancing
On August 13, Chairman of the People's Committee of Hai Duong province issued Decision 2332 / QD-UBND on the application of a state of emergency in Covid-19 epidemic prevention. Accordingly, from 0:00 on August 14, the whole city of Hai Duong will carry out social isolation for 15 days.
Residents of Hai Duong city were asked to stay at home, strictly comply with keeping a minimum distance of 2m when communicating; not gathering more than 2 people in public places and outside of offices, schools, hospitals. The heads of enterprises, goods and service production and business establishments are responsible for the application of anti-epidemic measures at their establishments.
Hai Duong Department of Health coordinates with Hai Duong city to put all resources into thoroughly handling the "outbreak" at 36 Ngo Quyen, Hai Duong city by applying all appropriate measures to places where there is a risk of infected people, requiring of Hai Duong University dormitory for centralized isolation for all F1 cases.
The Ministry of Health received support of 12,000 COVID-19 test kits from EuroCham
On August 13, in Hanoi, the EuroCham Medical and Diagnostic Equipment Sub-Committee donated 12,000 test kits of SARS-CoV-2 to the Ministry of Health - Standing National Steering Committee for COVID-19 pandemic control, cited by Tien Phong.
The donation will be allocated by the EuroCham Medical and Diagnostic Equipment Sub-Committee under the direction of the Ministry of Health for localities that are currently focusing on COVID-19 control. During times of high risk of community infection, the Subcommittee on Medical and Diagnostic Equipment under EuroCham hopes 12,000 test kits will actively assist the Government in epidemic control, contributing to spreading the positive spirit of the community. European businesses also join hands to contribute to repel the COVID-19 epidemic in Vietnam.
Mr. Torben Minko, Subcommittee on Medical and Diagnostic Equipment under EuroCham shared: "The Subcommittee on Medical and Diagnostic Equipment under EuroCham, representing 26 member enterprises are multinational companies operating in the medical equipment and diagnostic equipment industry, which contributes the majority of medical products distributed throughout the country, is committed to assisting the Government and people of Vietnam in this fight against the pandemic."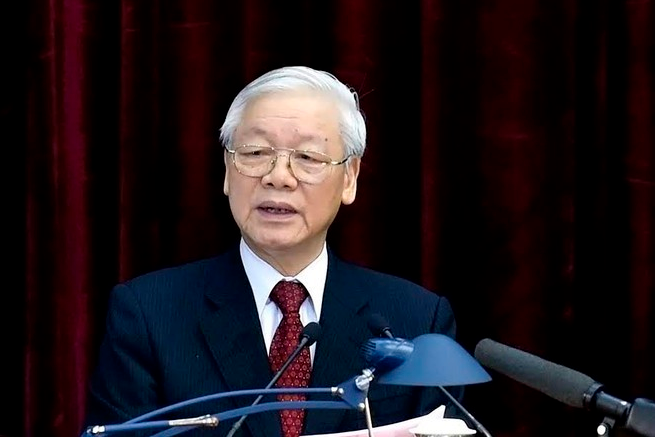 State President Nguyen Phu Trong in a meeting (Photo: Thanh Nien)
Vietnam - Laos strengthen coordination in prevention of Covid-19 pandemic
On the afternoon of August 13, General Secretary, State President Nguyen Phu Trong and Secretary-General and President of Laos Bounnhang Vorachith had a phone call to discuss the situation and relations between Vietnam and Laos.
At the phone call, Vorachith sent Laos condolences to the Party, State and people of Vietnam on the death of former General Secretary Le Kha Phieu; as well as its congratulations on the great achievements that the Vietnamese people have made in recent years.
The Secretary-General and President of Laos highly appreciated the efforts and experiences of Vietnam in the prevention, control and control of Covid-19 epidemic and wanted the two countries to increase information exchange, coordinate and support each other. in the prevention and control of epidemics Covid-19 ...
The two leaders affirmed to continue to share information in a timely manner and coordinate closely, effectively, practically and support each other in international and regional issues, especially within the framework of ASEAN and UN cooperation. WTO, ASEM and Mekong Subregion cooperation mechanisms; coordinated with Cambodia to effectively implement the Agreement between the three Prime Ministers on the Development Triangle Area between the three countries, and coordinate with other countries in the sustainable and efficient management and use of water resources of the Mekong River.
Valerie Mai