Vietnamese artist, association donate 15 tons of rice to support Cambodian people
Celebrity Dai Nghia and the Vietnam Young Entrepreneurs Association just donated 15 tons of rice to support Cambodian people in the fight against the Covid-19 pandemic.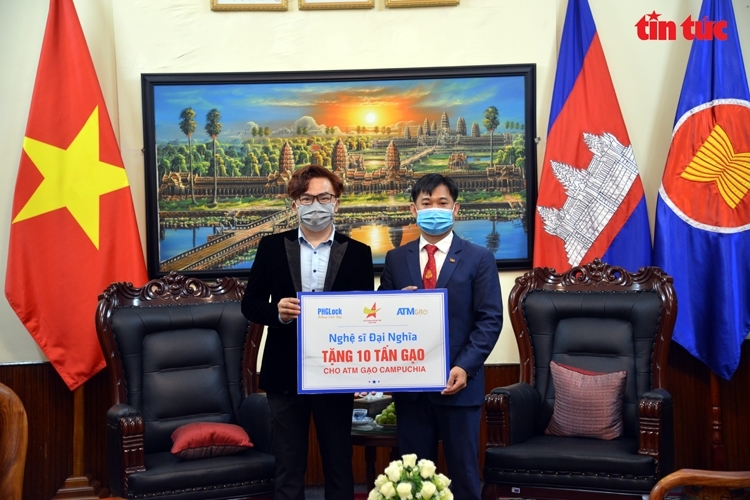 Dai Nghia, a celebrity in Vietnamese showbiz, presents the symbolic token of 10 tons of rice to the Consulate General of Cambodia in Ho Chi Minh City.
On the morning of May 14, Dai Nghia, a celebrity in Vietnamese showbiz who is well-known for both of his talent and strong commitment to helping disadvantaged communities, along with a representative of the Vietnam Young Entrepreneurs Association, have presented 15 tons of rice to the Consulate General of Cambodia in Ho Chi Minh City to support Cambodian people to overcome the Covid-19 pandemic.
Accordingly, 15 tons of rice will be delivered directly to the Phnom Penh Red Cross Society to help disadvantaged people in the pandemic area through the four rice ATMs, owned by Hoang Anh Tuan, Mr. "Rice ATM", who has sponsored and presented to Cambodia during the Covid-19 outbreak in 2020.
Receiving the gift, Consulate General of Cambodia Sok Dareth highly appreciates the fact that Vietnamese young people have joined hands with the Cambodian people, described the gift as a meaningful and timely contribution to Cambodias' efforts to combat the pandemic and also the sentiment and time-tested friendship between Vietnam and Cambodia in general, always standing side by side and sharing with each other in difficult times.
Also according to the Cambodian Consulate General, the Cambodian government has allowed all foreign representative agencies and Vietnamese businesses working in Cambodia to receive free vaccines shots, helping people feel secure to work and live in Cambodia. Together we will overcome the Covid-19 pandemic, he said.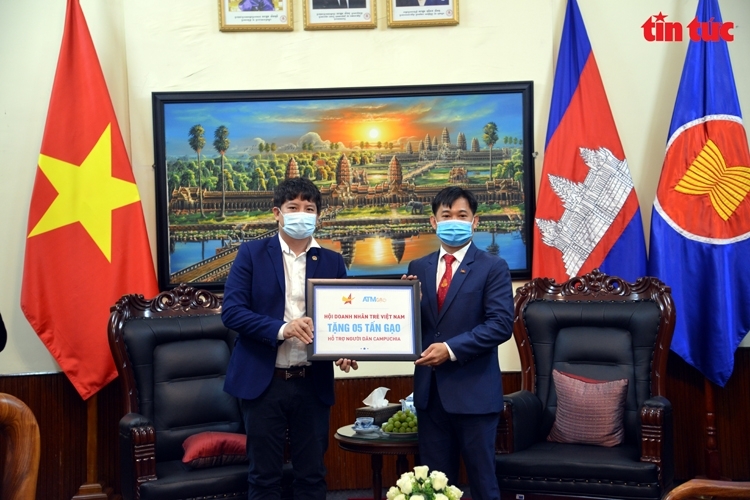 The Vietnam Young Entrepreneurs Association hands over the token of 10 tons of rice to the Consulate General of Cambodia.
This week, the Central Vietnam - Cambodia Friendship Association and Vietnam Union of Friendship Organizations (VUFO) also gifted Cambodia over USD 200,000 for its fight against Covid-19.
The friendship association has set aside a sum of VND 100 million (USD 4.300) and medical supplies including 2,000 protective clothes, 50,0000 medical masks, and 1,000 bottles of hand sanitizer gel, worth VND 203 million (USD 8.800) for Vietnamese people living in Cambodia.
Previously, at the beginning of this month, Angkormilk, a subsidiary of Vinamilk in Cambodia, supported 1,000 cartons of milk, equivalent to 48,000 milk cartons, to people living in the "red zone" of the Covid-19 pandemic in Phnom Penh. This timely support has helped people, especially children, have more access to proper nutrition, improving their health and resistance to the pandemic.
Cambodia continued to record a lower number of new cases on May 14. Their number of new infections on May 14 stood at 358, down from 448 cases documented on May 13 and 472 on May 12.
The new infections included 350 local and eight imported cases, the country's health body said in a statement.
Five more fatalities were recorded on the day, taking the death toll to 147, it said, adding that 348 more patients recovered from the disease, raising the total number of recoveries to 9,867.
To date, the nation has confirmed a total of 21,499 Covid-19 cases, of which 20,835 were related to the February 20 community event./.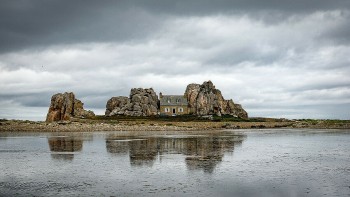 Travel
In a quiet little village of Plougrescant, France, tourists can visit this quirky and extraodrinary Castel Meur, also known as "The House Between The Rocks", which has become an attraction for many years.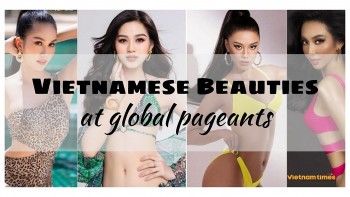 Handbook
Do Thi Ha, Pham Ngoc Phuong Anh, Nguyen Thuc Thuy Tien and Nguyen Huynh Kim Duyen set to vie for global beauty pageants.
World
In the outskirt of Poland, there is a pretty rural village that is called "The painted village" for its amazing and unique tradition of painting their homes inside and out with colorful floral patterns, making this place the most photogenic spot.