Vietnamese Artist Promotes Traditional Clothes Through Doll Collection
Through his collection of dolls, artist Nguyen Hoang Anh wishes to introduce traditional costumes of 54 ethnic groups in Vietnam to international friends.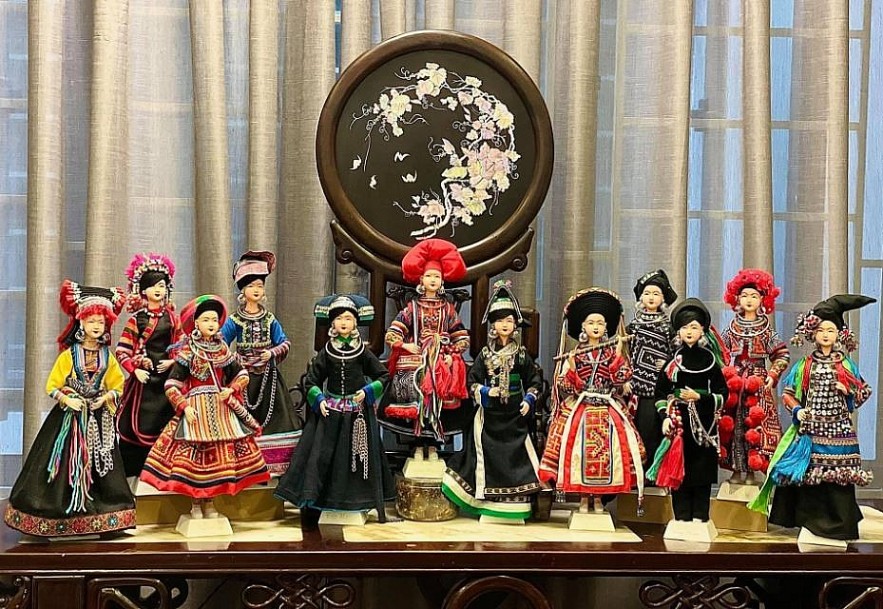 Photo: Hoai Trang
Nguyen Hoang Anh is not the first doll maker in Vietnam, however, his collection is unique as all dolls wear traditional costumes of Vietnamese ethnic people. Hoang Anh's works are present and sold at many souvenir shops in the Old Quarter.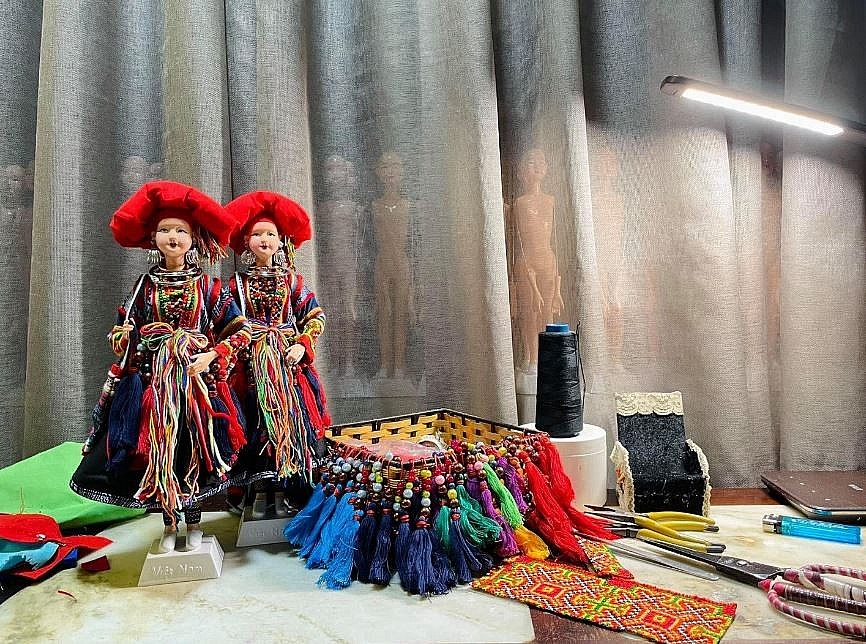 Photo: Hoai Trang
The idea came to Hoang Anh when he saw tourists walking past paper and woolen doll stalls in souvenir shops without paying any attention.
"There are dolls in traditional Japanese and Korean costumes in the global market, then why don't I try putting Vietnamese customs on dolls? From the idea, I decided to make mini versions of national costumes, so that Vietnamese culture can reach more people," said Hoang Anh.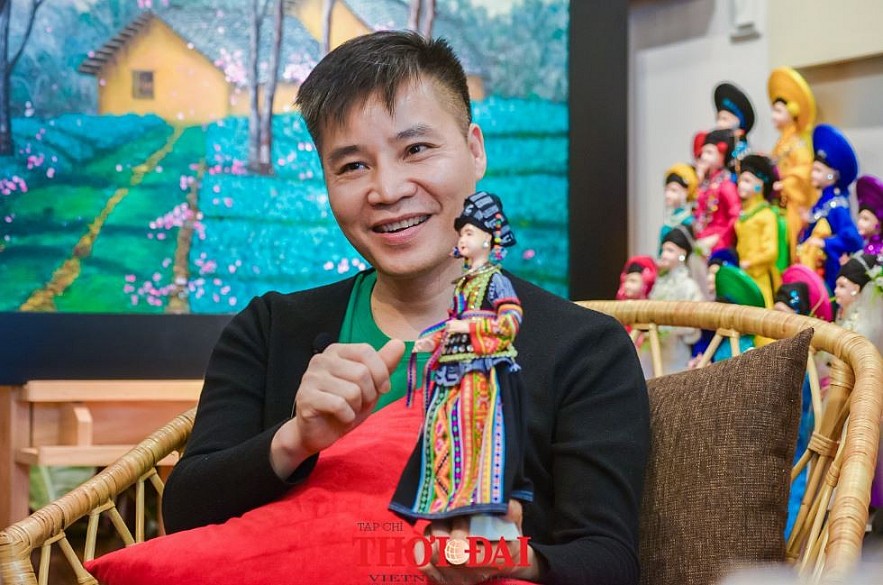 Hoang Anh and one of his dolls in traditional costume. (Photo: Hai Trieu)
To carry out his plan, Hoang Anh spent two years traveling around the northern mountainous villages to learn about the cultural traditions, characteristics of each ethnic group, and their costumes. He lived with the local people, listened to their stories, saw how they dress to get inspiration for his products.
Since 2011, Hoang Anh has embarked on "miniaturizing" national costumes. All steps are done by himself, from choosing the fabrics, sewing the costumes to making jewelry.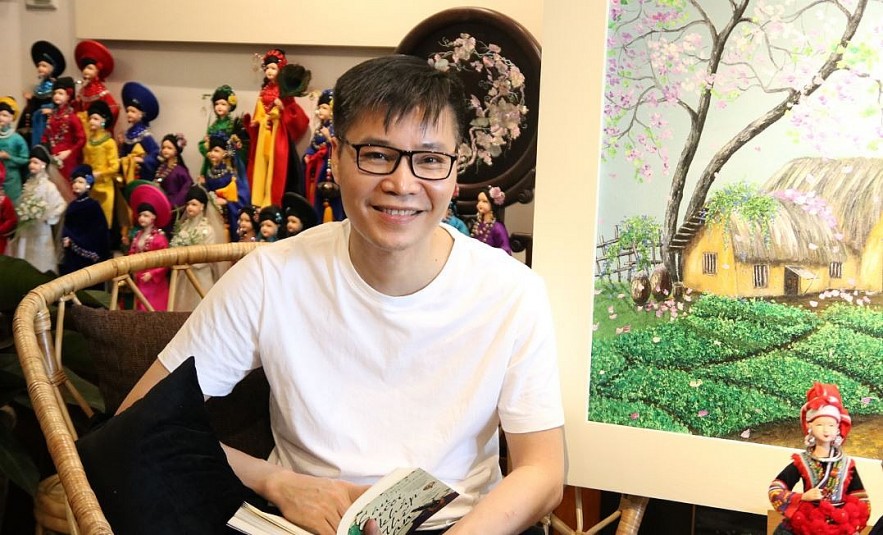 A portrait of Nguyen Hoang Anh (Photo: Kim Anh)
To have the final products, Hoang Anh has to conduct many steps. Firstly, he studies the costumes in terms of design and fabric, then makes composite embryos. Secondly, he shapes and paints the doll's faces, which have to present the gentle looks of local people. Finally, he sews the costumes and attaches accessories such as baskets, gongs, drums, and hats.
For Hoang Anh, dolls are not only gifts but also a bridge to bring ethnic cultures and costumes closer to international friends.
"Foreign tourists often ask about patterns, specific details, brocade materials, on the costumes of the dolls they intend to buy. Therefore, the artist must know the soul, the essence, the most basic traits of each ethnic group that the dolls wear."
According to Hoang Anh, each ethnic group has its own costume, associated with unique patterns and forms. Some have different clothes for maidens and married ladies. Without a deep understanding of the culture and tradition of each ethnic group, I can not create soulful products," he said.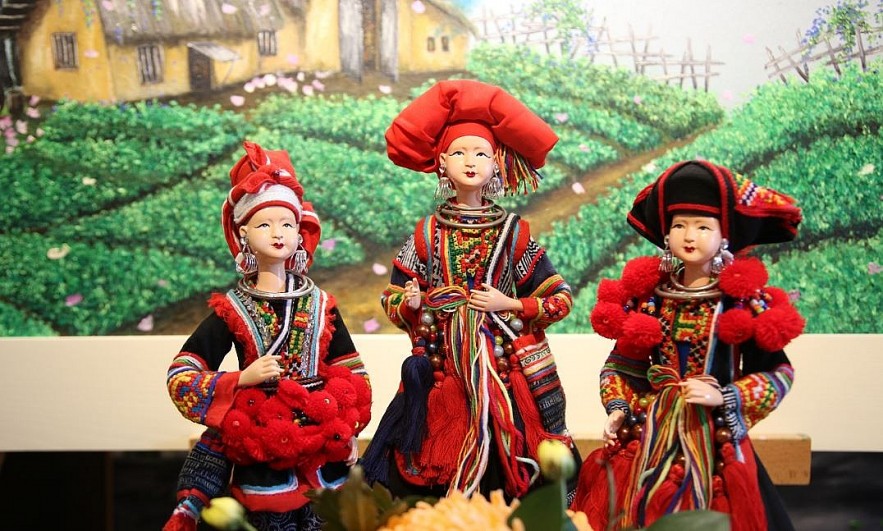 Photo: Kim Anh
Hoang Anh, who has thousands of dolls on display at home, can talk all day about the costumes and characteristics of each ethnic group. For example, Ta Oi's clothes have brocade beaded patterns. Dao people apply beeswax on the fabric surface before dying. Their shirts are long and carefully embroidered. Meanwhile, Muong people wear open-chest shirts to show the brocade patterns on their halterneck shirts. H'Mong women sew multi-layered skirts and have a special reverse embroidery.
Hoang Anh currently owns about 5,000 dolls in two sizes, 25 cm, and 35 cm. He has made dolls for 45 out of 54 ethnic groups. He even makes dolls for different sub-groups of an ethnic minority, bringing the total number of designs to 60.
Photo: Kim Anh
Depending on the difficulty, each doll can take 4-6 hours to decorate. Hoang Anh has made thousands of sophisticated clothes, identical to the originals of the Dao, Mong, Thai, Tay, Ha Nhi, Lo Lo costumes. Except for the details that cannot be copied from the original, Hoang Anh's miniature dresses are lifelike. He even uses traditional materials that the native people use on their real clothes.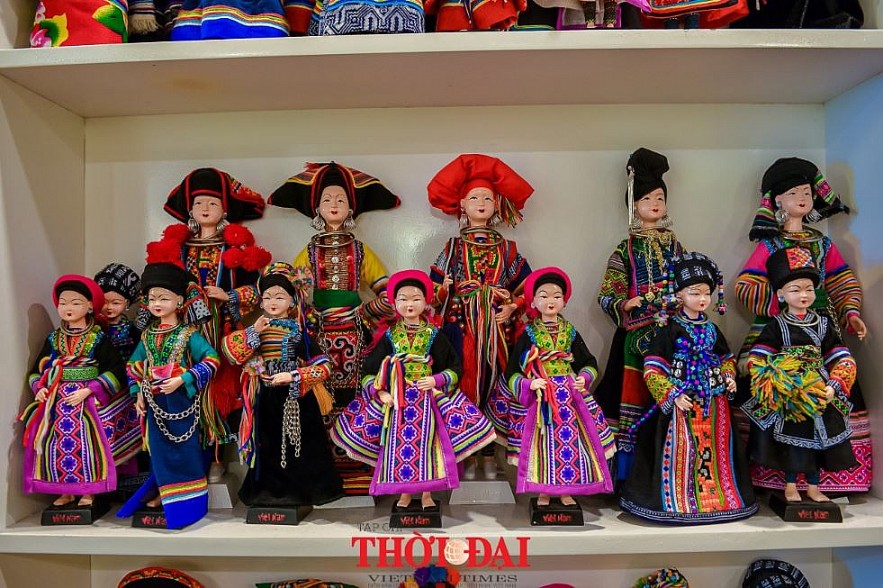 Doll wearing costumes of mountainous people. (Photo: Hai Trieu)
"When the dolls dressed in Vietnamese national costumes follow international tourists to all the continents, there will be a day when international friends realize they are Vietnamese dolls. It is also proof that Vietnamese dolls are as unique as foreign dolls," said Hoang Anh.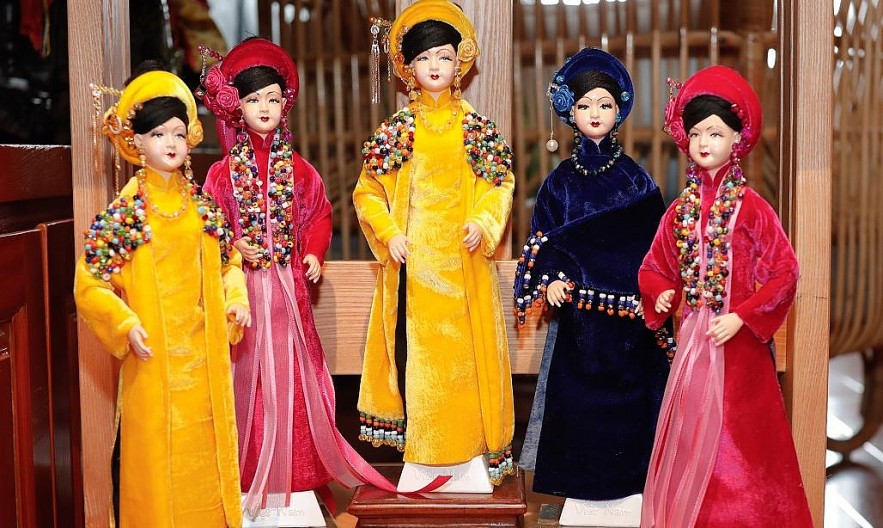 Photo: Kim Anh