Introducing Traditional Hmong Costumes to International Friends
Colorful Hmong ethnic costumes make a strong impression on tourists.
To generate more incomes for her family and community, Giang Thi Cha, a young business entrepreneur in Lao Cai province, has utilized costumes digital technology and social networks to bring colorful Hmong ethnic to international customers.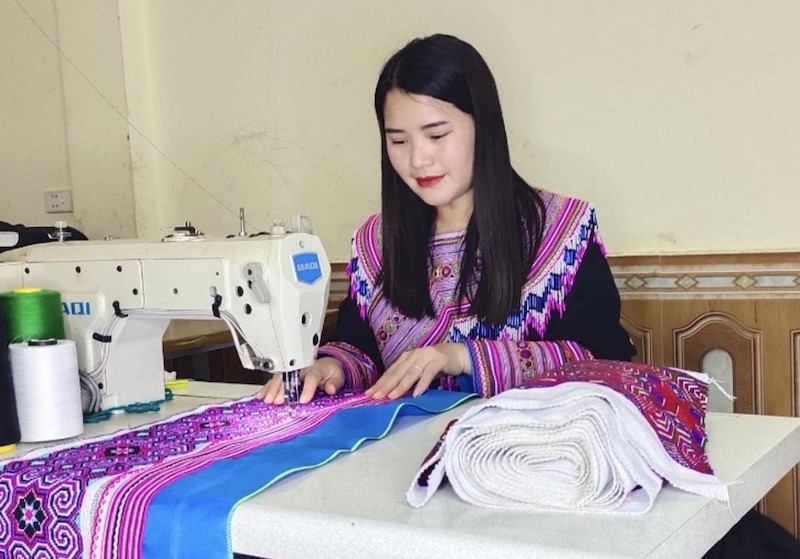 Giang Thi Cha, a young business entrepreneur in Lao Cai province, is hand-making an order. Ever since she was 10 years old, Giang Thi Cha was taught by her mother to sew, embroider, and make traditional costumes of the Mong people. Since then, her love for national costumes has grown, making her more and more passionate and eager to create and explore. Photo: Bao Dan Toc
Born in 1995, Cha is a skilled tailor in Sin Cheng commune (Si Ma Cai district, Lao Cai province). The young woman is proud of Hmong traditional clothes and has been putting her heart and soul into making Hmong fluffy skirts on her own.
Along with introducing the costumes and selling them to many friends in countries such as France, the US, Laos, Russia, Thailand, etc. to increase the family's income, Giang Thi Cha also contributes to creating more jobs. import for some local women.
After graduating from Lao Cai College, she turned down many job offers to return to her hometown and take up the profession of weaving and sewing.
In the past 5 years, under her skillful hands, plenty of colorful dresses that are imbued with highland identity was sophisticatedly and beautifully designed.
Costumes such as skirts, split-breasted tops, belts, leggings... with unique patterns and embroideries, attract the attention and attention of many locals and visitors.
Moreover, Giang Thi Cha thinks about making more modern designs to suit all ages. Cha said, right from the stage of fabric selection, pattern design, style, she always makes sure to put a lot of effort, so that each outfit will be one of a kind.
Introducing traditional costumes to international friends
Tourists enjoyed wearing the costumes made by Giang Thi Cha. Photo: Bao Dan Toc
When first started her business, Giang Thi Cha's market is solely the highland and neighboring regions where she lived.
In the past two years, taking advantage of social networks such as Facebook, Zalo, etc., she switched to mostly selling online, making custom-made orders.
She updates posts and pictures of her sewing, embroidery frequently and hosts a live stream to sell the products faster.
Giang Thi Cha works hard to gain her online-based customers, they can be from anywhere across the nation. The number of sales increases day by day.
During the Covid-19 epidemic, on average, Ms. Cha sold about 20 dresses and tops a month.
In particular, up to now, about 500 orders have been sold to many places around the world such as France, USA, Laos, Thailand, and Russia.
The female entrepreneur could not help but exclaim: "I am very happy that the traditional products of my homeland can be introduced and promoted to international friends. Many customers, upon receiving their orders, have given compliments and said that they love the outfit. I love that they also took pictures when they wore Hmong costumes to attend events and parties for us to see,".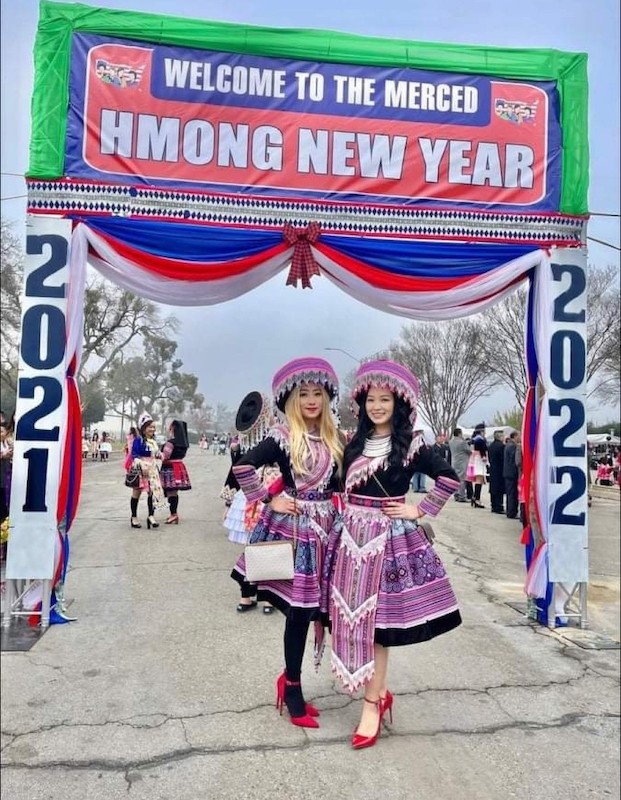 Cha's customers are wearing Hmong traditional costumes at the Hmong New Year Festival 2022 in Merced, California. Photo: Bao Dan Toc
Each costume, depending on the design and size, will cost VND 2 - 4 miilion (US $87-170). On average, per year, Cha earned VND 100 - 150 million (US $4,300 - 6,600).
Hence, she can support her family with a stable income, create jobs for 3 regular workers, 7-8 seasonal workers, and pay these workers with an average monthly income of VND 3 - 4 million VND/person.
"My next big order, I will export about 20 dresses and tops to the US The greatest joy for me is seeing the result of my hard work reach many international friends. With enough capital, I plan to buy 2 more sewing machines and hire more workers to increase the productivity," said Cha.
Vice Chairman of the People's Committee of Sin Cheng Commune Mr. Vang A Phu, promoted Giang Thi Cha as the role model of promoting the traditional beauty of the Mong people to international friends. She is a great example of the young generation's contribution to the preservation and development of the local culture.
He added that her love and passion for the traditional Hmong ethnic costumes together with her knowledge of social networking should be spread more widely in the community.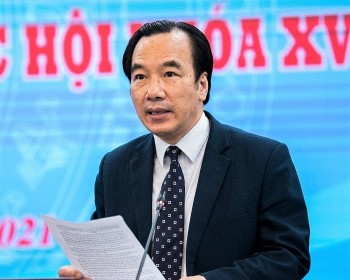 Focus
Consolidation of personnel; building and expanding the network of Malaysian partners; strengthening communication, and contributing to introducing to the people, especially the young generations of the two countries about the country and people of each side... are the focus of the Vietnam-Malaysia Friendship Association in the coming time. Chairman of the Association, Ngo Sach Thuc hopes that "people-to-people diplomacy will continue to be a pioneer in bringing the two countries and cultures closer to the goal of cooperation and integration".