Vietnam at Tokyo Olympics: Members & Team News
Vietnam has sent 18 atheletes to the 2020 Olympics. For the first time in Olympic history, national flags will be carried by two athletes at the Games.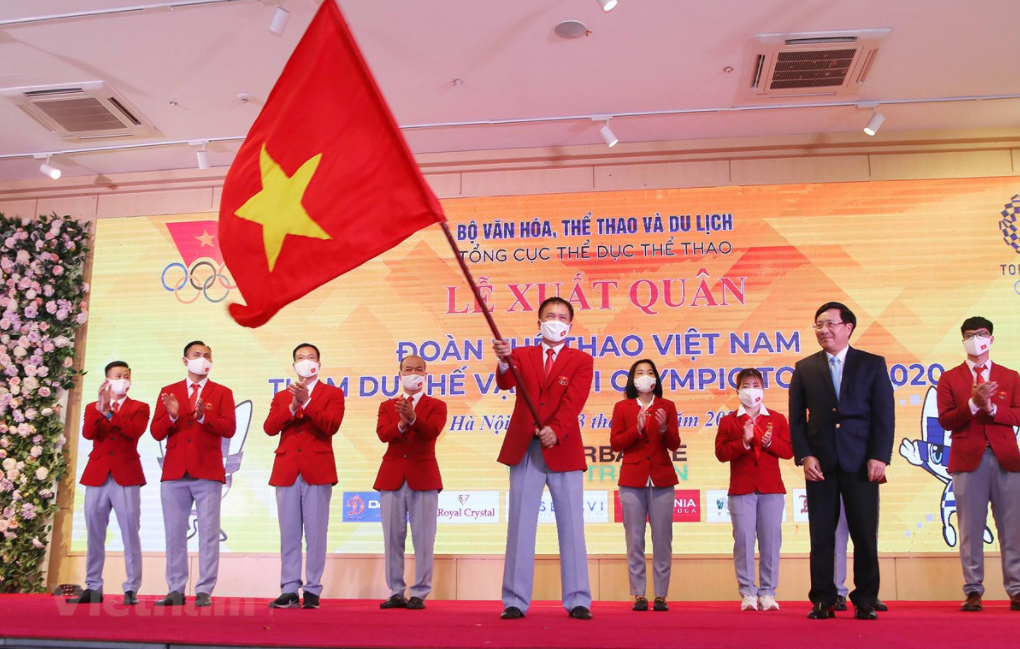 A ceremony to sent Vietnam's Team to Olympics in Tokyo (Photo: VNA)
Vietnamese Team Members
Vietnam is expected to compete at the 2020 Summer Olympics in Tokyo, which takes place from 23 July to 8 August 2021, due to the Covid-19 pandemic.
A send-off ceremony was held in Hanoi on July 13 for the sports delegation of Vietnam to the Tokyo 2020 Olympics, according to VNA.
The delegation, set to leave for Tokyo (Japan) on late July 18, consists of 43 members led by Deputy General Director of the Vietnam Sports Administration Tran Duc Phan.
They comprise 25 officials, coaches, and experts, along with 18 athletes in 11 sports, namely Nguyen Huy Hoang and Nguyen Thi Anh Vien (swimming), Thach Kim Tuan and Hoang Thi Duyen (weightlifting), Nguyen Thi Thanh Thuy (judo), Hoang Xuan Vinh (shooting), Nguyen Tien Minh and Nguyen Thuy Linh (badminton), Nguyen Thi Tam and Nguyen Van Duong (boxing), Le Thanh Tung and Dinh Phuong Thanh (gymnastics), Truong Thi Kim Tuyen (taekwondo), Do Thi Anh Nguyet and Nguyen Hoang Phi Vu (archery), Quach Thi Lan (athletics), and Luong Thi Thao and Dinh Thi Hao (rowing).
All the members have been injected with the required two doses of Covid-19 vaccine, and they will be tested twice within 72 hours prior to the departure.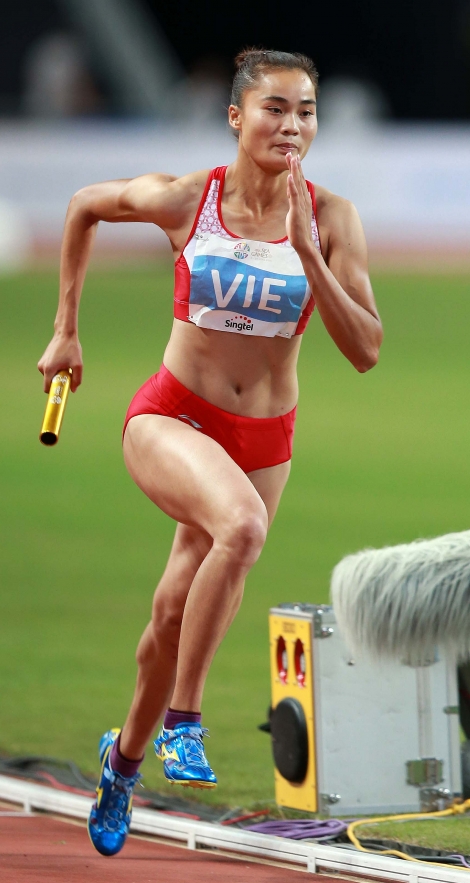 Runner Quach Thi Lan will carry the Vietnamese flag. (Photo: VNA)
Two athletes to carry the national flags for the first time
For the first time in Olympic history, national flags will be carried by two athletes at the Games, and runner Quach Thi Lan and swimmer Nguyen Huy Hoang have the honor of carrying the Vietnamese flag at the Tokyo Games opening ceremony.
The new tradition, with every nation to be led out by both female and male athletes, is part of the International Olympic Committee's efforts to push gender equality. The honor is bestowed upon athletes the Vietnam Olympic Committee believes best embody the spirit and quality of the Games.
Lan and Hoang will both make their debut at the planet's biggest sporting event this summer and lead a team of 43 members who will vie for medals in 11 sports. Swimmer Hoang has qualified for both men's 800m and 1,500m freestyle events. He was the first Vietnamese athlete to book an Olympic slot after he passed the A standard for the 800m class (7min 52.74sec) at the world championship in July 2019 in the Republic of Korea.
The 26-year-old Lan from Thanh Hoa province is the only runner from ASEAN and one of two from Asia in this category. Lan's tournament will begin on July 31 and she will face world record holder Sydney McLaughlin of the US who set the new standard of 51.90sec last month during the US Olympic Track and Field Trials.
Swimmer Nguyen Huy Hoang will join Lan to carry the national flag. (Photo: VNA)
Difficulties await due to pandemic
Vietnamese athletes could face certain problems during their stay in Tokyo Olympics, as they cannot make specific accommodation and training plans given the Covid situations, according to VN Express.
It's expected the Vietnam delegation would be fully assembled in Tokyo on July 19. All members were vaccinated for Covid-19 twice. They will also have to test negative for Covid thrice three days before flying to Tokyo. In Tokyo, the delegation will also have to follow strict measures set by the organizers.
Athletes are prohibited to leave the Olympic Village (except for competing and training) without approval from organizers. Vietnam will only be allowed to travel to 11 competition venues of 11 sports for which it has qualified. Coaches will have to sit on the stand instead of standing on the sideline.
"We will get tested constantly during our time there. We are not allowed to have close contact or talk to other delegations. We will eat our meals in the dining hall of the Olympic Village within a fixed time frame to avoid other delegations. We might even have to eat in our rooms if the situation gets complicated," said Truong Minh Sang, coach of Vietnam's gymnastics team.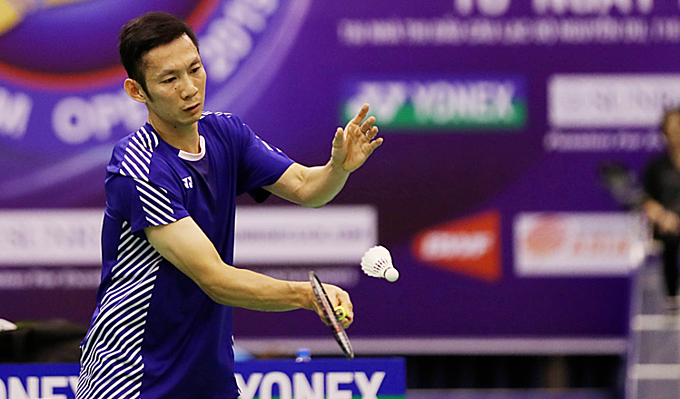 Vietnam badminton player Nguyen Tien Minh will face top opponents at Tokyo Olympics. (Photo: VN Express)
Predictions
Among the 18 Olympic athletes, the most likely medal contenders are weightlifter Thach Kim Tuan, swimmer Nguyen Huy Hoang, and shooter Hoang Xuan Vinh. Tuan didn't have the best preparation for the event due to Covid-19. After the Olympic qualifiers in April, he had to stay in quarantine for 30 days, which affected his form as well as training, according to VN Express.
The pandemic also prevented Hoang from competing in international tournaments. However, with four categories in Tokyo, he is expected to claim at least one medal for Vietnam.
Vinh is the only representative of the Vietnamese shooting. He was chosen for the invitation slot because of his experience at Olympic 2016, where he won a gold and a silver medal. In recent training sessions, Vinh achieved great scores of around 580-582 - results that could take him to the final.
How to watch 2020 Olympics in Vietnam?
Acquiring the screening rights for major sports events, including the Olympics, is always a challenge for broadcasters and media agencies in Vietnam since the price has been skyrocketing for the past 10 years. National broadcasters VTV started negotiations to buy Tokyo Olympics screening rights in 2019. However, according to Tuoi Tre newspaper, these rights would cost 20 times more than those for the 2016 Rio Olympics.
According to VNA, VTV has finally acquired screening rights. Viewers in Vietnam can watch the opening ceremony and football matches on channels VTV3 and VTV6.