Vietnamese-Australian Couple Enjoys Tet from Abroad
Tet, Vietnam's biggest holiday, is no less important for citizens living far from the country. Although they cannot visit Vietnam, the Vietnamese - Australian couple still seek ways to celebrate the holiday with their loved ones.
Covid-19 has prevented Phuong and Paddy from coming to Vietnam for Tet. However, the pandemic cannot stop the couple from enjoying the holiday in Australia.
Phuong and Paddy lived in Hanoi for several years before moving to Australia. Because of the pandemic, they have spent three Tet in Australia, even though they have planned to visit Vietnam every lunar new year. This year, they bought some decorations and Vietnamese food, trying to re-create traditional Tet gatherings in a foreign land.
"We have Paddy's family come over for dinner on new year's eve, then some of our Vietnamese friends will join us for a dinner on the next day. We wish we could have everyone together because it is what Tet means but due to the Covid situation we have to break down to small dinners," Phuong said.
Even though their town does not have a big Vietnamese community, Phuong and Paddy tried their best to make Tet close to how it is celebrated in Vietnam. Paddy even takes two days off to enjoy the holiday.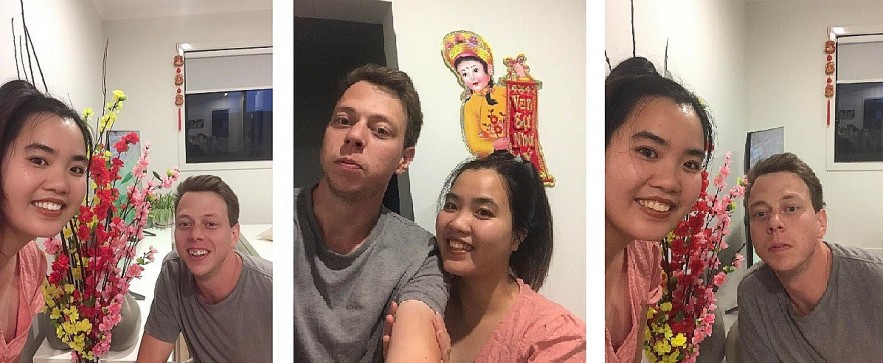 Phuong and Paddy decorate their house for Tet. (Photo courtesy of Phuong and Paddy)
Tet in Vietnam vs Tet in Australia
In Paddy's perspective, Tet in Australia is only celebrated by a small group of people, however, in Vietnam, it is a special occasion when people gather, buy an abundance of food, give out lucky money.
Paddy used to spend the holiday with his friends, enjoying a less crowded Hanoi's old quarter. After meeting Phuong, Tet also means getting together with her family and relatives, enjoying big meals and good chats.
Located in the Southern Hemisphere, Australia welcomes the lunar new year in summer. Northern Vietnamese, who are used to the cold weather and drizzle in spring, generally find Tet in "the land of the kangaroo" a bit strange when it lacks the comforting climate of their homeland.
Phuong is not an exception. "I miss the chill and humid weather on Tet," she said.
The lunar new year in Australia is a fresh experience for Phuong. Each expat community has its own way to mark the event according to its homeland's culture.
"But if you ask me where I prefer, I would say in Vietnam, of course. In Vietnam, I could be with my family and enjoy familiar food."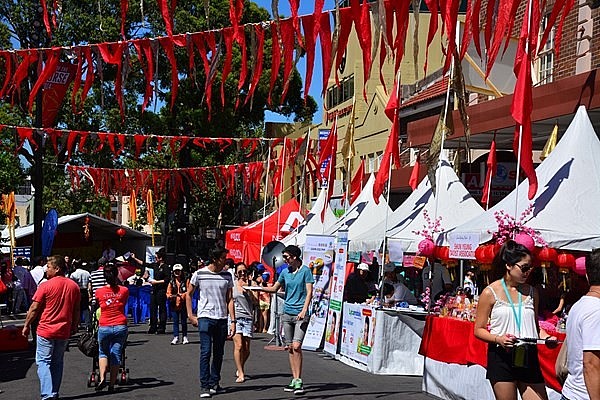 Vietnamese market in Australia. (Photo: VNA)
Advice for expats who celebrate Tet with a Vietnamese family
For Vietnamese, Tet means family union and is also an occasion for young people to introduce their girlfriends or boyfriends to their family. However, not all expats have the confidence to join big Vietnamese family gatherings on such an important holiday.
From their experience, Phuong and Paddy give out advice to foreigners who want to empress their Vietnamese girlfriends/ boyfriends' families on Tet, or simply just save themselves from potential embarrassment.
"Vietnamese are open and kind. I think they will understand if you do not know what to do," Paddy said.
"There can be awkward conversations but you can prepare for that. For example, expats can learn to say some traditional wishes. You may feel shy or confused but I am sure the family members are happy to have you. Just let yourself in. If you never try, you will never know," Phuong stated. "And remember to bring gifts and lucky money," she laughed.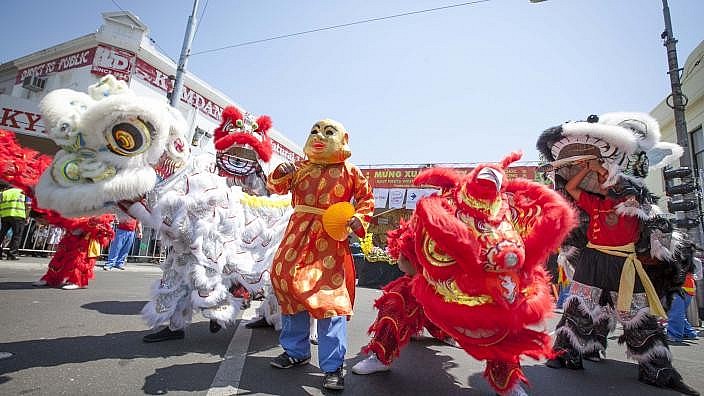 A Tet celebration in Sydney. (Photo: Phu Nu Online)
Bringing Vietnamese culture to a foreign land
The Vietnamese communities in foreign countries strive to promote their cultural identities through diverse types of activities, from art performances to events to cook traditional dishes. Besides professionally scheduled and large-scaled events, each overseas individual is contributing to introducing the country's portrait to their foreign friends.
In Phuong and Paddy's case, they have successfully gotten everyone in their Australian family involved in Tet customs.
"Not just two of us celebrate Lunar New Year in the family. All Paddy's uncles and aunties will have a meal with us, so they kind of celebrate it too. I guess Tet is more about family time together. Paddy's family loves the idea. They think Vietnamese culture is beautiful and they love all the food," Phuong said.
Friendship
In Da Nang, the Vietnam-Laos Solidarity and Friendship Year 2022 was celebrated on July 2. Collectives and individuals of the Lao Women's Union were also awarded medals of Vietnam.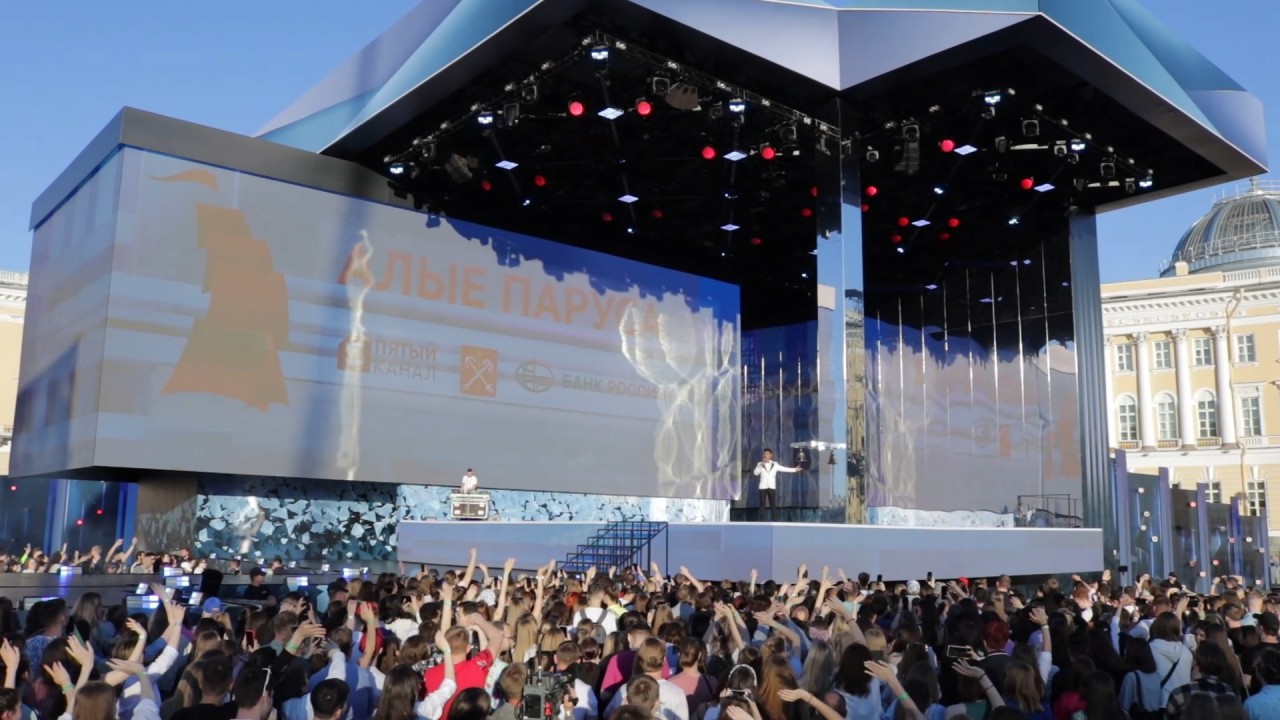 Overseas Vietnamese
The fact that Vietnamese singers can perform at the world-famous festival affirms the audience's friendship, admiration and respect for the young Vietnamese talent of the audience and artists in Russia.
July 02, 2022 | 07:28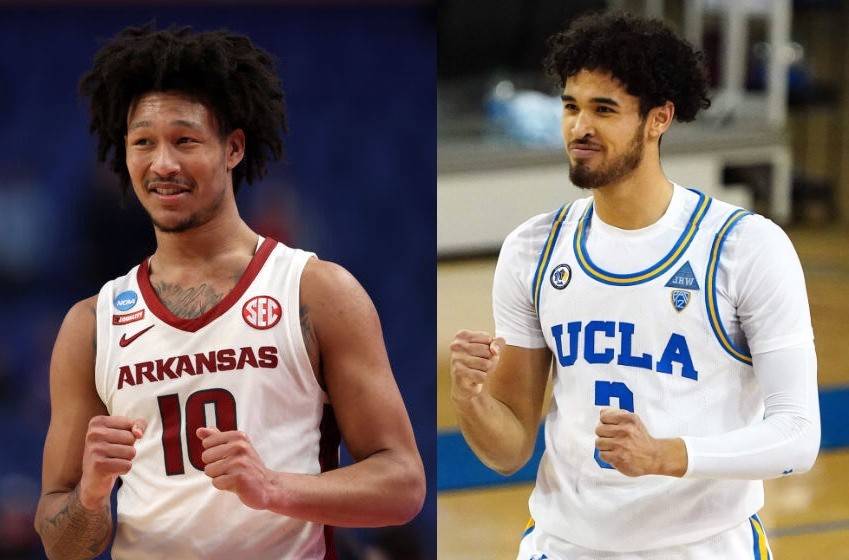 Overseas Vietnamese
Jaylin Williams became the first Vietnamese-born player in history to be picked and play for the Oklahoma City Thunder in the NBA playoffs. Furthermore, another Vietnamese-born basketball sensation, Johnny Juzang, is not among the 58 players chosen in the NBA Draft, but he still has a chance to play in the league.
June 29, 2022 | 08:40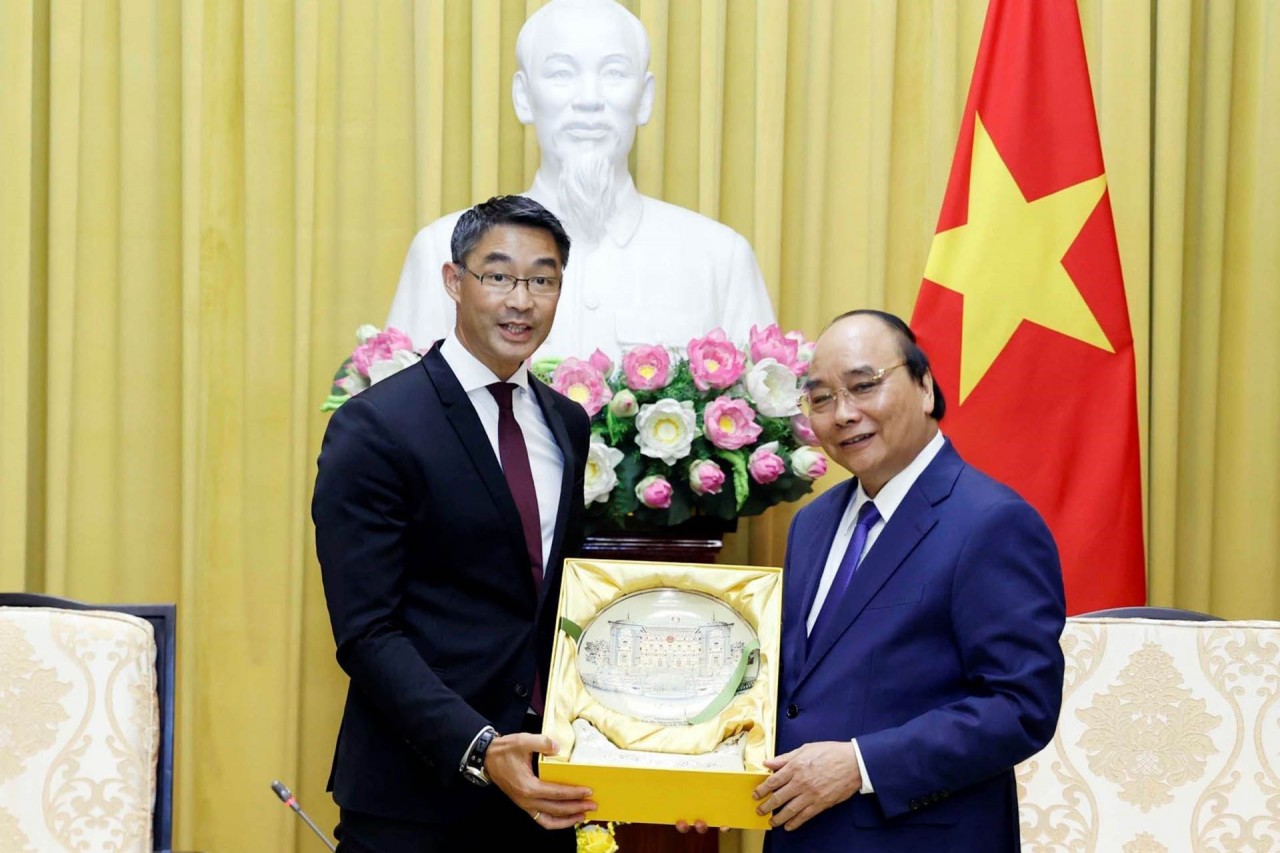 Overseas Vietnamese
The State leader appreciated enormous contributions to the Vietnam - Switzerland ties by Philipp Rosler.
June 29, 2022 | 07:40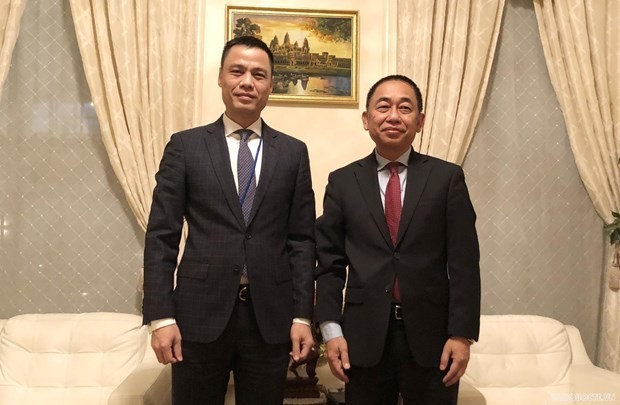 Overseas Vietnamese
The Permanent Delegations of Vietnam and Cambodia to the United Nations (UN) co-organised a ceremony to mark the 55 years of the two countries' diplomatic relations.
June 27, 2022 | 06:28