Vietnamese-Belgian Painter Portrays Homeland Through Algorithmic Paintings
In Brussels, Belgium, painter Thi Nguyen said he was born and raised in Belgium and always wants to understand his roots, where his grandparents and parents were born and raised.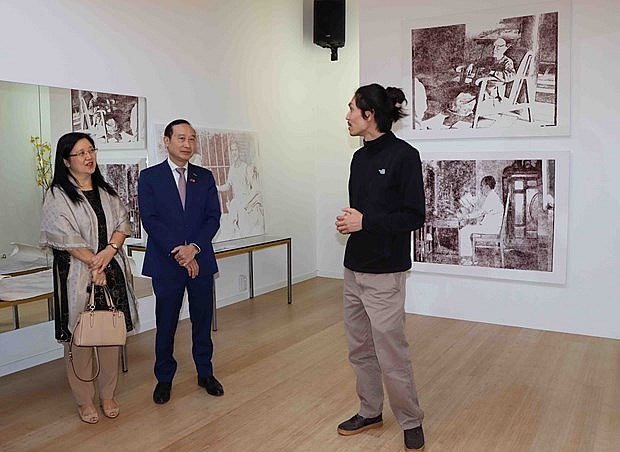 Painter Thi Nguyen introduces paintings to Vietnamese Ambassador to Belgium Nguyen Van Thao and his wife. Photo: VNA
On the afternoon of Monday, in Brussels, Belgian-Vietnamese painter Thi Nguyen Truong Minh introduced an exhibition of paintings on the topic of origin.
Black and white paintings created with tiny wavelength images printed on paper depict scenes of family life in Vietnam. It is the image of Thi Nguyen's grandparents, buffalo, village bamboo rampart, or chopsticks, indispensable items in Vietnamese meals. Especially, Thi Nguyen's paintings are all drawn by algorithms. If you look closely, those are just small lines, but from a distance, it is very impressive.
Painter Thi Nguyen was born in Belgium, lives and works with the Truong Son art group of the Vietnamese Association in Belgium. During the quarantine period because of the Covid-19 pandemic, Thi Nguyen thought about his roots and culture acquired from Belgium, he applied his knowledge of informatics to create paintings.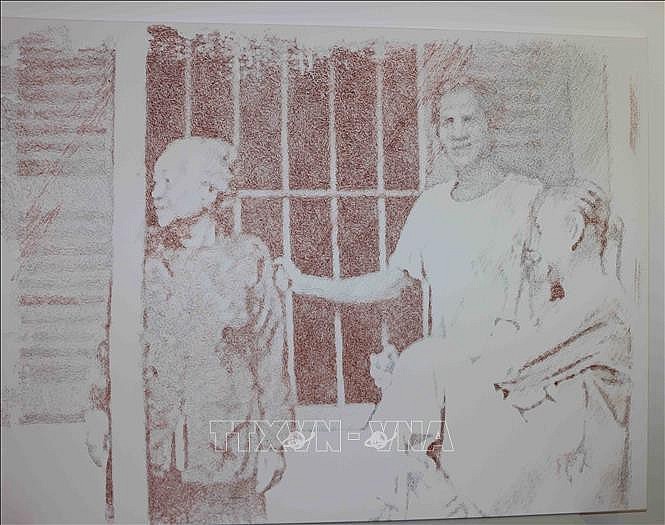 Scenes of daily life in the family of painter Thi Nguyen in Vietnam are drawn by computer algorithms and printed on dó paper. Photo: VNA
Painter Thi Nguyen said he was born and raised in Belgium. He has always wanted to understand the social constructs of the cultural identity concept . Having dual Belgian-Vietnamese citizenship made him learn about the cultural intertwining, which is spread in his daily life, both in the Vietnamese way and in the Belgian way. Therefore, he always wants to understand his roots, where his grandparents and parents were born and raised.
He used family documentary photos and then drew on the computer using wavelengths. This is a completely new technique, showing the author's creativity to express the feelings of an expatriate who always remembers his homeland and his roots.
Vietnamese Ambassador to Belgium, Nguyen Van Thao, was moved when looking at the works of painter Thi Nguyen. The Ambassador hopes that the second generation of Vietnamese youth in Belgium will always preserve, promote the patriotism and cultural identity of their homeland, spread Vietnamese culture to international friends.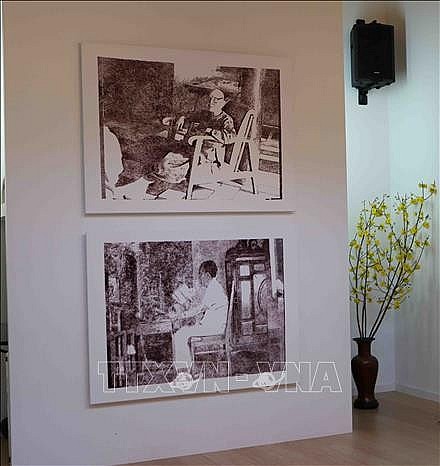 The image of painter Thi Nguyen's grandparents is drawn by computer algorithms and printed on dó paper. Photo: VNA
Thomas Grivengnee, a visitor to the exhibition, said that he was very moved by Thi Nguyen's paintings. These are paintings full of memories, nostalgia for the homeland. As a friend of the artist, through these works, he understands more about the past of Thi Nguyen's family, about the culture, country, and people of Vietnam, and images of a completely different life from Belgium.
Painter Thi Nguyen was born in 1982 in Brussels, whose parents were both Vietnamese international students in Belgium in the early 70s. His parents have passed on to him part of the original culture, the Vietnamese language. Meanwhile, growing up and studying in Belgium has given him part of the Belgian cultural identity. As a painter and computer programmer, Thi Nguyen has always been fascinated by the practice of art in the context of post-colonial culture and ideas of identity.
He graduated with a degree in plastic, visual and spatial art from the School of Graphic Studies in Belgium. After experiencing and exchanging art in Vietnam, he decided to pursue a Master's degree in political science and graphic design.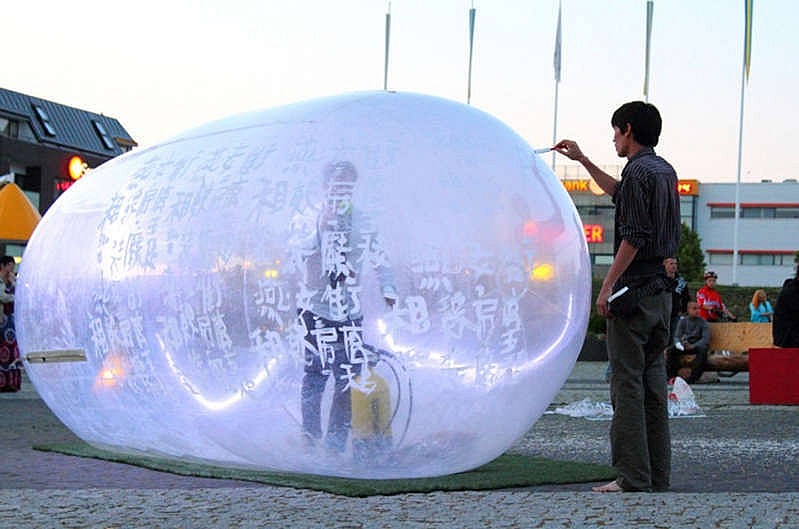 Painter Thi Nguyen creates art on the street. Photo: BQT
Painter Thi Nguyen is also the co-founder of "Blender", a cross-cultural artistic collaboration project between the French-speaking Belgian Community of Wallonia-Brussels and Vietnam, implemented in Ho Chi Minh City. At the same time, he is also a lecturer in visual arts at Ho Chi Minh City University of Fine Arts.
This is the 4th exhibition of artist Thi Nguyen in Belgium. He hopes that after the Covid-19 pandemic is under control, he will continue to carry out many projects in Vietnam as well as teach students in Vietnam algorithmic painting techniques.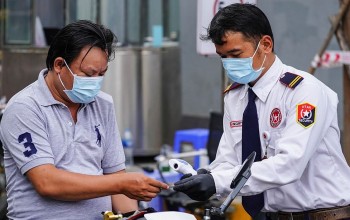 National
More than 1.12 million vaccine doses were administered in Vietnam on October 24. The country has now inoculated more than 74 million doses of vaccine to date, with over 21.46 million people fully vaccinated.