Vietnamese Blogger Meets Cameroon's Dupa Tribe
A Vietnamese blogger with a "one–of–a–kind" YouTube channel takes viewers along as he journeys through Cameroon, where he meets the friendly Dupa people.
There are many creative ways that tourists can choose to explore different places around the world.
Some people love emerging in luxurious, beautiful cities with a lavish lifestyle; others prefer natural scenery, camping, and exploring the shadiest areas.
To Lai Van N. – a Vietnamese blogger, who has his own Youtube channel, has found a unique path to discover new lands. He dares to set foot in the least traveled places and countries and immerses himself in the local life and culture.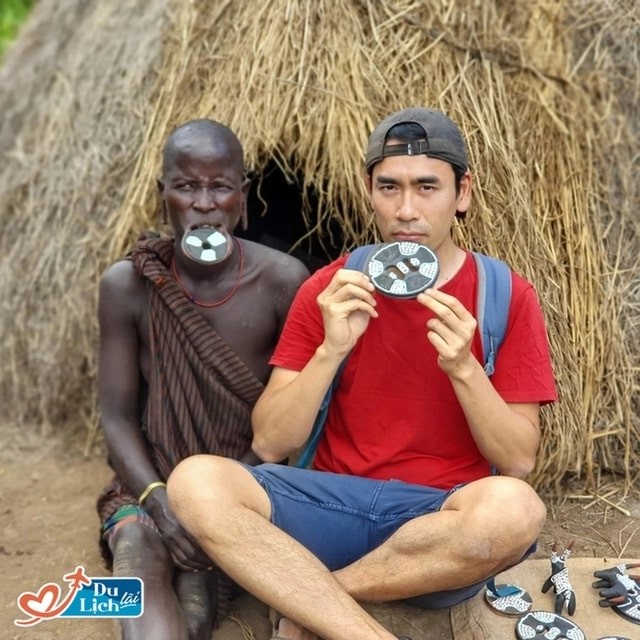 Photo: Facebook
Lai Van N. is one of the most well-known travel bloggers on the Youtube platform with nearly 300.000 followers. The journeys of this Vietnamese man are not too crowded and lavish destinations, and the viewers are also impressed with his simplified video editing style.
What he brings to the audience is the closeness and honesty of the natural scenery and people living in the places he visited.
His latest trip is to Cameroon, a small country in Africa.
In Cameroon, besides the wild natural landscape and street food, what attracts the blogger is the culture of the tribes. One of the tribes that left a deep impression in his heart was the Dupa – the biggest tribe in Northern Cameroon.
The people of the tribes mainly live in the foothills of the Vorka Mountains, north of the town of Poli, Cameroon. Nestled peacefully in the bushes and trees, this place has a unique culture and friendly, hospitable locals.
Clothes and dresses made from… leaves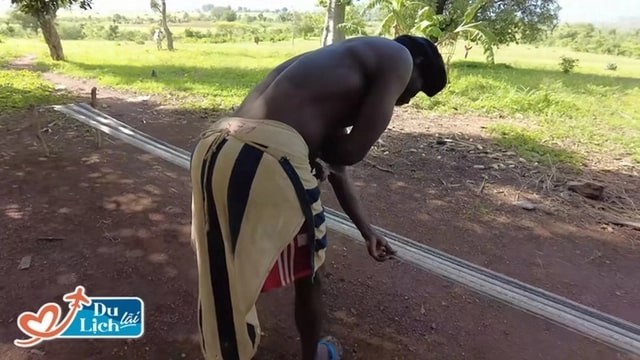 Photo: Youtube
Even though they live in a secluded area, the Dupa tribe works hard. One of their main occupations is weaving, making traditional clothes, pants or hats. Specifically, all the products are made by hand.
Visiting a family here, the Vietnamese blogger had a chance to witness a Dupa man performing his weaving technique and skills. "Everything they wear on them is handmade. For example, a simple hat can take up to 7 months to be finished," Lai Van N. said.
Despite having their weaving profession, women and young children in the Dupa tribe still wear clothes made from leaves in their daily life.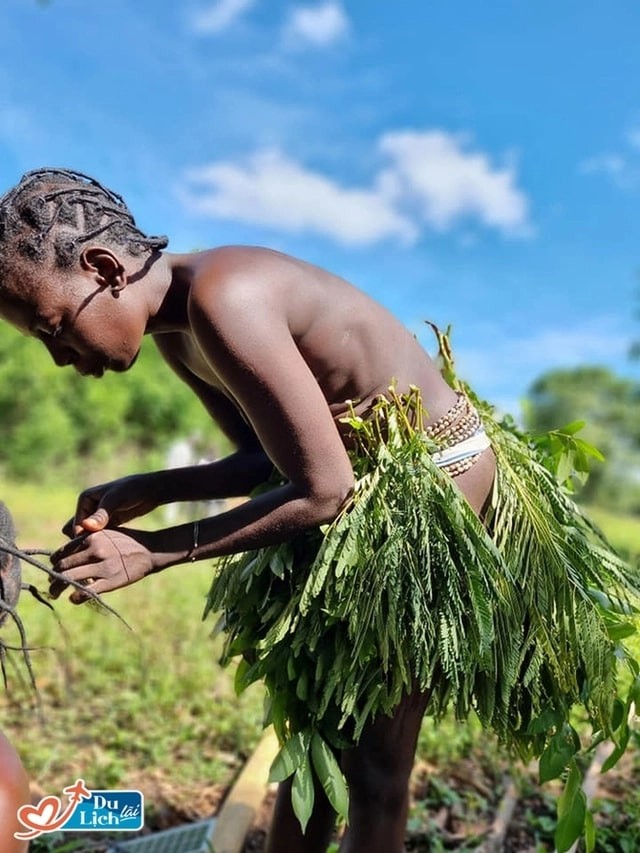 Photo: Lai Ngua Chan's facebook
This is a typical culture of the people here. When they enter the woods, they will the healthiest branches from different kinds of trees and connect them together with a piece of fabric to make a skirt. According to them, they will leave their chest bare and only wear the leaf skirt on the lower body, using it as a casual outfit.
After 2 or 3 days, the leaves start to wither and dry, they will be replaced by branches with fresh green leaves. "I am very surprised to know that there are still tribes with clothes like that," the blogger said.
The skirts and pants are only worn by the women and children of the tribe. As for the men, they still use loincloths.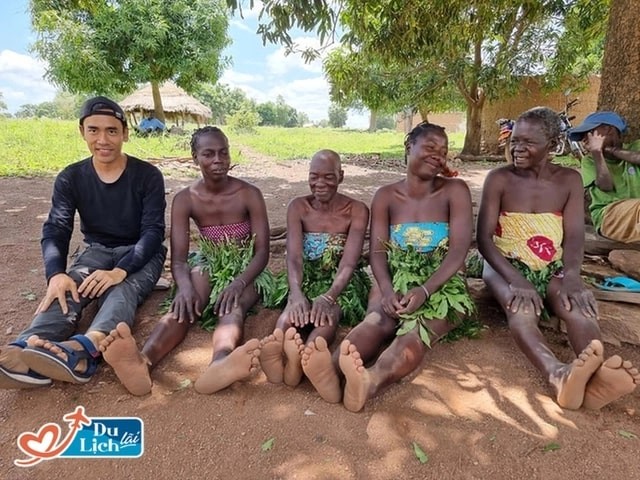 Photo: Facebook
Millet beer for all ages
Whenever there are new guests visit the village, the Dupa tribe will perform their traditional dances, then bring out their specialties to entertain the guests. One of the most famous specialties here is millet beer. This beverage is made from millet seeds, which are harvested from the central granary of the town.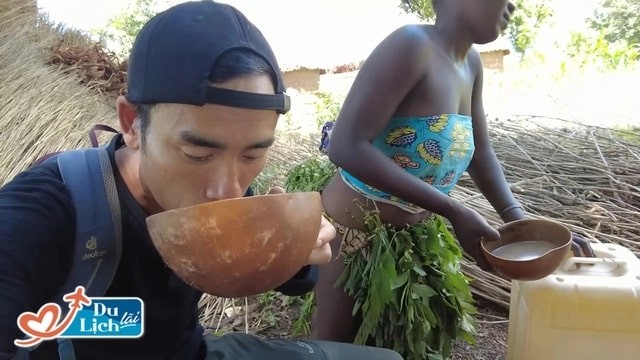 Photo: Lai Ngua Chan's Youtube
Millets are a highly varied group of small-seeded grasses, widely grown around the world as cereal crops or grains for fodder and human food. Millets are important crops in the semiarid tropics of Asia and Africa (especially in India, Mali, Nigeria, and Niger), with 97% of millet production in developing countries. This crop is favored due to its productivity and short growing season under dry, high-temperature conditions.
Dupa people will process millet, ferment it into beer and drink it in empty ladles. "The beer tastes sweet, and a little bit sour," the Vietnamese blogger commented after having a sip of the millet beer.
Because of its nutritional value, millet beer is famous here and is drank by people of all ages. Even children can have this special beverage.
Shy but friendly people
According to Lai Van N., the Dupa tribe is friendly and kind in general, but they can be shy and timid when you first meet them.
Part of the reason is that they are unfamiliar with the outside world, and strange technology that they have never seen before. These people have been living in isolation for generations, which is why they are quite shy by nature.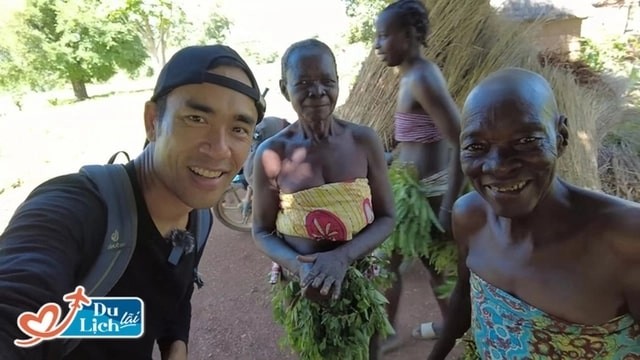 Photo: Youtube
However, after a while, they will slowly become more open. They are willing to bring visitors to their homes and introduce them to the tribe's traditional customs and practices.
The owner of this Youtube channel said that before leaving, the Dupas did not forget to give him gifts. It was a ring they burned, forged, and made by hand.
"Even though the Dupa people are still poor, I was warmly welcomed by them to eat, dance, and sing with them. Before I left, they even gave me a gift. This will be one of the most memorable journeys I have ever had."
Amazing Cultural Sites across Vietnam

In the eye of foreign tourists, Vietnam appears colorful, from the magnificent landscape to the diverse culture and rich cuisine in these destinations.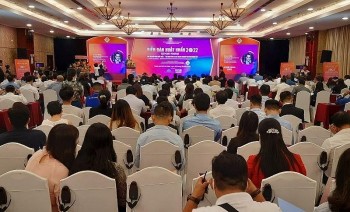 Focus
Vietnam News Today (Dec. 9): Vietnam - Singapore innovation centre helps firms transform production; HCM City among most searched destinations by travelers; Vietnamese digital technology industry's revenue estimated at 148 billion USD in 2022; Two Vietnamese films up for consideration at Oscars.