"Digital Museum" to Become a New Way to Promote Vietnamese Culture
Vietnam is approaching and pushing the promotion of cultural and heritage values ​​to the world with the support of digital technology.
Digital transformation is inevitable in the communication and promotion of Vietnam's tourism, especially in the time of responding to Covid-19 and post-Covid-19. Through "digital museums", the image of beautiful, friendly, peaceful Vietnam which is imbued with cultural identity, will be introduced to more international friends.
Image of Vietnam through "Digital Museum"
The Tourist Information Center of Vietnam National Administration of Tourism in cooperation with Google Group has recently introduced the "Google Art & Culture" project. This is considered a valuable "digital museum" exhibiting many images of Vietnam to promote tourism and culture.
Visiting Google Art & Culture, viewers will see the Vietnamese theme introduced very vividly through photos and videos with bold colors of indigenous culture. 34 truly fascinating stories are shown with slices of the cultural and historical landscape of the S-shaped strip of land. The collection of "Kingdom Imprints" is more than pictures but truly a historical period condensed into the remaining works and mausoleums. In other sets of photos, not only famous landmarks but many cultural heritages such as Royal court music, Bai Choi, paper art, and Royal fashion are introduced to international friends.
Besides, 54 videos exploring Son Doong cave are also uploaded by the Quang Binh Department of Culture, Sports and Tourism. Viewers have the opportunity to see and enjoy the landscape, the magnificence of Vietnamese culture and tourism through the digital museum.
Google Arts & Culture is a non-profit "digital museum", aiming to preserve and introduce the unique cultural and artistic values ​​of countries around the world. In 10 years of launching, this museum has cooperated with 2,500 partners worldwide, including famous museums such as the Tate Gallery (London, UK), the Metropolitan Museum of Fine Arts (New York, USA).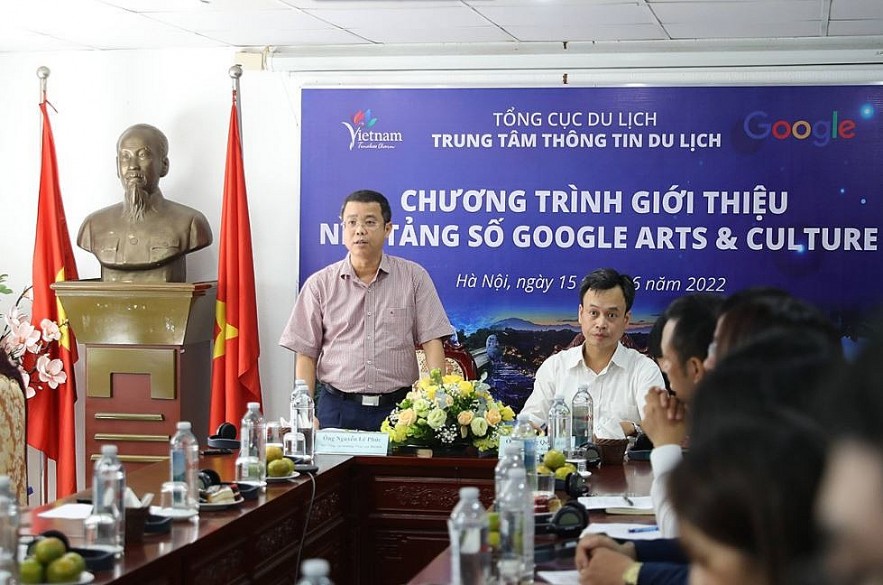 Vietnam National Administration of Tourism collaborated with Google to organize a program to introduce the Google Arts & Culture digital platform (Photo: Duc Hoang).
Google provides 3 tools including Art Camera (artworks with high resolution and high detail), Google Street View (remote experience of cultural and artistic destinations thanks to digital platforms), and Table Top Scanner (large collections and antiquities). Tourist attractions, museums, monuments... can use these tools to record images and videos and upload them on the Google storage platform. Thereby, viewers around the world can easily access, and visit through 3D, 360-degree images with free introductions and explanations about Vietnamese culture and heritage.
Pierre Cessa, Project Manager of Google Arts & Culture shared the honor of accompanying Vietnam in promoting culture and tourism. "Digitalizing resources to reach global visitors is one of the important things to promote culture and tourism, especially in the post-Covid-19 context," he said.
Previously, in 2021, the Vietnam National Administration of Tourism also coordinated with Google to launch the "Wonder of Vietnam" project with 35 online exhibitions and more than 1,300 photos of famous tourist attractions, heritage sites, natural scenes, culture and cuisine of Vietnam.
A travel communication program on YouTube with the theme "Vietnam: Travel to Love!" also received a lot of positive feedback; many clips have surpassed million views in just a short time. Through vivid footage and emotions, Vietnam's natural beauty, national culture, hospitality and love for the motherland will be spread to many people and international tourists.
The Gate to Bring Vietnamese Culture to the World
Nguyen Le Phuc, Deputy General Director of Vietnam National Administration of Tourism, Ministry of Culture, Sports and Tourism said: "Digital transformation is inevitable in the communication, promotion of culture and tourism in Vietnam, especially in the current era of responding to Covid-19". He expressed his hope that localities would approach and promote Vietnamese culture and heritage values ​​to the world.
Vietnam owns a rich heritage system with outstanding global values such as world natural heritage, world cultural heritage, world cultural and natural heritage, documentary heritage. Besides, there are famous scenic spots, unique traditional festivals and diverse and attractive cuisine. All those cultural values, promoted on digital technology platforms, will have the opportunity to "go faster, go wider" to international friends.
Le Xuan Kieu, Director of the Center for Cultural and Scientific Activities of Van Mieu - Quoc Tu Giam (Temple of Literature) said that with the application of Google Arts & Culture, the unique cultural and historical values ​​of this relic site will reach more domestic and foreign tourists.
Beautiful and high-resolution photos have brought various and fresh perspectives of famous destinations, heritages and wonders, and cultural beauties of Vietnam.
Guiding viewers through the captivating story of Vietnam's endless beauty, these digital-based online exhibitions have taken them on a journey from "8 things to know about Vietnam" to "5 things you should do at the beginning of the new year"… with interesting information and impressive images about the history, culture, customs, cuisine, majestic landscape of the S-shaped country.
Google also dedicates the homepage interface on certain days to honor a lot of Vietnamese cultural values ​​such as banh mi, pho, Trinh Cong Son music...
The trend of promoting culture and tourism through digital platforms is increasingly popular, and the process of promoting Vietnamese cultural values ​​cannot stay out of this trend, because digital platforms and museums will increase connectivity. The focus on images and content of exhibitions and topics on digital platforms needs to be paid more attention by related units and agencies so that this promotion channel is really effective.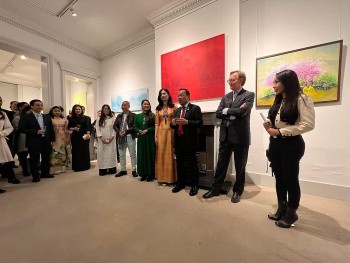 Overseas Vietnamese
The "Sac mau que huong" (Colours of Homeland) exhibition was opened in Mayfair art district in the heart of London.