Vietnamese Boy Models the Beauty of Ao Dai in France
When he was only two and a half years old, Kevin and his family moved to France. Although he was "bathed" in the local language and culture, he did not forget his Vietnamese roots.
Nam Khanh Kevin is a 12-year-old boy who currently lives in France. He is well-educated and fluent in many foreign languages. Kevin is also a child saxophonist who has performed at many major events. Not only that, but Kevin is also a young speaker, with nearly two years of experience. He often promotes Vietnamese culture, customs, and traditions at events and schools.
Recently, along with twenty-five other Vietnamese students from the US, France, UK, Australia, and Vietnam, Kevin initiated the 2LIFE Ao Dai project. This event has been attracting attention not only in Vietnam but also in many other countries around the world.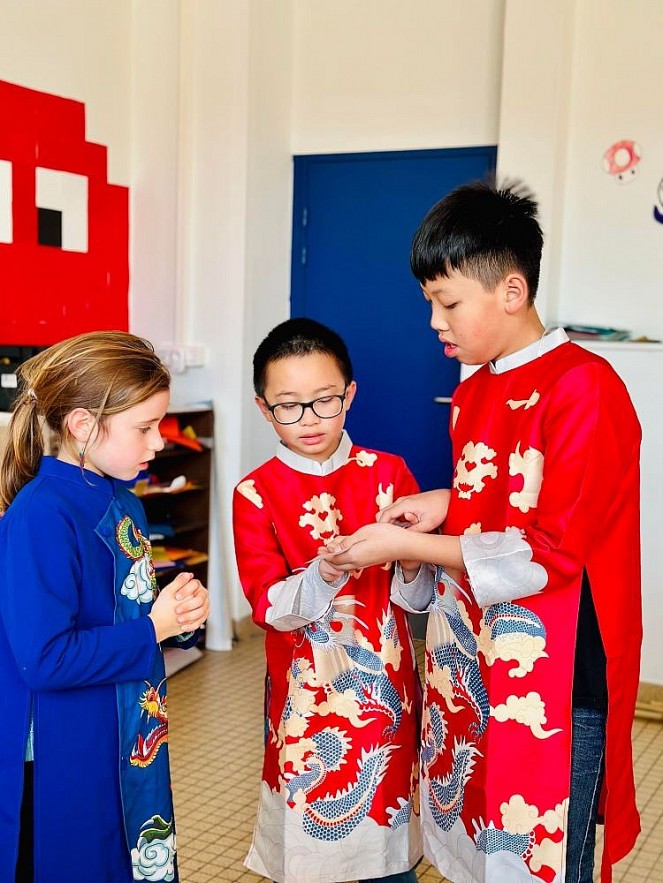 Photo: Soha.vn
The love of Vietnamese culture needs to be nurtured
When he was two and a half years old, Kevin and his family moved to France. Despite being "bathed" in the native language and culture, the boy did not forget his Vietnamese roots. He can always"return to Vietnam through the music of his mother, Hoang Thu Trang, a talented musician.
Trang is passionate about participating in and organizing community activities, especially those about Vietnamese culture for children of Vietnamese origin. From a young age, Kevin has followed his mother on stage, helped her clean things up, and worked as a teaching assistant. Six long years of hard work helped the boy develop both intellectually and professionally. Kevin's love and passion for spreading Vietnamese culture to international friends were cultivated since then.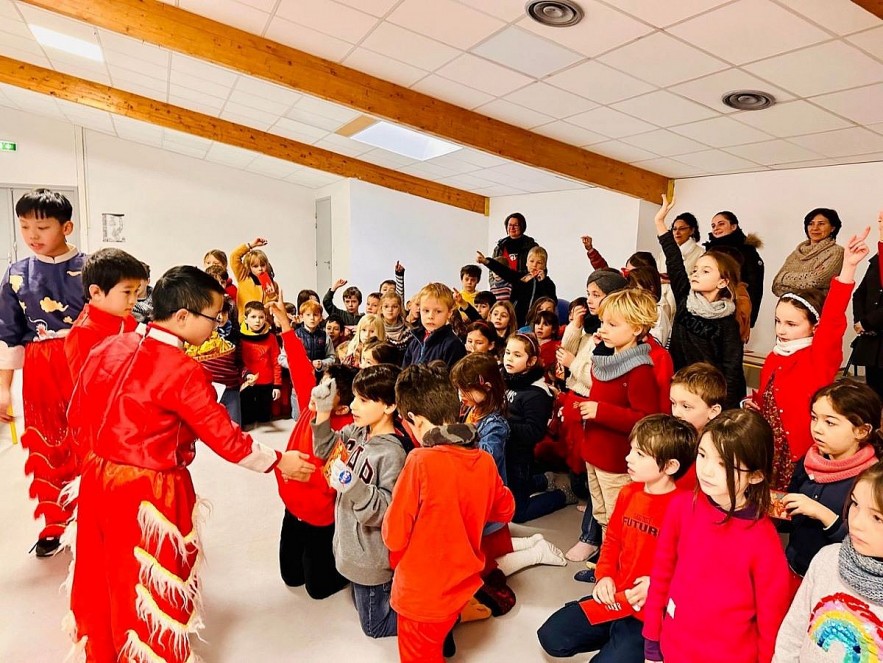 Photo: Soha.vn
With only a suitcase of traditional Vietnamese materials such as bamboo dragonflies, fish sauce, chopsticks, ao dai, and a confident and lovely demeanor, Kevin has shared his love of Vietnamese culture with his French friends. Many students wanted to come to have a deeper understanding of this topic.
At each location, Kevin usually presents for three days. In some cases, the boy and his team have to spend four hours in a row. They need to set up, decorate, host workshops, and organize activities, and games to help explore Vietnamese culture for up to eighty children.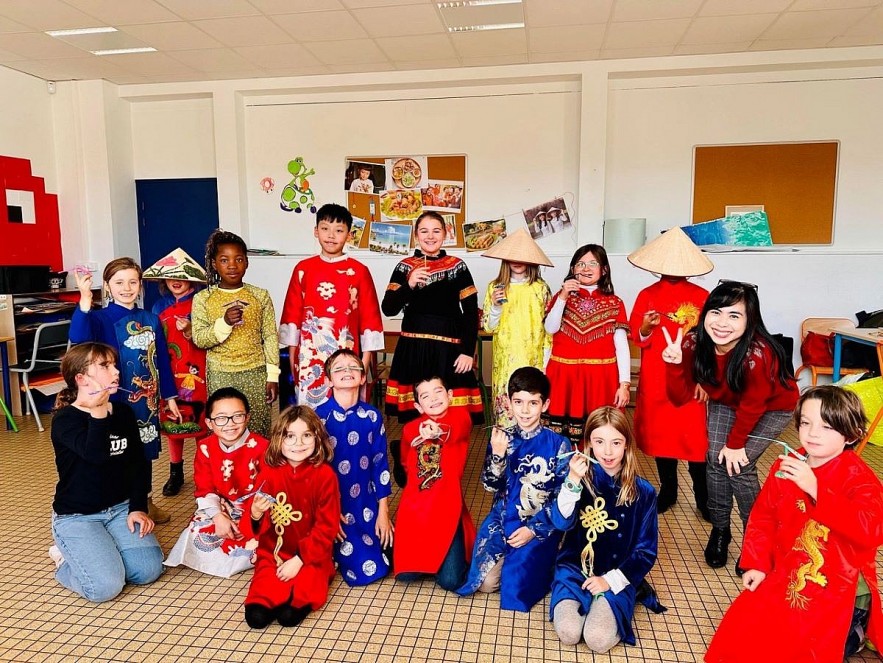 Photo: Soha.vn
This not only requires professionalism, skills, knowledge, and the ability to handle situations but the speaker must always be cheerful and radiate positive energy. This is not a simple job, the speaker must be strong, passionate, and devoted. Despite difficult times, the enthusiastic participation, bright smiles, and affectionate gaze of all the students and teachers are gifts that help Kevin and his teammates forget all their hardships.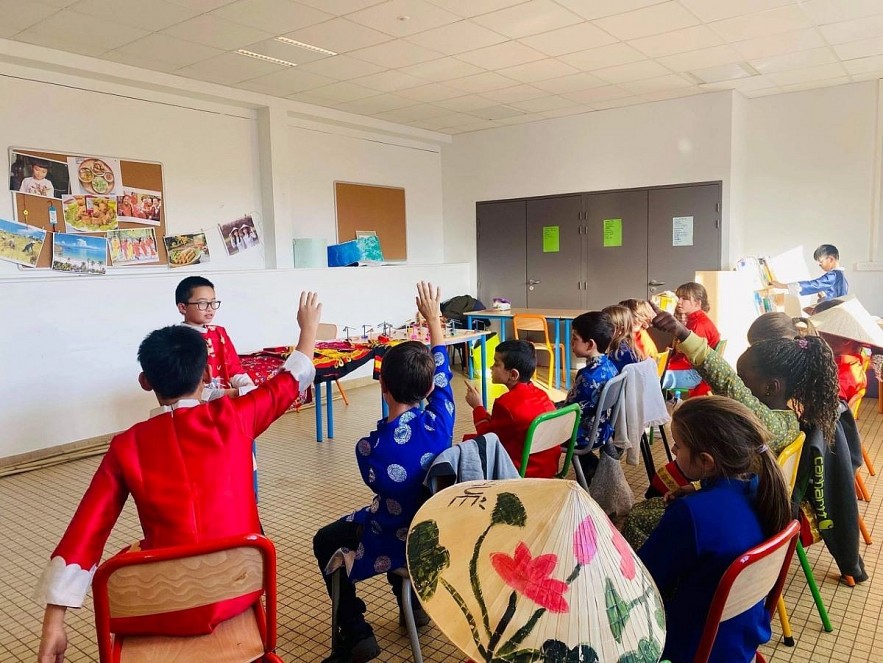 Photo: Soha.vn
Giving Ao Dai "A New Life"
The deep love for Vietnamese culture is also the reason why Nam Khanh Kevin and his associates initiated 2LIFE Ao Dai - a project calling for support for Ao Dai around the world. Those that are new, and beautiful, but do not fit or have not been used will be washed, ironed, autographed, and sent to destinations around the world like Vietnam, France, the UK, the USA, and Australia.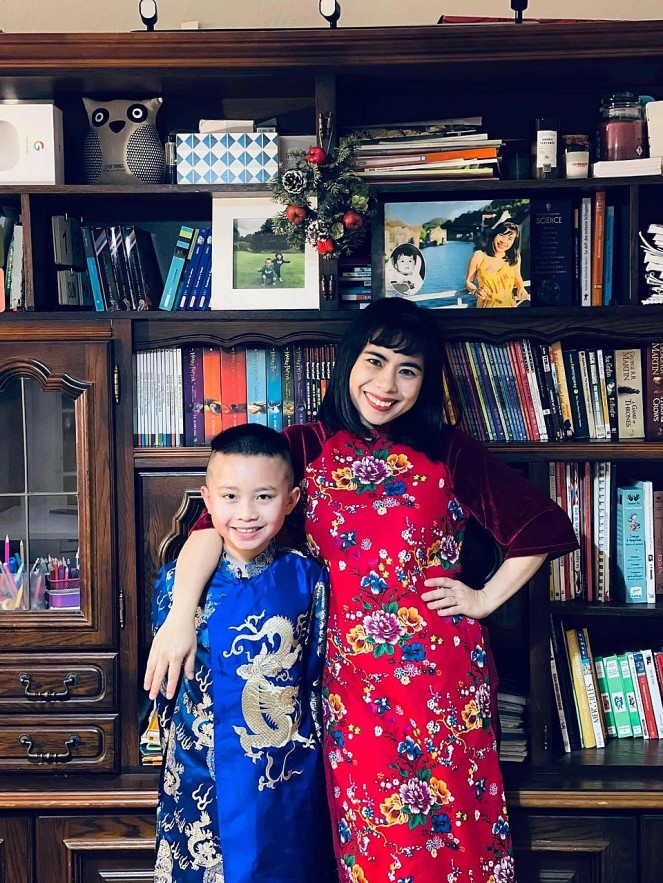 Photo: Soha.vn
More than 500 donated ao dai pieces will be displayed at FESTIVAL VIETNAM (a series of events such as concerts and art exhibitions in the coastal city of Larmor Plage, France) along with letters that will be translated into English. Visitors who donate any amount to the fund will be given an Ao Dai.
This is both a way to spread the beauty of Vietnamese culture, protect the environment, avoid waste, and also a meaningful activity to celebrate the 50th anniversary of Vietnam-France relations. Thanks to the 2LIFE Ao Dai program, many Ao Dai can continue to be used.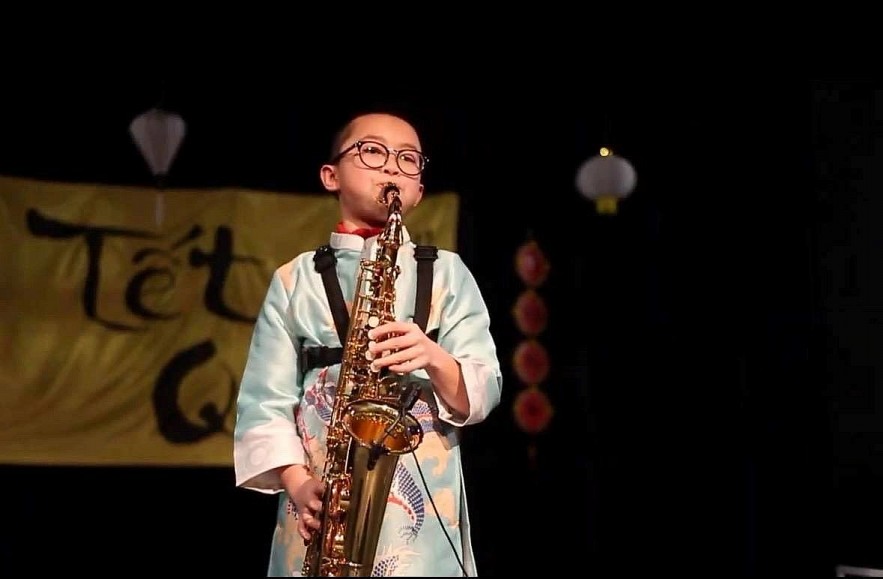 Photo: Soha.vn
Phi Thi Van Anh, a lecturer at the University of Transport, explained Vietnam's love of the ao dai. "As a Vietnamese woman, almost everyone has at least one set of ao dai. Teachers like me usually have more than that. Each of mine is associated with a certain anniversary or event. I wore them to my engagement and my sister's wedding. Some were sewn at the award ceremony, one was bought during a conference trip to Hue. Although I still love my ao dai very much, I can no longer wear them. That's why I want to give them a new life."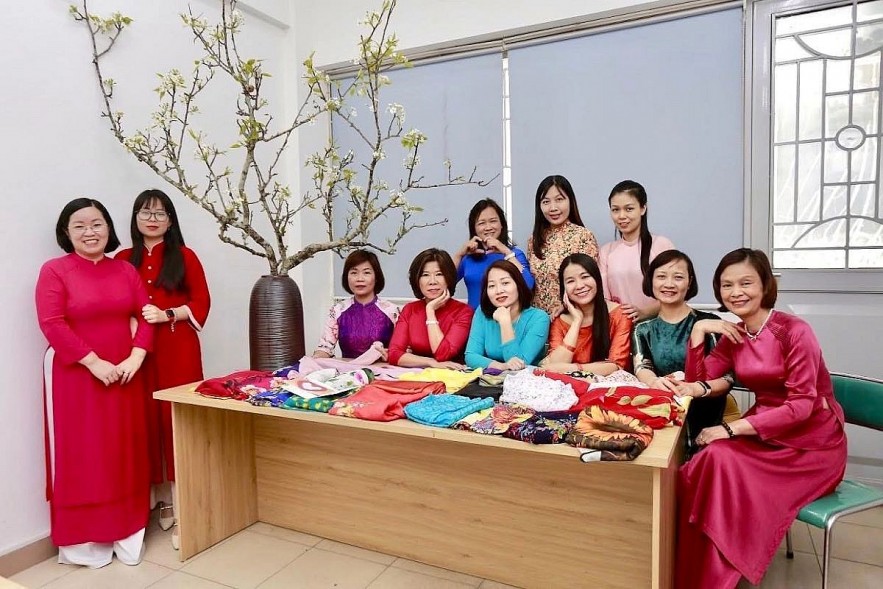 Photo: Soha.vn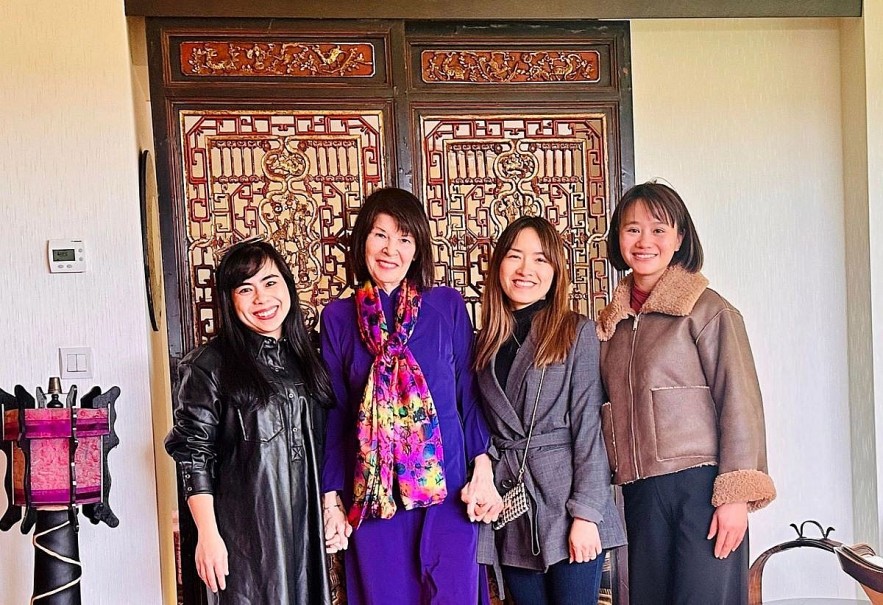 Photo: Soha.vn
Kevin and his friends in the project will be directly present in the exhibition, to convey the message to the world. This is the cultural introduction of the young generation of Vietnam. They are enthusiastic, hospitable, active, and peace-loving. These young people want to connect with the whole world.
Hoang Thu Trang, Kevin's mother, said that, since his birth, he already has the spirit and love of Vietnam in his heart, but that love needs to be nurtured. For that love to turn into action requires hard work. He needs to learn Vietnamese culture, and prepare himself so that when the opportunity arises, he will not hesitate to introduce it to everyone.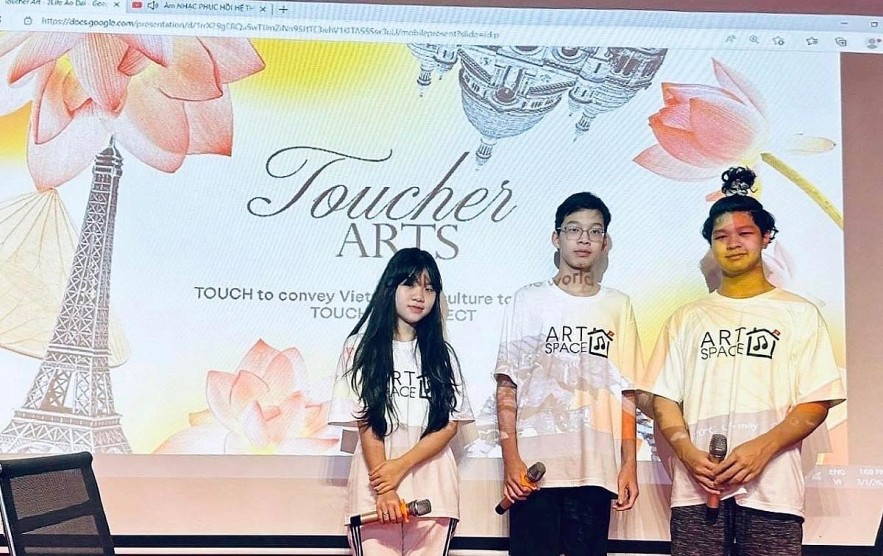 Photo: Soha.vn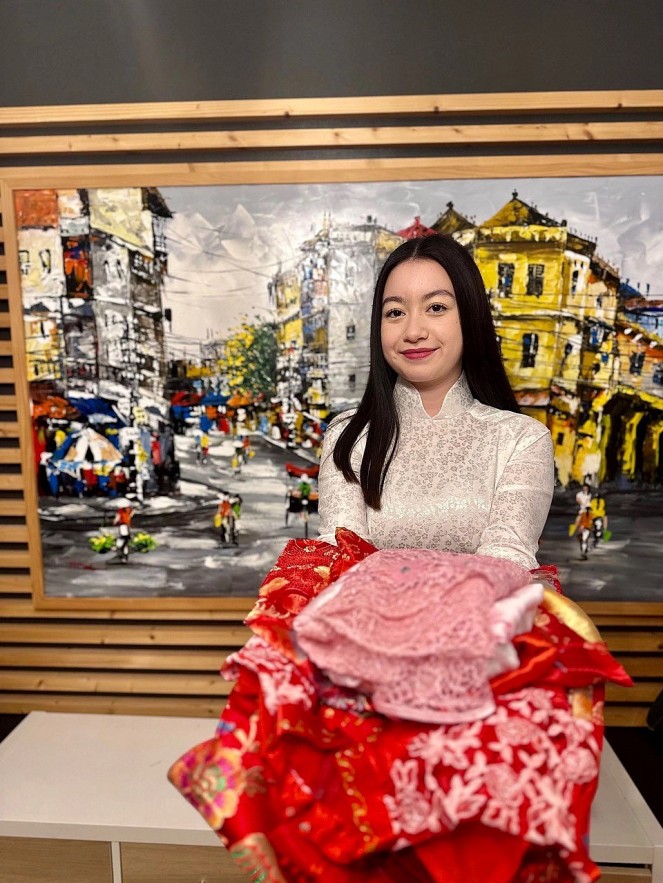 Photo: Soha.vn
"I am very proud to see that my son and his friends have grown more mature with each trip. They have gained a lot of skills, knowledge, and most importantly, a love for their homeland," Trang shared.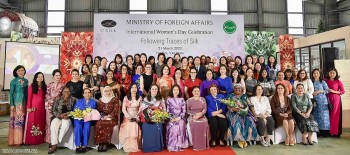 Friendship
Female ambassadors, representatives from diplomatic corps and international organizations, along with spouses of diplomats in Vietnam gathered together to find about more about silk weaving and silk products in Vietnam.