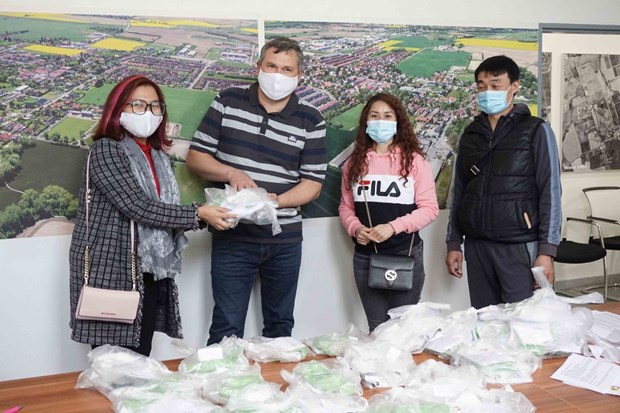 Vietnamese people hand over masks to Mayor of Vestec in Czech Svec Tibor. (Photo: VNA)

Medical, police and emergency units in the Czech Republic have suffered shortages of face masks and quick test kits amid the rapid spread of the pandemic across Europe.

To solve this problem, Vietnamese people in the European country together with the locals have been sewing home-made masks and giving them to people and places in need.

Meanwhile, Vietnamese restaurants and food stores have also shouldered responsibility by offering police as well as health and emergency workers free food and drinks like tea and coffee.

So far, Vietnamese people have presented 6,000 masks and protective gloves to the governments of Vyssi Brod and Cesky Krumlove, while hundreds of masks have also been given to the governments of Ricany and Vectek and hospitals in Znojmo and Prague.

The Vietnamese community has also created a website named covidinfo.cz to provide regular updates on the situation and called on people to provide interpretation services for Vietnamese who do not speak Czech.

The Vietnamese community in the Czech Republic was recognised as an ethnic minority group in the East European country in 2013, now numbering about 70,000./.
VNA