Vietnamese dog that looks like a Tibetan clam
With thick fur and a lion's mane, many people think Tam Mao is a Samoyed hound or even a Tibetan clam, but in fact, he is a "pure Vietnamese dog" from the Bac Ha plateau.
"The first time I saw Tam Mao, I fell in love with his mightiness," said Ms. Le Ha, 33, the owner of Tam Mao. Le Ha is a well-known dog lover in Hanoi. She owns the most sought-after Phu Quoc dogs in Vietnam. In June, during an offline session of Vietnamese dog breeders, Ha met Tam Mao, a Bac Ha dog. Also in that offline session, Ha shared his wish that the Bac Ha dog breed was recognized as one of the indigenous breeds of Vietnam. "As a Bac Ha dog lover, I have been looking forward to this recognition for a long time," said Tam Mao's former owner.
At the Vietnam indigenous dog breed competition at the end of October, Tam Mao was highly appreciated, with its characteristics close to the standard. Tam Mao's transfer price is 75 million VND (3.260 USD) - the highest ever in this line of dogs.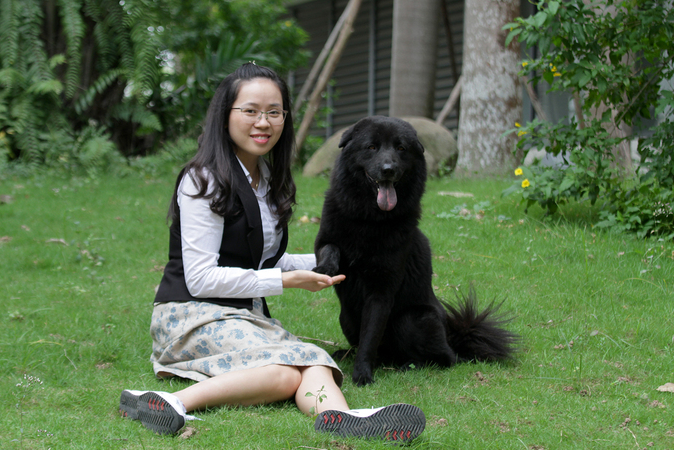 Le Ha, 33, the owner of Tam Mao is a well-known dog lover in Hanoi. (Photo: VN Express)
Tam Mao's former owner - a dog trainer - said that he bought Tam Mao 2 years ago. At the time of arrival, Tam Mao was not well taken care of, his physique, bad fur. Living with this owner, Tam Mao was raised on a farm behind a hill. The dog learned to hunt rats and snakes. The former owner also trains him so that he can follow commands, how to react when to different opponents. From a "wild animal" Tam Mao was domesticated. He gradually became a brave friend. Tam Mao is friendly with its owner, however, when being attacked by strangers, he becomes alert and inviolable.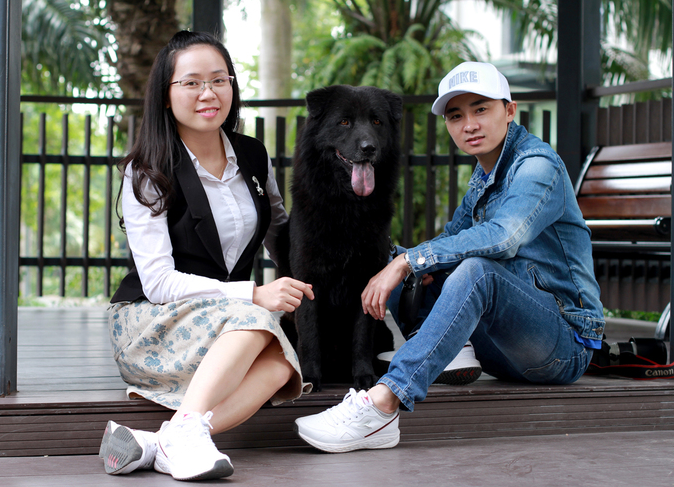 Ha and her husband love to take Tam Mao to the park. (Photo: VN Express)
Bac Ha is a rural district of Lao Cai Province in the Northeast region of Vietnam. Since ancient times, Bac Ha dog has been a friend of the people of Bac Ha Highland. They used to be trained for hunting. They have flexible movements, skillfully change directions on the mountainous terrain, are highly disciplined, easy to train. Bac Ha dogs obey their owners. They are particularly submissive and loyal, but they are "warriors" towards those who invade their territory, so they always keep a good watch.
Nowadays, finding a standard Bac Ha dog is very difficult, even if you go to their homeland because Bac Ha dogs are now crossbreeds and they are bought in large numbers by dog lovers. "The act of recognizing Bac Ha dog as a Vietnamese native dog will also open a new page for this breed. Once this title is reached, the bread will be better protected, its price will become higher", Ha said.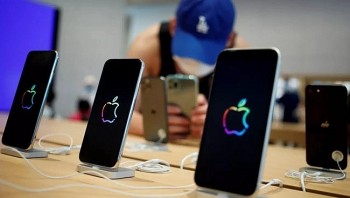 World
India exported iPhones worth $1 billion from May to September 2022, according to a Bloomberg report, but a closer look at the data shows the country is a long way from rivalling China's iPhone manufacturing chops