International press highlights small rescue cat cafe in Hanoi
 A small rescue cat cafe in Hanoi has been covered by Agence France-Presse (AFP), French cooperative news agency, on one of its article released on occasion of the International Cat Day on August 8.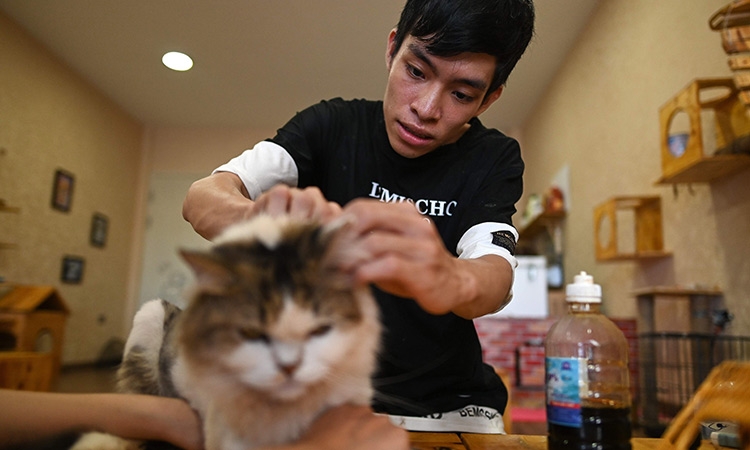 Nguyen Thanh Binh, owner of Ngao's house, participates in a cat rescue in Hanoi. Photo: AFP/Manan Vatsyayana
Accordingly, Ngao's Home Cafe in Hanoi is a loving home for 15 felines, many of whom were abandoned or found injured after being bitten by dogs or suffering serious accidents.
"If your idea of the perfect day is spending it curled up with convalescent rescue cats and a coffee, then one cafe in Vietnam has you covered," it wrote.
Although they do not directly operate as a rescue or rehoming centre, owner of Ngao's Home Cafe is still rescuing strays or cats meant for sale and helping them find a forever home.
"I try to help cats with difficult backgrounds, to heal their physical and mental wounds," said 24-year-old cafe owner Nguyen Thanh Binh.
The cafe has clawed its way up the favourite list of many cat lovers since it opened last month, offering coffee and cuddles but also the chance to give the animals medicine and even engage with them on a deeper level.
"When I come to this cafe, apart from playing with the cats, I can hear their stories and empathise with them," 20-year-old student and customer Le Hoang Yen told AFP.
Vietnam is the second-largest consumer of dog meat in the world after China, with roughly five million dogs slaughtered every year.
Many cats in Vietnam are cherished pets but others are sold for their meat, which is considered a delicacy in parts of the country.
Thieves have been known to steal cats which can then be sold on for consumption.
Binh was inspired to start the coffee house, which runs as a non-profit, after spotting cats in cages, and others who had been injured by thieves.
"Once me and my friends have the cats, we first bring those who with injuries or medical problems to a vet. Then when they get better, I take them here to the cafe for even better care," he said as he stroked a fluffy white feline, blind in one eye.
He also hopes one or two customers might be tempted to take home more than a coffee.
"I will help them find new owners - ones who really love them."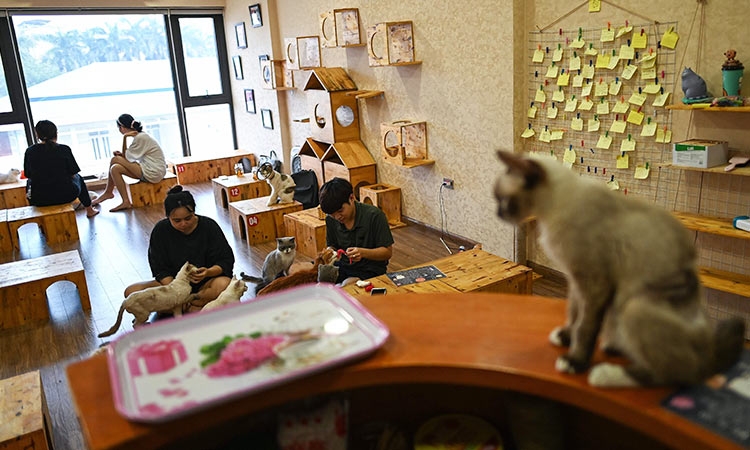 Visitors play with rescued cats at Ngao House. Photo: AFP/Manan Vatsyayana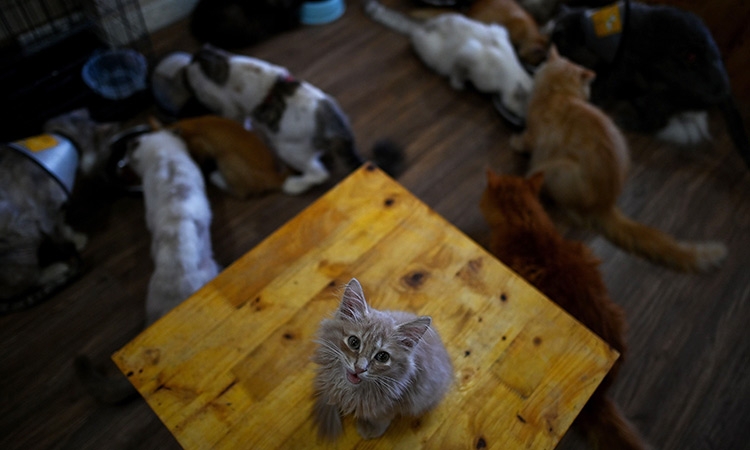 Pig, a British Longhair cat sits on a table at Ngao's Home, a one of its kind cafe and cat rescue place in Hanoi on August 7, 2020, ahead of the International Cat Day. - International Cat Day, created in 2002, is celebrated on August 8 every year. Photo by Manan VATSYAYANA / AFP
More attention needed
Many countries worldwide are fighting agaist the COVID-19 pandemic while non-governmental organizations urge some nations to urgently act to permanently close the wide animal trading market, which is suspected the origin of COVID-19 contagion.
Vietnam, a hotspot for illegal wildlife trade, has worked to combat wildlife-related crimes and put a halt to the illegal trading of wild animals in Vietnam once and for all.
Prime Minister Nguyen Xuan Phuc on July 23 also issued a directive on urgent measures, including suspension of wildlife import, to tighten the management of wildlife.
The directive stresses Vietnam's consistent view on tightening the enforcement of national and international laws on wildlife in order to realize its relevant international commitments.
However ending the dog and cat meat trade will be hard.
Asia Canine Protection Alliance in May has sent a petition to Vietnam Deputy Prime Minister Vu Duc Dam, who is also the Head of the National Steering Committee for COVID-19 Prevention and Control, expressing their concerns over the trading of dog and cat meat in Vietnam and its risks for the health of the community in the context of COVID-19 crisis, according to Kinh Te & Do Thi newspaper.
According to ACPA, Hanoi People's Committee released a statement in 2018 urging local district authorities to widely send warnings to residents about the risks of spreading diseases including rabies, cholera, and aspergillosis caused by eating dog and cat meat. The committee also said that the trading and slaughtering of dogs and cats have badly affected the image of Hanoi.
A few month ago, Hanoi's authorities have called on its residents to refrain from eating dog and cat meat in order to promote a "civilized" image for the capital city.
The campaign was launched by the local government two years ago to encourage local residents to stop the practice, deemed as cruel by animal rights groups, Nguyen Ngoc Son, head of the Animal Health Department under the municipal Department of Agriculture and Rural Department, told local media in June.
Therefore, Hanoians' awareness on the consumption of dog and cat meat has changed, especially among young people. However, Son acknowledged that most people still have not given up the habit of eating dog and cat meat.
While Vietnam's brutal dog meat trade is fairly well known, cats tend to be forgotten victims of an equally sinister trade, FOUR PAWS said. In recent years, there has been a surge in the number of restaurants in Vietnam serving a dish known as 'Little Tiger' or thịt mèo (Vietnamese for cat meat).
Many people believe that cat meat brings good luck, has medicinal properties, and wards off evil. It is estimated that up to a million cats, many of them cherished pets, fall victim to this trade every year. In order to meet the demand for cat meat, both stray and pet cats are routinely trapped or stolen using snares, crammed tightly into wire cages, and trafficked throughout the country to supply cat meat restaurants and markets./.