Vietnamese Don Ancient Costumes to Welcome Lunar New Year
Vietnamese girls and women always put on ao dai to enjoy the festive Lunar New Year and take the most vibrant and memorable photos.
Most Vietnamese people wear new clothes to celebrate Tet (Lunar new year) to promote a fresh beginning to the year. However, in recent years, young people enjoy wearing the ancient wardrobe of their ancestors.
The Lunar New Year is just over two weeks away and decorations have been put up along streets, public venues, and shopping centers across the country. These offer not-to-be-missed photo opportunities and residents have been preparing their best outfits for the occasion.
Especially, Vietnamese women often wear ao dai (traditional long dress) for Lunar New Year. The women select a beautiful ao dai to visit their neighborhood, which makes Lunar New Year more meaningful.
When it comes to traditional Vietnamese outfits , many will think of ao dai. However, Vietnam has a wide range of outfits bearing the cultural imprint of every period of history.
Now more and more people have also shown increasing interest in ancient clothes. Ancient costumes of Vietnam dating back centuries ago have been revitalized and well-adapted to modern lifestyles thanks to young designers' passion and creativity.
Let's get to know some new designs for 2022 Lunar New Year from local shops: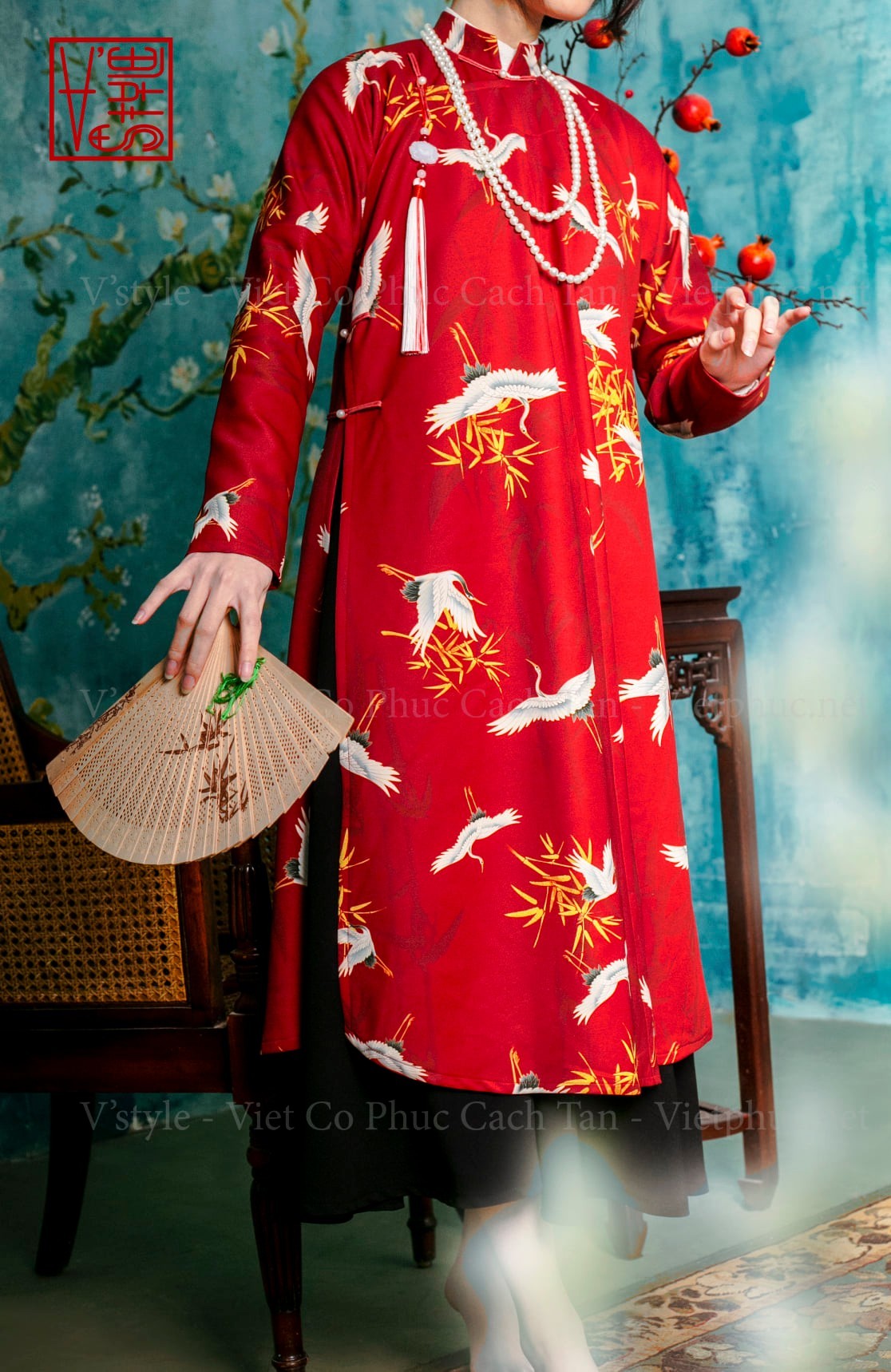 Ao dai Ngu Than (five-flap long dress) with flamingo pattern of V'Style, one of the pioneering fashion brands in the field of modernized clothing with the inspiration from Vietnamese ancient attires. Photo: Ngoc Minh Truong/V'Style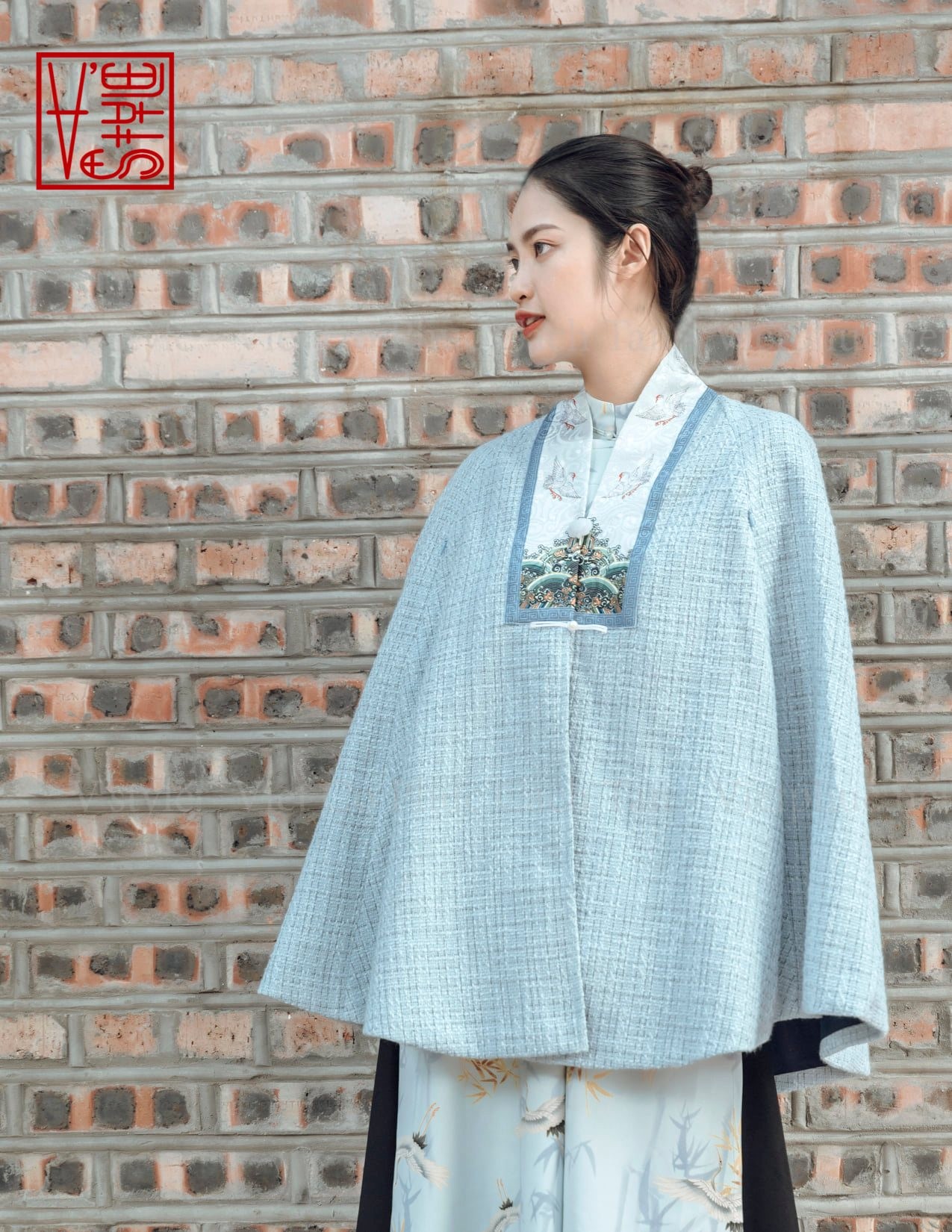 Cape coat with a thickly-defined parallel collar inspired from Nhat Binh costume. Photo: Ngoc Minh Truong/V'Style
Nhat Binh costume (square-collared garb) - the everyday costume of the royal consorts and princesses of the Nguyen Dynasty (1802-1945).
"Nhat" means rectangle, referring to the shape the garment makes around the neck area where the robe is buttoned. Five bands of colors at the hem of the sleeves represent the five elements in traditional Vietnamese culture – metal, wood, water, fire, and earth.
The designers also create sophisticated accessories such as necklaces, man (headdresses) and badges made of bronze and trimmed with gold and silver.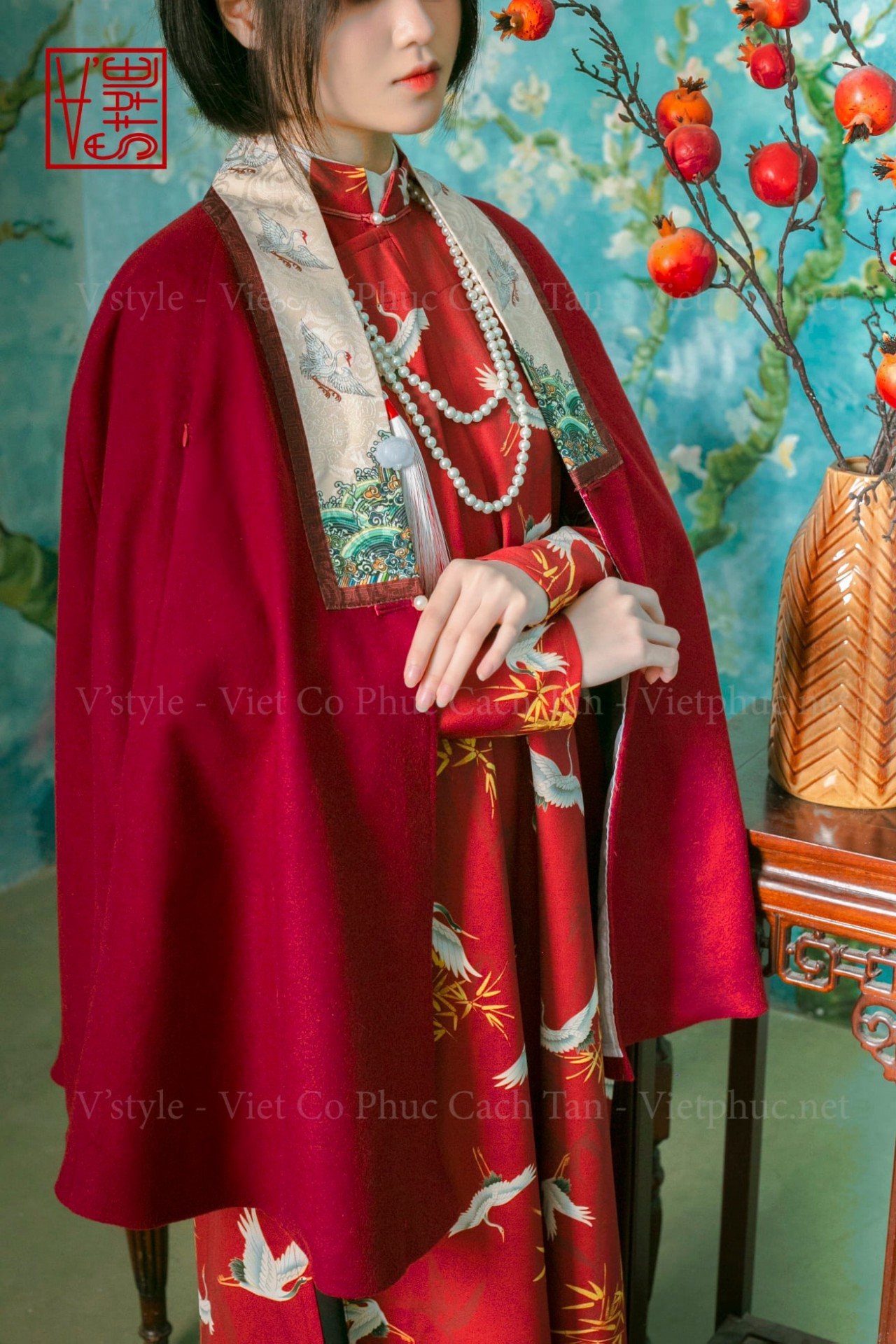 The red color luck, warmth and prosperity. Photo: Ngoc Minh Truong/V'Style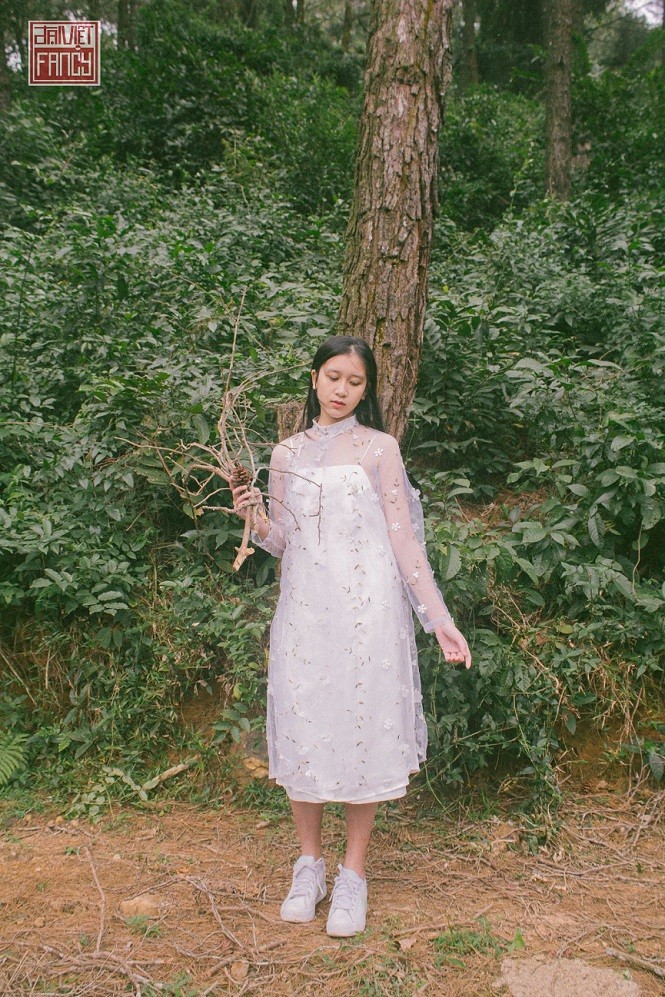 Embroided floral ao dai Ngu Than (five-flap long dress) and two-string dress of Dai Viet Fancy, a young Vietnamese clothing brand that aims to modern historical attires or adding historical influences to modern clothes. Photo courtesy of Dai Viet Fancy
The five-flap long dress had a loose fit and sometimes had wide sleeves. It had two flaps sewn together in the back, two flaps sewn together in the front, and a "baby flap" hidden underneath the main front flap. The gown appeared to have two-flaps with slits on both sides, features preserved in the later ao dai.
Compared to a modern ao dai, the front and back flaps were much overall and the fit looser. It had a high collar and was buttoned in the same fashion as a modern ao dai. The four main flaps were said to represent the wearer's parents and in law while the baby flap represented herself.
The five-flap long dress has a great noble meaning: the four flaps in the front and in the back represent father, mother, father-in-law and mother-in-law, the inner flap represents the person wearing the dress.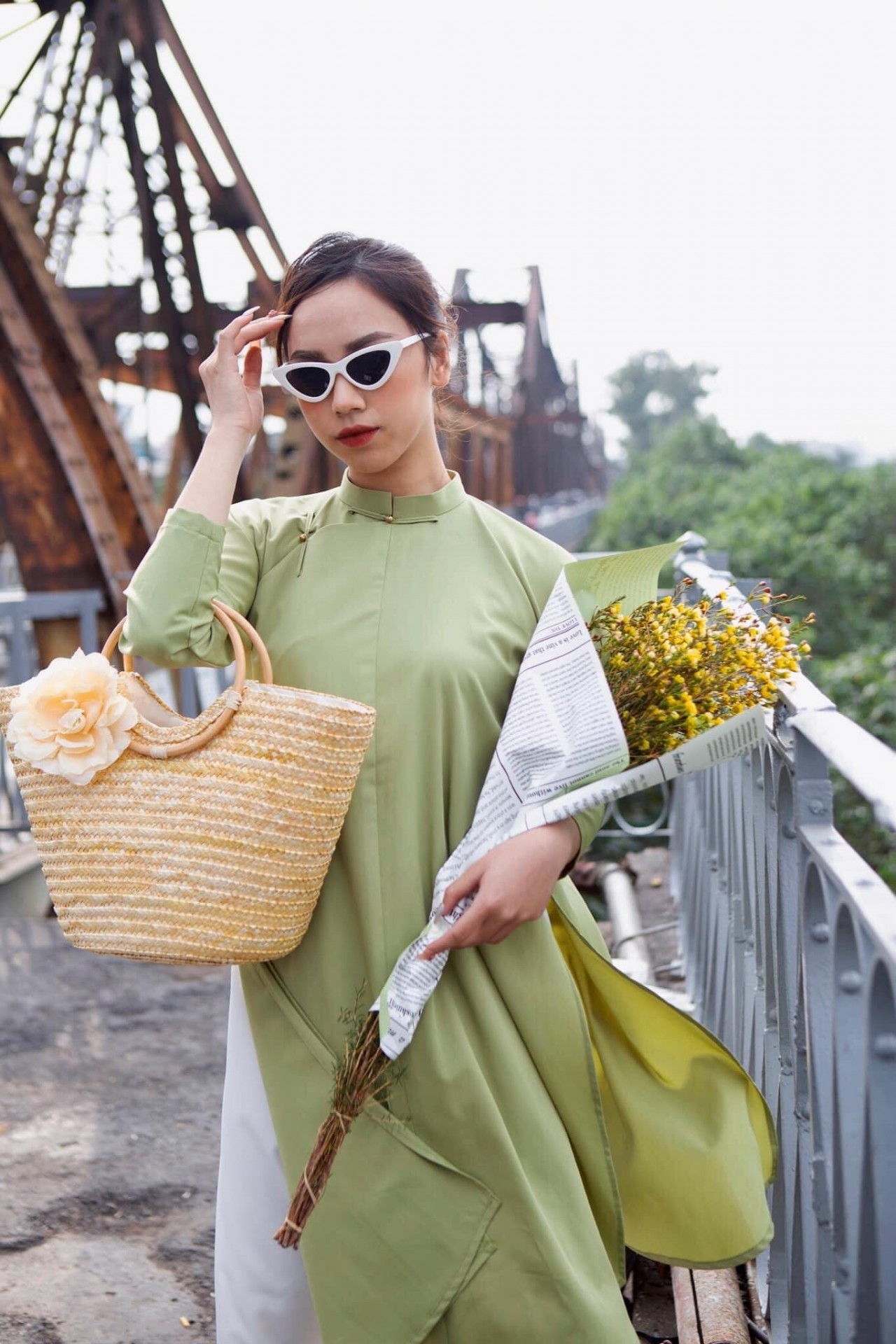 A girl poses gracefully in her avocado green ao dai Ngu Than of Dai Viet Fancy. Photo: Hai Yen Nguyen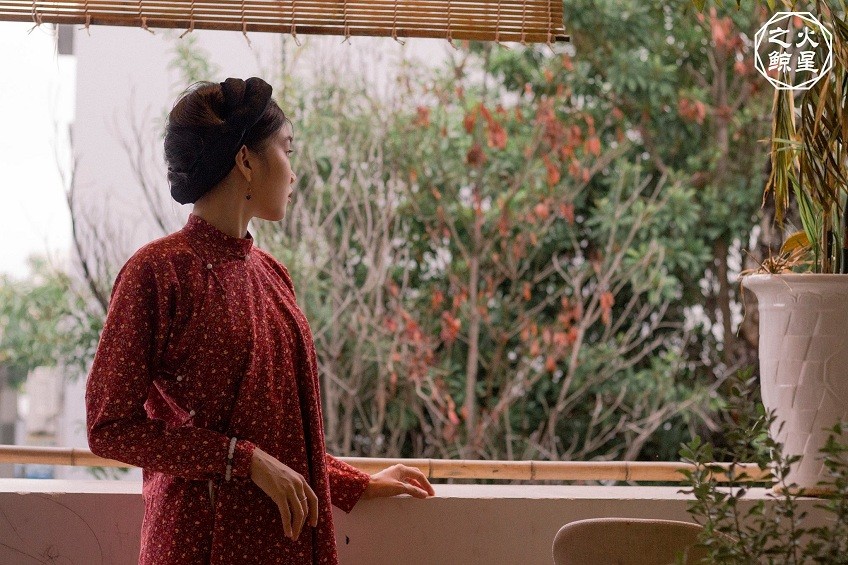 Small floral pattern wtih small sleeves and headdresses of Mars Chi Kinh. Ao Ngu Than fully meets the conditions of a costume, creating a distinct poise and figure for men, and an elegant look for women, and is suitable for all activities in the daily life of Vietnamese people. Photo courtesy of the shop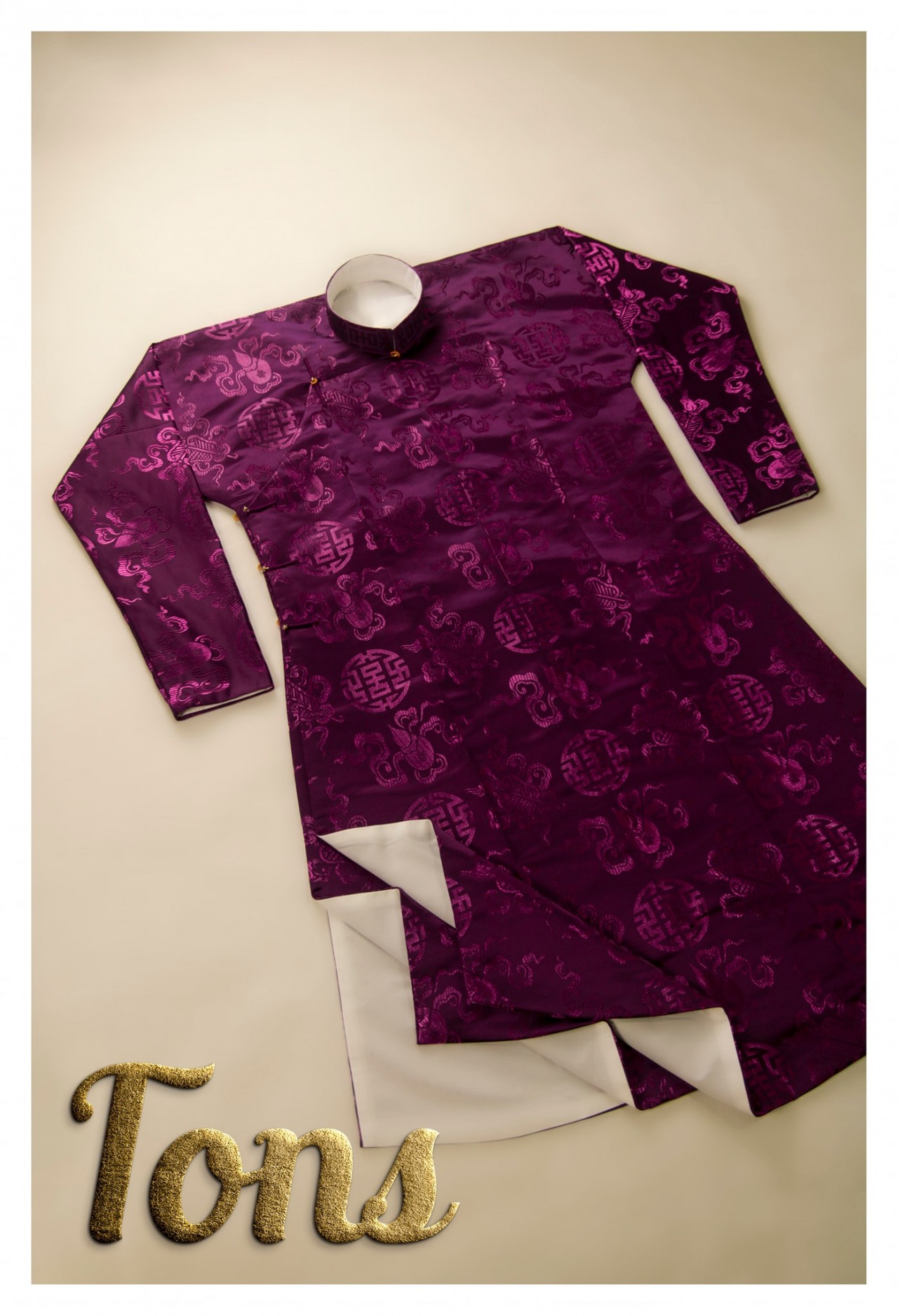 For male from Tons.
The beauty of the wearer helps enhance the beauty of the wearer. The dress for men represents benevolence and filial piety, necessary virtues of a man.
The dress for men and women have similarities, with only a few differences: the men's collars are higher than women's, men's sleeves are wider than women's, and men's lapels are also longer than women's.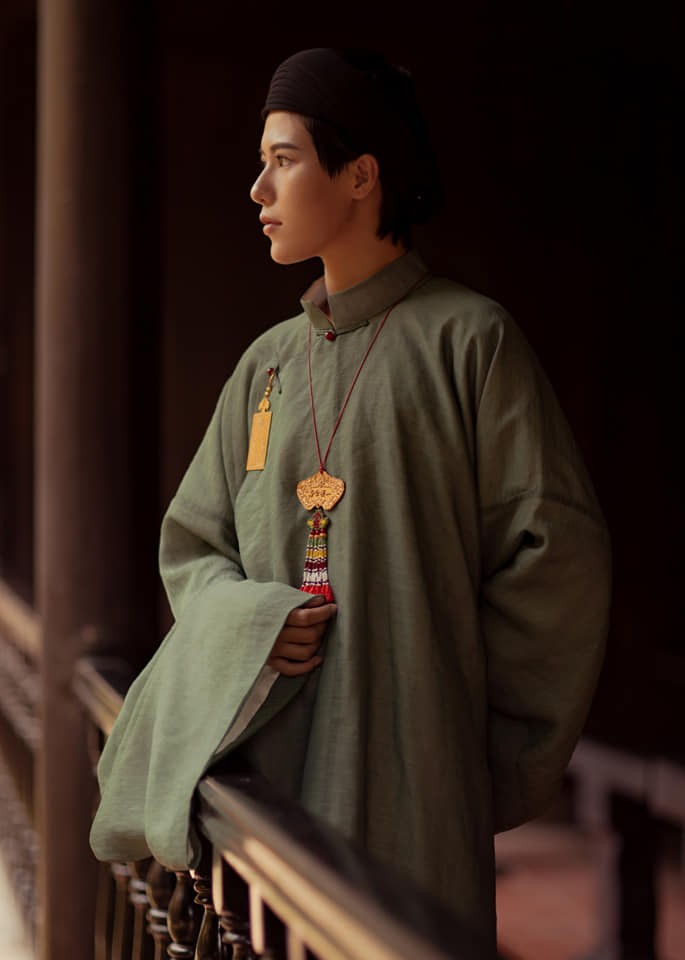 The outfit is accessorized with a necklace with a pendant and rectangular 'name card' (used to made of gold for feudal officials) restored by An Nam Kim Khanh. Photo: Tran Hoa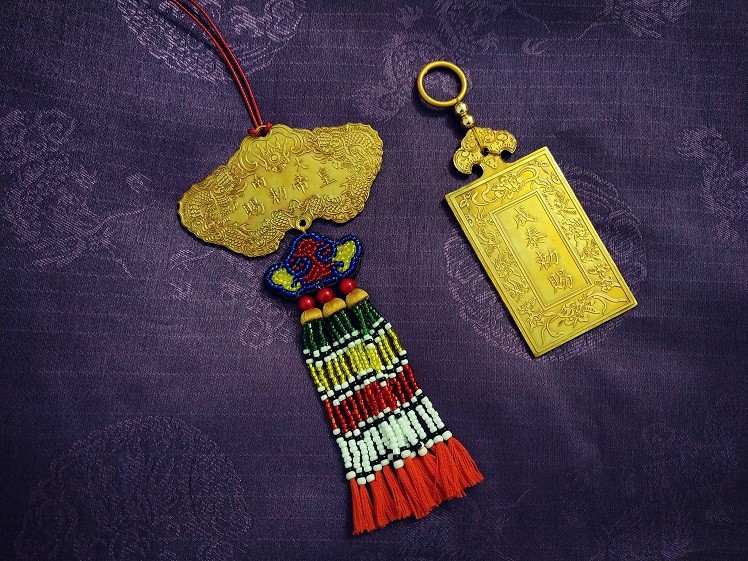 An Nam Kim Khanh makes metal pendants, orders of merit, permit card pendants, and accessories for ao dai Ngu Than and ao tac wearers. Each product requires meticulous precision from the maker all the way from the process of investigating documents and ancient artifacts to finding materials to resemble the original. Photo courtesy of the shop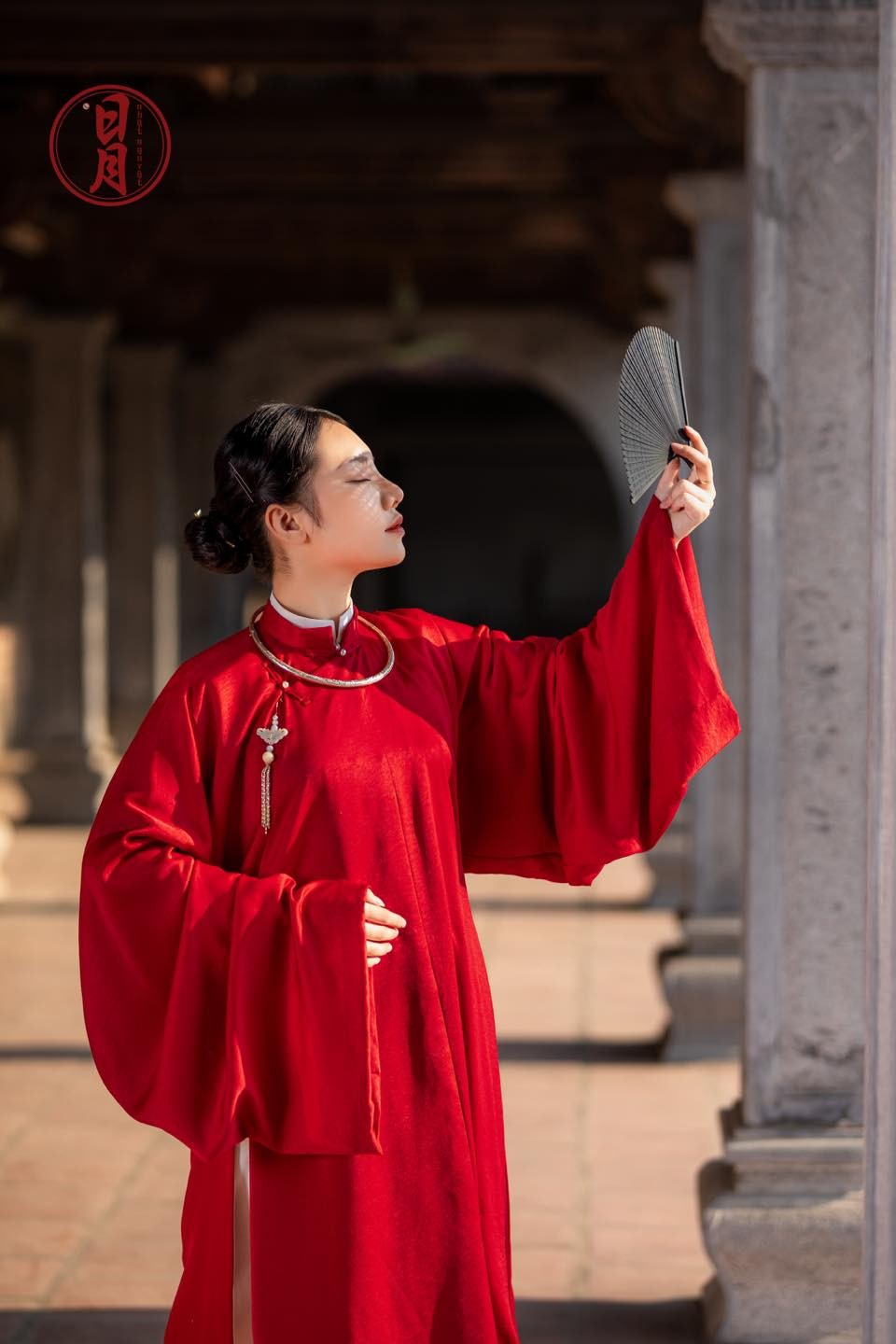 A red ao tac dress of Nhat Nguyet studio.
Ao tac is also an favored by people when doing a photo shoot.
To make it simple, ao tac is a variant of the ao dai, but it has loose and large sleeves. This is considered the national costume of the Nguyen Dynasty, because ao tac can be worn by any class in society, from the royal, officials, to the middle and lower classes, and can be worn by both men and women.
Ao tac was worn in important ceremonies and occasions such as a wedding, funeral, Tet, and worship events. You can wear any color you want, but it should be based on the occasion.
When wearing an ao tac, your two arms ought to be folded in front of the stomach because the sleeves are long and baggy. This action is to hide both hands and show the humility, respect, and elegance in crucial events.