Vietnamese Embassy in Thailand receives rescued fishermen
The Vietnamese Embassy in Thailand on February 28 received two Vietnamese fishermen who were rescued by ship Irene of Marshall Islands while they were in distress at sea.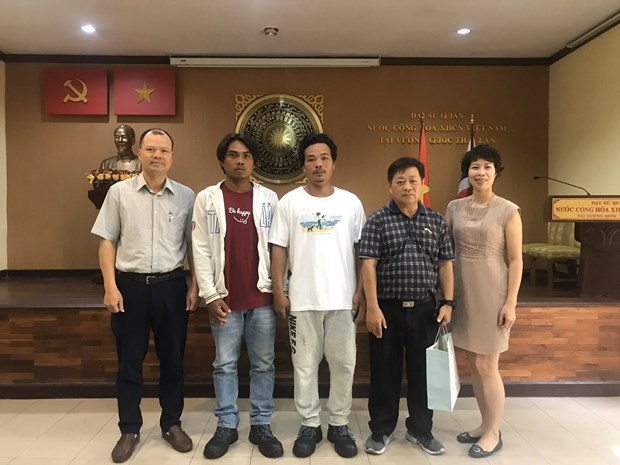 Fishermen Huynh Minh Chanh (second, left) and Nguyen Van Phuc (centre) at the Vietnamese Embassy in Thailand on February 28 (Photo: VNA)
The fishermen are Nguyen Van Phuc, 34, and Huynh Minh Chanh, 37. Their fishing boat sank near Tho Chu island on February 20.

They were saved by ship Irene after two days drifting at sea, and brought to Si Chang island of Thailand's Chon Buri province where it docked on February 24.

After learning about the incident, the embassy had closely coordinated with the ship's owner in Thailand – Thai P&I Services International Ltd – to complete procedures for the handover of the fishermen.

It will continue to work with the Royal Thai Police on necessary procedures to bring the men home in the next two weeks./.