Vietnamese enterprises ready to receive foreign visitors
The travel and airline enterprises said they were ready to welcome foreign visitors, simultaneously proposed ministries and departments to develop a common set of standards.
Speaking at the seminar "Vietnamese Tourism 2021-2023: Opportunities in the period of strong recovery", Deputy General Director of Bamboo Airways Nguyen Manh Quan affirmed it was always ready to welcome international visitors and resume the commercial flights, Vnexpress reported.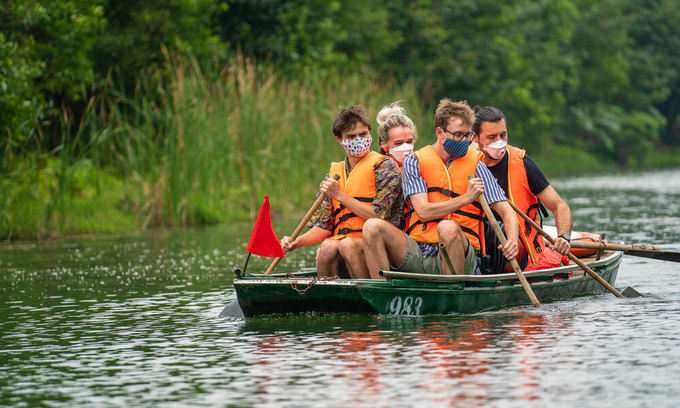 Foreign tourists row a boat near Mua Cave in northern Ninh Binh Province, February 2020. Photo by Shutterstock.
Bamboo Airways has made efforts to create the safest environment for passengers by adopting strict epidemic prevention measures, Quan said.
The airline has also planned to conduct direct flights to South Korea, Taiwan, and Japan starting in July and is expected to open ticket sales in April as soon as licensed by the Civil Aviation Authority of Vietnam. In addition, it has actively promoted and completed procedures to operate flights to Australia, Czech, Germany, and England. Last year, it conducted many flights to bring Vietnamese citizens home.
According to Deputy Director of Civil Aviation Authority of Vietnam Vo Huy Cuong, the industry proposed to the Health Ministry to give priority of Covid-19 vaccination for all staff at 23 airports across the country. The inoculation will help passengers feel more secure, he said.
General Director of Flamingo Redtours Travel Company Nguyen Cong Hoan said the unit has prepared scenarios to welcome international visitors. According to him, if the aviation sector proposed a 3-stage route to reopen commercial routes, the tourism industry also needs to prepare such a plan to welcome visitors.
He also proposed Vietnam National Administration of Tourism to re-study the market as well as tourists' need to reorient travel companies. At the same time, building a set of standards and guiding businesses to welcome international visitors, to ensure safety but not too rigid. Reopening international markets has risks; therefore, it is necessary to have specific mechanisms to define roles and responsibilities of enterprises.
In addition, Hoan put forward to soon launch the tourism promotion fund. The tourism enterprises need to actively train human resources right now as the Covid-19 epidemic has forced a series of personnel to shift to do other jobs.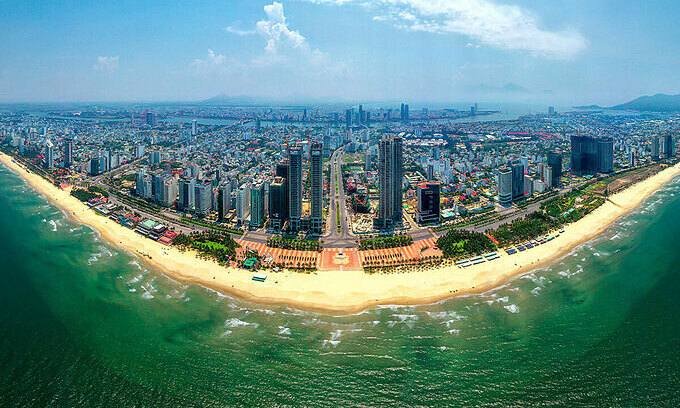 An aerial view of coastal city Da Nang in central Vietnam. Photo by VnExpress/Kim Lien.
Founder of Phoenix Voyages Le Tuan Linh said the biggest problem for tourists is quarantine upon arriving in Vietnam. Thus, reopening doors to tourists need to be implemented step by step and has clear policies. He also expressed his hope that Vietnam would welcome tourists with the vaccine passports as well as accelerate the domestic inoculation campaign.
Linh also hoped that tourism enterprises would receive financial support as they have been hard hit by the epidemic.
The Ministry of Culture, Sports and Tourism has prepared plans to welcome international tourists as well as promote online tourism products. In the context of competition in the region, opening doors to tourists not only helps to develop the local economy but also enhances the destinations' competitiveness.
Nguyen Quy Phuong, Head of the Travel Department said the Ministry of Culture, Sports, and Tourism would soon deploy the first pilot phase. To ensure safety for tourists and residents, the procedure will be based on the vaccine passport, combining with testing and the 5K message.
Vietnam recorded a 79 percent decline year-on-year in the number of foreign visitors in 2020 due to travel restrictions amid the pandemic as the country received 3.83 million foreign tourists against a record 18 million in 2019, according to official data.
The government has closed national borders and canceled all international flights since March 25 with only Vietnamese repatriates, foreign experts, and highly-skilled workers allowed in with stringent conditions.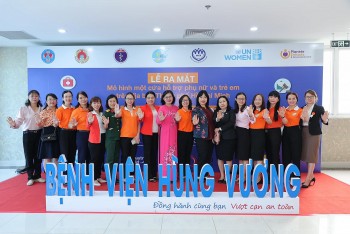 Viet's Home
What is the one-stop centre for women and children experiencing violence?