Vietnam could welcome vaccinated foreign visitors
The Vietnam National Administration of Tourism has recently organized a workshop to discuss ways of reopening the country's borders to foreign visitors providing the conditions allow.
In line with these proposals, the tourism industry will begin the gradual process of reopening its door as the novel coronavirus (COVID-19) pandemic is brought under control globally, according to VOV.
One of the main criteria will be for inbound travelers to be vaccinated against COVID-19 and have proof of inoculation before arriving in the country.
"A vaccine passport is expected to give the tourism industry a boost when it is widely applied in the future," says Pham Duy Nghia, director of Viet Foot Travel, in a recent interview with Zingnews.
Nghia suggests that Vietnam should strive to reopen its tourism market over the coming months when the pandemic is showing signs of abating, and citizens of various countries are already vaccinated against the virus.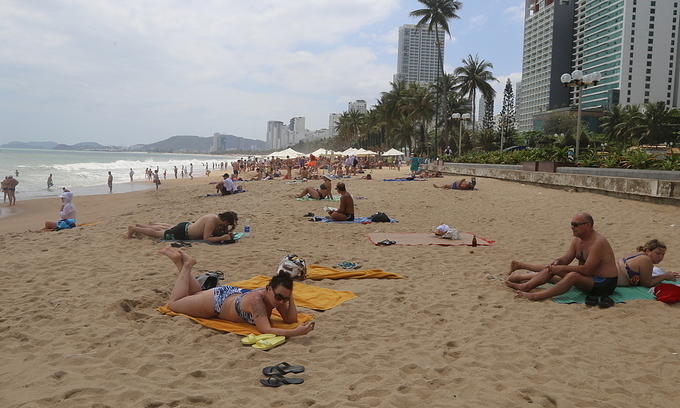 Foreign tourists at a beach in Nha Trang Town, central Vietnam, February 2020. Photo: Vnexpress.
In his opinion, the process of reopening the local tourism market cannot be done overnight, and this task is set to be realized only when the disease is fully kept in check and there is no longer a cause for people to worry.
Sharing the view, Dr. Luong Hoai Nam, a member of the Vietnam Tourism Advisory Board (ATB), states that vaccinations are the only solution to keeping the virus at bay among the community, whilst they are also vital to revitalizing tourism, a sector which is currently in a fragile state.
"A vaccine passport enables vaccinated citizens to travel within a country and between a country and another. Once a request for quarantine is in place, nobody wants to travel," Dr. Nam points out.
Vietnam has been singled out internationally as a success story in the fight against COVID-19. It should press forward to seize upon this chance and utilize its competitive advantages in terms of economic development, including the recovery of the tourism industry, according to the expert.
"We cannot wait until the pandemic is completely wiped out when it comes to the reopening of the international tourism market. It's time to think about people with a vaccine passport," Dr. Nam stresses.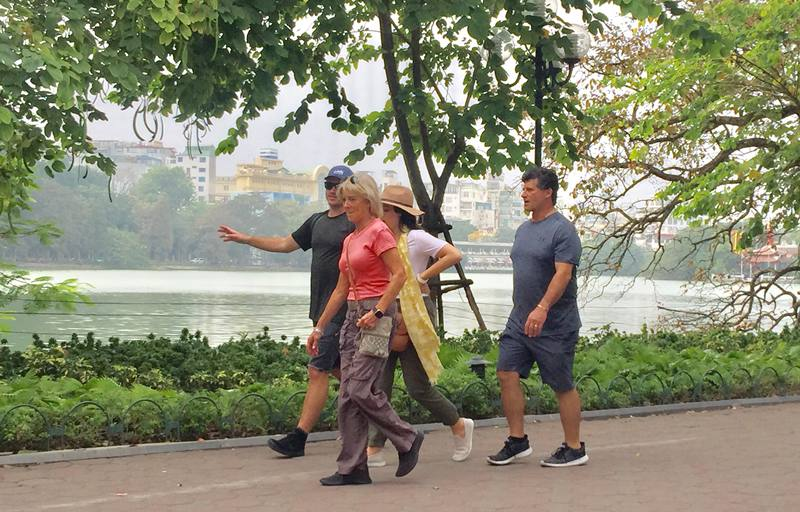 Foreign tourists walk around Guom Lake. Photo: CPV
It cannot be argued that international travelers are an important part of Vietnamese tourism. When COVID-19 initially broke out, Vietnam shut its borders to prevent the spread of the virus within the community, thereby leading to domestic tourism being prioritized.
Due to this, 56 million domestic holiday-makers traveled across the country throughout 2020, an impressive figure given the fact that two COVID-19 outbreaks hit the country. Despite a 34% fall in traveler numbers, the local tourism market partly made up for the losses caused by the sharp decline in international visitors.
In contrast to the domestic tourism market, Pham Duy Nghia, director of Viet Foot Travel, believes that the arrival of international tourists plays an important role in attracting hard currency to the nation's coffers.
"I have this simple comparison: the money 30 domestic tourists spend on services is equal to the amount spent by 10 Vietnamese guests going abroad and by three foreign tourists entering Vietnam," says Nghia.
He anticipates that Vietnam will start to welcome the return of foreign visitors from the beginning of 2022, at a rate of approximately 30% over the same period every year. He believes that the vaccine passport will represent something of a magic wand for people looking to travel internationally.
Meanwhile, Nguyen Huu Tho, Chairman of Vietnam Tourism Association (VTA), said Vietnam has been one of the most successful countries in containing Covid-19 outbreaks, creating favorable conditions for the tourism industry to open up to international markets since the beginning of the third quarter.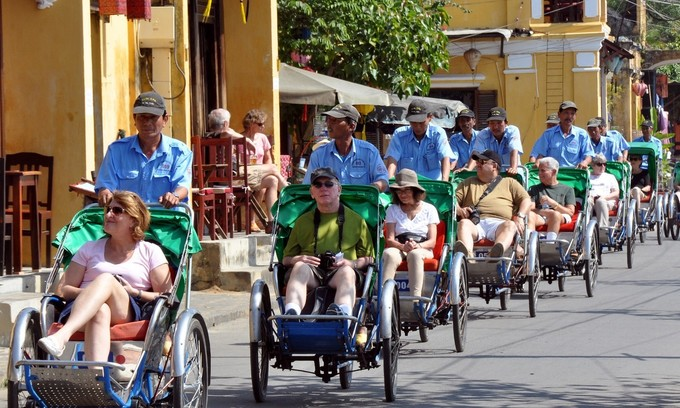 Tourists in Hoi An. Photo: Vnexpress
He cited Thailand, which plans to open its doors to foreign tourists already vaccinated against the coronavirus from July 1, and Singapore, which is ready to do the same.
"Vietnam should prepare to receive international visitors from July to help the heavily-hit tourism industry recover as 95 percent of inbound travel firms have suspended operation," Tho told a meeting Wednesday.
"Promoting domestic tourism could bring in revenue but cannot save the tourism industry. The roadmap to opening up the international market is the only solution," he added.
Nguyen Thi Khanh, chairwoman of Ho Chi Minh City Tourism Association, said it is necessary to prepare a set of criteria for picking up foreign passengers as soon as possible, as many countries do not require isolation of vaccinated tourists or those carrying Covid-19 negative certificates, Vnexpress reported.
"The industry should aim at international markets that have responded effectively to the pandemic."
Vu The Binh, VTA deputy chairman, said the opening of international markets could meet with difficulties and public opposition for fears of causing further Covid-19 outbreaks.
However, Binh affirmed Vietnam should avoid lagging behind other economies that recognize vaccine passports, proving a bearer's Covid-19 vaccination status.
Vietnam has been struggling with its latest Covid-19 outbreak that began on Jan. 28 after a 55-day clean streak, with 893 community transmissions recorded. So far, the outbreak situation in the country is basically under control, with many localities resuming non-essential services.
While the production of domestic vaccines is underway, the government has speeded up foreign procurement to inoculate prioritized groups.
Vietnam recorded a 79 percent decline year-on-year in the number of foreign visitors in 2020 due to travel restrictions amid the pandemic as the country received 3.83 million foreign tourists against a record 18 million in 2019, according to official data.
The government has closed national borders and canceled all international flights since March 25 with only Vietnamese repatriates, foreign experts, and highly-skilled workers allowed in with stringent conditions.
The government recently green-lighted the resumption of commercial flights to seven Asian destinations, mainland China, Japan, South Korea, Taiwan, Laos, Cambodia, and Thailand, but Vietnamese carriers are still not allowed to operate inbound flights.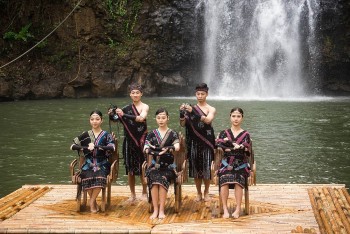 Travel
Many passengers applaud the creativity of the flight instruction video that Vietnam Airlines has recently introduced on their flights. This video not only creatively conveys the message of flight safety but also helps to spread globally the unique, indigenous cultural values ​​of the country and people of Vietnam.