Vietnamese Entrepreneurs Network in US Promotes Lychee to Southern California
On June 30, the Vietnamese Entrepreneurs Network in the USA (VENUSA) organized the event "Promoting Bac Giang fresh lychee specialties to overseas Vietnamese in Southern California." The event was participated by 200 people.
At the event, Bac Giang fresh lychee products were warmly received by Vietnamese people in the US. Huong Le, an international student at the University of California, was very happy to enjoy fresh Vietnamese lychee.
"I've waited a few years to eat fresh Vietnamese lychees. They taste much better than those from China and Mexico," she said.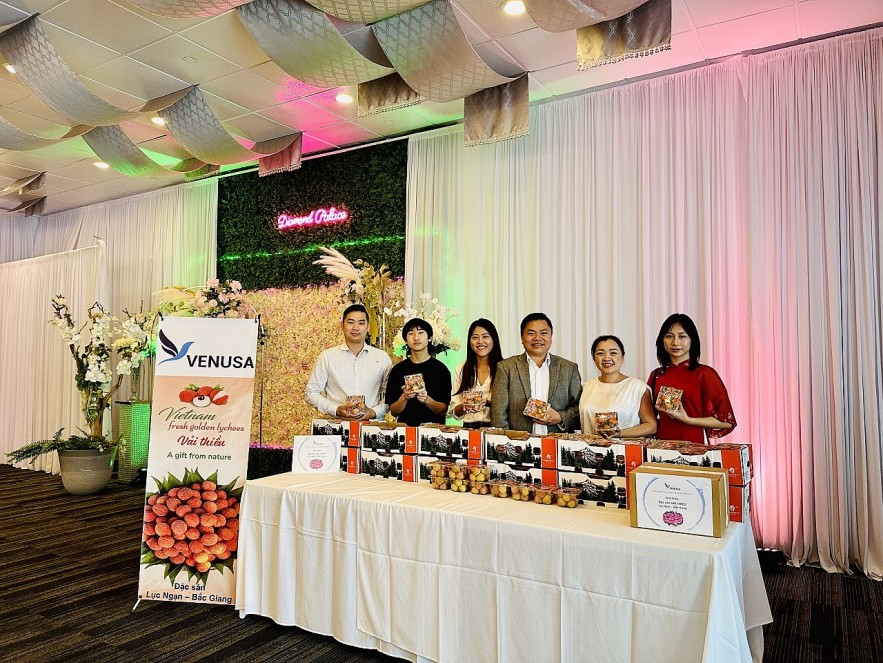 A stall introduces specialty lychee Luc Ngan Bac Giang in Southern California.
Professor Nguyen Dinh Phu, Chairman of the Vietnamese Entrepreneurs Network in the USA, said that VENUSA signed a memorandum of understanding to support Bac Giang to promote Luc Ngan lychees in the US market during the Prime Minister's visit to San Francisco in May 2022. VENUSA promised the Prime Minister and leaders of Bac Giang to support the province in bringing this specialty to introduce to Vietnamese people in the US.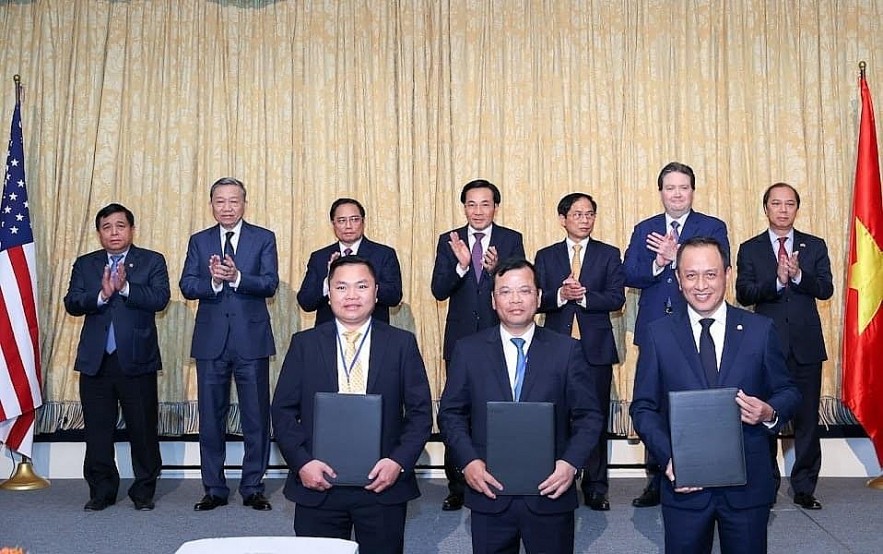 The signing ceremony between VENUSA and Bac Giang on promoting lychee in the US was witnessed by Prime Minister Pham Minh Chinh, Ministers, Ambassador Nguyen Quoc Dung and Ambassador Marc Knapper.
"I went back to Vietnam and went to the lychee specialty area in Luc Ngan, Bac Giang, and worked with processing and exporting facilities of agricultural products in Bac Giang to promote the plan to export lychee to the United States.
With a lot of effort, in June 2023, VENUSA fulfilled its promise to the Prime Minister. With support from partner businesses and the Vietnam Trade Office in San Francisco, the Network has promoted and distributed nearly three tons of fresh lychee in California and Oregon through a chain of Vietnamese markets, online distribution channels, and community events. Fresh products are exported to the US by a reputable import partner in a cool container (with a constant temperature of about four degrees Celsius) traveling by sea to ensure that the lychee is always fresh and of good quality," said Nguyen Dinh Phu.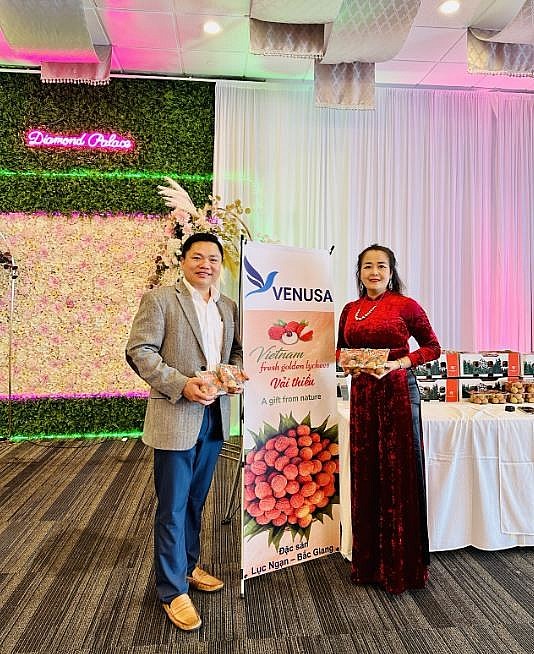 Prof. Nguyen Dinh Phu - President of VENUSA (left) introduced the famous lychee specialty from his hometown Luc Ngan, Bac Giang.
VENUSA Vice President Cao Minh Tam introduced some Bac Giang Thieu Thieu in Oregon.
According to Professor Nguyen Dinh Phu, when the first shipment gained good evaluation, keeping the characteristic eye-catching red-pink color, and delicious tastes after the long journey, partners wanted to order up to 40 tons. However, this year's lychee season is coming to an end, so VENUSA is developing a plan to work with its partners for the 2024 crop.
VENUSA, established in 2020, is a non-profit organization registered to operate under US law to connect Vietnamese entrepreneurs and businesses in the US to enhance cooperation, information exchange, and business and investment opportunities in the US, Vietnam, and other countries around the world.
After more than three years of operation, under the leadership of Professor Nguyen Dinh Phu at the University of California, the Network has built a good reputation with the business community in the US and Vietnam. It has a wide network, being the leader in supporting Bac Giang and Ho Chi Minh City business activities in the US.
Leaders of the Network are representatives of reputable companies and factories from Vietnam in the US market, especially in sectors such as vegetables and fruits (fresh, frozen, processed such as durian, passion fruit, mango, and lychee), consumer goods (fish sauce, chili sauce, instant noodles, coffee, coconut water), garment, seafood, and construction materials.