Vietnamese Expats Promote their Language
The teaching of Vietnamese abroad continues to be strengthened despite the Covid-19 pandemic.
Training courses on teaching Vietnamese for overseas Vietnamese lecturers, held by the State Committee for Overseas Vietnamese under in collaboration with the Ministry of Education and Training, recently took place online. These courses have recorded the largest number of registrations so far.
Challenges and persistence
Facing mounting difficulties, overseas Vietnamese teachers remain dedicated to their work. Lecturers like Nguyen Ha Chung in Japan and Nguyen Truong Thi in Thailand, take pride in preserving the dignity of the mother tongue, and strive to improve their professional capacity and skills.
Ngo Pham Tran, in Taiwan, is proud that Vietnamese is becoming increasingly important on the the island. Since 2017, the Vietnamese has been incorporated as an official foreign language course at universities and as additional language training courses in many agencies and organizations in Taiwan.
In addition to teaching Vietnamese, Tran is the president of the Taiwan-Vietnam Economic Cultural & Educational Development Association. She often holds free Vietnamese classes for Taiwanese- Vietnamese children and businesses and workers at Taiwan corporations hoping to invest in Vietnam.
Similarly, Tran Thi My from the Tokyo University of Foreign Studies in Japan has noted increasing demand for learning Vietnamese in Japan.
Recently, the Vietnamese language course has been amongst the top choices for the university's students. The greatest challenge, according to My, is the limited number of teachers in Japan with proper Vietnamese language teaching methodologies.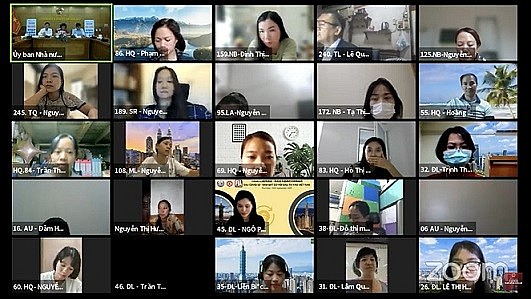 Overseas Vietnamese teachers attending the online training course. Photo: Bao Quoc te
Vu Thi Thu Minh from the Hankuk University of Foreign Studies that said while there were diverse sources of Vietnamese textbooks in Korea, most of were written by Koreans. As there is a lack of Vietnamese editors, these textbooks contain vocabulary and grammatical errors as well as gaps in conveying Vietnamese culture.
According to Le Quoc Vi, a Vietnamese lecturer in Nakhon Phanom in Thailand, while the number of Vietnamese courses is increasing, there is a visible imbalance between the amount of time Thai – Vietnamese children spend to learn Thai compared to the time they reserve for learning Vietnamese.
Vi expressed his hope that with cooperation between Thailand and Vietnam's educational agencies, Vietnamese would soon become an official course at schools in Thailand.
Preserving the Vietnamese language is a priority for the Vietnamese government. On the part of the Ministry of Education and Training, the ministry has been working with the State Committee for Overseas Vietnamese under the Ministry of Foreign Affairs to hold annual online training courses for overseas Vietnamese lecturers.
From 2013 to 2019, about 70 Vietnamese teachers went to Vietnam each year to join specialized courses.
This year, two online courses will be held between Oct. 9 and Nov. 7: The course for teachers in Asia and Australia and the second for teachers in Europe and North America.
Professor Duong Tuan Anh from Hanoi National University of Education, one of the training courses' lecturers, said: "Both the participants and the lecturers are determined to promote Vietnamese language and culture."
"In addition to providing lessons on methodologies and foundation to teach Vietnamese, the program aims to nurture the love for Vietnam's traditional culture via teaching the Vietnamese language."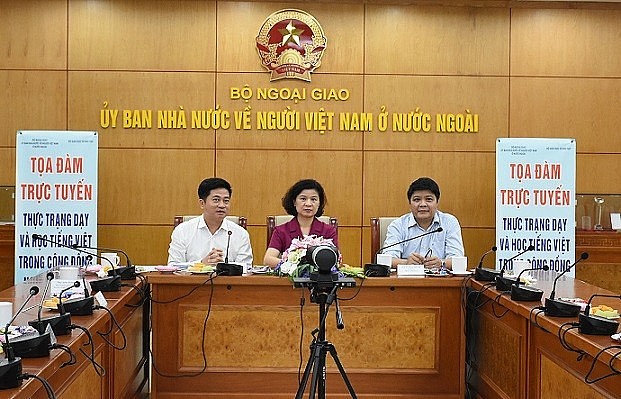 Representatives of the State Committee for overseas Vietnamese and Hanoi National University of Education discussing ways to improve the teaching of Vietnamese. Photo: Bao Quoc te
Deputy head of the State Committee for Overseas Vietnamese Affairs Luong Thanh Nghi noted that the state and the communist party of Vietnam held the preservation of Vietnamese culture in high regard.
Responding to questions from overseas Vietnamese on the textbook issues, Head of the Faculty of Vietnamese Studies and Language at the Vietnam National University Le Thi Thanh Tam noted that the textbooks for teaching Vietnamese to overseas Vietnamese have been completed and we're being reviewed. In addition, supplementary materials such as bilingual textbooks for children and guidance for parents have been prepared.
Acknowledging that teaching Vietnamese abroad requires high flexibility and creativity, Deputy Director of the Department of Continuing Education under the Ministry of Education and Training Vu Thi Tu Anh praised the efforts of overseas Vietnamese teachers.
Tu Anh believes that teachers should form networks to share experiences to improve the quality of Vietnamese teaching. At the same time, Vietnamese teachers abroad should be proactive in communicating their challenges with the homeland for prompt support.
"Cultural identity and traditions, especially the mother tongue, are invisible properties of every nation.
President Ho Chi Minh once said, 'The Vietnamese language is an everlasting and valuable fortune of the Vietnamese people. We must preserve, treasure and make it more popular,'
- Deputy head of the State Committee for Overseas Vietnamese Affairs Luong Thanh Nghi