Vietnamese-Swedish Artist Van Duong Thanh Creates Art for her Homeland
The well established Vietnamese-Swedish artist Van Duong Thanh is known for her continued charity efforts in Vietnam. She has sold 30 of her paintings to create scholarships for poor and talented students and donate food to people with disadvantaged backgrounds.
"Homeland is my cornerstone and an irreplaceable part of my creative journey"
Can you tell us about your decision to return to Vietnam after many years of living in Sweden?
After graduating from the Vietnam University of Fine Arts, I worked at the Ministry of Culture, Sports and Tourism. In 1987, I was invited to open my first exhibition in Sweden, then granted a scholarship to pursue the Swedish language at Vimmerby University. While studying, I also taught at Medborgarskolan University and Vuxenskolan. Since then, I had been residing and teaching in Sweden.
While there, I often recalled the memories that I had in my hometown, Phu Yen, where my parents were born. I also missed Hanoi very much.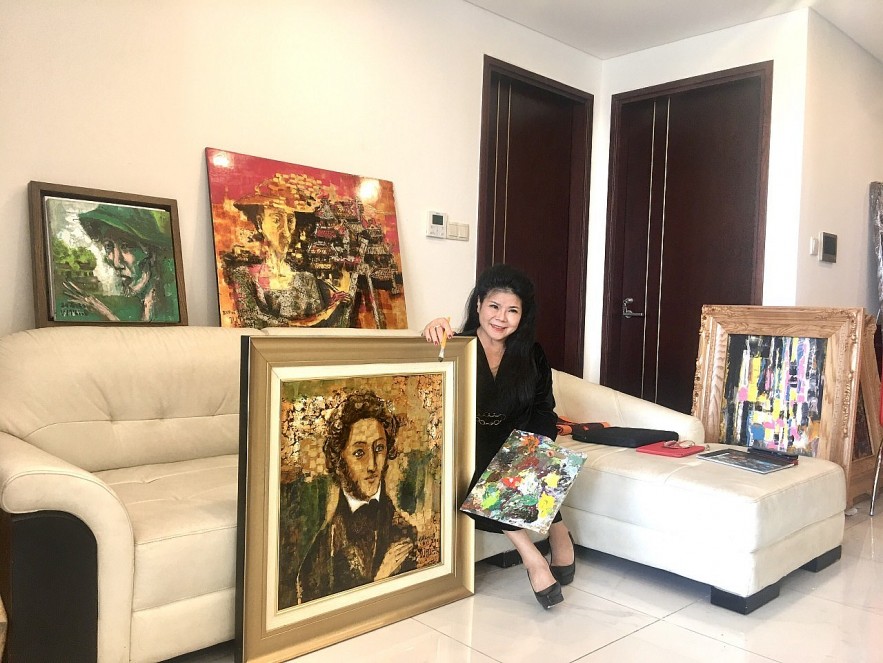 Van Duong Thanh and her paintings. Photo: Vietnam Times
I spent the new year's holidays drawing paintings about spring in Vietnam and reminisced about my childhood memories. Homeland is my cornerstone and an irreplaceable part of my creative journey.
Van Duong Thanh's paintings are shown in 16 national museums across the world. She has also been holding 90 exhibitions in Vietnam and abroad. Many international friends have been visiting Vietnam after seeing her paintings.
Every year, I returned to Vietnam for 3 months to open exhibitions and do social works. I was astounded by the progress that Vietnam had been making every single time I came back. In 2007, I officially returned to Vietnam permanently to open an art workshop and engage in teaching activities. As an artist, I work hard regardless of whether I am abroad or in Vietnam. I am so glad to have made this decision.
Many people have said that you had connected Western and Eastern culture via your paintings. What do you think about this?
I believe every artist is a cultural ambassador. Through my paintings, I aim to introduce to the world the people, nature, culture and traditions of Vietnam. This is why Vietnam's folk arts are heavily featured in my paintings.
My style is a combination of Vietnam's traditional arts and western arts. This is my greatest selling point. Many international visitors coming to my exhibitions are inspired to explore and visit Vietnam.
Van Duong Thanh's paintings are shown in 16 national museums across the world. Photo: Vietnam Times
Many of your artworks have been chosen as national presents in high-level visits of the government. How do you achieve this success?
I am very lucky to meet many talented people, celebrities, and heads of state. For presents that would be given to heads of states, I do careful research about where they are from, what the most notable traits of their cultures are and what they like and do not like. I even research the taboos in their culture to create the best, most suitable artworks.
In 2016, on the occasion of U.S. President Barack Obama's official visit to Vietnam, I was invited by the American Chamber of Commerce and the Embassy of the United States in Vietnam to participate in a meeting between the president and intellectuals and businessmen in Hanoi. I gave him a painting of an old street in Hanoi because I felt that he was a friendly and kind person. I drew ancient trees with young buds and warm sunlight shining on old, tiled roofs, something that was very characteristic of Hanoi.
President Obama sent me a letter of appreciation just a week after he received my painting.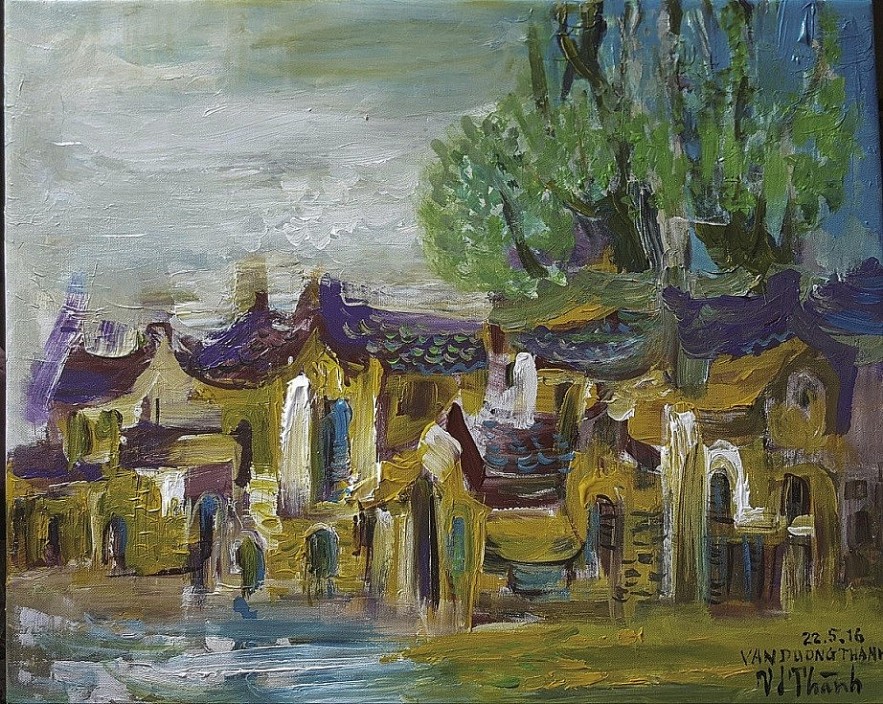 Van Chuong Thanh's present to U.S. President Barack Obama. Photo: Vietnam Times
Doing charity works is an honor and happiness of an artist
Not only contributing to connecting Vietnam's arts and that of other countries in the world, but you are also very passionate about charity works. Can you share with us about your charity efforts?
One of art's noble goals is to celebrate humanity and everything nice in life. If I can create artworks while still helping people around me and bringing practical benefits to the community, I believe any other artist can do the same.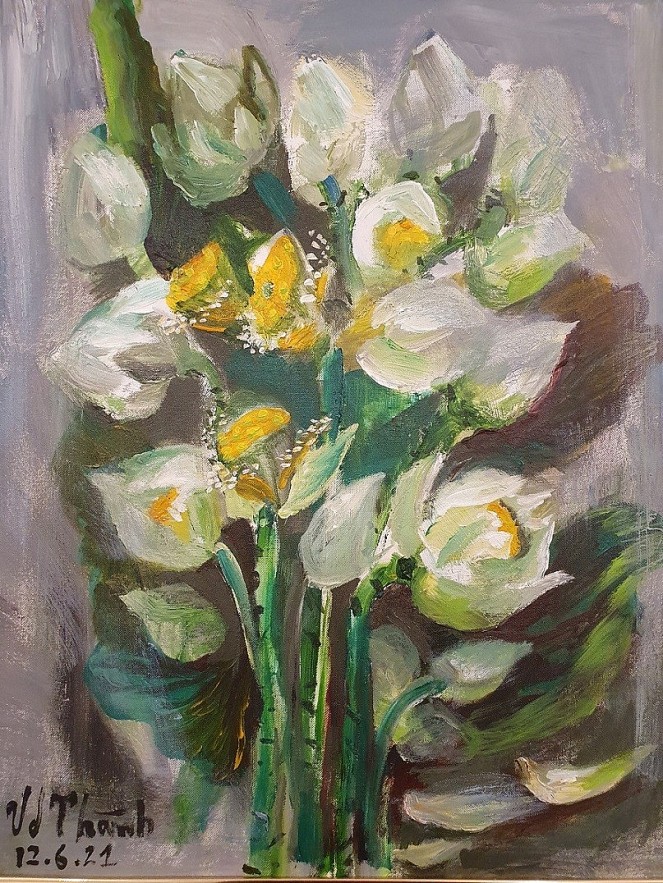 Van Duong Thanh sold her painting "While lotus" to purchase 8 tons of rice to support people in Hoa Hiep commune in Phu Yen province to overcome challenges brought by the Covid-19 pandemic. Photo: Vietnam Times
I have been giving scholarships to poor and talented students to give wings to their dreams. I have also been organizing art classes for children with disabilities, blindness, deafness, Agent Orange and autism. Recently, I donated 5 tons of rice to help people in the Hoa Hiep commune in Phu Yen province to overcome challenges brought by the Covid-19 pandemic.
Van Goi – Van Duong Thanh's study promotion fund – gave presents to students and the elderly in the Hoa Hiep commune of Phu Yen province in March 2021. Photo: Vietnam Times
Everything that I have accomplished is built on my mother's education and extraordinary perseverance. There were no barriers that she could not overcome. Her love was for giving away without ever asking for anything in return. Her compassion has guided the roads that I walk on.
Some people believe that it is hard for the young generation in Vietnam to preserve the country's cultural identity. However, in my family, children are taught to protect their homeland's cultural traditions and learn the Vietnamese language. In many activities to support Vietnam, my children follow my examples when they witness my efforts. We will preserve this tradition and pass it on to future generations.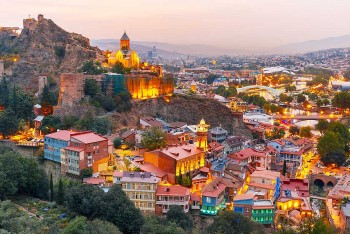 World
When we think of wine, Italy, France or Spain will come in mind, but its birthplace, according to a lot of researches, it's in Georgia, the tiny Caucasian nation that's been making wine longer than anywhere in the world.